Welcome to Global Munchkins, like it or not, you are family now that's just how we roll!
I'm Amber, the voice behind the words and stories of my large adoptive family (more on that in a minute). First things first… I want YOU to know that we could not be happier that YOU are here.
What started almost a decade ago as a way for this lonely, stay-at-home, travel-obsessed mama to connect with other like-minded women has turned into a crazy supportive community/ family business- and we couldn't be more grateful.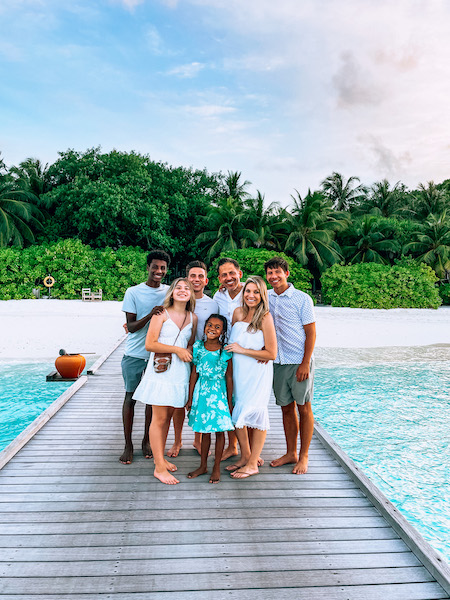 As you can tell from our posts we LOVE a good luxury hotel, my husband (Mike) refers to us as resortists-ha! but we like it even more if we score a good deal! Through our blog and social media channels (Instagram, TikTok) we love to share the amazing travel deals and hacks we uncover with YOU.
We are also a bit OBSESSED with having fun. Our family motto has always been WORK HARD, PLAY HARD! So, we like to share our family fun games & chore challenges on social media as well. You can check out some of our favorites here.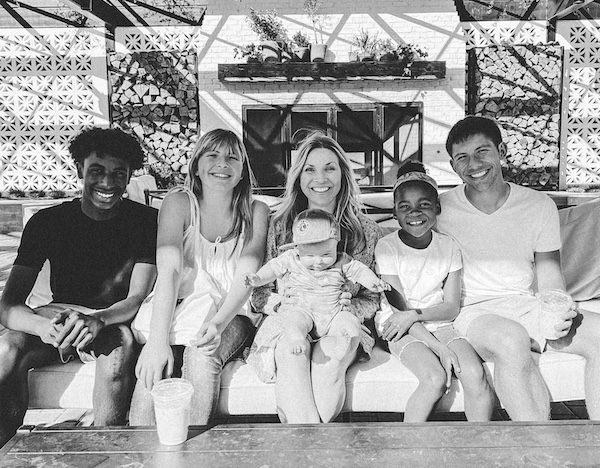 So, why travel? Well, it's changed us. This is also why we strive to gift travel to others through our quarterly (sometimes more) Ultimate Family Vacation Giveaways– make sure you follow us on Instagram so you can enter for your chance to win!!
Our Story (in a nutshell)
We lost Mike's mom to ALS shortly after getting married and having our two oldest boys, Camden & Owen. Experiencing such a tragic loss so early on in our marriage made us realize how delicate life truly was and we vowed to try and make every minute count. To prioritize being present and creating tight family bonds right then and there.
We went on to add a daughter, Ella, to our family and explore travels, mostly Disney and Hawaii (to visit Mike's dad who lives in Maui) at that point.
Then in 2010, our lives were changed forever. We gained approval after a two-year-long adoption process and made the long trip across the globe from California (where we call home) to Ethiopia to bring home our 4th child, a little boy named Shea. Shea would turn our world upside down, he broke us open in all the best ways and taught us what it truly means to love unconditionally and never lose hope. (read more about Shea's adoption story here)
Long story made super short, Shea ended up being a year or two older than we had originally been told and he had also suffered much more trauma than we were initially aware of. His healing wasn't just hard- it was at times impossible. Professionals painted a grim picture of our future together and even tried to convince us that re-homing or having another family re-adopt Shea was the solution.
But, God had a different plan. He had given us the amazing support of our family, friends, a good therapist, and some incredible teachers. And, he had also gifted us opportunities to travel together, face fears together, learn to count on each other, and trust one another & over the years Shea began to heal.
Shea is now the most joyous, kind-hearted, wonderful 15-year-old kid that I know. And, I have the privilege of being his mother, the magnitude of that gift is not lost on me. I tear up every time I tell the story. I'm just so grateful we have each other.
Years went on and we ended up adopting again, Mike and me really like this whole parenting gig- ha! This time through domestic adoption in Florida and on September 15, 2013, we welcomed our sweet, sassy spunky Livvy into the world right beside her birth mother. It was beautiful and we are thankful we are able to enjoy an open adoption relationship with her. (read more about our open adoption experience here)
I would say the rest is history, I really thought our story was complete. Then came another plot twist. At nearly 40-years-old and after back-to-back-to-back miscarriages a year prior we found out we were pregnant and just last August our Sweet Baby Jack joined the crew. He's the squishiest happiest baby and we are all head over heels in LOVE!!
If you've got to this point, thank you for hanging in there! I know it's a lot. As you can see we are slightly crazy (we say crazy in a good way!) but full of so much love. We have a passion for sharing all the life lessons we've learned so far to hopefully help other families grow their bonds and become closer and have more fun together whether that's in their own backyard or while traveling the world.
Now that you know us, hop on over to Instagram (that's where I hang out most of the time) and say hi! We cannot wait to get to know you and your story!!