Did you know that every boysenberry in the world can be traced back to Walter Knott and his berry farm? It's true after Rudolph Boysen abandoned his creation Mr. Knott nursed back the last remaining boysenberry vine. This unique and delicious berry paired with Cordelia Knott's popular berry preserves and pies had folks coming across the country to get a taste. The rest, as they say, is history. As the birthplace of the delectable boysenberry Knott's Berry Farm once again showcases the little berry that started it all with a spectacular 23-day food and beverage celebration known as the Boysenberry Festival.
3 Reasons to Visit Knott's Berry Farm's Boysenberry Festival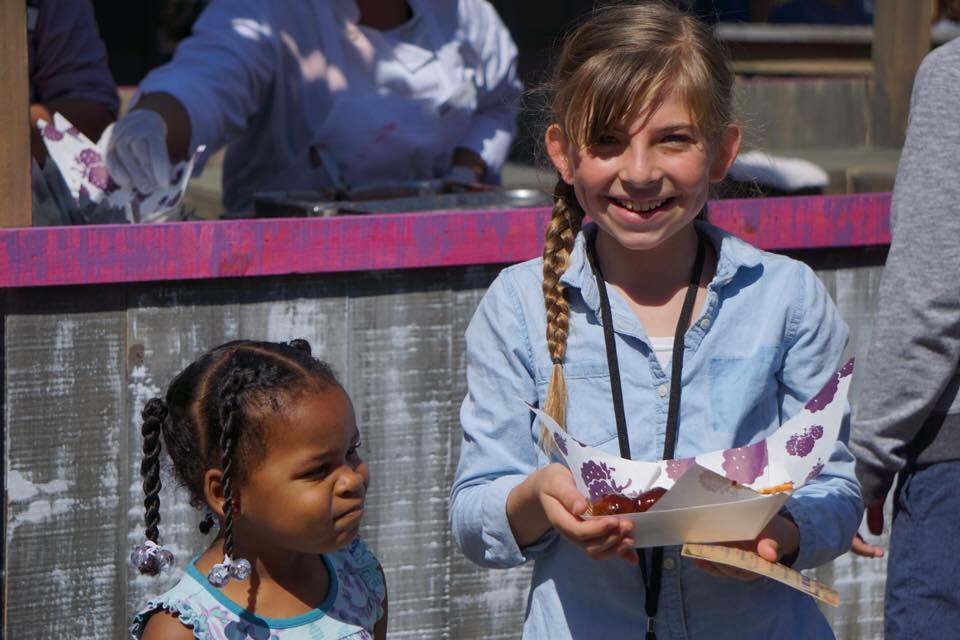 1 Over 70 one-of-a-kind Boysenberry Inspired Dishes & Drinks
Knott's has really outdone themselves this year. They have come up with over 70 unique culinary variations all featuring the beloved boysenberry.
From boysenberry pizza made with arugula and goat cheese to boysenberry wine, even lip-smacking corn on the cobb gets a boysenberry makeover as they serve it up with boysenberry butter. Then there are all of the incredible desserts like boysenberry crepes, the popular fry bread stuffed with Nutella and boysenberry preserves, boysenberry cinnamon rolls, chocolate covered boysenberry cheesecake on a stick, boysenberry panna cotta, boysenberry stuffed churros etc… They have really thought of everything!!!

Of course, a few of my boys' favorites from last year's are still around too like Owen's favorite the crispy deep fried alligator bites paired with farm-made zesty boysenberry aioli, Shea's go to which is the finger-licking boysenberry BBQ wings, and Camden's favorite the savory boysenberry meatballs. And, Ella was excited to see her fav on the menu… the refreshing boysenberry panna cotta.
The tastings are an additional fee and not included with regular admission. However, the park does offer a great deal with their 6 tasting ticket for $25. Most tastings on their own were priced between $7-$10 each so that is a real value. The downside though is the ticket is for specific tastings. This year that includes boysenberry BBQ meatballs, boysenberry fry bread, boysenberry buffalo wings, boysenberry ravioli, boysenberry panna cotta, and boysenberry pizza. In my opinion, the offerings on last year's cards were a little more solid. If it were me I would purchase the tastings separately because I would prefer to pay a little more and get to sample some of the items I found more appetizing like the boysenberry cinnamon roll, crepes, or boysenberry cheesecake stick dipped in chocolate. But, if you are going for value the tasting card can't be beaten!
Adults will also want to check out the Wine and Beer Garden where they will delicious and unique offerings available. Of course, you must be 21+ to sample these tastings.
2 The Park is Decorated with Gorgeous Spring Blooms and Boysenberry Decor
There is just something exciting about walking through the park when they are beaming with pride over their famous berry beginnings. The decor, fresh flowers, live music, and overall cheerful attitudes make this festival my absolute FAVORITE time of year to visit Knott's Berry Farm.
Ghost town is redecorated with lots and lots of purple, berries, and flowers. It is also studded with all the tasty food booths- YUMMY!!
The munchkins got a kick out of all the vibrant blossoms, they commented on how great the scents were as we walked around Ghost Town.
3 The Weather Couldn't be Nicer
Of course, it is not just the decorations that make spring a great time to visit Knott's Berry Farm. Southern CA is also known for beautiful sunny but moderately warm days during the spring with averages in the high 70's and low 80's. Its just hot enough to feel like you are enjoying the sun without being so hot you don't want to be outside 😉 Liv agrees…
My Crazy Crew… I love that music in the background 😉 And, trust me they would not be dancing around like fools if the weather was too hot- ha!
BONUS
Besides the delicious boysenberry inspired dishes & drinks, gorgeous decor, and beautiful weather. Knott's Berry Farm also has a few more fun things going on at the Boysenberry Festival that families will enjoy including the brand new show Snoopy's Boysenberry Jamboree, a pie-eating contest, line dancing and a petting zoo! Of course, miss Ella was just smitten over the horses. Takes after her mama!!
Don't forget to take some of that boysenberry goodness home with you as well! They sell boysenberry preserves, bbq sauce, boysenberry butter, juice concentrate, actual boysenberry plants & so much more!!! Plus, they also sell the Knott's famous fried chicken seasoning and buttermilk biscuit mix too.
Have you visited Knott's Berry Farm during the Boysenberry festival before??
What was your favorite dish?? Tell me in the comments below or leave me a message on my Facebook page.
Pin for Later-
*special thanks to Knott's Berry Farm for including us at their recent media event. All thoughts and opinions expressed, as always, are 100% my own.