Anaheim may be filled with theme parks and attractions focused on families. But, don't let that fool you. Anaheim can be just as fun for adults. Check out these awesome things to do in Anaheim for couples beyond the theme parks and sporting events.
Things to do in Anaheim for Couples – An Amazing Weekend Getaway
Grand Legacy at the Park
source
The Grand Legacy at the Park is an incredible find for both couples and families alike. The rooms are newly remodeled, spacious and clean. The bathrooms are modern and well stocked with Tarocco toiletries. Plus, each room is equipped with home-like amenities such as a microwave, mini refrigerator, and coffee-maker. The property also boasts a heated swimming pool, splash park, hot tub and Anaheim's only rooftop bar and lounge with magnificent firework views. Not to mention the complimentary breakfast buffet that is included for every guest. And, the best part… the Grand Legacy is literally steps from the Disneyland Main Gate making it the perfect jumping off point to your stay in Anaheim.
 source
Gypsy Den
If your morning breakfast buffet left you a little hungry mid-morning or if you are a HUGE breakfast fan like me, may I suggest heading to Gypsy Den on Center Street for a tasty vegetarian/ or vegan twist on many of your favorite morning favorites. Here at this eclectic cafe you will indulge in all sorts of scrumptious savory eats which pair perfectly with their bottomless mimosas.
Ink & Bean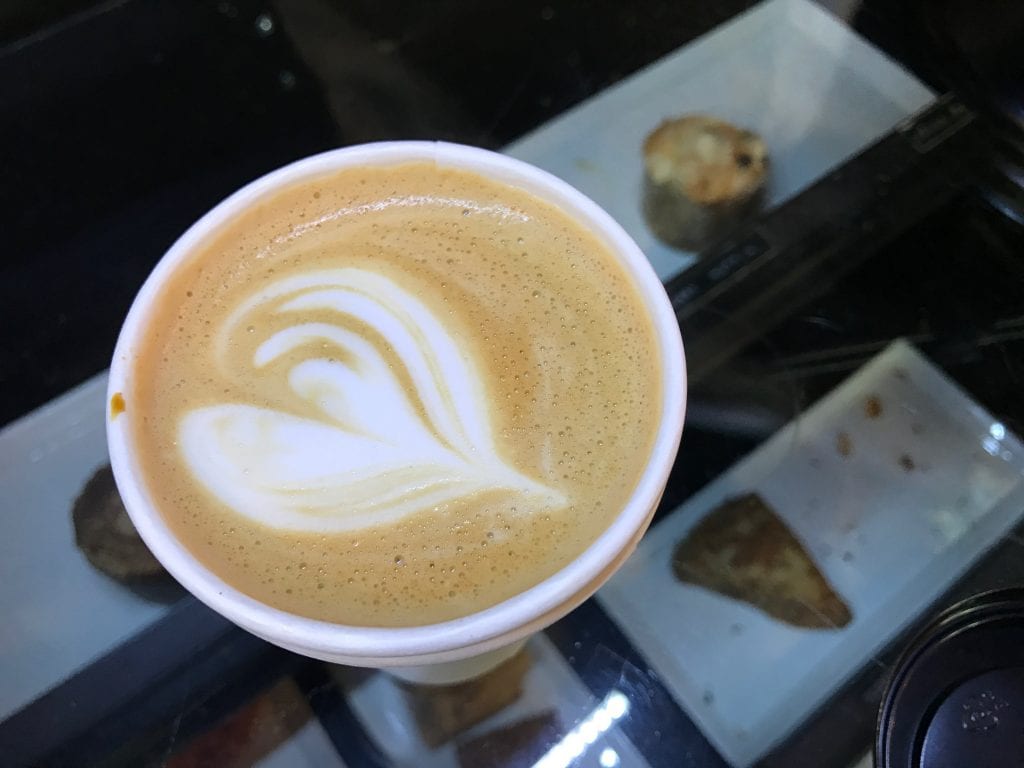 Of course, you can't leave Center Street without some sort of delicious hot or cold brew from your barista at Ink & Bean. Here they serve my favorite Stumptown Coffee plus sweet baked treats from iKneadLove. It is the perfect spot to sit and relax curled up next to your loved one with a good book in hand courtesy of their free community library parked conveniently out front.
Crossroads Escape Room
While in town make sure to hit up the "#1 Best Escape Room in Orange County and Los Angeles!" Crossroads Escape Room offers both a mind-boggling magician themed 'Fun House' and a frightening horror film themed room called the 'Hex Room'. Whichever your style you are sure to be psychologically tested in an entertaining environment. I was shocked at how much I enjoyed my experience here and how quickly our one hour time limit flew by. I can't wait to come back and try another room!
Craft Beer Tasting
The craft brew scene isn't new to Anaheim. In fact, early settlers in the mid-1800's tried growing grapevines, but because the vines needed time to mature, many of them turned to brewing beer instead. Over the past few years, Anaheim has revitalized their beer brewing heritage opening up more breweries than any other Orange County community.
Head to Anaheim Brewery to get a taste of the rich history of Anaheim breweries and while you are there make sure to try their Anaheim Hefeweizen. It's fantastic! Then head to Bruery Terreux (pictured above) and sip on their popular sour ales while you strategize over a game of Connect Four. I recommend trying their 'Tart of Darkness with Cherry & Vanilla' or their popular 'Black Tuesday' an imperial stout which is only available for a limited time. Next up head to Bottle Logic Brewing and check out their unique inventor's workshop-inspired space. It's always fun seeing what experimental beers they have on tap. If experimental isn't your style, try their Greyhound- a West Coast IPA with strong grapefruit notes. You can't go wrong with that one!
Head Downtown
After all those delicious drinks you will be ready to eat. Lucky for you the Anaheim Packing House offers a ton of delicious artisan eateries and is conveniently located downtown. Try the gourmet farm-to-table artisan tacos from Urbana. Or spice things up with some Indian flavors at Adya. Looking to try something new? Check out Rolling Boil and taste test their hot pot creations. With over 25 artisan eateries under one roof, you are sure to find something that tickles your fancy. *Tip- Make sure to stay late so you can check out their hidden speakeasy- The Blind Rabbit!
The Ranch Restaurant & Saloon
 source
If you are looking for a romantic dinner or something a little more along the lines of fine dining you MUST make reservations for The Ranch Restaurant & Saloon. Don't be fooled by the executive office building they reside in, for this restaurant features some of the finest American cuisines I have ever tasted. The seasonally driven menu items are derived from quality made-from-scratch ingredients and produce picked from their very own farm. Every single item I tried on the menu was truly exceptional from the ceviche to the sea bass and even my husband's petite filet (and I'm not a huge meat eater). The staff at The Ranch also know how to treat a guest, they go above and beyond when it comes to service. The Ranch Restuarant also houses a large selection of world-class international wines to ensure every bite can be paired with the perfect glass of wine.
Make sure you save plenty of room for dessert while you are there. You won't want to miss their PB & J Milk Chocolate Bar with homemade caramelized banana ice cream (pictured below) or their incredible Hand-Crafted Honeycrisp Apple Crostada. After dinner head next door to the Saloon and try your hand at two-step country line dancing or sit back and enjoy the live music.
source
The Ranch Restaurant has multiple fully functioning kitchens within their building, making it the perfect venue for weddings, meetings and corporate events too.
Cocktails at the FIFTH Rooftop Lounge
source
Whatever you do during the day make sure to make it back to the Grand Legacy at the Park at night and head up to their rooftop bar & lounge known as The FIFTH. It opens every night for hotel guests at 5:30pm. You can enjoy light bites, local brews, and cocktails as you watch the magical Disneyland Fireworks light up the night's sky. It's the perfect way to end your day.
pin for later-
Where would you go first?
*A special thanks to Visit Anaheim for hosting us on our recent visit. All thoughts and opinions, as always, are 100% my own.