Are you looking for things to do in Buena Park with kids in tow? You are in luck because as a SoCal native I have grown up visiting Buena Park's best attractions. And, now as a mom, I enjoy taking my own children to Buena Park to check out all the things I grew up loving + all the amazing new things Buena Park has added recently. Check out our Top 25 Things to Do in Buena Park and let us know which ones are your favorites in the comments below.
25 Things To Do in Buena Park with Kids + 9 of them are FREE!
1. Knotts Berry Farm-
You can't go to Buena Park and not visit Knott's Berry Farm. What started as an actual farm is now home to an awesome theme park and marketplace. Families will enjoy a bunch of rides, shows, and attractions while exploring 4 themed areas. There are roller coasters for the thrill seekers and Camp Snoopy for the little ones. Depending on what time of year you visit you may even get to check out additional attractions within the park like Knott's Boysenberry Festival (April), Knott's Scary Farm (Sept.-Oct.), Knott's Spooky Farm (Oct.), and Knott's Merry Farm (Nov./Dec.). You can see how to purchase discounted tickets here.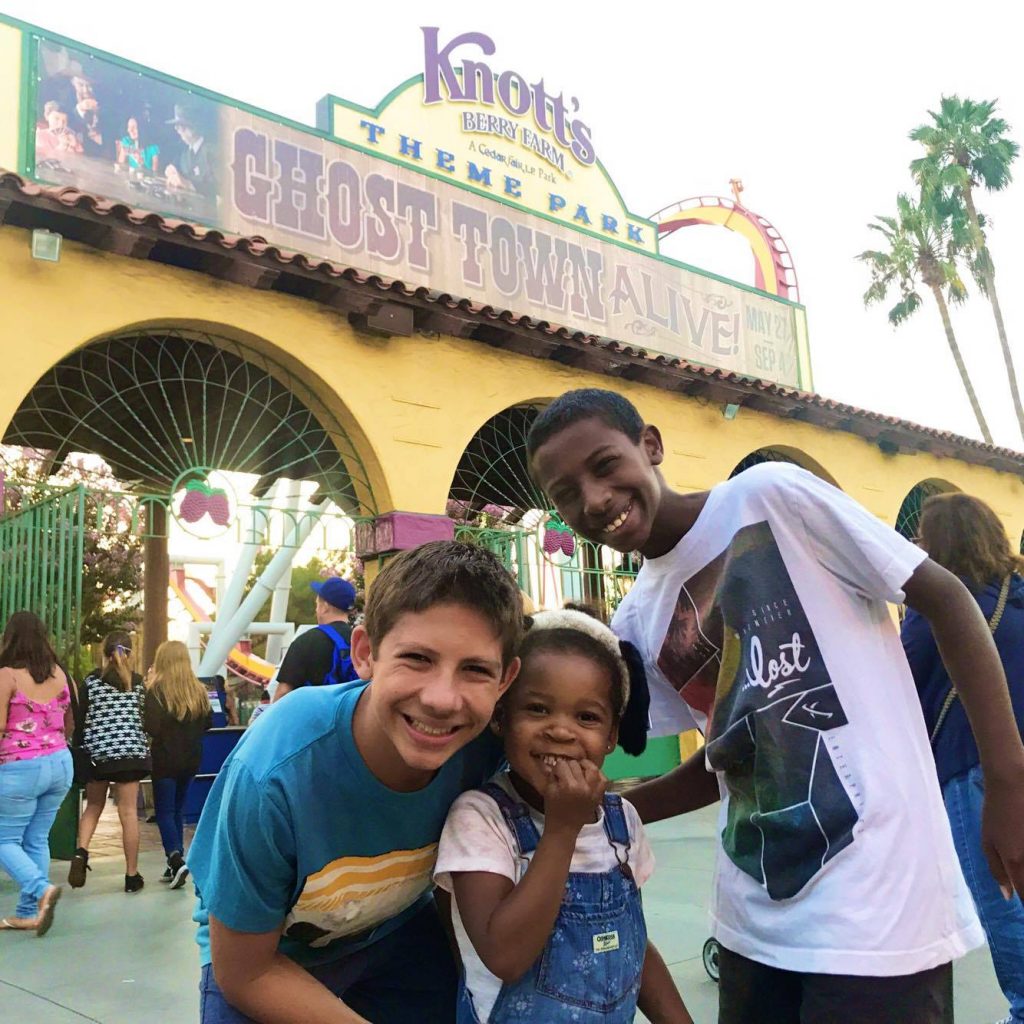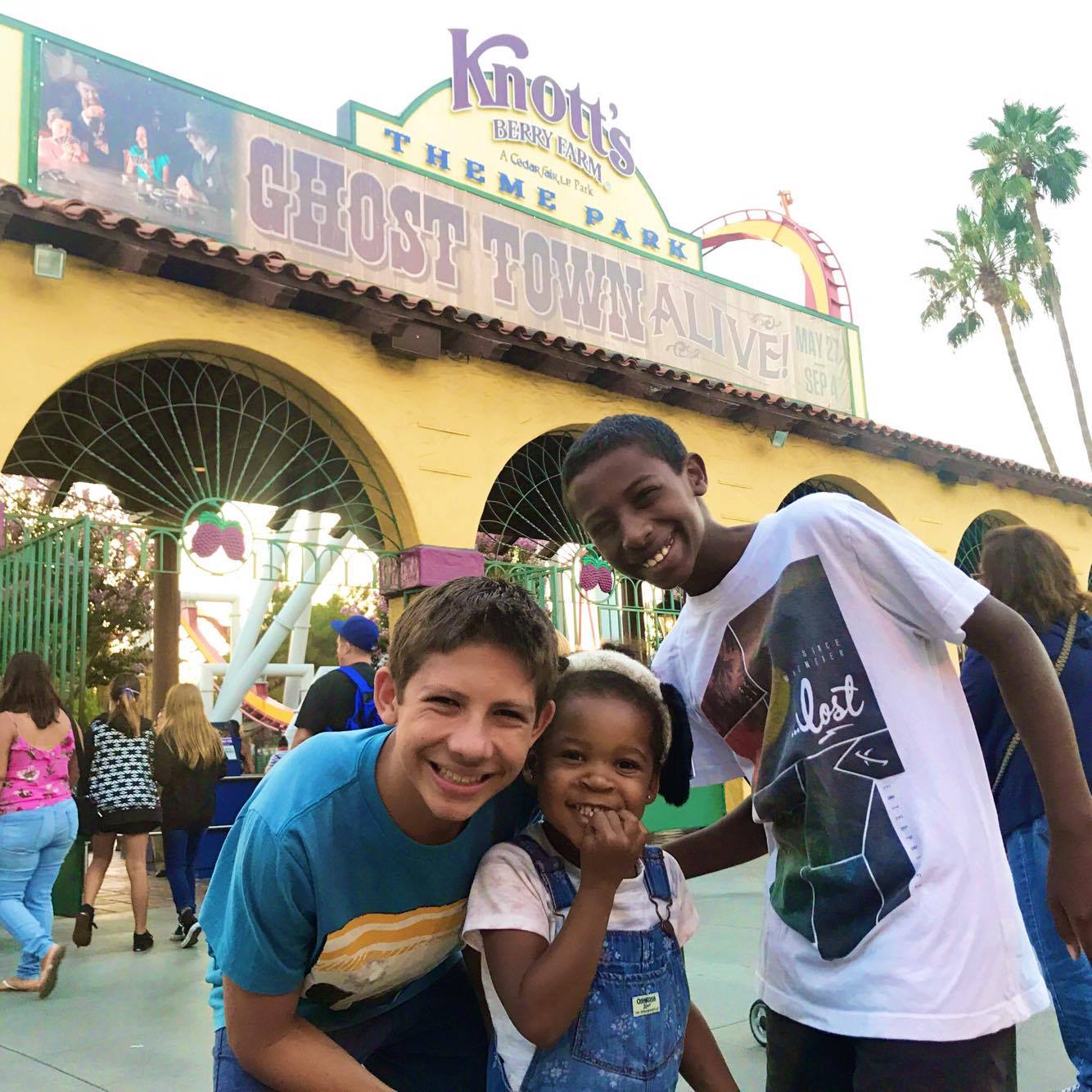 2. Knotts Soak City
If you visit during the warmer months (May through September) you can also check out Knott's Soak City Water Park. Located next to Knott's Berry Farm the water park sits on 13 acres full of water slides, splash areas, wave pools, and more! Our absolute favorite ride is the six-person family raft ride. Of course, the kids always have a blast exploring the three-story interactive Beach House too.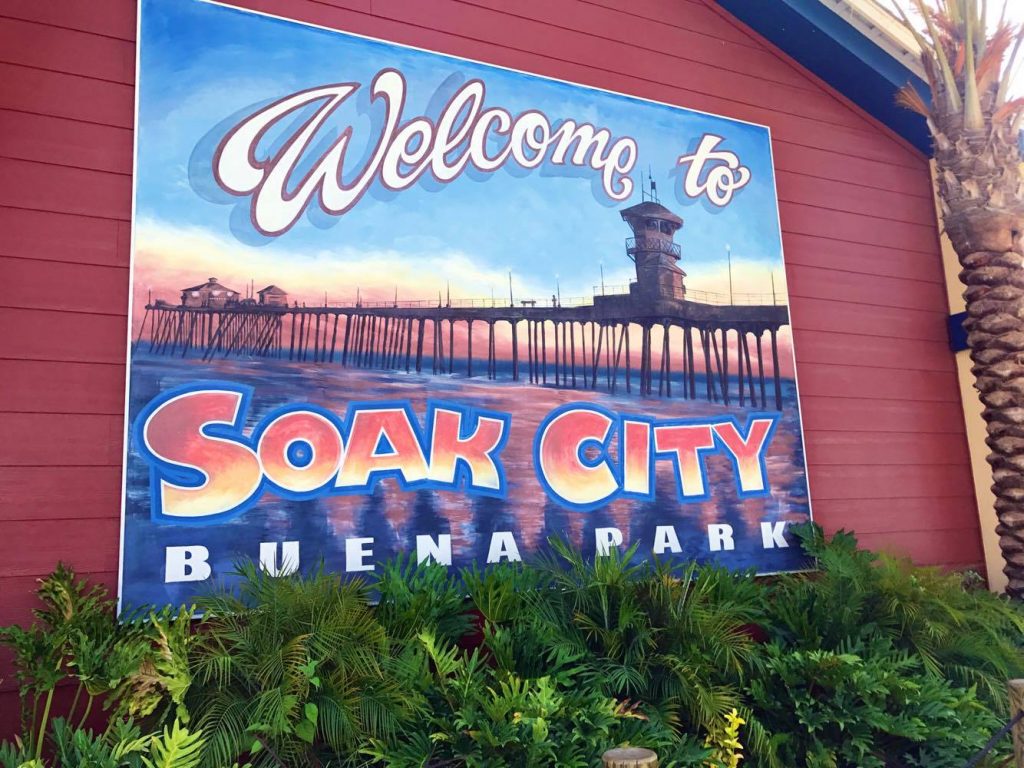 3. Pirates Adventure Dinner-
Ahoy Mateys! Families will love playing pirate for the night at this interactive dinner show where they will feast on a 3-course dinner while watching the excitement take place on a massive Spanish ship that sits in a 250,000-gallon indoor lagoon. *Tip- make sure to arrive early to snack on the included passed appetizers and pre-show. They also have holiday themed shows around Halloween and Christmas time.
4. Medieval Times Dinner-
Another fun thing to do in Buena Park is head to dinner at Medieval Times Dinner & Tournament. Families are swept back in time to the age of chivalry during a two-hour medieval tournament. Here you and the kids will cheer on your favorite night while enjoying a hearty three-course meal. *Tip arrive early to tour the indoor stables and view the gorgeous horses and check out the Hall of Arms.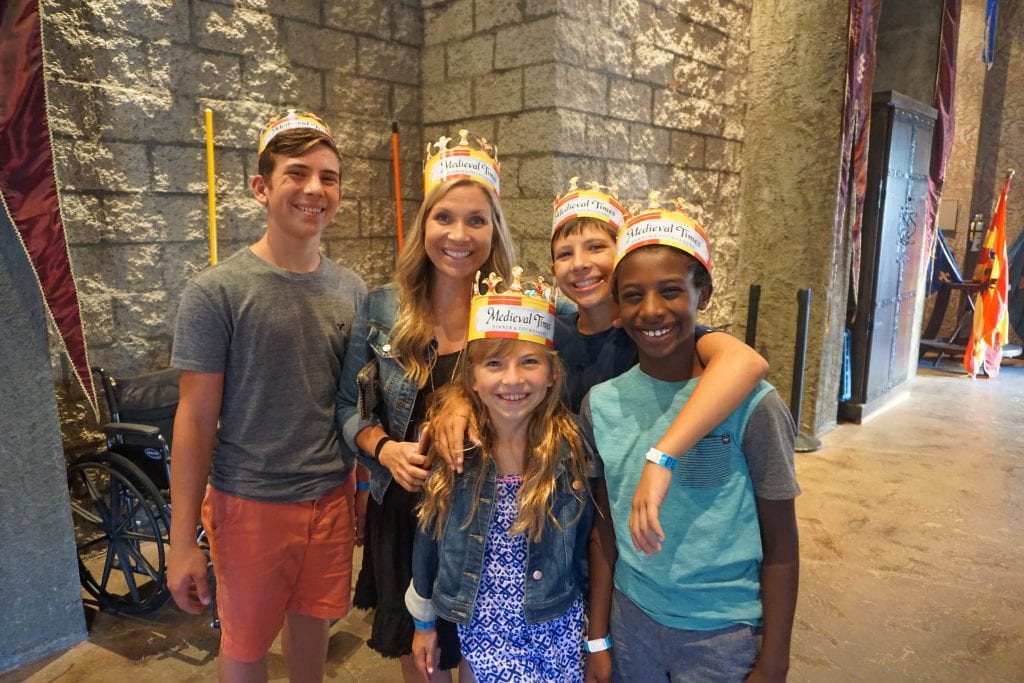 5. John's Incredible Pizza
My boys would honestly rate this as their #1 thing to do in Buena Park, they absolutely LOVE John's Incredible Pizza. But, if you are deciding which things to do in Buena Park with your family I would urge you to make sure this one is on the list. John's Incredible Pizza is an all-you-can-eat buffet style restaurant that sits within a massive (50,000-square-feet) arcade with amusement rides too.
6. Buena Park Raceway
Whether you have your own slot car (remote controlled car) or you rent one from the track kids will have a blast at this unique Buena Park attraction. There are multiple tracks available and weekly drag racing on Wednesdays and Saturdays.
7. Big Air
Burn off the kids energy and some calories at Big Air Trampoline Park. Besides trampolines, you will also find a rock climbing wall, foam pit, dodgeball area and slam dunk court too.
8. Howie's Game Shack.
Another unique experience and a "Must Do" for video game enthusiasts. Howie's Game Shack is the largest VR, PC, & XBox Gaming Center. Pricing is time-based and they also have all day passes available too. See pricing here.
9. Circus Magique
Newer to the interactive meal experiences is Circus Magique. Families will love dining while being entertained by circus performers, magic acts and more. This show runs every Saturday and Sunday afternoon. Get more info here.
10. Knott's Independence Hall (FREE)-
Mr. Knott (Knott's Berry Farm Founder) built an exact replica of the original Independence Hall & Liberty Bell in Philadelphia right on the property of his theme park and it is open FREE to the public. Check out the museum full of interesting artifacts and the carriage on display too. *Tip- get free parking for three hours if you park in the marketplace and get your parking validated at one of the shops or restaurants there.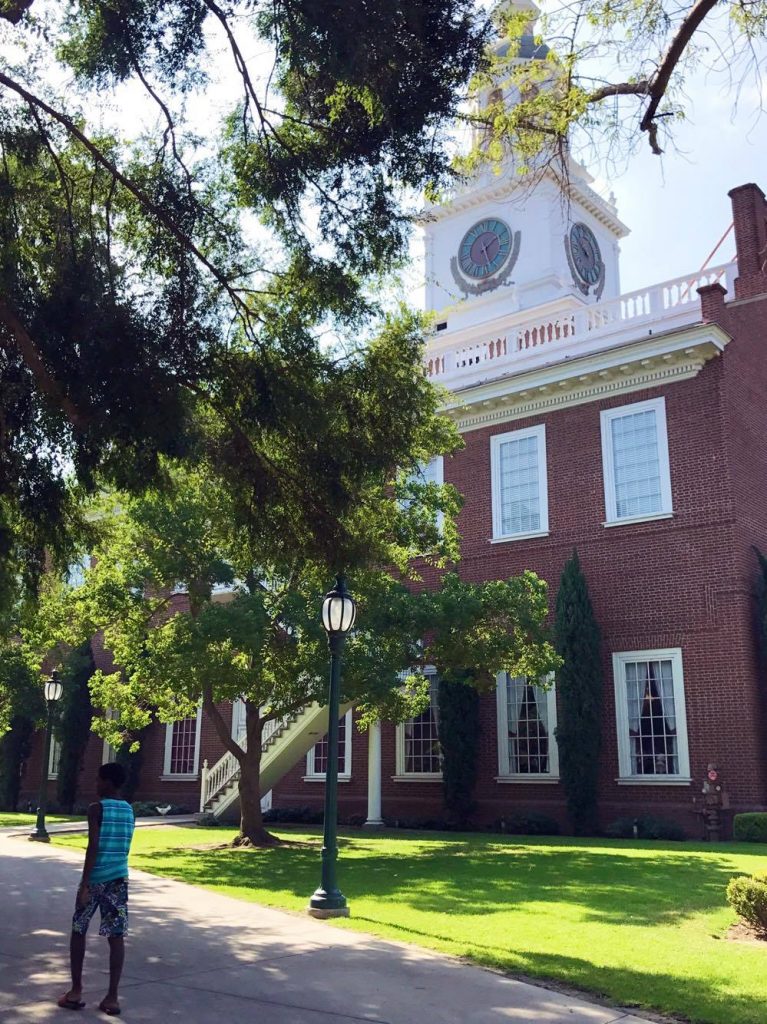 11. Ralph B. Clark Regional Park (FREE) + the Ralph B. Clark Interpretive Center (FREE)
Another fun thing to do in Buena Park is to check out the Interpretive Center at the Ralph B. Clark Regional Park. Admission is FREE to this awesome educational center which provides an educational view of Orange County's pre historic history including fossils, interactive exhibits, and guided tours. Kids and parents alike will be astonished at the 9-million-year-old Baleen Whale Skeleton on display. It is said to be one of the only complete ice age whale fossils in the world.
12. The Source
Another new comer to the Buena Park entertainment scene is The Source. A 400,000-square-foot entertainment space full of shops, restaurants, and movie complex. Check out the list of merchants here.
13. Nutrilite Experience Center (FREE)-
Have athletes in the family or want to be athletes? They might enjoy the Nutrilite Experience Center which offers twice-daily FREE tours. Here you will learn about the latest health trends, take a behind the scenes look at how scientists develop vitamins and check out the agricultural growing process. *Reservations are required.
14. Buena Park Historic District (FREE)
Did you know Buena Park dates back to the 1800's? In the historic district, you can tour the seven preserved buildings that remain today.
15 Brea Creek (FREE)
Families looking to take in some natural scenery will enjoy hiking along the Brea Creek (a tributary of Coyote Creek). It is located near the Brea Creek Golf Course.
16. Titanic the Artifact Exhibition
Follow the human stories through the magic of real life artifacts and storytelling at this compelling exhibit on display in Buena Park. Parents and kids alike will enjoy touring the recreations of the ship's interiors too.
Below attractions are within 10 miles
17. Kids Rock Playground (FREE)
Located at the Orange County Great Park in nearby Irvine the Kids Rock Playground is the perfect place to enjoy a picnic with little ones.
18. Outlets at Orange (FREE)
Last year when we visited Anaheim we came across the Outlets at Orange. Here families can find tons of entertainment including the Vans Skate Park, Dave & Busters and more.
19. Discovery Cube Science Center
Our kids love all the interactive exhibits available at the Discovery Cube in nearby Orange County. This museum is best for younger kids (under 10), but my older teens still get a kick out of the sports areas. Tickets are reasonably priced and they have some great seasonal events too.
20. Bowers Museum-
This fabulous museum is also home to the Kidseum, an interactive high technology children's museum. Our kids love their "Glow Cave" where they get to create all sorts of art. They also enjoy the archeology labs. The cost is only $10 per person ages 10 & up making this a very reasonably priced activity for families.
21. Santa Ana Zoo-
Kids love checking out all the different animals at the zoo, riding the "Zoofari Express" train and the Conservation Carousel, plus getting to feed and milk the inhabitants of the Crean Family Farm. Just be sure to check the website as feeding and milking the animals isn't available every day.
22. Visit Huntington Beach (FREE)
Less than 10 miles away families can enjoy one of the most classic Southern CA beaches Huntington Beach aka Surf City U.S.A. Come to soak up some fun, catch some waves, or stroll around the shops and restaurants. There are also bike rentals and water sports of all kinds available.
23. Angel Stadium
Catch a baseball game or head to the stadium for a Behind the Scenes Tour (Only $8 for adults and $6 for kids). The stadium also shoots off fireworks after Saturday night games and during the summer months, they have fun events happening for families on Sunday games.
24. Pretend City
Younger kids will have a blast exploring this child-size city with 17 interactive exhibits.
25. Honda Center
Home of the Ducks NHL Hockey Team the Honda Center is an excellent attraction for families. Check their website before you visit as they also have other family friendly events throughout the year.
Buena Park Hotels + Hotels near Knott's Berry Farm
There are tons of great options for hotels by Knott's Berry Farm.
Courtyard Marriott Buena Park- located 1 mile from Knott's Berry Farm (and only 5 miles from Disneyland) this resort is a great choice for families. The Courtyard Buena Park also offers free wifi and parking, has an on-site bistro, an outdoor firepit, gym, and pool.
Radisson Buena Park- located within walking distance from Knott's Berry Farm, the dinner shows and more this all-suite resort is very convenient. They also offer a complimentary shuttle to both Knott's and Disneyland.
Knott's Berry Farm Hotel-conveniently located just steps away from Knott's Berry Farm with a complimentary shuttle to both Knott's & Disney this resort is a great choice for families. You can even book Snoopy-Themed rooms where Snoopy himself comes and tucks your kids in good night!
Fairfield Inn & Suites- also nearby is the Fairfield with complimentary shuttle service to both Knott's and Disney. Plus, this hotel offers a complimentary hot breakfast too!
Find more things to do in Buena Park and a larger list of hotels near Knott's Berry Farm on the Visit Buena Park website. They also have an awesome free travel guide!
What are your favorite things to do in Buena Park??
Pin for Later-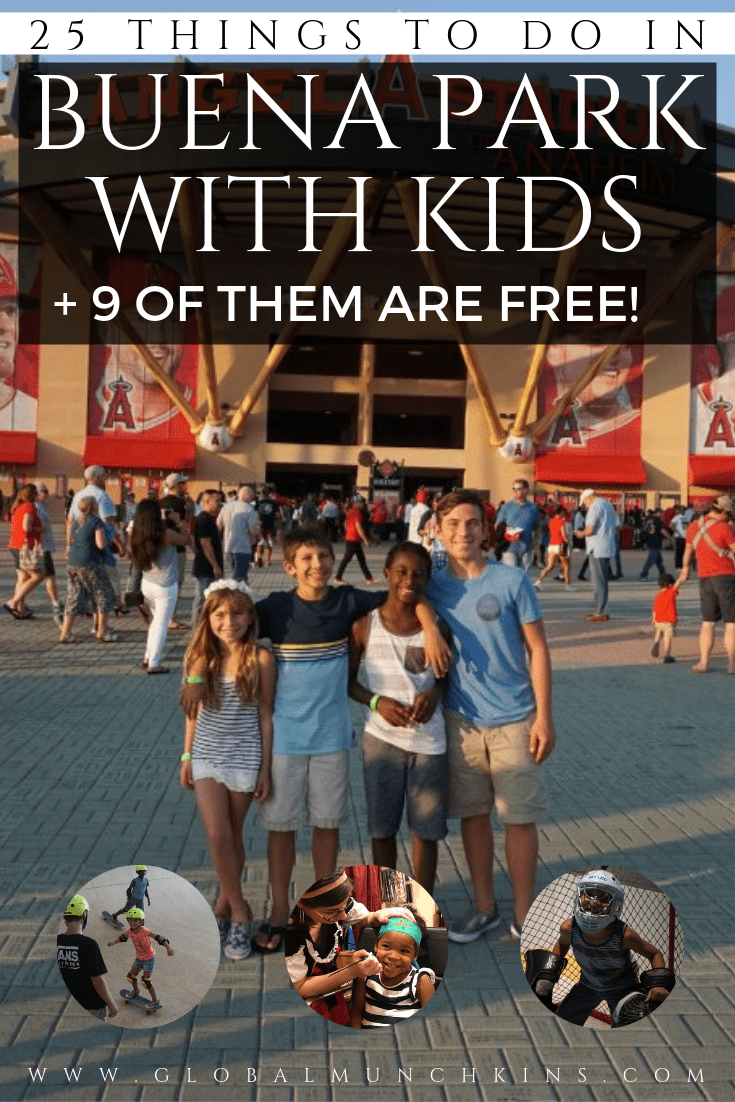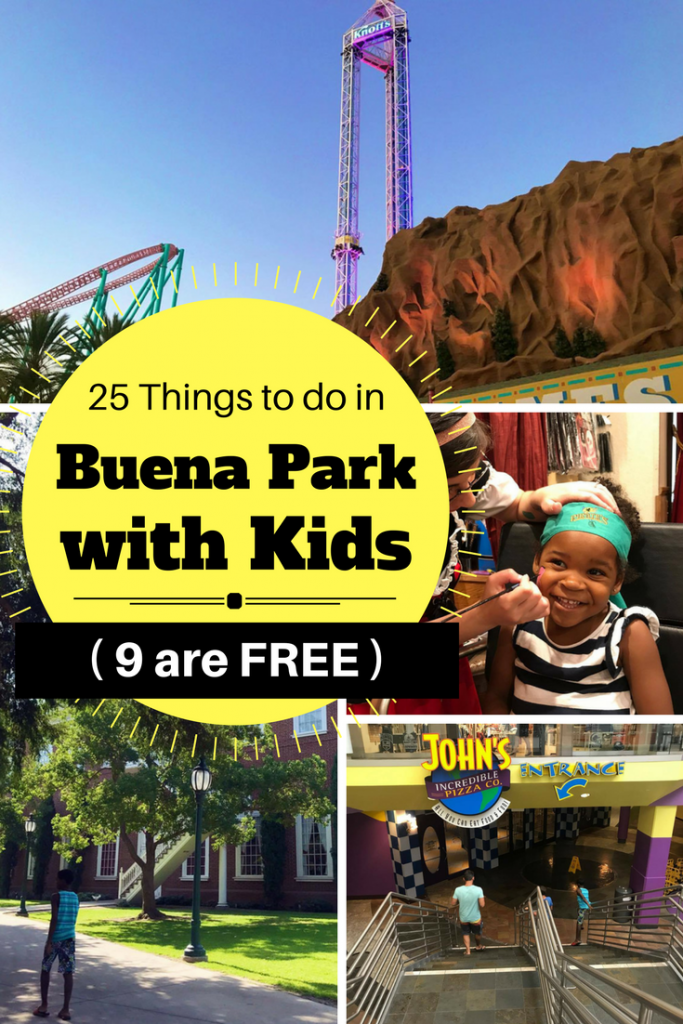 *This is a sponsored post in partnership with Visit Buena Park. All thoughts and opinions expressed above, as always, are 100% my own.
Latest posts by Mama Munchkin
(see all)