Whether you have been on one hundred cruises or if this is your very first one, taking a Disney Cruise is like nothing else. Like most things Disney has their hands-on, it's pretty darn magical. Part of the magic of Disney Cruise Lines is their deep-rooted traditions, things that families do time and time again on each cruise. We particularly love the Disney Cruise Door Decorations. Trust me, some people go all out and it's really fun to walk the halls and see how creative people get! However, the best part is getting together as a family and decorating your own door. You don't have to be the master of Pinterest to make it happen, either. We've gathered up some of our favorite Disney Cruise Door Decorations below with some tips on how to do your own! If you are looking for Fish Extender ideas, check out our faves here!
The Best Disney Cruise Door Decorations + 4 Doors You Have to Check Out!
Must-Have Disney Cruise Door Decorations
Disney Toy Story Door
This is maybe my favorite of all the door decorations. You get all of your favorite Toy Story Character customized in a ridiculously adorable fashion. You can choose up to 8 additional characters to go along with woody. They include Buzz, Jesse, Alien, Rex, Hamm, Lots-O, & Mr. & Mrs. Potato Head
You can grab this amazing door magnet set on Etsy. Check it out here!
Disney Specific Decoration
These Disney cruise decoration magnets are great because there are over 50 different options for a family and each person can completely customize their own. However, they still look cohesive and leave room for lots of other decorations like a banner or streamers.
How pretty is this magnet?! It can definitely be one that you use again and again, and you can theme your door around it however you would like. Another idea is to order a new one every cruise and put them all up on your door! Of course, there are plenty of different color choices as well.
If you are looking for a cohesive set for the whole family, this is definitely the way to go! Plus, you really get great bang for your buck with a family magnet and a cute little banner. This set has the classic Mickey Mouse and Disney feel.
These magnets are perfect if you are a big fan of Animal Kingdom because they are safari themed. You are on an adventure after all! These are made on premium cardstock and laminated. This shop is also currently offering 48 hour turnaround time! This could definitely come in handy for those of you in a pinch. Grab them Here!
These will provide a tropical touch to decorate your Disney Cruise door. They are bright and come in different fun colors! Because they are fairly simple, you could add any other decorations you'd like around them. Check out all the tropical options here!
Door Decorations That Could Work for Any Cruise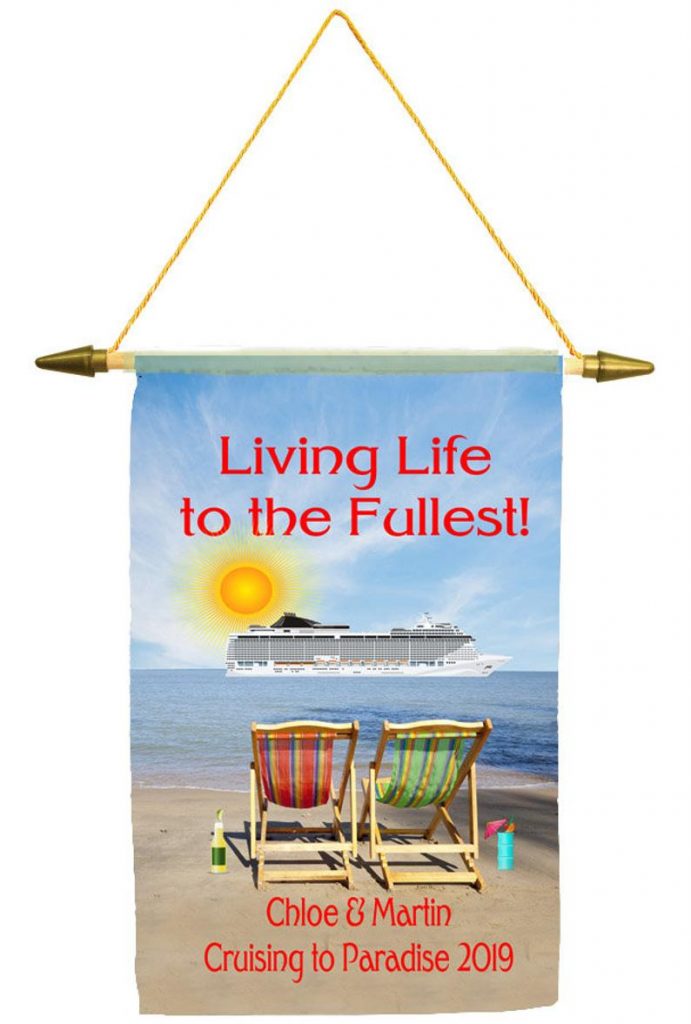 For those of you looking for something a little different than a magnet, these door banners are a great alternative! They come in two sizes and are customizable with your name and cruise details. With a banner like this on your door, you will surely be able to spot your cabinet from down the hall.
These little crab Disney Cruise Door magnets are adorable! They are made out of heavy cardstock and laminated. Best of all, they travel well so you don't have to worry about them getting ruined before making it on your door.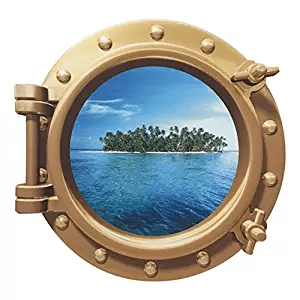 Stuck in a room without a view? Not a problem, you can create your own with this porthole magnet! I think it is kind of a funny idea and a way to poke fun at yourself. Bonus… when you get back home and you're missing the tropical views you can stick it back up on your fridge! Get your room with a view here!
I absolutely love the classic nautical look of these cruise door decorations. It is a cute banner with an anchor, sailboat, and lifebuoy pennants. This is a decoration that you can use again and again in a multitude of ways, not just as a door decoration. Snag these ones here!
4 More Amazing Disney Cruise Door Decorations
 Up Cruise Door
The Escape to Neverland
Teal Perfection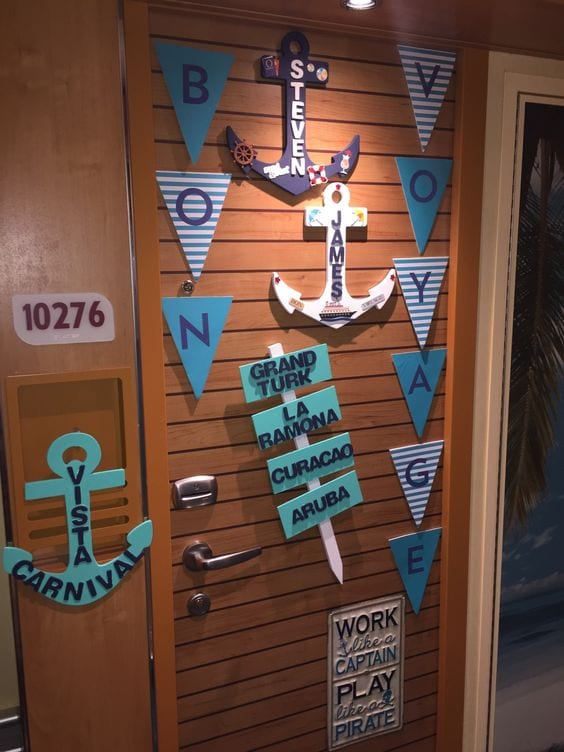 The Cutest Mickey Banner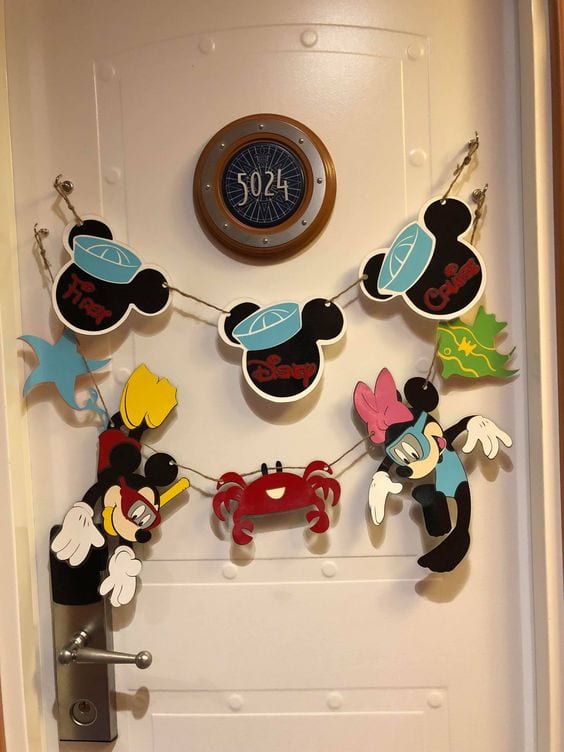 Now that you have some ideas for your Disney Cruise door decorations, I hope you feel a little more prepared for your trip! Our family has been on so many cruises, but there is just something special about Disney Cruise Lines. I cannot wait for you to experience the magic, and I might be just a little jealous!
You May Also Like:
How Much Does a Disney Cruise Cost? We break down all the details!
Disney Cruise Tips &  Tricks [Over 100 of our BEST CRUISE TIPS]
The BEST Disney Cruise Packing List (+ Pirate Night Details)
Pin for Later –
The Best Disney Cruise Door Decorations + 4 Doors You Have to Check Out!
Latest posts by Emily Myers
(see all)