Whether you're about to set sail on your very first Disney Cruise or you and your family are seasoned veterans, there always seem to be products you didn't know you needed before every trip!  If you've been on a DCL sailing previously, you've probably seen themed strips of fabric featuring several pockets hanging from the fish above staterooms' room numbers. These are fish extenders and they are so much fun. We noticed these cloth thingamajigs hanging off doors on our Disney Magic cruise and after a couple more Disney cruises, we decided to give it a shot.
What is a Disney Fish Extender?
In 2005, a lady planning to set sail on the Disney Magic had the brilliant idea of exchanging small gifts with other families on her cruise to make the experience even more magical. She passed out the original fish extenders on her trip and Disney fans never looked back! Today, there are dozens of social media groups where you can find gift ideas and others who are interested in doing fish extender exchanges on your upcoming vacation.
Ready to officially join the fish community? Check out these 15 great options to find one that is perfect for your family!
15 Creative Disney Fish Extenders
This appropriately nautical version features anywhere from 1-5 pockets, each of which can be customized with Mickey and Minnie silhouettes of your choosing. Check Current Prices Here!
This unique fish extender features tote bag style pockets and can be customized with a number of character silhouettes, so everyone in your family can choose their favorite. Check Prices Here!
Is your family battling with the dark side, this is a super adorable Star Wars Fish Extender which would be perfect for the Star Wars Disney Cruises. This 1-5 pocket Star Wars-themed version features multiple character options and six font choices. It's perfect for families who want to showcase Jedi (or Sith) pride. Check it out Here!
Do you want to build a Snowman Fish Extender? Of course you don't, that is why we love this Frozen inspired Fish Extender. This fish extender features customizable Mickey silhouette options, including fun styles inspired by Frozen and Lady and the Tramp. You can also request unlisted characters. Check it out here!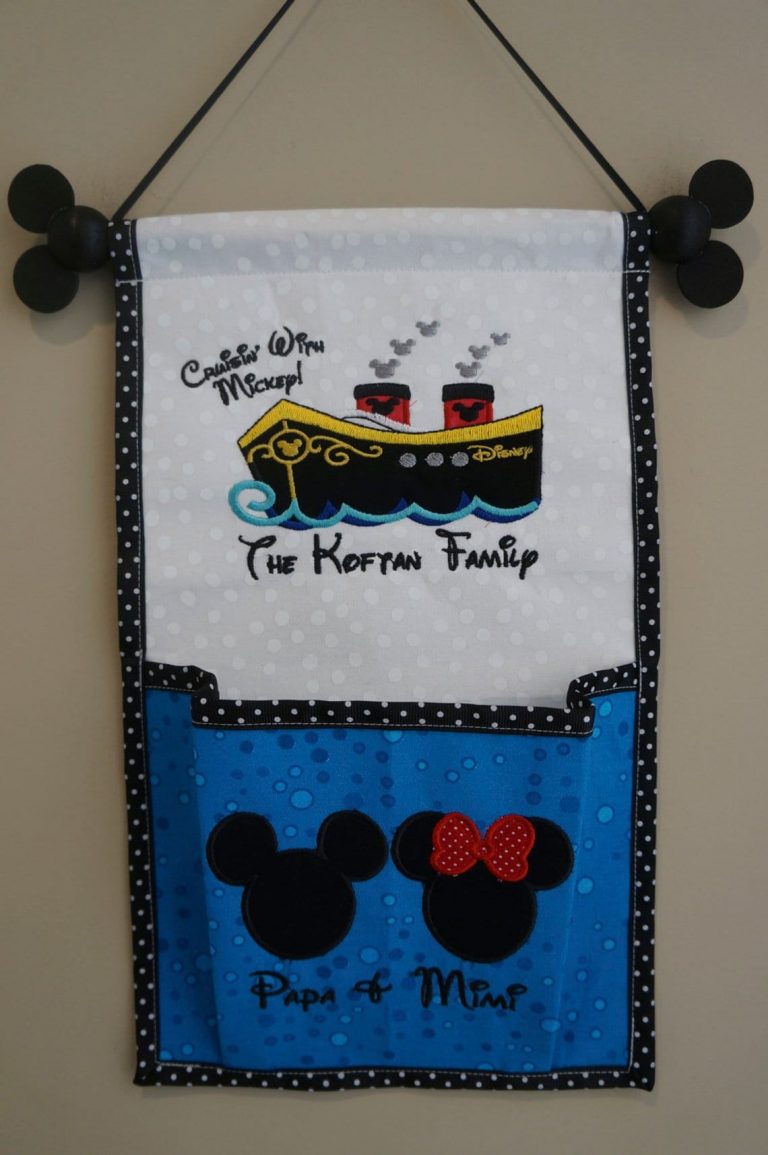 This double-pocket fish extender features dozens of Mickey and Minnie silhouette patch options and has an optional Mickey-ear dowel rod. It's a great choice for couples! Check it out here!
 This 1-6 pocket fish extender is ideal for larger families and features nautical-inspired Mickey silhouettes, including a fun ship's wheel option. The seller offers customization. Check out all the options here!
This colorful 1-5 pocket extender features full character images, rather than the popular Mickey and Minnie silhouettes. Nearly any character is available upon request. You can do a full princess theme or simply choose each of your favorite characters. Check out all the options here!
The one cruise I am dying to go on is a Holiday themed cruise. This Christmas-themed fish extender is ideal for holiday sailing. Several color options are available and each pocket features a Mickey or Minnie silhouette with a Santa hat. Check it out here!
Ahoy Matey! This 1-4 pocket fish extender showcases adorable, seaworthy Mickey fabric on each pocket. Optionally, the top of your extender can be personalized with your family name. Check it out here!
This upscale looking 1-5 pocket fish extender features gold embroidery and your choice of twelve character silhouettes. Four background color options are available. You can choose between Elsa, Olaf, Little Mermaid, Mickey, Goofy, Donald, Pluto, Sven, Daisy and a gold slipper. Check current prices here!
This 1-5 pocket tutu version features dozens of character embroidery options. It has tulle accents on each pocket, making it an especially good choice for princess fans. Check out all the adorable options here
One of my favorite choices is This Steamboat Willie. This is great for vintage Disney fans. Choose a different body part, including Mickey's famous hat, gloves, and shoes for each pocket. Check it out here!
This classic, black and red 1-4 pocket features numerous embroidery options, including Halloween and pirate styles. There are also seven top panel choices. This is perfect for those who love to celebrate Pirate Night onboard Disney Cruise! Check it out here!
This 1-6 pocket fish extender features flip-flop embroidery, ideal for Caribbean and Mexican cruises. There are six color themes, including Halloween, classic, and beach. I love how the sandals can be decorated with a mickey or Minnie theme! It's just too cute. Check Current Prices Here!
This cute 1-4 pocket is the perfect choice for Chip and Dale fans. Each pocket features an embroidered acorn that can be customized with your family's names upon request. Check it out here!
Once you decide on a fish extender, make sure you follow all of the seller's customization instructions and don't hesitate to ask questions. Also, Check out these great Fish Extender Gifts from my friend over at Trips with Tykes. Bon Voyage!
Have more Questions about Disney Cruises – Leave them in the Comments or Direct Message us on our Instagram!
You Might Also Enjoy:
Disney Cruise Tips & Tricks [Over 100 of our BEST CRUISE TIPS]
Castaway Cay Cabanas; Why Not Booking One was My Biggest Mistake
Disney Cruise Concierge; An inside peek at some Uber Luxe Magic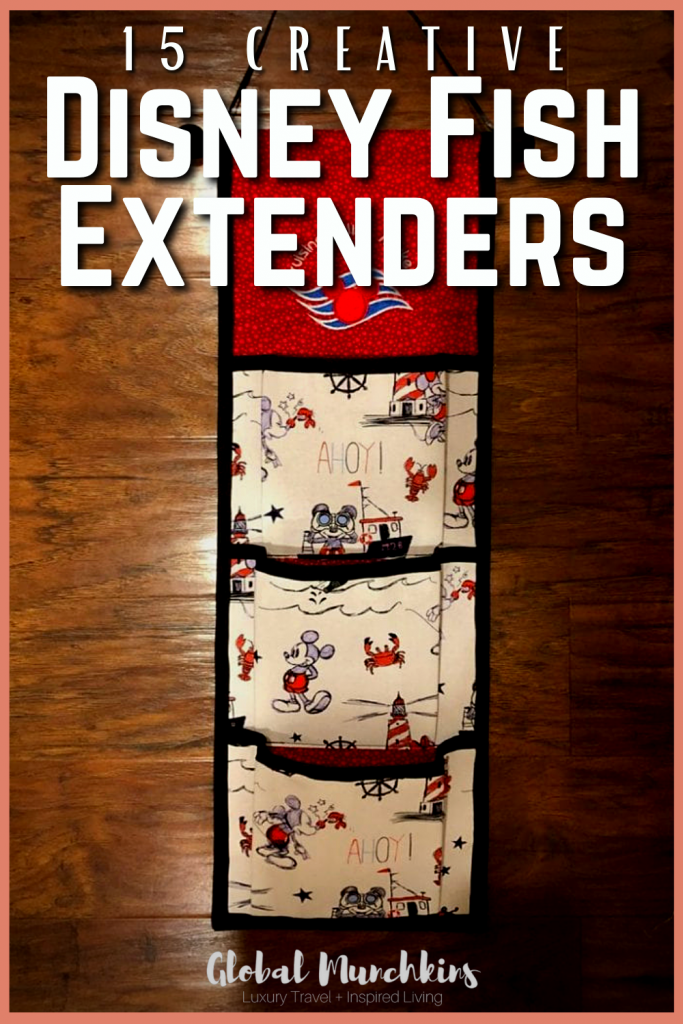 Latest posts by Mama Munchkin
(see all)