As a mom of six with kids ranging in age from 1 to 20, I've had the pleasure of taking my family on a number of cruises over the years. But none have quite matched the experience we had aboard Symphony of the Seas, our favorite Royal Caribbean cruise ship!
We have experienced many cruises sailing out of Florida, from companies like Disney Cruise and now the Royal Caribbean!
We took sail on the amazing Royal Caribbean Symphony of the Seas for a 7 night cruise from Miami, Florida to Philipsburg, St. Maarten, to Charlotte Amalie, St. Thomas and finally enjoying a perfect day at CocoCay, Bahamas!
If you are planning a vacation and are looking into a cruise, we went ahead and created a complete Symphony of the Seas Review below for you!
---
---
Symphony of the Seas Dining
Dining has to be a top part of our Symphony of the Seas review and any cruise for that matter. There are several restaurants onboard, however if you have not upgraded your dining the options are a bit limited.
Aboard Royal Carribean Symphony of the Seas, we were pleasantly surprised by the range and quality of dining options available to us.
First and foremost, the ship's main dining room was a hit with our entire family. With a rotating menu of international cuisine and attentive waitstaff, we always looked forward to our nightly dinner there.
Even our picky eaters were able to find something they enjoyed, and the waitstaff were always happy to accommodate any special requests or dietary restrictions. Let's go over all the dining options included in your cruise fare.
Wonderland
Wonderland is a whimsical and imaginative restaurant, serving up inventive dishes inspired by Alice in Wonderland. The menu is filled with surprises and delights, making it a fun and memorable dining experience.
Since it is Wonderland they really went ALL OUT on theming the food to make it fun! Some of the dishes are served in a glass of smoke, while others actually MOVED! Yes MOVED! To view the menu, you have to paint it, which we thought was pretty neat.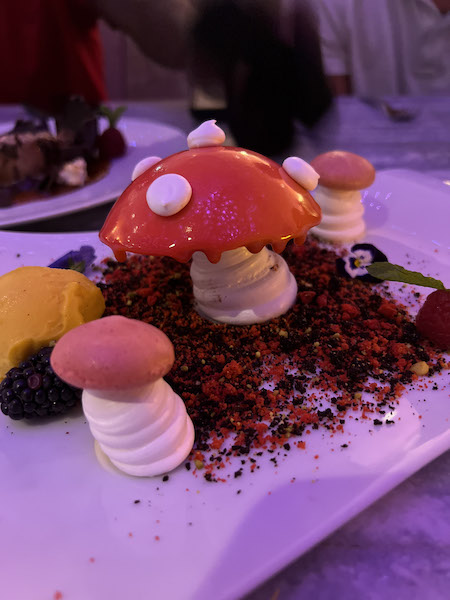 We personally loved it and thought it was an amazing addition to our cruising experience because it was unique and WILD! You have a chance to meet the Mad Hatter himself!
If you have little ones, we are not quite sure if they will enjoy the food, but the atmosphere might be something they are more interested in.
The food wasn't the best, but the experience was over-the-top and we highly recommend checking out!
Windjammer Buffet
The Windjammer Buffet is definitely one of the most popular places to grab food while onboard the Symphony of the Seas. There you will find a wide selection of foods from ethnic dishes like Indian cuisine (my favorite) to burgers, pasta, ribs etc.. Breakfast offerings include everything you would expect, oatmeal, eggs, omelets, baked goods, cereal and more.
I have to say I was not a fan of breakfast as much, perhaps the healthy options I was looking for just didn't satisfy my taste buds.
El Loco Fresh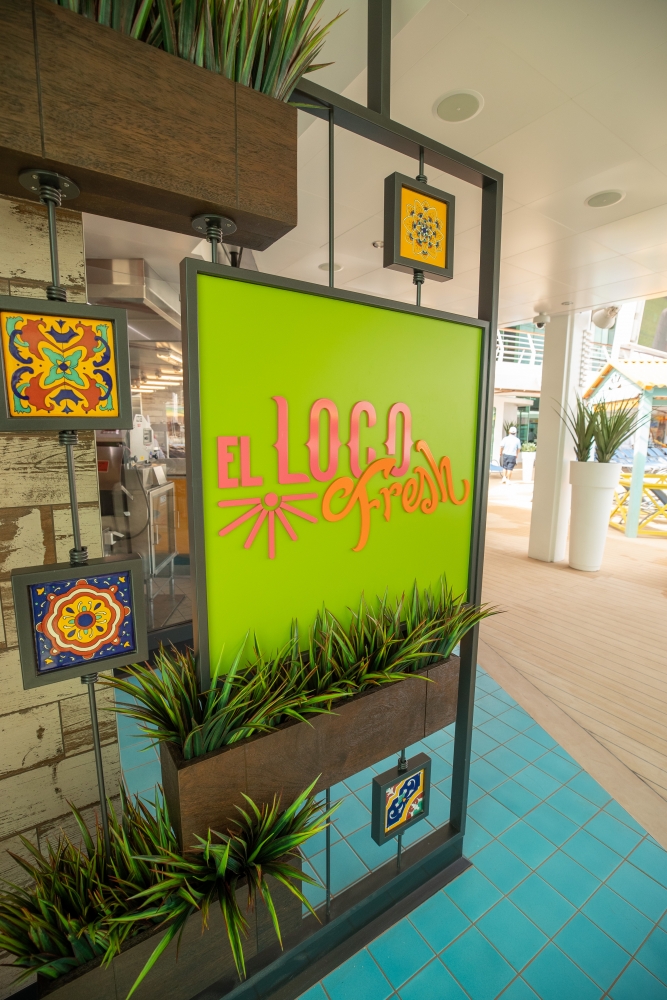 El Loco Fresh is a great little stop on the pool deck where you can grab some tacos, burritos, nachos and more. The tacos and burritos were delicious, the nachos left a little to be desired…. that cheese sauce was not for me.
Cafe Promenade
Cafe promenade is where you will find amazing pizza at Sorrentos, sandwiches, baked goods, fresh fruit and more. It is located on Deck 5 across from Legends sports bar. This is your go to spot for grabbing a late night snack after a fun night onboard the ship
Main Dining Room
On the Symphony of the Seas, the Main Dining Room is located toward the back of the ship in a prime location.
The three-deck venue offers passengers a complimentary evening meal, with the choice of My Time Dining (where you can stroll in and be seated whenever you want between 5:30 and 9:30 p.m.) or formal dining (where you sit at the same table, with the same wait staff, at 6 or 8:30 p.m. every night). For those who select My Time Dining, reservations are required.
Beef carpaccio, French onion soup, escargot, and an iceberg wedge salad are among the starters. Almond-crusted cod, duck a l'orange, vegetable casserole, and the standard chicken breast and steak are among the main courses. For dessert, there is carrot cake, sugar-free peach shortcake, and creme brulee are among the sweets.
---
Upgraded Dining Options
We paid to upgrade our dining to the unlimited dining, we did this on the Navigator of the Seas as well and it is definitely worth it. The unlimited dining includes dinner and lunch at 5 different specialty restaurants plus dining credit to the Legends Sports Bar and Johnny Rockets.
***Pro Tip*** Book the Unlimited Dining Online to Save Money & Also book reservations online at the upgraded restaurants as they do book up fast
Jamie's Italian ($39.99 for adults, $10 for kids)
Our favorite meal on the last cruise on the Navigator of the Seas was Jamie's Italian and it did not disappoint, however it is no longer our favorite. It is surprisingly the least booked, and I believe that is just because it is the least priced.
As a result, people feel as though they are not receiving as much for their money if they have the unlimited meal plan.
The cuisine at Jamie's was outstanding, including the excellent appetizers, the outstanding short rib (a must), and the finest cheesecake I've ever had: lemon meringue.
Izumi Sushi (A La Carte Pricing)
If you like sushi, you must visit Izumi Sushi. The miso soup and sushi rolls, in particular, were outstanding.
Don't overlook the ramen either; it is excellent. Our kids were so enamored with the experience that they requested it for lunch on the day we were at sea. One appetizer, two meals, and one dessert are included with unlimited dining plans per sitting.
Chop's Grill ($42.99 for adults, $10 for kids)
Chop's Grill was one of the busiest and definitely my least favorite dining establishments. The dinner was not as outstanding as I had hoped, however it could be because I am not a great fan of steak. Along with a variety of various sides, you can eat a variety of different steak cuts.
Hooked Seafood Grill ($42.99 for adults, $10 for kids) – Our New Favorite!
This was our absolute favorite restaurant onboard. You can order a giant 1 lb lobster that is simply incredible. The fish is so moist and delicious, its seriously some of the best seafood you will ever enjoy!
Playmakers Bar & Grill (a la carte pricing)
The classic pub menu at Playmakers includes burgers, wings, and delectable desserts. The s'mores brownie is a must-have; it is amazing. The wings are also quite excellent. Although the price is A La Carte, unrestricted dining gives you $30 per person per sitting, which is considerably more than you could ever use.
Johnny Rockets
Back on the pool deck is Johnny Rockets. Your classic burgers, shakes and fries are available at this location. The shakes are not included in the dining plan here, however you can get a soda if you have the dining plan even without the soda or drinks plan.
Room Service: $7.95
Room service is offered 24 hours a day, and all orders, with the exception of continental breakfast and those placed by passengers sleeping in Grand Suites or higher, the rate is $7.95.
---
Activities on Board the Symphony of the Seas
Symphony of the Seas offers a wide range of endless activities for guests of all ages to enjoy during their time on board during their sea days. Whether you're seeking adventure or relaxation, there's something for everyone.
Water Slide
We can confidently say that the water slides on Symphony of the Seas are an absolute blast for the whole family. The ship boasts a variety of slides, each with its own unique twists and turns, making it perfect for all ages.
For my youngest, the Splashaway Bay area was a favorite, with its shallow pools and smaller slides. My older kids enjoyed the Perfect Storm slides, which included a trio of thrilling slides that spiraled down several decks. The Typhoon and Cyclone slides were particularly exciting for them, with sudden drops and sharp turns that had them screaming in excitement.
Even as a mom, I couldn't resist trying out the slides myself, and I have to say, they were exhilarating! The Ultimate Abyss slide, which takes you down 10 decks in just a few seconds, was particularly heart-pumping.
Planet Z Laser Tag
One of the most popular activities on board is Planet Z laser tag, an immersive and exciting experience where guests battle it out with laser guns in a neon-lit arena. It's a great activity for families or groups of friends, and offers a fun and competitive way to spend an afternoon on board.
Mini Golf
Mini golf onboard Navigator of the Seas is a ton of fun. Royal Caribbean had a family mini golf competition which we sadly missed but of course we created our own amongst are family which was a ridiculous amount of fun.
Rock Wall
The rock climbing wall is located on the back of the ship. There are several different paths from easy to quite difficult. This made it fun as our kids kept trying to improve and try the rock wall again and again to see if they could accomplish the most difficult course.
Our kids loved rock climbing and it is actually what started Owen's rock climbing addiction!
Sports Court
The Sports Court is where you often found our boys. There are basketball competitions onboard from free throw to three point competitions. 7 day cruises have 3 on 3 tournaments. The court is also setup for soccer and pickle-ball games at times too. Next to the sports court are some ping pong tables and knock out matches to enjoy.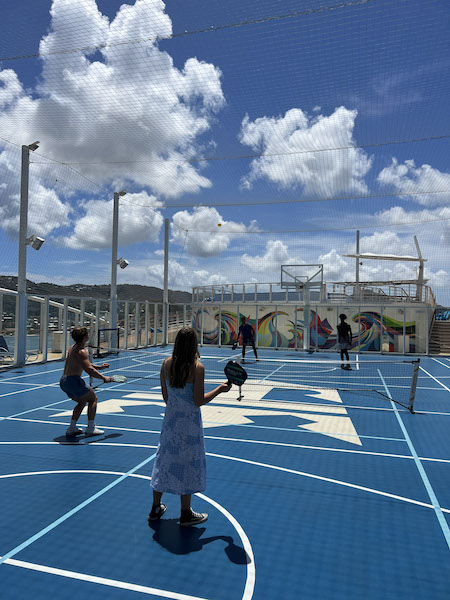 Flow Rider Surf Simulator
Located at the back of the ship is the flow rider. The flowrider surf simulator allows you a chance to test our your boogie boarding or surfing skills. There are certain times for the flow rider and they are designated for if you want to surf or boogie board so check your Royal Caribbean app for times.
Ice Skating
You know what else you can do on the Symphony of the Seas? ICE SKATE, yes you read that right, there is a small ice rink located on board that adds some magic to your cruising experience. I mean how many people can say they went ice skating on a ship?
What I appreciated most about the ice skating experience on Symphony of the Seas was the variety of activities available. There were open skating sessions, as well as several themed shows that featured professional skaters performing incredible stunts and routines. I particularly enjoyed the "1887" show, which combined elements of steampunk, music, and acrobatics.
Another thing we liked about the shows on the ice skating rink were the drones that were incorporated into the show, really added a fun and special touch!
Another great aspect of the ice skating experience on Symphony of the Seas is that it's suitable for all ages and skill levels.
Legends Sports Bar
Legends Sports Bar is a great place to hang out. They have table shuffleboard, pool and foosball to play for free, plus they are playing many popular games on their numerous tv's.
Zip-lining
If you read about some of our other adventures, then you know we love zip lining!
The zip lining experience on the Symphony of the Seas takes place on the ship's top deck, where passengers can enjoy breathtaking views of the ocean and surrounding landscape as they glide across the zip line. If you LOVE zip lining like us, then we highly recommend it!
Escape Room
One of the most fun and family bonding moments of the trip was the Escape Room, which we surprisingly conquered!
The escape room on the Symphony of the Seas cruise ship was a highlight of our trip, and it's an activity that I would highly recommend to other families. It's an excellent way to spend quality time together, challenge your problem-solving skills, and create unforgettable memories.
---
Shows/Entertainment
Shows
One of the best things about being on a cruise is the entertainment and the Symphony of the Seas does NOT disappoint when it comes to incredible entertainment. There are numerous shows that passengers can enjoy throughout their journey. From Broadway-style productions to acrobatic performances, there is something for everyone to enjoy.
A special tip for you to note is to make sure you have a reserved spot for your shows. If you do not you have to go into a stand-by line. Although, on our ship we saw that pretty much everyone who was in the standby line was able to get a seat for the show.
Here are some of the shows offered on the ship:
Hairspray
Flight
Aqua Theater Shows
Ice Shows
Columbus, The Musical
Headliner Shows
Laser Tag: Battle for Planet Z
Casino
The casino onboard the cruise ship is fun but they do allow smoking which makes it less fun. They have all the table games from craps, to blackjack to roulette.
Games
There are several other types of games on the ship from Harry Potter Trivia to the most popular event Bingo.
---
Rooms
The Symphony of the Seas is one of the largest cruise ships in the world, and it offers a wide range of staterooms and suites to accommodate its passengers' needs and preferences.
Ocean View Staterooms
We stayed in (2) ocean view stateroom with a balcony, which slept 4 people each. We enjoyed the rooms and thought they were really nice for our family of 8.
These staterooms offer stunning views of the ocean and surrounding scenery. They feature large windows or portholes, providing a bright and airy atmosphere.
Interior Staterooms
These staterooms offer a comfortable and affordable option for passengers who want to experience the ship without breaking the bank. They typically feature two twin beds that can be converted into a queen-size bed, a private bathroom, and a flat-screen TV.
Central Park View Staterooms
These staterooms overlook the ship's Central Park, a lush garden area located in the middle of the ship. They offer a serene and tranquil atmosphere, with the added benefit of views of the park.
Central Park is actually my favorite location on the entire ship! It is an outdoor area on the 5th level if the ship with gorgeous trees and so many shaded areas. It is a nice place to relax and grab a bite to eat!
Suites
The Symphony of the Seas offers a wide range of luxurious suites, including Junior Suites, Grand Suites, Owner's Suites, and the expansive Royal Suite.
These suites offer spacious living areas, private balconies, and a range of amenities, including butler service, priority boarding, and exclusive access to specialty dining venues.
The suite lounge was a nice place to stop by in the evening as they have appetizers and free cocktails from 5-7 pm each evening.
The concierge was by far the best part of having a suite. He contacted us before the cruise to help with bookings of restaurants and excursions (we should have taken him up on the excursions as the one we wanted was all booked by the time we got on board)
He also helped us get show and ice skating reservations when things were pretty booked.
You can read a bit more about amazing family suites on the Symphony of the Seas here.
---
Kids Club/Teen Club
The Kids Club was a definite highlight of the trip for Olivia. She loved it! The kids club (aka Adventure Ocean) would have activities the kids could take part in or they could do their own thing and play video games or do arts and crafts.
There were set times each day for the kids club, 9am -12 p.m. 2-5 p.m. and 7 -10 p.m. I actually enjoyed this as otherwise Olivia would just want to be in the kids club the whole time so it was a nice balance.
The teen area is located on the back of the ship in a hidden area and has a pretty cool vibe. Our kiddos did not visit because well there are so many of them they kind of have their own club, but it looked pretty awesome.
---
Symphony of the Seas Service
I think one of the highlights of our Symphony of the seas review was the service. The service onboard the ship was outstanding.
There weren't the pushy waiters trying to get you to buy drinks everywhere you went like some other cruises I have been on. The staff from the waiters, to entertainment, to kids club to the pool staff was just there to make sure you had a great time.
---
Perfect Day at CocoCay
Symphony of the Seas offers its guests the ultimate private island experience with its exclusive destination, Perfect Day at CocoCay.
There are a variety of activities to enjoy on the island, including water sports such as kayaking, snorkeling, and paddleboarding. For those seeking a thrill, there are also exhilarating attractions such as the tallest water slide in North America and a helium balloon ride that offers breathtaking views of the island.
They also have that neat experience you see on the travel channel where you can swim with the pigs!
Guests can also enjoy a delicious meal at one of the island's many restaurants, including the iconic Chill Grill that serves up mouthwatering burgers and BBQ. There are also bars serving up refreshing cocktails and frozen drinks. We ended up eating at the waterpark, but we did hear that the tacos are INCREDIBLE!
Thrill Waterpark
We actually had the opportunity to experience the Thrill Waterpark on CocoCay (Note, that you do have to pay extra and it is a bit pricey!)
We do have to say though, that we thought it had some of the best waterslides that you will ever experience in your whole life! The food is complimentary and it includes private cabanas!
Symphony of the Seas Booking Hack!
One of the hacks that we use when booking cruises is actually really simple. Expedia gets exclusive special offers and extras on cruises that smaller travel agencies don't get plus they have a rewards program that gives you 4% money back for future vacations. You can book your Symphony of the Seas vacation here!
---
Overall about the Symphony of the Seas Experience
Symphony of the Seas is an impressive ship that provides its passengers with a luxurious and unforgettable experience.
With a wide range of amenities and activities, including the stunning Sugar Beach and a private island, guests can enjoy the ultimate relaxation and adventure.
The shore excursions offered are also diverse, allowing passengers to explore new destinations and cultures.
Moreover, the ship's sister vessel, Harmony of the Seas, also offers fantastic entertainment options such as Adventure Ocean and fine dining experiences such as 150 Central Park.
We experienced a 7-day cruise and we think you might be able to do everything that is offered, but personally we were not able to do everything! This ship is MASSIVE and they really offer so many amazing experiences for you and your family!
Whether you're seeking adventure or relaxation, Symphony of the Seas is the perfect choice for an unforgettable cruise vacation. You can can book or learn more at Royal Caribbeans's official website
---
If you enjoyed reading about our Symphony of the Seas Review, you might also enjoy these posts:
HOW MUCH DOES A DISNEY CRUISE COST? + MONEY SAVING TIPS
OUR TOP 5 REASONS YOU SHOULD BOOK A DISNEY CRUISE FROM GALVESTON AND WHAT MAKES IT SO GREAT!
ROYAL CARIBBEAN VS NORWEGIAN CRUISE LINE [ULTIMATE FACE OFF!]
---
Pin for Later: Symphony of the Seas Review! Why this is our favorite Royal Caribbean cruise ship!