Every year my kids' favorite vacation is our Thanksgiving vacation with our extended family. There is something that is so much fun about everyone gathering together in one place for vacation. Often times we find ourselves in a beautiful home or villa for two reasons. First, it is usually less expensive than staying in individual rooms at a resort. Second, is you get to stay at some incredible places that you couldn't possibly imagine and one of the places to find such villas is Top Villas. Top Villas is the leading luxury villa rental company and right now they are giving away a 5 Night Stay at an Incredible Orlando Villa. 
Win a 5 Night Stay at an Incredible Orlando Villa!
Encore Competition January 2018 Munchkins

Located just 5 miles from the gates of Walt Disney is an 8 bedroom Vacation Home (that's right 8!) waiting to be one for 5 nights by one lucky winner and 15 of their closest family and friends. Let's check out some of the incredible amenities.
Enjoy Your Very Own Luxurious Pool & Spa
No reason to wade in the pool with all those hotel guests when you can enjoy this incredible pool to yourself at your very own luxurious Orlando Villa.
Despicable Me Minion Room for the Kids
While you are relishing in the delight of not being cramped all together in one hotel room, your kids will flip for their very own Despicable Me Minion room.
Breakfast is Served!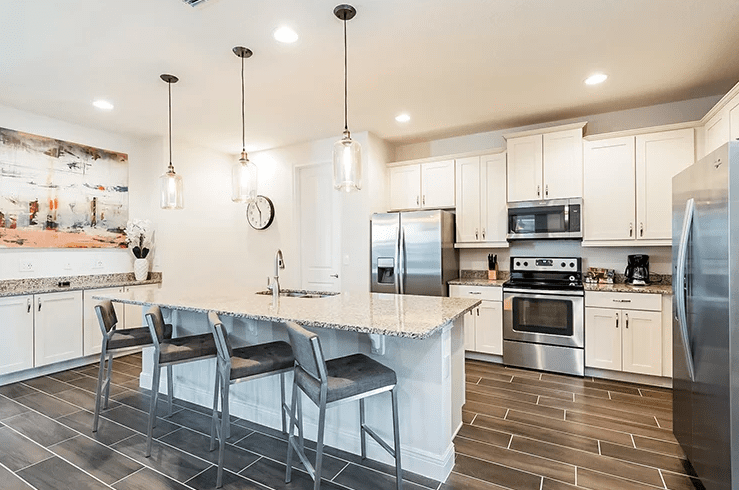 While this luxurious villa is located close to some amazing restaurants, you can also enjoy a night in or some morning breakfast in this beautiful kitchen.
Enjoy a Spacious Family Room to Relax or Catch a Game on TV
Whether you are taking a break from the sun or just kicking back and watching some T.V. this family room is an amazing place to wind down with friends and family.
+ Enjoy some Incredible Resort Amenities including Fitness Center, Restaurants & Water Park!
Sure, a lot of hotels offer a fitness center and restaurants, but how many offer their very own water park! One of the amenities of this Orlando Villa is that you get to enjoy the amenities of the Encore Resort at Reunion. This includes sports courts, where you can play basketball, tennis, and volleyball. In addition, the Encore Resort at Reunion has some amazing award-winning restaurants. However, the amenity your kids will be clamoring for is their exclusive water park with slides for both big kids and little kids. So, honestly, what are you waiting for Click Here to Enter the Contest and win a 5 Night Stay at this Amazing Orlando Villa!
* Disclosure this is a sponsored post in partnership with Top Villas. All thoughts and opinions, as always, are 100% my own – Basically what I am saying is I wish I could win this prize*
Pin for Later