The coolest new Laguna Beach Resort has been rediscovered in one of SoCal's trendiest towns. Picture laid back luxury beach cottage style rooms filled with local art & Tuvalu designed furnishings to give you that authentic Laguna vibe. Then place that splendor inside the gorgeous rolling hillsides of Aliso and Wood Canyons abundant with plant and animal life, just a short walk away from one of the most magnificent coastlines in California. And, top it all off with amazing cocktails and eats. This Laguna Beach Resort is really quite the find!
5 Reasons You'll Fall in Love with this Laguna Beach Resort- a review of The Ranch at Laguna Beach + photo tour
1. The Location
Laguna Beach happens to be the BEST beach town in California. For me at least. But, seriously Laguna is filled with art, culture, amazing coastlines, surf-able waves, cool people and great food. It is also a fantastic place to hike. The Ranch at Laguna Beach has the best of both worlds. It is tucked into the gorgeous hillsides of Aliso and Woods Canyons and it is walking distance to the beach.
2. The History
I am a history junkie and I love when a place has a story behind it… and boy does this amazing resort have a past worth sharing. It dates all the way back to 1871 when the Thurston's laid claim to their 152- acre property and built a one-room wood shack on it.
Fun Fact- some of their land was deeded to the girl scouts becoming one of the scouts first Southern California camping grounds.
Years past and sometime in the 40's Bill Bryant purchased the property and began construction of his golf course. In 1950 the Laguna Beach Country Club was established and in 1956 Ben & Violet Brown purchased the property with plans to make it a destination resort. Finally, in 1963 they introduced Laguna Beach Country Club & Village. Over the years the property has gone through various name changes and ownership but  it is now in the good hands of Aliso Creek Properties and they have reimagined and renovated this Laguna Beach Resort to become a destination everyone will be talking about.
3. The Food
Chef Camron Woods is a southern man, born and raised in South Carolina, and he has quite the amazing track record. Take a look at a snippet from his bio on The Ranch's website-
"first Five Star and Five Diamond property in the state. Having earned these awards simultaneously, Woodlands earned membership into the prestigious Relais & Chateaux and Relais Gourmand. Impressively, Woodlands also received a top ranking on Conde Nast Traveler's Gold List with a perfect score. Active in the culinary world, Chef Camron has appeared on numerous TV news programs where he is sought out for his simple, straightforward approach to cooking. Chef Camron is also extremely proud of the charitable work he has done with SEEDS, Boys and Girls Club of Laguna Beach and The Glenwood House Laguna Beach." 
He is teamed with his pastry chef wife and so the food is out of this world delicious!!! Like worth an extra workout so you can chow down the chicken & waffles kind of good!
4. The Staff
This is a big one for me. I am all about service.I feel like if I choose to spend my money on a high end luxury brand I want to be impressed and this means the staff needs to go above and beyond to make my stay extraordinary. And, that is exactly what the staff at The Ranch Laguna Beach did for me!
5. The Amenities
I love when resorts have their own character. When they think outside of the box and include surprises within their amenity offerings that you can't find at other resorts. The Ranch at Laguna Beach exceeded my expectations in this department. I loved the plush robes and slippers they provided, the variety of k-cup coffee/ teas offered, the fiji water bottles they included, KIND bars, See's Chocolate turn down service. They even hand delivered a protein bar and cucumber/ citrus infused water for me along with some of my favorite magazines. And, those are just a few of the surprises I encountered during my quick stay at this magnificent Laguna Beach Resort.
photo courtesy of The Ranch at Laguna Beach
Check prices for Laguna Beach Hotels on TripAdvisor NOW below.
Laguna Beach Resort Review + Photo Tour
Service
So, we discussed my love for quality customer service above. But, let's talk in detail about the service I encountered at The Ranch at Laguna Beach. I arrived incredibly late after an all day conference to check into my room. Despite my late night arrival the staff greeted me with delight and helped show me to my room. The bellman demanded that he take care of my luggage even though I only had one bag and didn't think it was a big deal to carry it myself- so sweet to be doted on like that! He then walked me to my room and gave me a detailed tour of the features in my room as well as general information about the resort. I truly appreciated the amount of care I received (especially at such a late hour) and I immediately felt as though the staff truly cared about my well being and was there to ensure I had a fantastic stay.
Besides the extraordinary kindness shown by the staff the resort also offers unique services like the retro vehicle above that they use to shuttle guests around the property. They also offer complimentary transportation to the beach (just 350 feet away). Pair that with the resort's custom-made picnic basket and you have a perfect day at the beach!
The resort had contacted me ahead of time to learn a bit about me which I thought was amazing. When I arrived I found: travel magazines, extra k-cups (they knew I liked coffee), a protein treat and KIND bars. Which paired perfectly with the amenities they include in every room like: twice daily housekeeping, Fiji water and See's candy at turn down each night. This hotel is doing things different and it's SO fun & refreshing!!
Hotel Grounds
The hotel is still finishing up it's final touches on it's Ranch House, banquet facilities and main restaurant (as of May 2016) but it is quite the impressive remodel so far.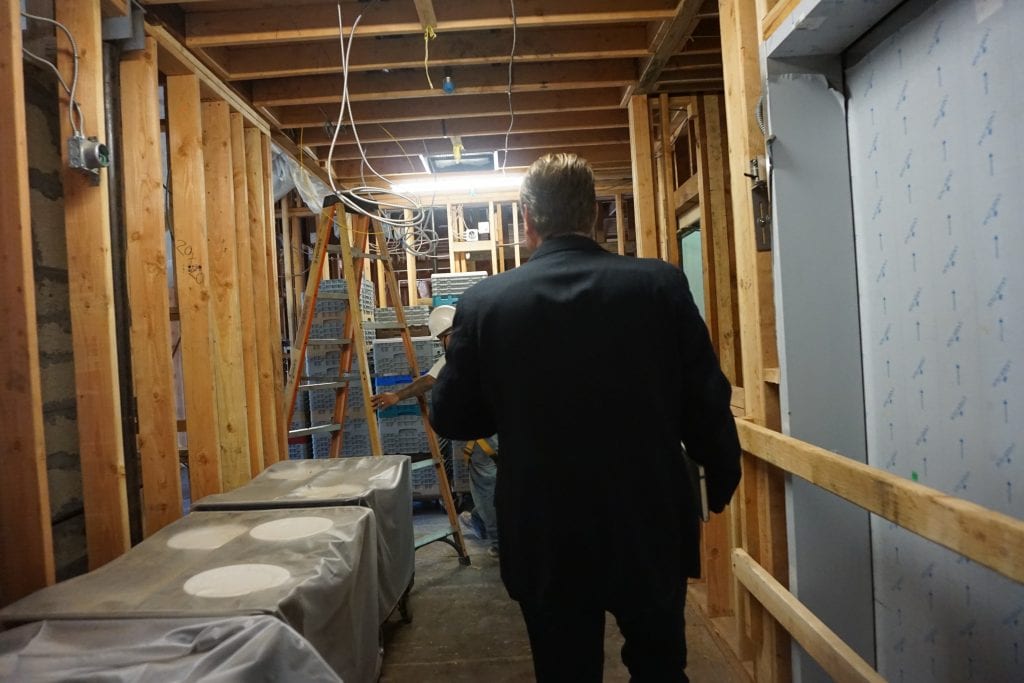 I was lucky enough to take a lengthy tour with the hotel's Director of Sales & Marketing- Jim Tolbert. Jim was such a delight and you could feel his dedication and passion to this wonderful project as he spoke. He was able to take me through what will be the Ranch House (above). This building will include the front desk, the resort's main restaurant which will overlook the property and rolling hills and a gorgeous ballroom with amazing natural light flowing through it. It is going to be a sought after spot for weddings, meetings and large meetings. Such a magnificent venue!
Jim allowed me to tour several rooms, the stage area and the golf course. As we drove around in one of the resort's golf carts I absolutely fell in love with the untapped natural surroundings that encompass the property. Look at this mama deer we passed on the way to check out the Harvest Garden. And, can we talk about how cool it is that The Ranch is taking the time to commit to an organic garden? Can't wait to see what Chef Camron comes up with using these seriously local ingredients.
Here is a snippet from the hotel on their garden- "Just under a half acre of The Ranch at Laguna Beach is reserved for Laguna's largest organic garden featuring a unique blend of lettuces, kale, chard, collards as well as a variety of tomatoes, peppers, root vegetables and much more. The adjacent orchard features an array of citrus and stone fruits as well as tree such as apple, cherry, apricot and more."
The Ranch also knows how to have fun! They have a beautiful saline pool on property, sand volleyball courts, a 9-hole golf course and they offer beach bonfires too. The Ranch also offers a wide variety of classes, everything from cooking to meditation classes and even a junior rangers program for the kids! You can find a list of their activities here.
The property has 30 suites all together varying from their canyon rooms, to one and two bedroom cottages and all the way up to an entire treehouse which would be amazing to book for a multi-gen trip, family reunion or work retreat! I was fortunate enough to get to take a peek inside and as you can see below the rooms are quite impressive!
View from a Two Bedroom Cottage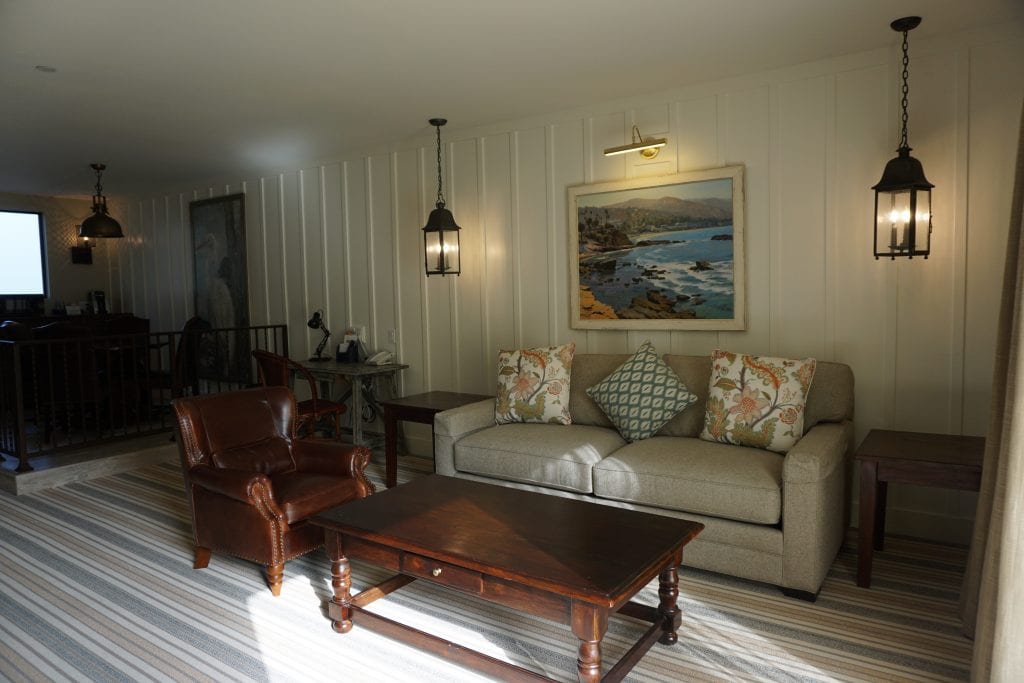 Cottage Living Room
View of the Treehouse… it is completely secluded and even has its own private gate.
Inside the treehouse. Much of it still remains very much as Ben & Violet built it years ago. Don't you love how much character it has?
Rooms
Ahhhh… let's get down to why this room is so amazing shall we? Just take a look at the interior design. It screams originality. I get so sick and tired of the same luxe hotel look. I just fell in love with the uniqueness I found at The Ranch at Laguna Beach.
From the vaulted ceilings to the Tuvalu designed coastal ranch estate quality furnishings this room just nailed laid back luxe for me. In fact, I wanted to redesign my master bedroom at home after falling in love with my room at The Ranch. Truth!
Check out the detail on this headboard. It's rare you find furniture like this in a hotel. I felt like I was staying at my rich Uncle's house… if I had a rich uncle that is– ha!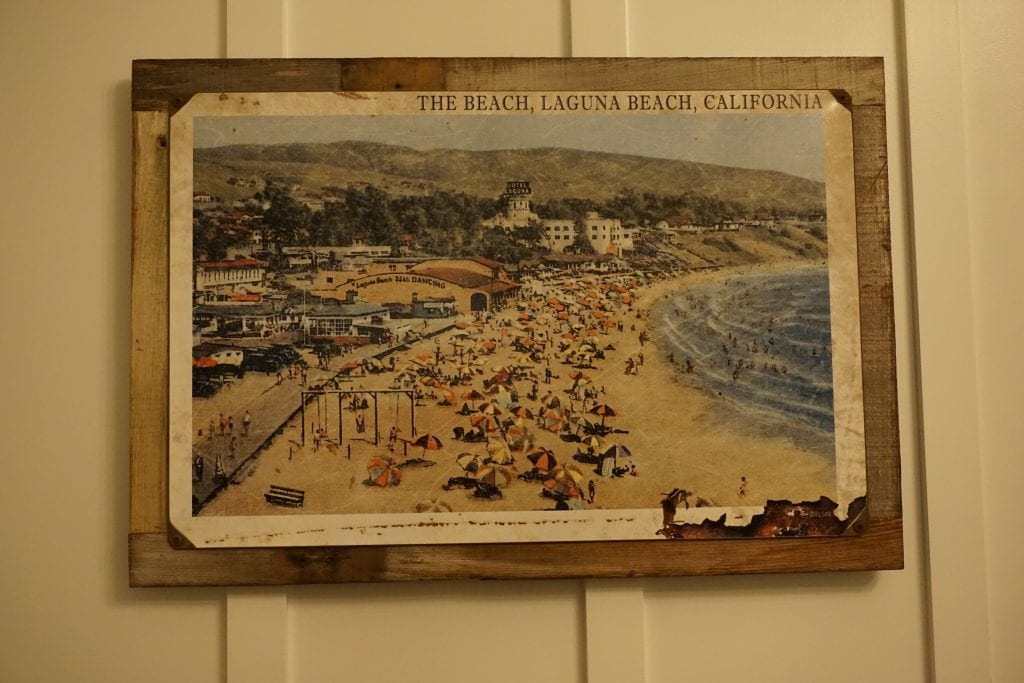 I loved the hotel's desire to keep things authentically Laguna. You see this throughout the resort but also in the local art displayed in the rooms.
Check out the perks: KIND bars, LOTS of k cups, there was also a microwave and mini fridge in my room which I loved because I like to make quick breakfasts in my room and store snacks like fresh fruit and yogurt and not many rooms have those amenities included.
photo courtesy of The Ranch at Laguna Beach
Okay, now seriously. How much do you LOVE this bathroom tile??? Gorgeous right? There is plenty of space in the closet, a lovely tile shower and great lighting for applying make up. Oh… the floors are gorgeous too!
 For a full room tour check out my YouTube Video:
Dining
As we discussed Chef Camron serves up some pretty amazing dishes. I was lucky enough to sample several breakfast items on my recent visit.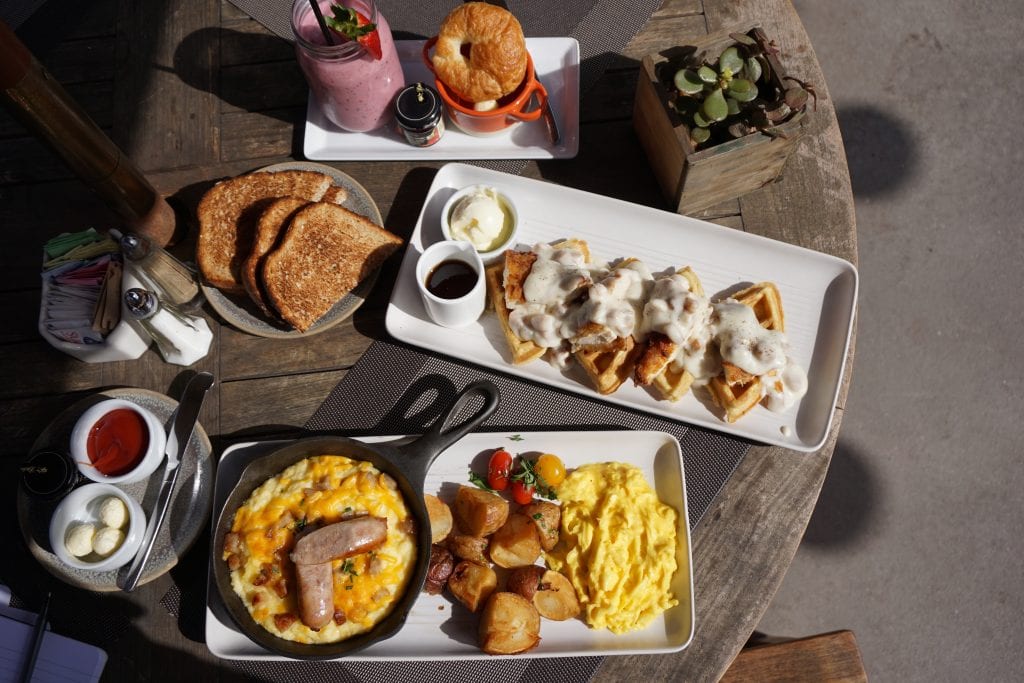 For starters I sipped on the "Berry Good Smoothie" which was a refreshing blend of ripe berries, vanilla yogurt and organic honey. It was served with an adorable mini croissant and jam. Pretty adorable right? The smoothie was a bit too yogurt-y for my taste as I prefer an icier blend, but it was still pretty darn good!
Next up I sampled their "Southern Style" which was a delightful combo of scrambled eggs, pork sausage and cheddar grits. The grits are the star of this dish. They were super yummy. It was difficult to abstain from eating the whole darn thing. However, I had work to do and there was still one more dish to go…
Get ready… this dish is one you CANNOT miss! Being a southern man you can't expect Chef Camron not to have "Chicken and Waffles" on the breakfast menu. But, this is not just any chicken and waffle dish. This is chicken fried to perfection placed on top scrumptious golden waffles and then topped with a creamy gravy. I myself LOVE the salty sweet duo so I poured maple syrup on top of that delicious mound and don't regret a thing. This meal is one worth an extra morning jog… it's THAT GOOD!!!
So, the food clearly could stand out on its own. But, the ambiance and the views really make this place extra special. As I sat there eating my breakfast I pictured spending the morning there with the kids. I know the munchkins would have loved playing bean bag toss as my hubby and I sat there and chit chatted over the morning paper. I am so exited to bring them back… hopefully this summer!!
If you are in a hurry and don't have time for a sit down meal you can also grab a hot latte and pastry from Ben's Pantry (don't you love how they played off the history with the names?). My black morning coffee was brewed to perfection and the handmade protein bar that I had delivered to my room can be found there as well. And, it was delish!!
Planning a party, wedding or business event? Check out the amazing catering display the resort can whip up for you. I mean gorgeous right?
Photo courtesy of The Ranch at Laguna Beach
Things to See and Do Nearby
It's Laguna Beach. Go to the beach! No seriously… don't do much. Relax and enjoy the gorgeous surroundings.
There are plenty of beaches, playgrounds, parks, places to kayak, surf, SUP and more!
If you need some more excitement. And, you can always visit the Pacific Marine Mammal Center, the Sawdust Art Festival or catch a play at the Laguna Playhouse.
There are also a ton of amazing walking trails near by. I personally love mixing some mountainous hikes with some coastal strolls. And, renting a bike is another great way to get a feel of this wonderful beach town.
Overall
Seriously, I am head over heels in L.O.V.E. with this resort. I travel often and finds like this are few and far between for me. I can tell this resort will be one our family comes back to time and time again. It just feels special… because they make YOU feel special! The Ranch at Laguna Beach has a touch of that rebellious Laguna Beach vibe… just enough to stir stuff up a bit and delight you with amenities and services you just don't expect. And, these delightful surprises give it that one up against the sea of big chain competitors near by. For me the choice will be easy from now on when we find ourselves in the OC. You will find us at The Ranch at Laguna Beach and I suggest you book a room now while they are still under construction. They are previewing their rooms at amazing prices that won't last long once word gets out!
Pin for later-
For more information on The Ranch at Laguna Beach you can check their website or follow them on Facebook, Instagram and Twitter.
*A special thanks to The Ranch Laguna Beach for hosting me on my recent visit. My thoughts and opinions are, as always, 100% my own. This post contains affiliate links.