Northstar has become our ski vacation home over the past few years. Each year we head up north to Lake Tahoe because we have absolutely fallen in love with Northstar. Yes, we do love the skiing and snowboarding in Northstar, but there is absolutely something special about Northstar Village.
When we head up to Tahoe, we usually find that we never leave the village. Whether we are skiing or enjoying the amazing Northstar restaurants we find that our car never moves during our entire stay.
---
Getting to the Village
If you are staying at a hotel or condominium in Northstar it is incredibly easy to get to the village. Throughout Northstar resort is FREE transportation which will pick you up near your condo and take you right to the condo. We never found ourselves waiting more than a few minutes for a shuttle.
You can even give them a call and let them know your condo and they will send a driver on over. It's truly a great service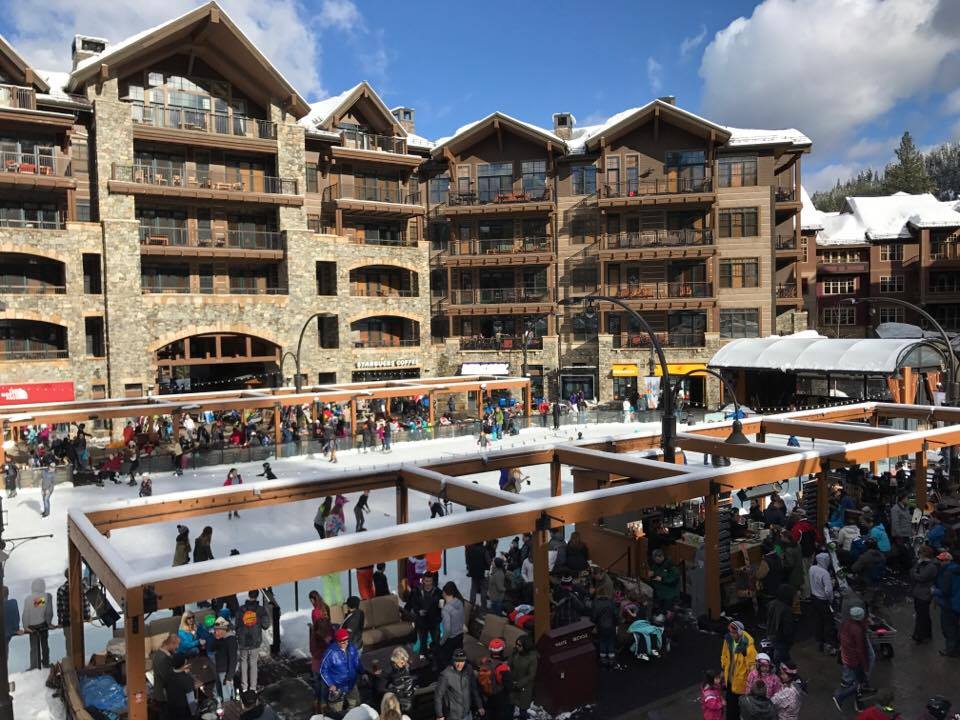 ---
Entertainment and Activities
Northstar Village is such a fun and vibrant destination. When you are not on the slopes there is a ton of fun activities for the whole family.
Ice Skating/Roller Skating
Every year we go to Northstar Village, ice skating is on the kids list of things to do while at the village. One year, the weather was a bit warm so the ice skating rink became a roller skating rink which was still a blast.
Daily S'mores
At 3 p.m. every day the staff at the village provide delicious free S'mores to all the skiers heading down the hill. This is clearly a highlight for the kids, ok….., I love it too.
Pottery Making
Ella & I had one of those days where our bodies said enough skiing. So instead we headed to the Pottery & Candle shop and we made some Pottery together. It made for a great mom and daughter day
Hit up the Fitness Center & Jacuzzis
For just a couple dollars you can head over to the fitness center and enjoy the Fitness Center, Pools and Outdoor Jacuzzi.
Which my husband said was fantastic for his sore muscles after his many falls this past trip. The shuttle will take you right to the fitness center so you don't have to walk through the cold to get there.
Catch a Movie
At the bottom of Northstar Village is a cute little twin theater. Usually, they have one great family movie and then another popular feature. Of course, we hit up the family-friendly feature on our last visit. You can check out Village Cinema movie times here!
Sit by the Firepits & Enjoy some Live Music
Throughout the year Live Music will be played at Northstar Village to entertain you as you sit and warm up by the firepits, or while you are doing some Ice Skating. You can check out the list of bands and events here.
---
Incredible Northstar Restaurants
Rubicon – Family Friendly Pizzeria
Our first stop every time we visit Northstar California is Rubicon Pizza Company! They offer delicious and unique pizza options. I personally love the salads and sitting back with my husband and enjoying a pint of beer.
Tavern 6330′
If you are looking for a nice night out then I definitely recommend you visit Tavern 6330′. It is the nicest restaurant at Northstar Village and has some of the most incredible food and drinks. I require that we visit this restaurant everytime we visit Northstar. I love their super tasty Mule cocktails and the incredible fish selection. Although it is a very high-end restaurant, the atmosphere is nice and relaxing which is what I look for at a ski resort.
TC's Pub
Another fun Northstar Restaurant is TC's Pub. My husband somehow magically recommends this place on Sunday during football season. They have some killer nachos and fish tacos to check out, plust of course their signature burgers.
Cabana Bar
Take in the village as you enjoy some refreshing cocktails at the base of the mountain. My husband and I enjoy a nice cocktail at the cabana bar as we wait for the kids to head down from ski school.
The Grille at Sawtoothe Ridge
The Grille at Sawtooth Ridge is a family friendly restaurant featuring California Cuisine with strong Hawaiian influences. The delicious menu is seafood-focused and if you are not a seafood lover there are plenty of other delicious options.
Petra
Petra is another delicious Northstar Restaurant. Come for the wine, stay for the downright delicious menu and fun winemaker dinners, scheduled throughout the winter season.
Copper Lane Cafe & Provisions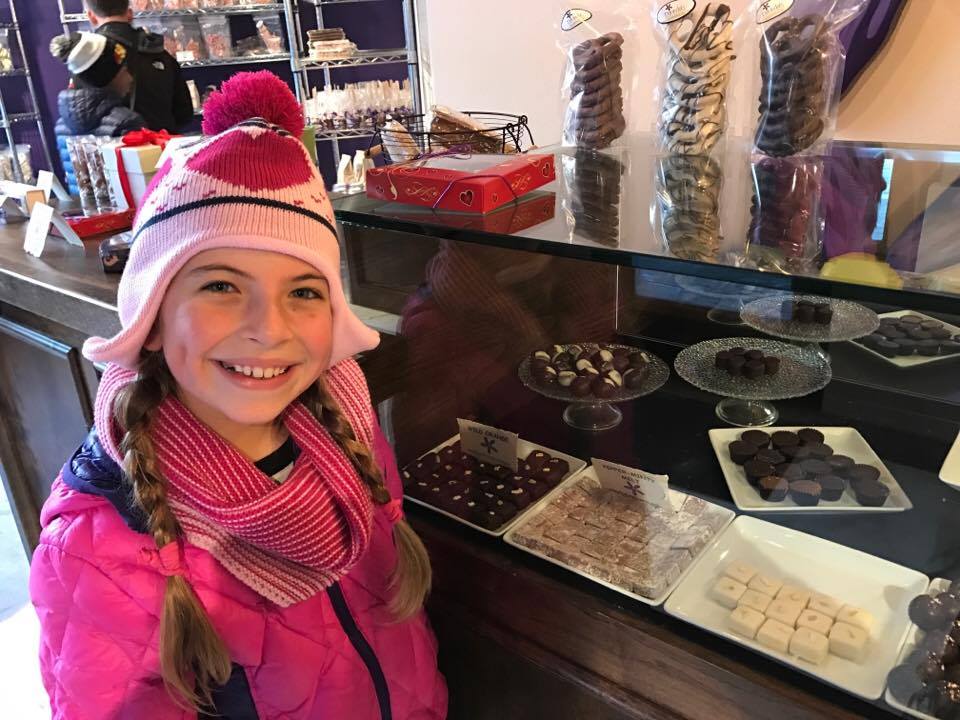 I love this Farm to Table restaurant. It has some delicious bites, but also has a small little grocery so you can grab some items for your condominium (like coffee, milk, bagels etc….) In the morning, try the their breakfast sandwiches and their amazing quinoa bowl.
Frites Gourmet Fries & Craft Brews
A new addition to Northstar Village is Frites Gourmet Fries & Craft Brews. So if you are craving some delicious Canadian poutine, this is your spot.
Starbucks
Well, you need your morning latte or cappuccino, so have no fear a Starbucks is right in the heart of Northstar Village.
---
Shops & Rentals
There are some super adorable shops at Northstar village, unfortunately, with 5 kids I only get to do a little window shopping while at Northstar Village. They have over 15 shops and some incredible brands are at Northstar Village including:
Burton
Patagonia
Lululemon
True North
Oakley
North Face
Plus kids & toys store to entertain the little ones
You can check out the complete list here
---
Northstar Village Ski & Snowboard Rentals
We do not own a single pair of skis or a snowboard since we only go once a year. We even rent ski clothes, which might have been the best decision we ever made (you can read about it here) Lucky for us ski and snowboard equipment rental was a breeze. We used RentSkis.com which happens to be the LARGEST ski and snowboard rental provider with 90 shops located across Utah, Colorado, and California.
They had a location right there in the Northstar Village and also another at The Ritz. We were able to easily make our reservation online and then pick them up quickly at the Demo Shop. I would highly recommend using them! *Tip Book online and save 20%
---
Have you been to Northstar Village? Let us know your favorite spot in the comments below!
---
Frequently Asked Questions about Northstar Village
Does Northstar have a village?
Yes, the Northstar Village has so many fun activities and options for people! Whether you want to ski, enjoy crafts or other activities – Northstar Village has something for everyone!
---
You Might Also Enjoy:
The ULTIMATE Guide to the Amazing Northstar Ski Resort
How to Rent Ski Clothes- amazing savings for families!
15 Incredible Activities to do during a Park City Summer!
---
Pin-It for Later: The Ultimate Guide to Northstar Village! Amazing Restaurants & More!