Aside from the rides, food choices for your time at Disneyland are probably the most important choices you'll make during your stay at the Disneyland Resort. There are a wide variety of things to choose from. Plus, there is something to satisfy the many different cravings you'll have throughout the day! It's important to do your research and know what food is worth tracking down to really add some magic to your day. We've broken down the snacks at Disneyland into five different categories to help you get the best of the best to fuel your day.
20 Best Disneyland Snacks + 1 Hidden Favorite
Disneyland Snack Classics
You can't go wrong with the classics. These are Disney staples that we know and love. Many of which have even been commemorated in Disneyland's new D-Lish line of merchandise.
Churro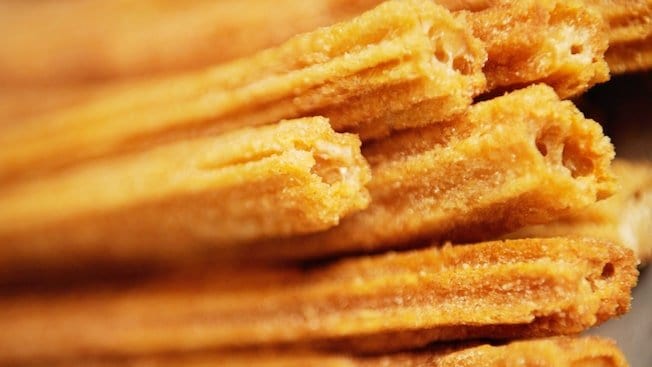 One of the best snacks to get in the park at a variety of locations is the churro. The sweet cinnamon smell is almost enough to get you to buy one right on the spot! Combine that with the super-soft, warm taste, it's the perfect on-the-go treat to eat as you walk from ride to ride.
Pretzel
Another great hand-held treat to get you to your next stop of the day is the Mickey Pretzel. The iconic Mickey ears meet the fluffy classic pretzel and combine perfectly with warm nacho cheese to dip it in. We love to pick one up on Main Street and then head over to catch a ride on the train around the park!
Corn Dog
Some trips to the park call for a more hearty snack to keep you moving. That's where the legendary Disneyland corn dog comes in. Swing by the corn dog cart at the end of Main Street! This snack is well worth the wait. Bring it over to the center of the street for an Instagram-worthy shot of your corn dog in front of the Castle.
Frozen Classics
If you're in need of a cooler snack to help beat the heat of a long California day, there are a few treats that are a must! First off, Pineapple Dole Whip is a staple if you like fruity deliciousness. Another great option is the Frozen Chocolate Bananas. For the little ones, The Mickey Ice Cream Bar is a great choice!
Pro tip: The line outside of the Tiki Room can get pretty long. Download the Disneyland app and mobile order Dole Whip instead! As for the Frozen Chocolate Bananas and ice cream bars, head to any of the cold carts around the park to find this sweet treat.
Sweet Treats
It's hard to not have a massive sweet tooth when you get a look at all the sweet treats found throughout Disneyland. With so many different lands to walk to and from, you'll feel like you should sample one from everywhere to make the most of your trip!
The Grey Stuff Cupcake
One of the most iconic sweets to pick up as you make your way through Fantasyland is a Grey Stuff Cupcake over at the Red Rose Tavern. It's straight out of Be Our Guest and we promise Lumiere was right, the Grey Stuff really is delicious!
Beignets- My Personal Favorite Disneyland Snack!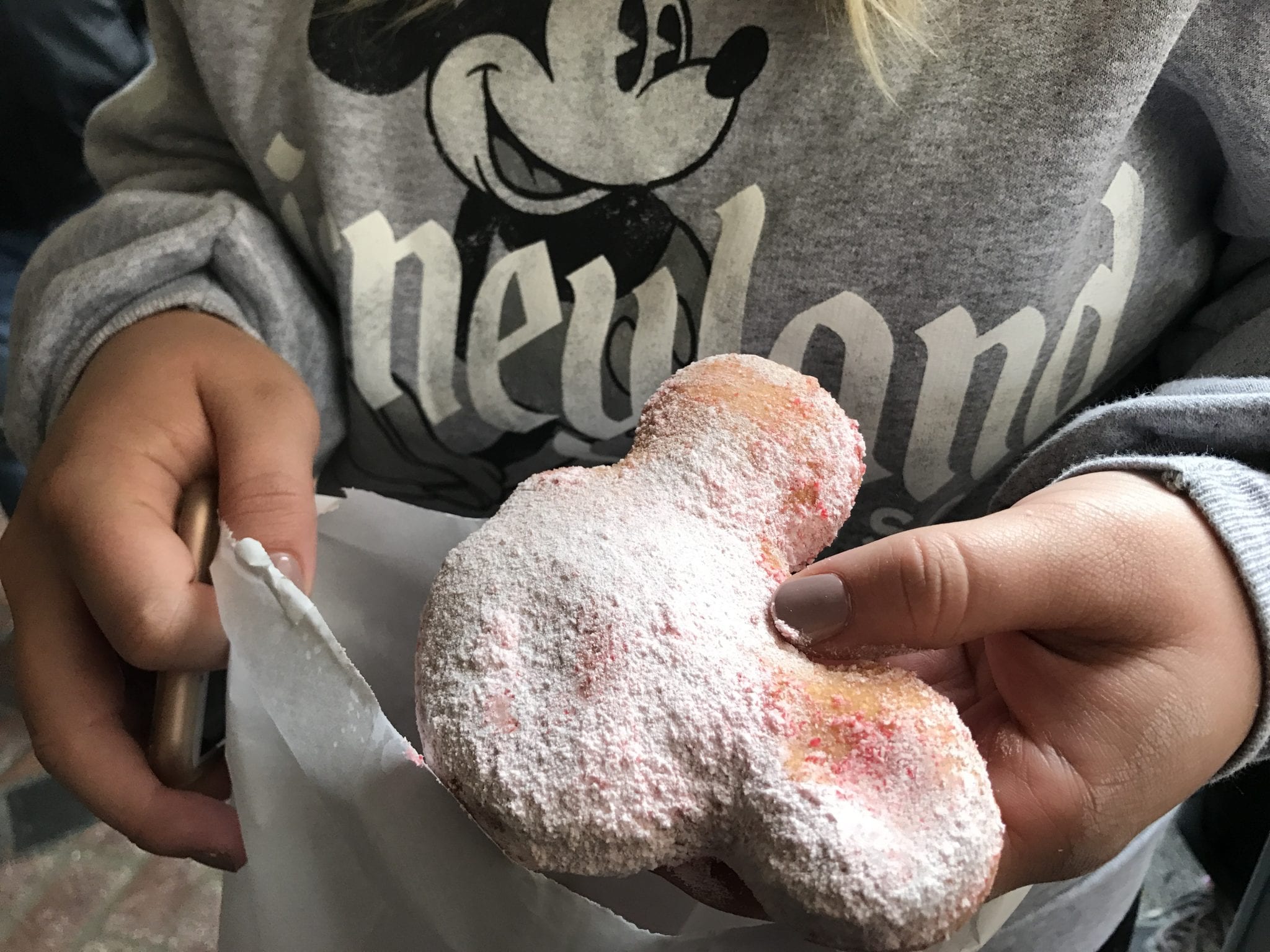 Further into the park, in New Orleans Square, you'll find a treat right out of New Orleans history: french beignets. The soft, pillowy baked treats split great among friends as you take in all the themed architecture. However, be warned, you're almost guaranteed to get powdered sugar everywhere. Totally worth it though!
Mickey Mouse Ice Cream Sandwich
If you're looking for something a little more simple, the Mickey Mouse Ice Cream Sandwich is definitely the way to go. This is another treat that you can find at just about every cold cart throughout the park. Making it a quick but very tasty choice.
Chocolate Coated Rice Krispie Treats
Did you know, one of the best kept sweet secrets in Disneyland actually doubles as a souvenir! Available just behind the Winnie the Pooh ride in the gift shop, you'll find all kinds of sweet treats that you can eat straight out of the display window or pick up sealed to take home and enjoy later. The best of these is easily the chocolate-coated Rice Krispie treats. Stock up on a few of these and break one out when you're really missing Disneyland.
Savory Disneyland Snacks
If sweet treats aren't really your thing, Disneyland offers some hidden gems that really are an absolute must the next time you're in the parks!
Turkey Leg
This is the snack that separates the Gastons from the LeFous of the world. The turkey legs are an iconic snack choice that only the brave dare to take on alone. It can easily serve as a snack throughout the day given its size. For a fun twist, head to the Troubadour Tavern for a Turkey Leg with Sweet BBQ Glaze. You can thank us later!
Stuffed Bao
Disneyland's most recent restaurant addition, Tropical Hideaway has brought so many new and exciting snacks to the park! Our favorite is the bao. They are a mess-free way of getting some delicious East Asian snacking on while you wait in line for Jungle Cruise. The Bao is available in three flavors: Spiced Vegetable (vegetarian option), Lime Chicken, and Bulgogi Beef.
Loaded Baked Potato
With so many incredible shows at Disneyland, it can be tempting to try and knock them all out and really revel in the quality of them all. We recommend doing so with a great snack like the loaded baked potato found at the Troubadour Tavern. Get one to-go and head over to Mickey's Magic Map for some afternoon rest with a tasty and hearty snack that feels just like home.
Over the Top Disneyland Snacks
Would it really be a trip to Disneyland if there wasn't a little culinary indulgence?? Some of the latest and greatest treats at Disneyland bring the magic to your eyes and your stomachs with how over the top amazing they are.
Mustafarian Lava Roll + Blue Milk
It's safe to say that the Galaxy's Edge food choices really have been out of this world and the Mustafarian Lava Roll is no exception. Head over to Oga's Cantina to try this Batuu delicacy of chocolate and cinnamon puff pastry with cookie crumbles and raspberry cream icing. It tastes just as magical as it looks and will definitely satisfy that unruly sweet tooth. You can wash it down with the famous Blue Milk!
Lobster Mac and Cheese Hot Dog
Why choose between seafood, a hot dog, or mac and cheese when you can easily have all three! Often regarded as a secret menu item, Harbour Galley offers this drool-worthy snack combination that will leave you dreaming about it for the rest of the day! The best part is the size: it's perfect for a midday snack and won't spoil dinner.
Chocolate and Coffee Funnel Cake
We can always count on Hungry Bear to bring us the best of the best when it comes to over the top snack options. Their latest menu addition is the Chocolate and Coffee Funnel Cake. Aside from the mouth-watering funnel cake smothered in chocolate, this snack also piles on a massive scoop of mocha ice cream and whipped cream to create that signature Mickey Mouse ear look.
Dynamite Sundae
The Golden Horseshoe is one of Disneyland's hidden gems without a doubt. Enjoy an exceptionally exciting and interactive performance while dining on some classic American food, all leading up to the grand finale: the Dynamite Sundae. With easily the biggest menu description we've seen, the Dynamite Sundae is listed as "a warm, rich Triple Chocolate-chunk Cookie made with Brown Butter, topped with hand-scooped Vanilla Ice Cream, Cookie and Cream Crumbles, Raspberry Sauce, and Popping Candy." This is the kind of sundae that kids craft up in their imagination. Add some magic to their Disneyland visit and order one for them for a truly unforgettable dessert.
Seasonal Disneyland Snack Must-Haves
Some of the best snacks to come through the Disneyland Resort have come by way of holidays and seasonal offerings. A few of the items from other categories, such as the lobster mac and cheese hot dog, started off as seasonal offerings but became so popular that they're now offered year-round. Let's hope that these seasonal must-haves become crowd favorites so we can enjoy them all year long! Last time we check here is what Disney was offering, you can also usually find a current list over on the Disney Parks Blog!
Pan Dulce Ice Cream Sandwich
Halloween 2019 brought us the Coco-themed food we've been waiting for! This Pan Dulce Ice Cream Sandwich combines the nostalgic taste of warm sweet bread with dulce de leche flavored ice cream and topped with cajeta and churro streusel. Yum! It is currently being offered for a limited time at Rancho Del Zocalo, so grab it quick!
Mickey Macarons
Every season and holiday, the Jolly Holiday Bakery whips up some incredible themed macarons! Some of our past favorites have been the Lady Bug Macaron (filled with both strawberry buttercream and strawberry marmalade) and the Minnie Mouse Rose Gold Macaron (filled with strawberry compote and lemon verbena buttercream) in addition to their two staple flavors: Raspberry Rosewater and pistachio. Stop in on your next trip to see what special macaron they're serving up!
Chocolate Peppermint Churro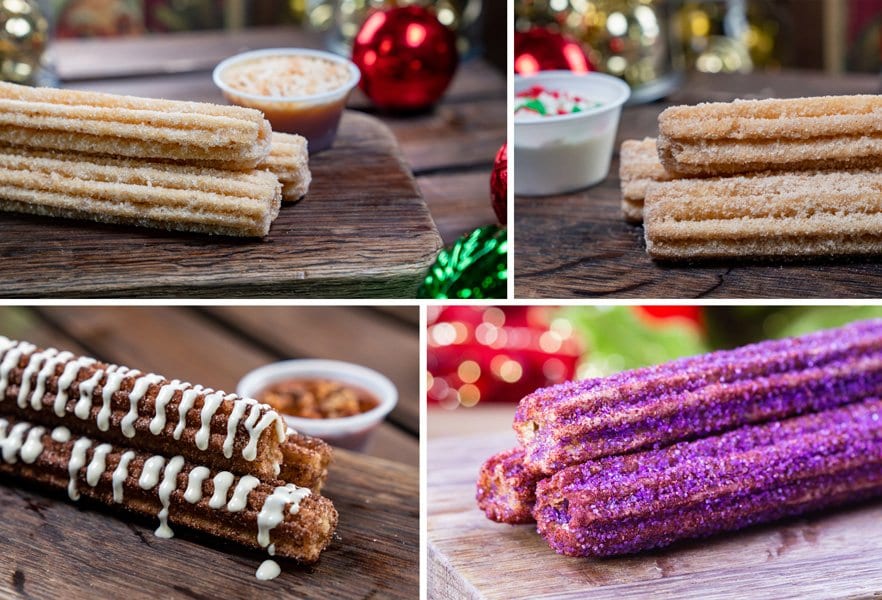 We have it on good authority that Christmas 2018's favorite holiday churro will be back! The Chocolate Peppermint Churro is making an appearance on the 2019 holiday food menu! This churro features both regular and white chocolate drizzle with peppermint candy cane crumbles! Best of all, this is just one-of-four holiday churros we can expect to see this year. The others are Sugarplum, Christmas Tree and Sugar Cookie flavored.
Chili Mango Dole Whip
This was the Dole Whip of the Summer 2019 season. Being in Southern California, many locals are accustomed to the refreshing treat of mango, pineapple, and jicama covered in Chamoy (a sweet and salty chili sauce) and Tajin (a seasoning blend of chili, lime, and salt). This Dole Whip creation takes it one step further and turns all of that into a frozen treat! This mango-pineapple swirl Dole Whip has pieces of pineapple, cucumber, and jicama on top. They garnish the top with a piece of dried mango, Chamoy drizzle and a sprinkling of Tajin.
Our Hidden Favorite!
Jalapeno & Cheese Pretzel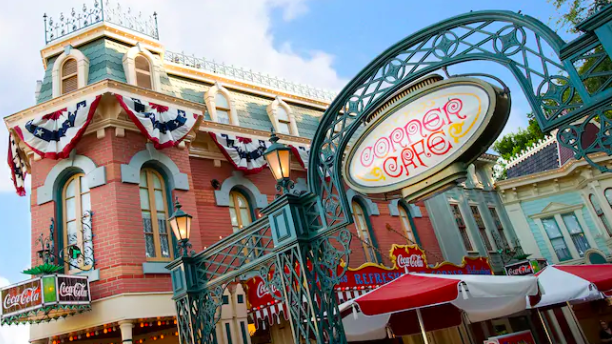 Well, it isn't exactly hidden but more so hidden in plain sight and often overlooked. I love this slightly more adventurous take on a classic snack! The Jalapeno Cheese pretzel can be found right on Main Street at the Refreshment Corner. This snack still offers the salty deliciousness you crave but with a little fun spice. It is also huge and easy to share with the whole family. Although my 12 year old daughter can pretty much devour one herself she loves it so much.
That's All Folks! Go Enjoy the Best Disneyland Snacks!
Can you believe that this is only a small sampling of all the food Disneyland has to offer? This list really is the best of the best when it comes to snacks you don't want to miss out on during your next trip to Disneyland, so make sure to take notes and plan accordingly. You'll thank us later!
You May Also Like:
The Ultimate Disneyland Character Guide to Find Your Faves!
What You Can & Can't Bring into Disneyland- 3 Items Will Surprise You!
Healthy Snacks On The Go [easy snacks kids will love]