No matter your age, seeing iconic Disney characters come to life is magical! At Disneyland and Disney's California Adventure, you can see and meet those characters, take photos, and get autographs! If your kiddo has a favorite Disney (or Pixar!) pal, check out our Disneyland Character Guide and see where you might find them.
The Ultimate Disneyland Character Guide
Disneyland and Disney World offer slightly different character experiences, which is important to keep in mind if you are visiting one or the other for the first time. At Disneyland, the characters are more free-roaming. If there is someone you really want to see, there are still the meet-n-greet areas but for the most part, the characters are roaming about.  This means you will likely bump into some of your favorites while you roam around the park. However, there is no guarantee of who might be where. 
Using the Disneyland App as a Character Guide
Before you dive in, make sure to download the Disneyland app on your phone! While the app is known for wait times, maps, and FastPass reservations, it also makes it easy to find characters. In fact, there is an actual character map that will guide you right to all your favorites. Simply open the map, and switch to characters instead of attractions! This will show you when and where you can find your Disney friends. This is super helpful and I recommend checking it a couple of times a day to see who else might be out and about. 
Tip! Some characters have limited appearance times throughout the day, so if your kiddo has a must-see favorite, be sure to check those times so you don't miss them. 
Step By Step Guide for Finding Characters Through the App
When you open the Disneyland app on your phone, it will look something like this:
Click on the map at the very top and it will bring you to a wide view of the park with attraction wait times listed: 
At the top of the screen, click the arrow next to "Attractions" from there a list will pop down with all sorts of options. You are going to want to switch over to "Characters" which will show you where characters are in the park in real-time:
Click on one of the Mickey Silhouettes throughout the park. It will show you what characters are there, like this: 
You can head straight there to see them! However, you can also click on the individual characters and see their schedule for the rest of the day: 
Disneyland Character Guide
Main Street
 As you stroll down the famous entrance to the Happiest Place on Earth, you may come across some classic Disney pals. This includes Mickey and Minnie Mouse, Chip and Dale, Goofy, Pluto, and more! Check the Disneyland app for specific times and characters.
Tomorrowland
In the land of the future, you can experience an exclusive Star Wars character experience – if you are a Disney Visa Cardmember! Other characters like Stitch have been seen here too, so be sure to take a look at the Disneyland app.
Fantasyland
This land is full of magic, wonder, and classic Disney characters! It is also home to the Royal Hall where you are guaranteed to find princesses throughout the day.
The Royal Hall
Visit princesses like Cinderella, Belle, and Ariel at the Royal Hall. There are usually three princesses to meet, and the lineup may change throughout the day.
Looking for pixie dust?
You can find Tinkerbell and her friends at Pixie Hollow! If you're lucky, you might run into Peter Pan and Captain Hook outside the Pixie Hollow area. If you're interested in a character show, Mickey and the Magical Map features lots of characters like Mulan, Pocahontas, and Rapunzel. You can also enjoy Storytelling with Princesses at the Royal Theatre (check showtimes!).
Frontierland
We couldn't leave Frontierland off of our Disneyland Character Guide. After all, it is home to Fantasmic!, a nighttime spectacular that lights up the Rivers of America. While the show does not include a meet and greet, it features tons and tons of characters. This is a great way to get a glimpse of them. You will see Disney princes and princesses, the Seven Dwarves, and more! Be sure to check the app for showtimes upon entering the park. 
New Orleans Square
Near the Haunted Mansion and Pirates of the Caribbean, you might be able to find some special characters, so check the app! Captain Jack Sparrow and other pirates like Red are known to be exploring the area in search of treasure! Princess Tiana and Dr. Facilier have been seen in this area as well.
Special Holiday Visitors
If you're visiting during Halloween Time, the pumpkin king Jack Skellington and Sally can be seen near the Haunted Mansion right past New Orleans Square! You may also find characters roaming around in different holiday gear, like Minnie Mouse in her Halloween get-up. 
Adventureland
Aladdin and Jasmine have been spotted near Walt Disney's Enchanted Tiki Room, but they may have very limited appearance times!
Critter Country
Head towards Splash Mountain to visit friends from the Hundred Acre Woods. Eeyore, Tigger, and Winnie the Pooh can be found at Pooh's thoughtful spot. Take photos and get autographs!
Star Wars Galaxy's Edge
A new addition for the Disneyland Character Guide! This brand new land is teeming with excitement and iconic characters from the Star Wars saga. You can find Rey, stormtroopers, Chewbacca, and more! Make sure to check the Disneyland app character map, as these characters may have limited appearance times earlier in the day.
Disney's California Adventure Character Guide
Of course, this wouldn't be the Ultimate Disneyland Character Guide without helping you find your favorites over in California Adventure, too! So here we go. 
Buena Vista Street
The entrance to California Adventure is home to some classic Disney pals. You can meet Mickey and Minnie, Goofy, Donald and Daisy Duck, and more of your favorites dressed in their best 1930's attire!
Hollywood Land
Venture inside the Animation Building in Hollywood Land to see Anna and Elsa at their Royal Welcome! You can also experience a heroic encounter with characters like Black Panther, Spiderman, Captain America, and Captain Marvel near the Brownstone Building. Get groovy at the Guardians of the Galaxy Dance Off to see characters like Star-Lord and Gamora. This dance-off takes place near the Guardians of the Galaxy: Mission Breakout attraction.
A VIP Experience
There is an exclusive Disney Visa Cardmember character experience in Hollywood Land. So if you're a member, be sure to ask a cast member about this magical opportunity!
Cars Land
Zoom over to Cars Land and meet the stars of Radiator Springs! Lightning McQueen and his best buddy, Tow Mater, can be found near the Cozy Cone Motel.
Pixar Pier
 Your favorite Pixar Pals can be found all over the newly redone Pixar Pier! Head towards the Incredicoaster and you might run into some members of the Incredibles family. Near Toy Story Midway Mania, you might find Buzz Lightyear and other toys from Andy's room. You can find other characters from classic Pixar films too! Keep an eye out for Sulley and Mike from Monsters Inc, Joy & Sadness from Inside Out, and Doug and Russell from Up!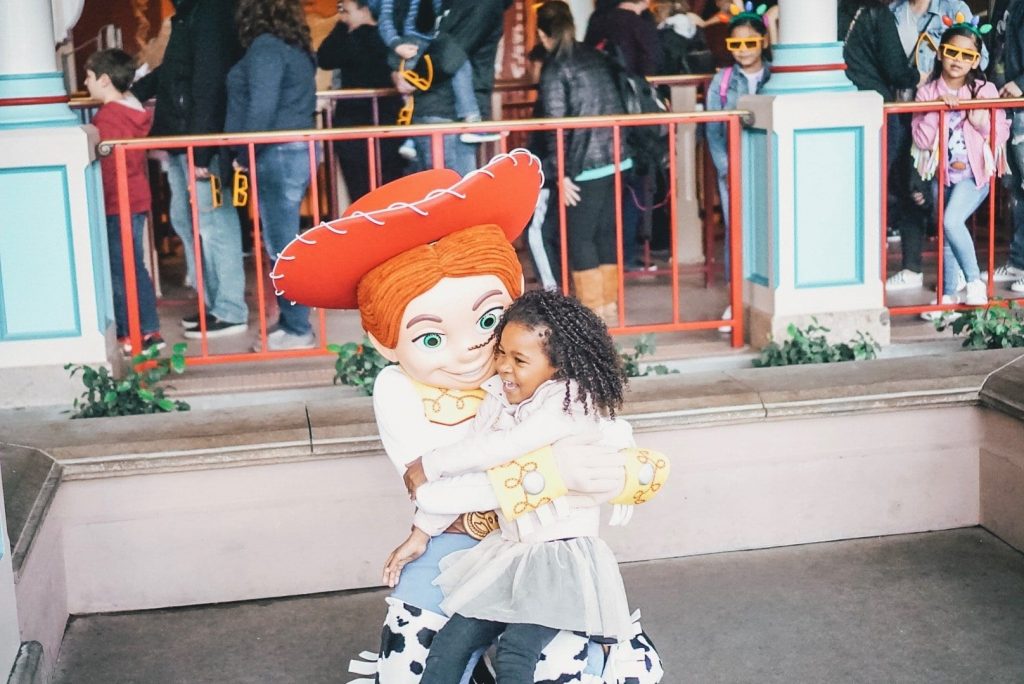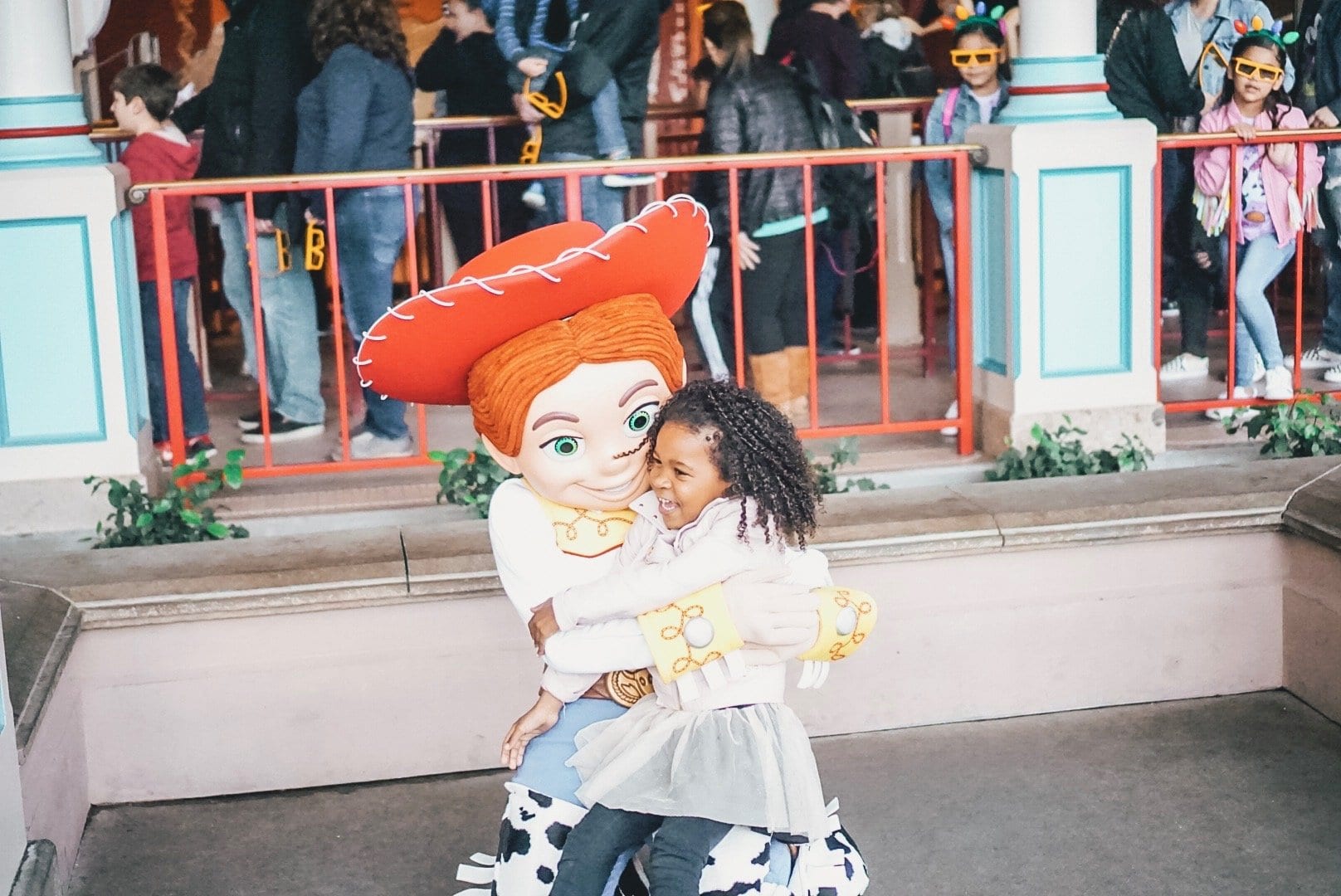 What To Do Once You Find Your Favorite Disney Pal
Depending on who you are seeing, you may have to wait in line to get to your favorite pal. These lines usually move pretty quick, and if you have little ones with you this is a great time to prep them for the experience. Let them know who they will be seeing so that they aren't too shocked when the moment comes. You may also want to let them know it is okay to say hello, shake hands with, or give a big hug to their Disney favorite. I also highly recommend purchasing an autograph book to bring along with you so that you always have it as a special memory! 
A Guide to Disneyland Character Meals
If you have a little wiggle room in your budget, character meals are a great way to meet many of your favorites all at once. You can check out Disneyland Character Meals Guide here! The interactions you get to have with the characters during one of these experiences is extra magical making them a great way to celebrate a birthday or special occasion. 
That's all folks! Between the app, cast member help, meeting areas, and the bound to happen run-ins, you are sure to see all your favorite Disney pals. The rides, the snacks, the shows, and the parades all make for a magical day. I hope this Disneyland Character Guide will make your visit even more magical!
You May Also Like:
The Ultimate Disneyland Packing List! + [FREE PRINTABLE]
What You Can & Can't Bring into Disneyland; 3 Items Will Surprise You!
Disneyland Holiday 2019- Complete Guide + Tips To Have the Merriest of Times!
Latest posts by Mama Munchkin
(see all)