We are pretty solid Disney fans, however, while we love visiting the parks there are times of the year where we just don't visit Disneyland. Usually, I would say January is a decent time to visit Disneyland, the lines are shorter, yet the weather is colder and many of the rides transformed for the holidays are down to be transformed back to their normal state. This year, however, Disneyland in January and February could be the best time to visit the Happiest Place on Earth!
Amazing Ticket Prices
Southern California Residents
Right now is the cheapest time to visit the Happiest Place on Earth. If you are a Southern California resident you can pay as little as $67 per day when you purchase a 3 day (1 Park Per Day) ticket. Normally, you would be paying $100 per day for the same tickets. The 3-day tickets are valid 13 days after first use or until 05/21/2020
Pay only $64 a day when you buy tickets through our friends at ARES Travel (Scroll to the bottom for Southern California Resident offer)
Kids Tickets
Children ages 3-9 no matter their residence are also available for this amazing offer. So, if you are not from the Southern California area or don't know a Southern Californian to take you to the parks. You can still save a ton of money on your child's tickets.
Tickets available through our friends at ARES Travel
Shorter Wait Times
January & February are typically slower times to visit the parks (with the exception of MLK Weekend and Presidents Day Weekend). This is because many people just visited the parks for the Holiday break and people are starting to cut back after the holiday season. Since the crowd levels are low, this means more rides so you can truly maximize your day at the park. If you are visiting during a busy weekend like MLK or President's Day I highly recommend purchasing a MaxPass. It will nearly double the number of rides you can get on if you use it right.
An Epic New Ride:
Star Wars fans were introduced to Disneyland's new land this past summer, however, the land was not completely finished as the main ride Rise of the Resistance does not open until January 17, 2020! The same ride did open in Disney World and has received amazing reviews thus far.
If you are bringing little ones, the ride height limit is 40″. So, if you have riders smaller than 40″ you can always have your party riding the ride get a rider switch pass and then the person who sat off can go with one guest and ride the ride with a minimum wait time.
Now you might be thinking if there is a mega new ride won't the lines be quite long. Yes and no. For sure the new attraction will be very busy, but the rest of the park remained relatively calm when the new Star Wars land first opened up, so I anticipate this new ride should bring the same amount of crowds.
Exciting Events:
Celebrate the Lunar New Year at Disneyland Resort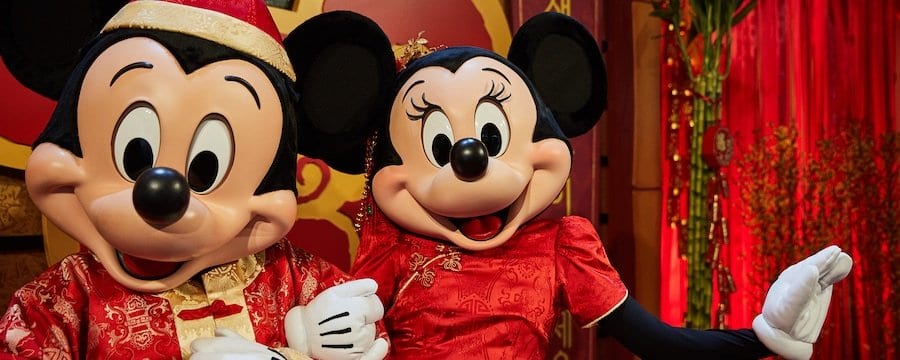 From January 17 to February 9, 2020, Disney California Adventure Park celebrates the Lunar New Year with a joyous tribute to Chinese, Vietnamese and Korean cultures.
Event highlights include:
Mulan's Lunar New Year Procession
Unique Lunar New Year entertainment & Festive décor.
Special appearances by some popular Disney Characters—including Mickey and Minnie—dressed in colorful costumes
Delicious culinary creation celebrating delicious Asian cuisine. (I cant wait to try the Prosperity Bao & Buns)
Kid-friendly crafts and activities
80's Night in the Parks
If you are feeling nostalgic, or just want to jump back in time, Disneyland is hosting a specially ticketed event on January 29th to rock in the '80s. From 9 pm – 1 am you can experience Disneyland with a throwback twist.
There are a ton of 80's activities, fireworks shows, music and more. This is a specially ticketed event is $109 and it does typically sell out. You can find out more here!
Disneyland After Dark: Sweethearts' Nite
Another special ticketed event is Sweethearts' Nite at Disneyland Resort. The event will be held on February 12th and 13th and have specially themed events to celebrate love. This is a specially ticketed event is $109. You can find out more here!
Discounted Hotel Stays
Staying at a Disneyland Resort hotel is a one of a kind experience. The hotels are so close to the parks, they are incredibly themed and have some wonderful amenities. That being said, it can be costly, however, right now you can save 25% off Hotel stays at the Disneyland Resort. Contact our friends at Tink's Magical Vacations to book your vacation package. They are truly Disney Experts, and not only are their services FREE, but they will save you both time and money.
Weather in Anaheim in January & February
Us Southern Californians aren't known for being able to handle very cold weather, thus our choice of locations. Anaheim has some pretty glorious weather in the months of January and February compared to most places. The average temperature is usually in the High 60's during the day and low 50's and high 40's at night. It also rains about 3-4 days during these months.
If you have any questions about visiting Disneyland Resort feel free to comment or send me a direct message on my Instagram.
You Might Also Enjoy:
Planning a Disneyland Trip? 45 Best Disneyland Tips from a Pro
Disneyland vs Disney World! Which is Best for Your Vacay?
Pin for Later – Why Disneyland in January & February Might be the Best time to Go!