Little ones are unpredictable: something all parents know. So if you're planning to head to Disneyland with toddlers, read this before you go! We took our fair share of Disneyland trips when our kids were toddlers and we have gathered all the essential tips so that you can avoid the mistakes we made.
Planning a Disneyland trip with a toddler can be overwhelming. However, this guide is sure to calm your nerves. With this list of tips for both Disneyland and California Adventure, you'll have the confidence to master both parks!
Disneyland with Toddlers; Before You Go
Here are 3 must do's before your visit!
Download the Disneyland App – The app will make everything — planning, fastpasses, and magic making — super easy! You can buy tickets, make dining reservations, and more. Purchase your park tickets before you go to avoid the ticket booth line. Your toddlers under 3 years old enter for free! You will also need the app if you will be using the MaxPass, which you can learn more about here!
Rest and Nutrition – Start hydrating the day before your trip! Convince those little ones to drink a bit more water, and increase your intake as well. And it goes without saying, but try and get those kiddos to bed early! Waking up hydrated and rested will set you up for a much more magical day.
Double Check – Make sure to check your dining reservation times, measure your stroller to ensure that it is within the size limits and double check that you have the essentials – enough pull-ups, snacks, sunscreen, and smiles!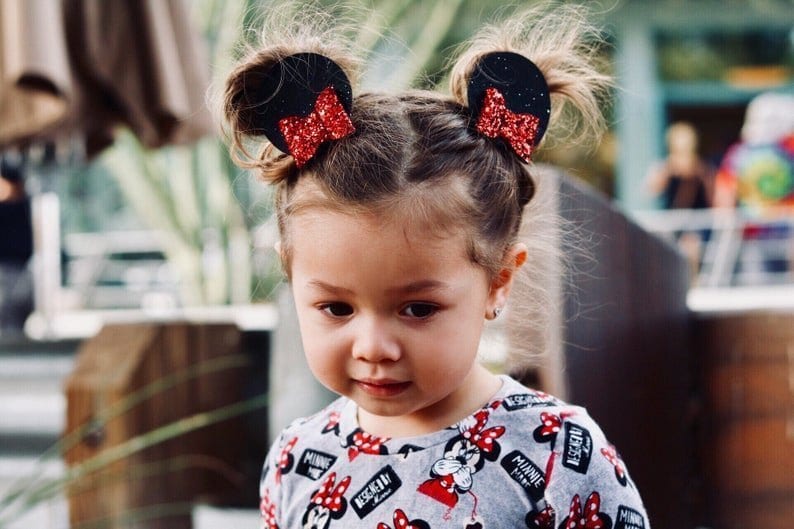 Where to Stay
Higher Budget Toddler-Friendly Hotels Near Disneyland
If you and your family have a little more wiggle room in the budget, definitely consider staying at Disney's Grand Californian Hotel & Spa. This gorgeous hotel is just a short walk away from the entrance to both Disneyland and California Adventure. Your little ones still need that mid-day nap, and the Grand Californian is by far the closest option! You can arrive at the park early (check out Extra Magic Hour!), come back to the hotel for that necessary nap (or a dip in the pool), and head back into the park later on. This will help the kiddos make it through a full day of magic with a smile on their face!
More Affordable Options
If you are looking to save a bit of money, but still want to stay on Disney property for the experience and Extra Magic Hour, check out the Disneyland Hotel and Paradise Pier Hotel. These options offer some lower rates, but they are a little bit further away compared to the Grand Californian.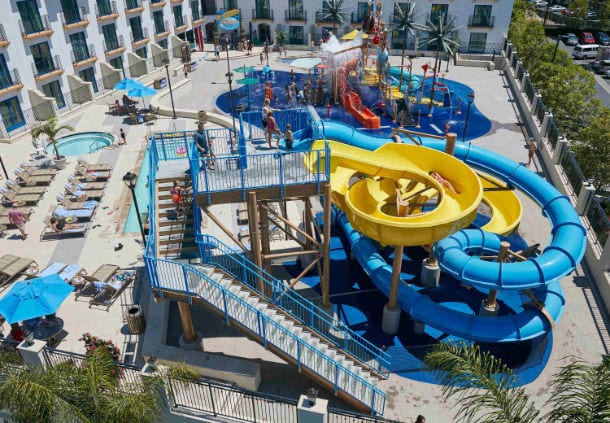 Disneyland has some great recommendations for hotels off property that are still close by! Our personal favorite is the Courtyard Anaheim Theme Park Entrance Hotel. It has a small water park and you can watch fireworks right from your hotel. It is right across the street from Disneyland so the walk is no more than 10 minutes.
Best Disneyland Rides for Toddlers
Once you've entered the parks, your first thought might be RIDES! While rides are a hallmark of the Disney park experience, you won't want to rush. Both you and the kids will get tired much faster. Try and stay in one area of the park at a time, and experience the attractions nearby! Zigzagging through the park = tired kiddos (and tired parents!)
Utilize MaxPass! This option is an additional $15 per day per ticket, but it allows you to make FastPass reservations directly from the app! If there are rides that you are positive your kiddos will want to experience, check the Disneyland App to see if that ride has a FastPass option.
Popular Rides With No Height Requirement
Here are some Disney fan favorites for any height!
In Disneyland:
Jungle Cruise
Peter Pan's Flight
It's a Small World
The Many Adventures of Winnie the Pooh
Alice in Wonderland
Storybook Canal Boats
Finding Nemo Submarine Voyage
And more! If your toddlers are fearless or don't mind the dark and some spooky effects, you can try the Haunted Mansion and Pirates of the Caribbean!
In Disney California Adventure:
The Little Mermaid
Monsters Inc
Toy Story Midway Mania
Jessie's Critter Carousel
Rides for Toddlers 32 in or Taller
If your toddlers are 32 inches or taller, this opens up the possibility for a few more rides! These include:
Autopia (Disneyland)
Mater's Junkyard Jamboree (California Adventure)
Luigi's Rollickin Roadsters (California Adventure)
For kiddos 35 inches or taller, they can visit Gadget's Go Coaster in Toontown! (Disneyland)
If your toddler happens to hit that 40-inch mark, this will open up more options in Disneyland & California Adventure like Big Thunder Mountain, Hyperspace Mountain, Radiator Springs Racers, and Soarin' Over California. However, these can be too intense for them!
Very Important Ride Tips
Stick to your gut! If you know your little one is adventurous, play into it. If they may be too frightened by the ride or if they resist, stay away.
Height Requirements: If your little one is not tall enough, do not ride! It is unsafe no matter how much you want to go. You can ask a Cast Member about Rider Switch Passes if you or other members of your party really want to ride. This will allow one part of the group to ride, while the others stay with the little one. When the first group is finished, the groups can switch and head in through the FastPass line.
Shows and Parades To See with Your Toddler
Disneyland and California Adventure are both hosts to some incredible entertainment options! Shows and Parades are a great way to take a break from running around the park, but continue the magic!
Disneyland:
Mickey's Soundsational Parade – This parade has two performance times during the day! Depending on your toddler's nap time schedule, this may mean skipping the first show and catching the second one! Check the Disneyland App to confirm showtimes.
Mickey and the Magical Map – A shaded sit-down theatre makes this show a crowd favorite! It's located towards the back of the park near It's a Small World and creates an awesome opportunity to relax while enjoying an exciting story about Mickey, filled with many character appearances. Check the Disneyland App for showtimes, and be sure to get there a little early so you get a good spot!
Fantasmic! – This nighttime show is spectacular and comes with a great message. These showtimes are a bit later, typically around 9 pm and 10:30 pm. If you think your kiddos can stay up for the 9 pm show, they'll love it. You can even reserve a FastPass for closer viewing.
Fireworks – If your kiddos are still up for a grand finale, Disneyland fireworks are a magical way to end the day. Check the Disney App for the current show times and information. If fireworks are important to your little ones, consider booking a hotel with a view of the fireworks just in case you need to head back early. In that case, you get to watch them in your pajamas!
*PRO TIP – Right after the first showing of Fantasmic, the fireworks begin, if you stay in the same area, you will have a great view of the fireworks.
California Adventure:
Frozen – Live at the Hyperion! This is an indoor stage-show featuring phenomenal production, music, dancers, and effects. There are multiple shows per day, so be sure to check the app and decide which one works best with your schedule.
Mickey's PhilharMagic – Get your 3D glasses, sit back, and enjoy this 12-minute show! It is a great way to take a quick break and experience a hilarious show with Mickey and his friends.
World of Color – This water spectacular is filled with beautiful music, awesome projections, and huge bursts of water! However, depending on how much time you have between the parks, you may need to pick and choose which nighttime show to see. Check the app for accurate showtimes, as there is only one showing per night!
Keeping Your Toddlers Belly Full in Disneyland
Disneyland provides little ones with plenty of options for delicious and nutritious meals! That being said, consider the following tips!
Easy to pack snacks! – Bring your toddler's favorite snack with you. Something simple and light that you can pack in your bag or backpack. That way if they need a quick snack, there's no need to wait in line. This will also help you save a bit of cash!
Mobile order! – This fairly new option can be a lifesaver! If you know your party will be getting hungry fairly soon, check out the mobile order feature for a restaurant or quick service spot! The Disneyland App will come in handy here as you can search specifically for food near your location.
Meltdowns? No Thank You!
Meltdowns happen, even at the Happiest Place on Earth! Here are some tips to help you avoid one of your own:
Take Breaks! – Find a fun shady place to take breaks throughout the day. As parents, it can be hard to slow down, because we want our kids to experience as much as they can. However, they usually have a much better time when they can move and explore at their own pace.
Comfort Over Everything – Make sure you and your kiddos are wearing comfortable clothes (and brings some backups!) and shoes. An itchy princess costume may look cute, but be sure to bring a change of clothes for when they want out! Also, where comfy shoes yourself, here are some of my faves
Mobile Order! – Kids can get "hangry" too, so make sure to check out the mobile order function in the Disneyland App to avoid more lines and fill those tummies!
Try Not to Make Promises – Entertainment options vary, and rides break down from time to time, so try not to promise certain experiences. Use language like "Let's see if we can do ___" instead of "Let's go do ____". In the event that a ride breaks down or there are some serious long lines, keep the Disney magic alive, and use language that makes sense for the ride. For example, the Little Mermaid breaks down and your little one is very upset. You could explain that Ursula put a curse on the ride, and Ariel needs time to nicely ask her to undo the curse so that the ride is safe.
How to Beat the Heat with Toddlers in Disneyland
Days at Disney can get hot, so it is crucial to be prepared! Little ones can be more sensitive to heat. Here are some tips for staying cool:
Water – Make sure everyone is drinking enough water! Having to use the restroom more often is much better than getting burnt out quickly.
Sun Protection – Everyone should be wearing sunscreen. If your trip is several days long, you don't want a painful or itchy sunburn to affect the rest of your experience! Hats are also a necessity, as they can help block that intense SoCal sun!
Find a Shady Spot
There are a few spots in the parks that are perfect for a magical (shady or indoor) break away from the heat. As a bonus, these do not require a reservation or FastPass!
Disneyland – Pirates Lair on Tom Sawyer Island! A quick and fun raft ride over to Tom Sawyer's Island brings you to a peaceful and mostly shaded hideaway filled with tons of caves to explore. Your little ones can relax and have a quick snack while discovering hidden treasures. This attraction does close before the general park closing time, so be sure to check the Disneyland app.
California Adventure – Anna and Animation Academy, Turtle Talk, and the Sorcerer's Workshop!- Located in Hollywood Land, this building offers indoor experiences that are exciting and air conditioned! The Animation Academy teaches your kiddos how to draw their favorite characters, with different characters at different times. Turtle Talk with Crush is an interactive little show with the famous turtle from Finding Nemo and has specific showtimes. The Sorcerer's Workshop includes more opportunities for you kiddos to explore drawing and animation, as well as the Beast's Library from Beauty and the Beast. The Beast's Library even has fun book like screens to take a quiz and figure which Disney character you are most like.
(CHECK OUT MY BEST TIPS ON BEATING THE HEAT, 12 Ways to Beat the Heat + Outsmart the Disneyland Crowd
You've Got This!

There is a lot to plan, a lot to remember, and a lot to see when you visit the Disneyland Resort with toddlers. It can be a challenge, but you've got this. Create a quick cheat sheet if you need to! The three most important tips to remember are:
Go slow
Drink water (you and the kiddos!)
When in Doubt – Check the Disneyland App!
Have a blast, and say hi to Mickey for us!
If you have any questions about Disneyland with toddlers, please feel free to leave them in the comments, or ask me a question on my Instagram
You Might Also Enjoy:
The Complete Guide to Disneyland Character Dining!
Disneyland Dining Reservations – 5 things you should know!
Latest posts by Mama Munchkin
(see all)