Disney Parks Pandora – As soon as the new themed Disney Pandora land opened up and we knew we had to experience all the splendor surrounding this new land in Walt Disney World's Animal Kingdom. (Get our BEST Disney World Tips & Tricks here). Having visited Walt Disney World so many times in the past we figured, we've got this! We know about Lightning Lane, we know how to work around the crowds, we know to take breaks at some of the cooler areas of the park like The Lion King Show (great show by the way). However, being the alleged "pros" that we thought we were. Here are 5 things I wish I knew before visiting Disney's Pandora.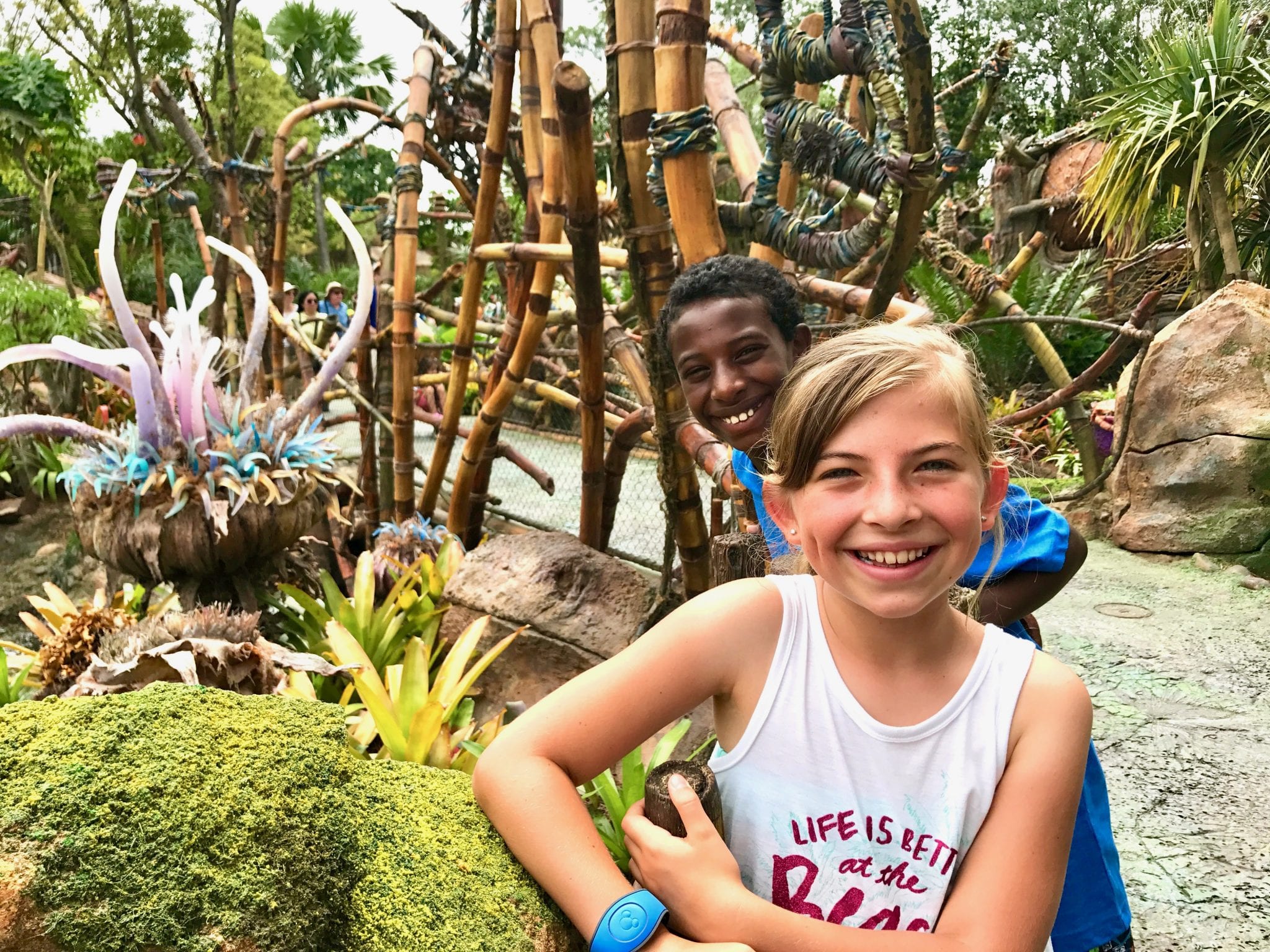 1. You need to visit Disney Parks Pandora twice, once during the day and once at night.
We were lucky enough to get a Lightning Lane Pass for the flight of the passage (which I recommend paying for, especially if you have not been on the ride), which is the premiere ride at the park at 11:30 am. However, we did not get one for the Na'vi River Journey. So, we got to the park about 45 minutes before opening and headed right to Pandora when the park opened (I would recommend arriving at least 30 minutes prior to the park opening).
The lines for both rides were immediately long within just a few minutes of getting into the park, so getting there early, if you don't have a fast pass, is one way to go. If you are not an early bird, go towards the end of the day as this is when the ride will be at it's lowest wait time.
We were lucky when we got to the park and only waited 30 minutes for the Na'vi River Journey. The flight of passage was immediately 60 minutes long and 3 hours the rest of the day. Now, the only problem is, at night is when Disney's Pandora comes alive with all the luminescence, it's the best time to visit IMO. *TIP- get there early in the morning to experience the rides, come back at night to experience the land!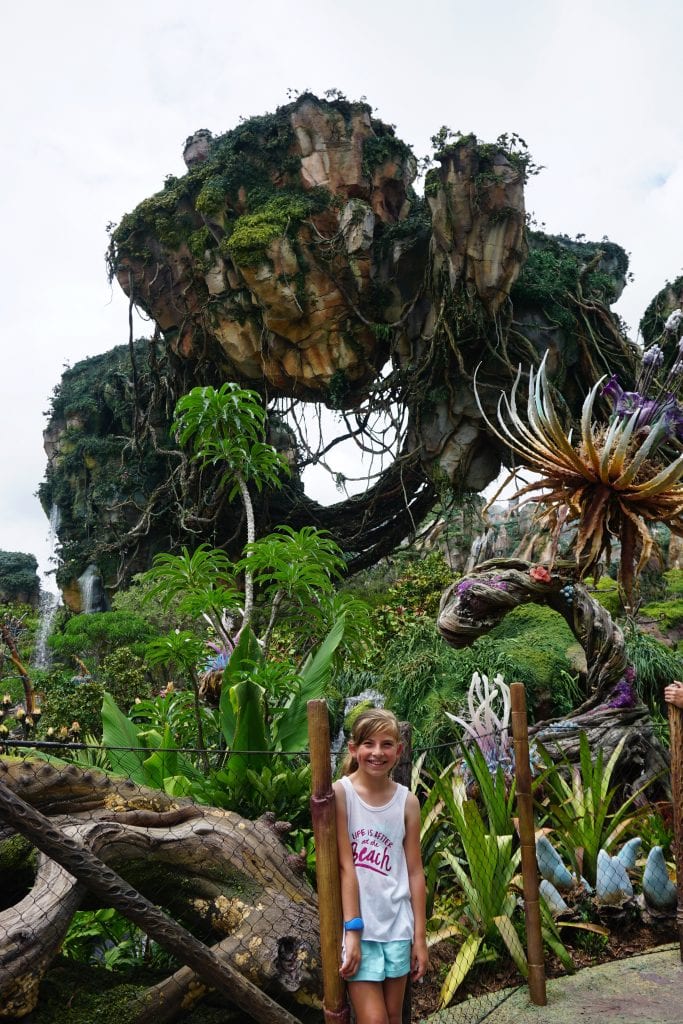 2. The Flight of Passage is the best ride I have ever been on IN MY LIFE – It's worth the wait (and I never say that)
I apologize for hyping this ride too much, but it truly knocked my socks off! Now if you are looking for a ride with loops and drops and turns, that is not what you are getting here. Walt Disney World somehow made you feel like you are riding on a real-life Banshee (you can even feel the banshee breathing on your legs).
I don't want to ruin it for anyone who is going for the first time because I think it is best to experience it with no expectations. But somehow Disney has made it so that you feel like an Avatar flying through Pandora. *TIP- make sure you find a way to get on this ride!
3. Use Mobile Ordering at Satu'li Canteen + Cheeseburger Pods
This land is very busy because it is brand spanking NEW. After you finish up with the rides you will probably want to check out the new food at the Satu'li Canteen. The only unfortunate thing is it's another long line, and I mean long! About a quarter way through I noticed people walking up to a counter that said mobile order pick up.
I immediately sought out a cast member and asked how do I do that. He instructed me to open up My Disney Experience app (download it before you go) and tap on the Mickey at the bottom and place your order. I did that, hopped out of line and in 10 minutes my order was ready. Now, at the time Satu'li Canteen was the only restaurant that had this option, now Disney has expanded it to other restaurants in the 4 parks, so definitely check out mobile ordering.
The other thing about the Satu'li Canteen was the cheeseburger pods my kids loved them, we not as much. I personally loved the DIY protein bowls in the Satu'li canteen, you can pick your protein, sauce, and base. It is delicious! Every one of us thought the food here was some of the best in the park. So definitely check it out!! *TIP- use mobile ordering around the park. **BONUS TIP- you can order the pods a la carte and save a ton!
Don't believe us? Check out We3Travel's pick for BEST Ride at Disney here.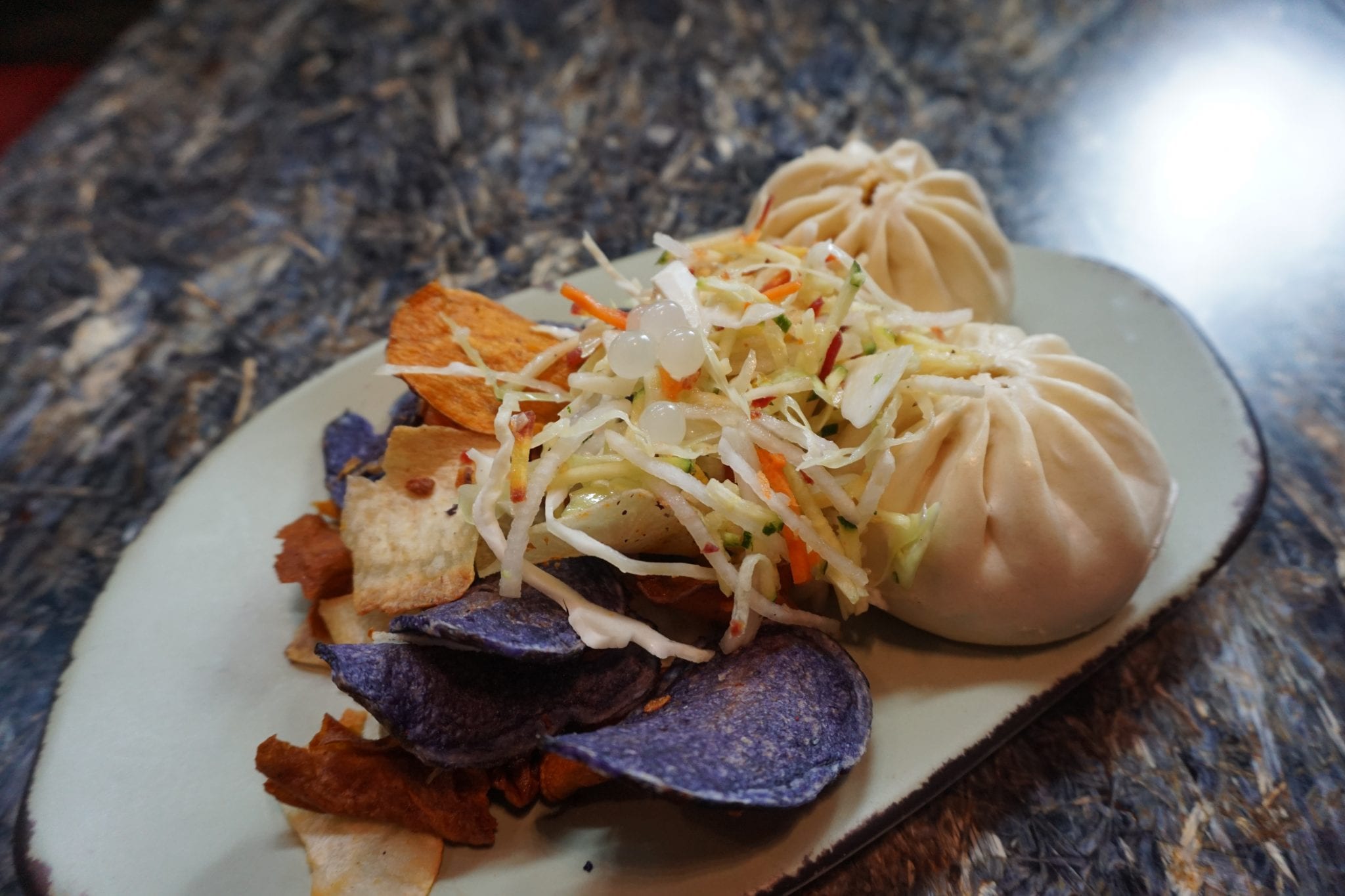 4. Bring glow in the dark face paint and glow at Disney Parks Pandora
At night, Disney's Pandora is simply amazing! Everything is glowing including the ground. I saw a few people who had glow in the dark face paint so I asked them where they purchased it as my kids thought that was the coolest thing ever. Unfortunately, they all had purchased the glow in the dark before they got to Disney World and Disney does not sell it. So, don't be like me. Here is the link to the highest rated glow in the dark face paint on Amazon,
***Update**** We used the glow in the dark paint for our recent trip in February at the Disney SMMC Conference. Here are some pics of our results. The kids absolutely loved it and this paint works great. It stayed on through the heat and even my 4 year old kept it on the whole day. It comes off with a wipe when you are done for the day. Another idea one reader did was glow in the dark nail polish. and they said it worked incredibly well.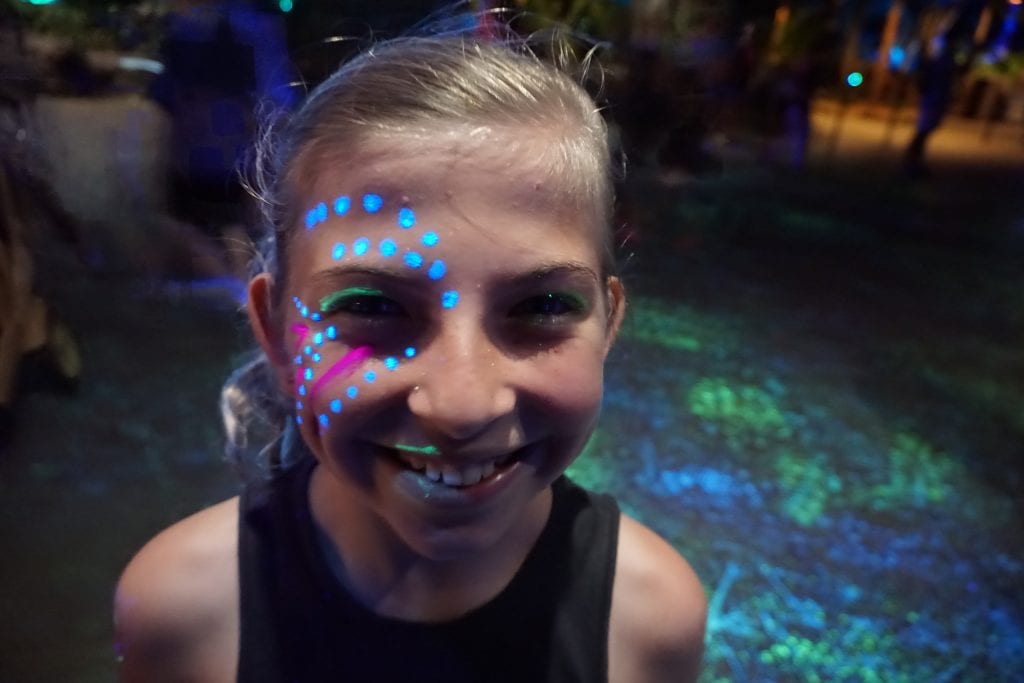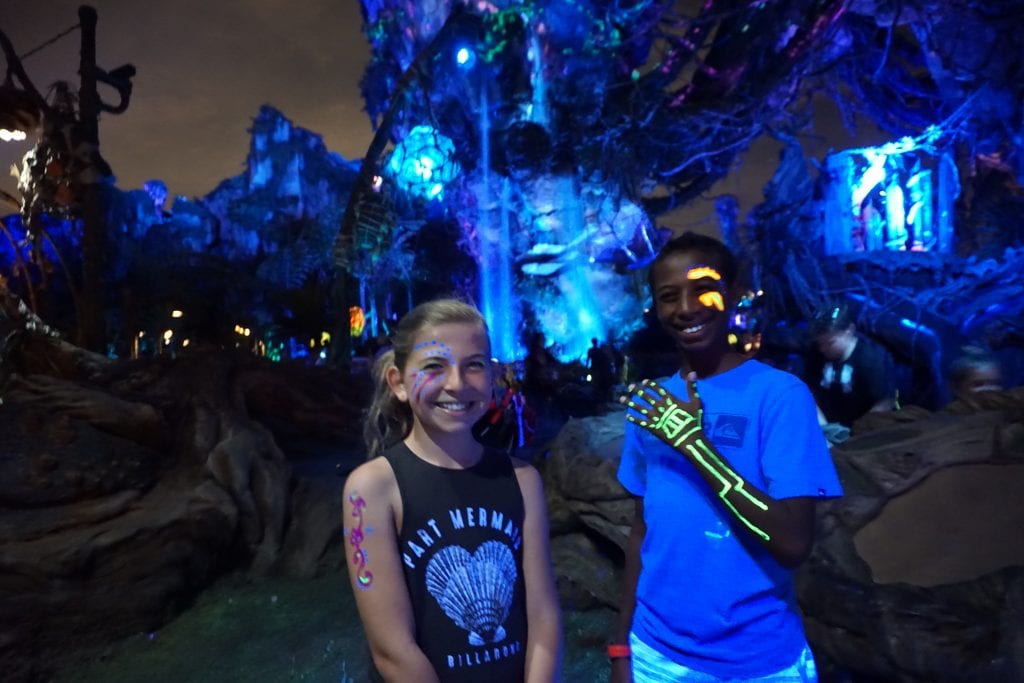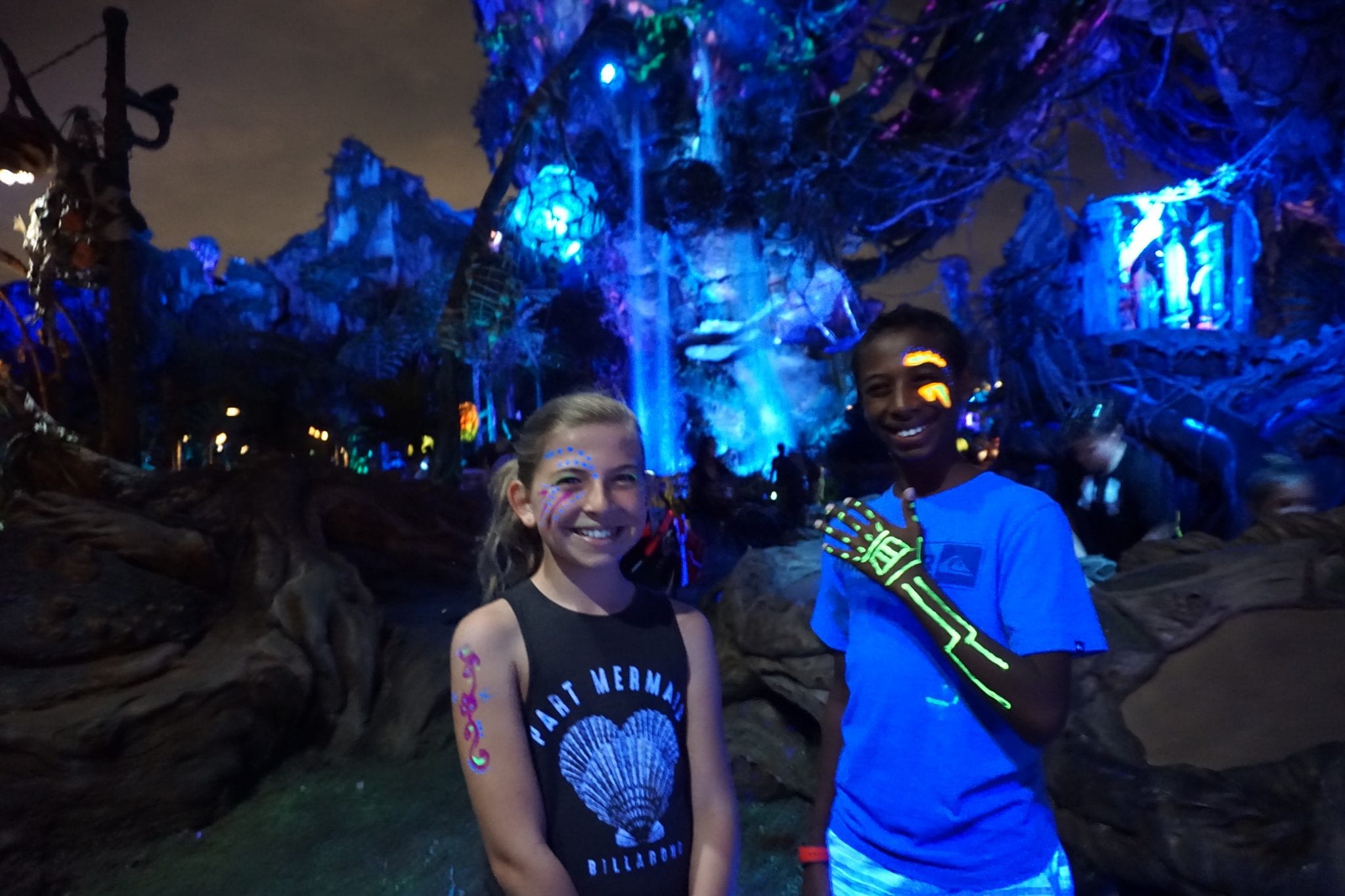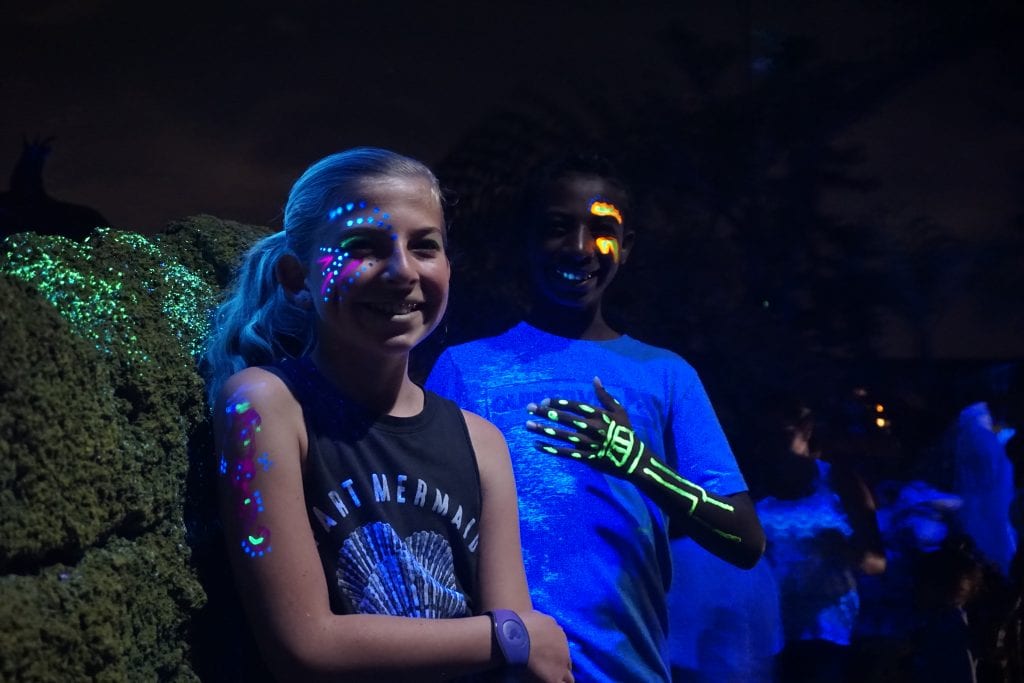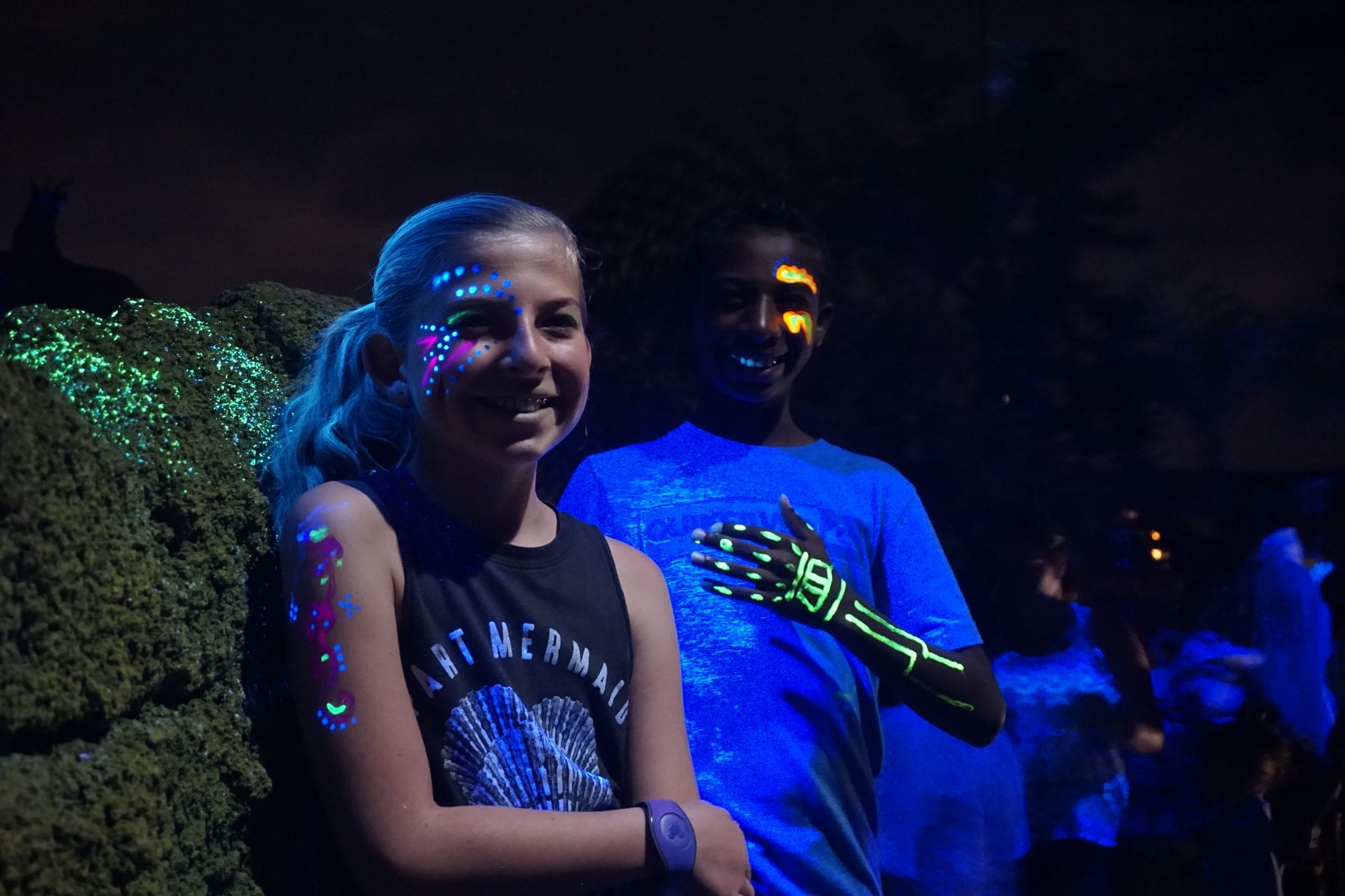 5. It's worth getting the Photo Pass Photos at Disney's Pandora
I really love Disney's photo pass, but sometimes you can capture just as good of an image from your phone or camera. *THIS IS NOT THE CASE at Disney's Pandora Land. During the day they have a spot which makes it seem like you are looking at some flying Banshees (with the help of some Disney magic of course).
At night, I tried to capture the beauty of the land and simply couldn't. As we were about to leave, at 1 a.m., my husband spotted a photo pass photographer and insisted we take one last picture.
Despite us being worn out from a full day, it was definitely the best picture we had of the world of Avatar at night because the photo pass photographers have their camera set to the perfect settings to capture all the light. Next time, I will make sure we take the picture before we are completely beat. *TIP- plan for the Disney Photo Pass, it is worth it!
Have you visited Disney's Pandora?
If you need help planning and booking your magical Walt Disney World vacation, contact our friends at Tink's Magical Vacations. They are truly Disney Experts, and not only are their services FREE, but they will save you both time and money.
Traveling to Disney World – Start Here!
---
Pin for later- 5 Incredible Things to do at Disney Parks Pandora + How to Glow