I grew up visiting Knott's Berry Farm. Snoopy and the PEANUTS Gang, they were some of my favorite characters. So, this all NEW adorable event was the perfect excuse to take a trip down memory lane with my own daughters. Knott's Berry Farm will adorn its park with PEANUTS inspired décor, fun character experiences, comic strip style photo opportunities, fun new shows featuring the PEANUTS Gang and tasty PEANUTS-themed treats! The Knott's PEANUTS Celebration will take place weekends starting January 27 through February 25, 2018, plus Presidents' Day. Check out the reasons we think you will love the Knott's Berry Farm- Snoopy + PEANUTS Celebration.
5 Great Reasons to Visit Knott's Berry Farm- Snoopy + PEANUTS Celebration
1 Visit With Your Favorite PEANUTS Gang Characters Including Snoopy
Who doesn't want to hang out with the fun-loving PEANUTS Gang? For the first time Snoopy, Charlie Brown and the crew can be found all over the entire theme park (versus only in the Camp Snoopy area). The characters appear at unexpected locations throughout the park offering special and unique interactions.
2 Check Out the Fun New Shows Featuring the PEANUTS Gang
We love avoiding the lines and hitting up the shows at Knott's Berry Farm. Snoopy and the rest of the PEANUTS Gang have several NEW shows including Lucy & Charlie's Balancing Act (pictured above) where the PEANUTS characters help kids understand the importance of life balance (aka not playing video games all day). There are also musical performances like The Music Goes Round & Round with Sally and Schroder which is a fun trip down memory lane, Lucy & Sally's Fiesta Fantasy a colorful celebration of Mexican song & dance, and you won't want to miss Woodstock's Musical Festival, the nighttime family-friendly rock concert!
3 Snap Adorable Pics Using the Fun Comic Strip Photo Set Ups
I'm always looking for cute photo backdrops for the kids whether it is a colorful wall, rugged bricks, or fun street art. It just makes my photos pop and it makes it a little more fun to share them on social media. While Knott's Berry Farm caught onto the fad and created these super cute PEANUTS-themed comic strips. How adorable is the pic of Livvy stealing a smooch from Snoopy?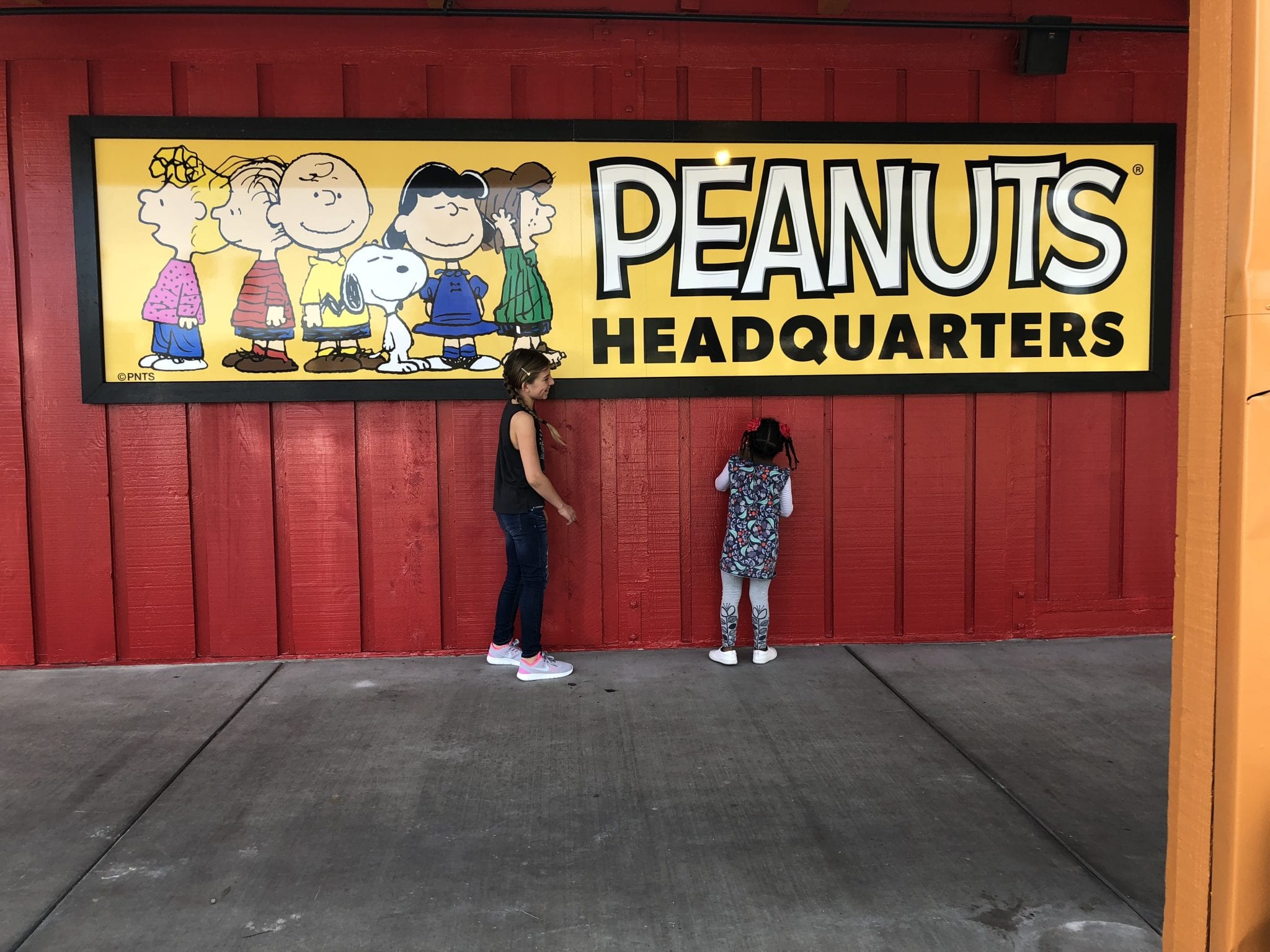 4 Visit Pig Pen's Livery Stable
The girls absolutely love animals so the new Pig Pen Livery Stable was a total hoot to them. They were able to pet horses, a donkey and check out the adorable little piglets too.
5 Don't Forget to Save Room For Dessert!!
Theme Parks are known for their delicious treats and Knott's Berry Farm definitely delivered with special PEANUTS-themed cupcakes, caramel apples, chocolate covered strawberries, rice crispy treats, Charlie Brown Cotton Candy and a giant Snoopy cake!!! You are definitely going to want to save room for dessert!
Don't Forget to Visit All Your Favorite Rides at Knott's Berry Farm- Snoopy has some great ones at Camp Snoopy!
Don't get so busy with the PEANUTS Celebration that you forget about all the fun rides and attractions Knott's Berry Farm has to offer. Liv could hang out in Camp Snoopy's area all day long and my older kids are total thrill-seekers so they love checking out all of the roller coasters.
Have you visited Knott's Berry Farm before? Tell me about your favorite Knott's attractions in the comments below.
Pin it for Later-
*Disclosure- At times Global Munchkins receives invitations to special media events for the purpose of press coverage that is relevant to our audience. Media events may contain complimentary admission, food, and perks. However, all thoughts and opinions as expressed above, as always, are 100% our own.