From November 16 – January 6, is Knott's Berry Farms most festive time of year. The Holiday Season brings a joyous time to this amusement park. All ages are invited to enjoy this fun-filled magical encounter during the holiday season. You can meet and adore Charlie Brown, Snoopy, and the rest of the Peanuts. All the while enjoying the holiday spirit. Here are the Top 7 things to do at Knott's Merry Farm.
Top 7 Things to do at Knott's Merry Farm This Holiday Season
 Top 7 Things to do at Knott's Merry Farm: 
A Peanuts Guide to Christmas
One of the best things to do at Knotts Merry Farm is a Peanuts Guide to Christmas. You can't miss this attraction. It is located in the Camp Snoopy Theatre. Here you can enjoy the holiday celebration while learning the Peanuts survival guide to surviving the holidays. There are carols, smiles, and laughter the whole family will enjoy. After the show, there is a meet and greet with the peanut gang. So you and your little peanuts can make tons of memories and take countless pictures with the cast.
Calico Carolers
One of moms favorite things to do at Knotts Merry Farm this season is the Calico Carolers. The Calico Carolers are located in the Ghost town area of the park. These carolers sing all throughout ghost town. You can join in on the fun and sing along with them as well! I am always a sucker for carolers, it just feels so Christmasy and I absolutely love it!
Santa's Christmas Cabin
This wonderful Christmas themed cabin is located in Wilderness Dance Hall. The big man himself Santa Clause will be ready to take pictures and talk to the little ones about their Christmas wish list. Photographs can be purchased onsite and you can also use your camera as well which is a nice freebie. There are also many treats to enjoy, even some hot spiced holiday wine for the bigger kids at heart, plus of course you get to tell Santa what you want for Christmas 
Snoopy Ice Show

Another one of the top things to do at Knott's Merry Farm is the Snoopy Ice Show. This magical ice show is located in the Charles M. Schulz Theatre. It is a treat for the whole family. It even includes world-class ice skaters. Snoopy and the Peanuts will be there as well to enjoy all of the fun that will endure during this spectacular holiday extravaganza. What is impressive is how well Snoopy and the other cast of characters can skate around and perform a pretty fun show.
Mrs. Claus' Kitchen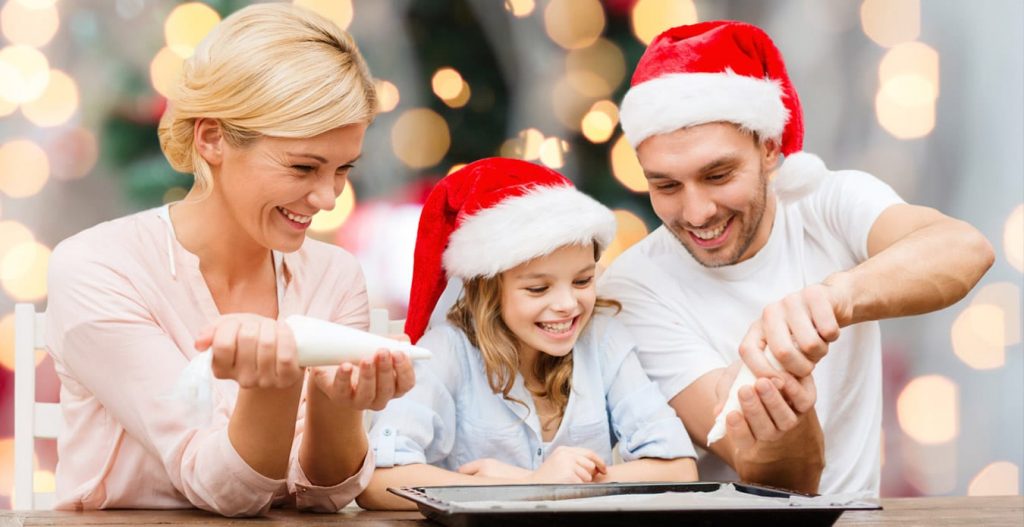 Decorating cookies (and eating cookies) is a holiday staple at our household. At Knott's Merry Farm you can enjoy cookie decorating at Mrs. Claus Kitchen. For a small fee ($5.99 per kit), kids are able to decorate and design sweet and savory Christmas cookies. They are more than welcomed to bring them home and share at their special holiday dinners.
The Merriest Christmas Show Ever, Charlie Brown
This Christmas show is located at the Calico Mining Stage. The whole Peanut gang is here, even Charlie Brown himself. Wait, Snoopy isn't with the whole gang. He is visiting family around the world but doesn't know if he will make it in time to enjoy Christmas with his best friend Charlie Brown. This show is filled with holiday cheer and joyous songs to sing along to. No wonder it is one of the top 6 things to do at Knott's Merry Farm! Your kids will be sure to enjoy this musical treat!
Rides Rides & More Rides
Lastly, you can enjoy all the incredible rides at Knott's Berry Farm while sprinkling in some Holiday Magic. I highly recommend trying out the new hangtime roller coaster and my favorite ride at Knott's the Xcelerator. It is quite an intense journey.
How to get Discounted Knott's Merry Farm Tickets
Our favorite place to grab discounted tickets to Knott's Berry Farm (Merry Farm) is ARES TRAVEL – They consistently have the best prices and the tickets are e-mailed to you within minutes. Plus they have some great hotel and multi-theme park packages. Check Current Prices Here!
You might also enjoy:
How to buy Discount Knott's Berry Farm Tickets [12 easy ways]
5 Delicious Reasons to Visit Knott's Berry Farm's Boysenberry Festival