Ah, the most classic Halloween experience of all… a good old-fashioned Haunted House. It's the season to experience both spooks and thrills and there's no better way than grabbing some Knott's Scary Farm discount tickets.
To be perfectly honest, I am terrified of haunted houses, but my husband and teens absolutely love them and head to Knott's Scary Farm and Universal Studios without me yearly. I stick to Disneyland's more happy Halloween event!
After dark on some particularly scary nights in September and October, Knott's Berry Farm transforms into a land of haunts. It's the largest Halloween experience in all of Southern California and truly unlike anything else!
There are both haunted mazes and attractions, that's right you're not even safe from creepy creatures while you wait in line to ride one of their epic roller coasters. Keep in mind, this is no place for your littlest kiddos. The recommended age is 13+.
Of course, this awesome fall experience comes at a cost a little above your usual haunted house. We've got some great ideas to help you save on tickets though!
How to Buy on Knott's Scary Farm Discount Tickets [5 Easy Ways]
Yes, we've mentioned ARES in some of our other ticket-saving articles. They are one of our absolute favorite sites to find discount tickets. They've been around for years making them easy to trust. Once you order, you'll will almost immediately receive your tickets in an email.
You can buy tickets for Knott's Scary Farm for $59! Here are their current rates for all of Knott's experiences.
---
Undercover Tourist
Undercover Tourist has some incredible deals on major Halloween theme park events throughout Southern California from Universal to Disneyland to Knott's Scary Farm. You can find a wide array of discounts on their site.
Check out all of their amazing discounts here.
---
Scary Farm Pass – For Frequent Visitors
If Halloween is your absolute favorite holiday, you will want to check into this pass. It's valid for admission to every night of Knott's Scary Farm. The price is set at $155, but if you already own a Knott's season pass it will be reduced by $10. This pass is worth the price even if you just plan on going just a few times!
---
All-Inclusive Package
If you want to truly get the full experience out of your night at Knott's Scary Farm, you will want to purchase an all-inclusive package. By purchasing this ahead of time, you'll save a little $$ overall.
This package includes parking, admission, The Boo-fet Dinner, and the Fright and Fast Lane. If you plan on doing all of these things, the inclusive package can save you over $50 per person.
You can order these packages online at knotts.com
---
Military Discount
If you are active or retired military, you will be offered a discount for your service. You can purchase these tickets straight through Knott's, either online or at the gate.
Be sure to check the prices online before you go though, because you'll be able to get the cheap online price at an even greater discount.
---
AAA Member Discount
Being a AAA Member is great for a lot of reasons, but the discounts offered to members are some of the biggest perks. Just click here to check out AAA's theme park discounts. They're up to 50% off right now!
---
Purchase in Advance – Online
With Knott's purchasing online is always a really great option, as they raise their prices at the gate. Online the tickets are currently set between $35-50 depending on the night and the gate price is set to be $82. That's huge savings, especially if you're buying for multiple guests!
---
***Pro Tip*** – No matter which way you purchase your discounted Knotts Scary Farm Tickets, make sure to purchase online as dates do SELL OUT!
---
Get Tickets for Exclusive Experiences – Fright and Fast Lane and The Boo-fet Dinner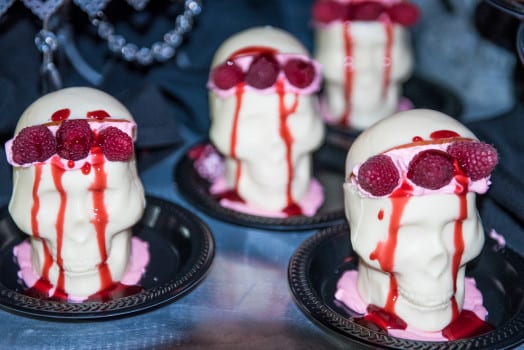 Knott's has added some cool new additions to their Scary Farm experience. First off they have the Fright and Fast Lane Pass, which gives you unlimited priority access in line for both mazes and rides. When purchased online this pass with admission included starts at $145. The lines for the mazes do get quite long, so if you have the money, this experience is definitely worth it.
There will also be The Boo-fet Dinner for those who want to dine with monsters before heading into the park. With this dinner package, you'll be allowed early entrance into certain areas of Knott's Scary Farm. It's $45 per person for endless fried chicken, a carving station, boysenberry pie, a souvenir cup, and all Knott's classic favorite dishes.
---
Important Knott's Scary Farm Tips
Dates and Hours- Knott's Scary Farm runs from September through October, but it isn't every night and the hours do vary. Before getting too far into planning out your trip, make sure to check out the calendar here. You'll find that the Scary Farm is typically just one the weekends, Thurs-Sun.
As for times, scary park admission allows you in the park from 7 pm-1 am or 2 am. When buying tickets keep in mind they are only valid for the date you purchase, you cannot switch them to another night. Also, these tickets do not work for general admission before 7 p.m.
Parking- You will follow the typical parking procedure for a normal Knott's Berry Farm day. It will cost about $22 for normal parking or $35 for preferred. If you hold a Knott's Berry Farm season pass and have added on all-season parking, parking will be free of cost for the Scary Farm as well.
Age Limit- There is no minimum age requirement to attend. However, it's strongly recommended no one under 13 attends. Everyone will have to pay admission regardless of age.
---
****** Please Make Sure you purchase Knott's Scary Farm Tickets & NOT Knotts Berry Farm – They are two separate admissions and you will not be allowed into Knott's Scary Farm with a Knotts Berry Farm Ticket****
Pin for Later: How to Save Money on Knott's Scary Farm Tickets [5 Easy Ways]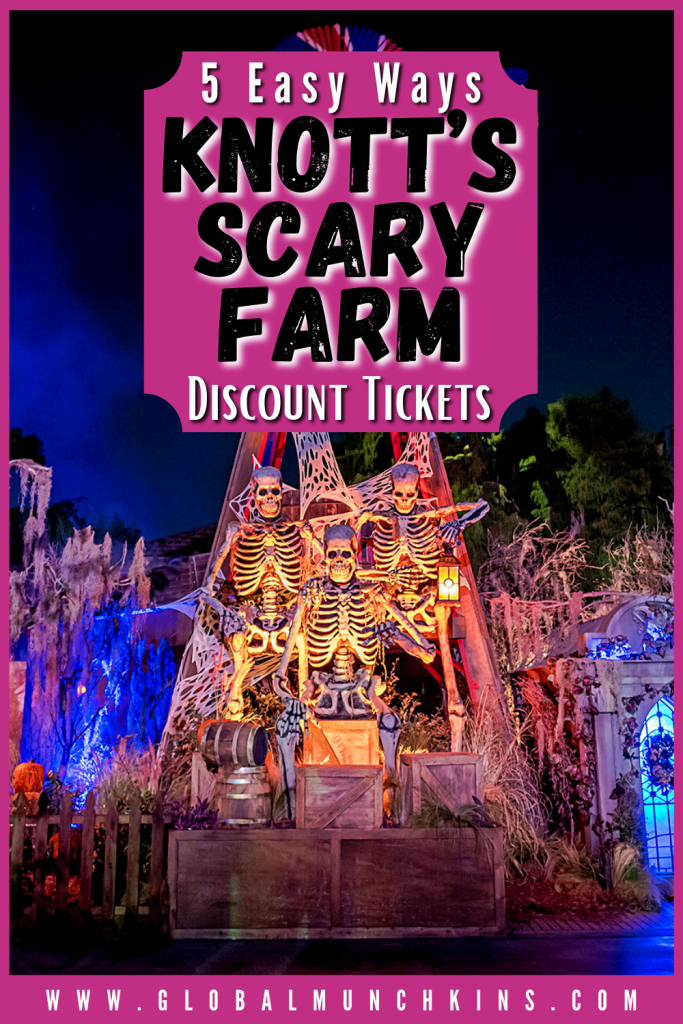 You Might Also Enjoy:
EVERYTHING YOU NEED TO KNOW ABOUT MICKEY'S NOT-SO-SCARY HALLOWEEN PARTY
KNOTT'S BERRY FARM DISCOUNT TICKETS [11 EASY WAYS] TO SAVE MONEY
UNIVERSAL STUDIOS HOLLYWOOD HORROR NIGHTS DISCOUNT TICKETS – 7 WAYS TO SAVE!
Frequently Asked Questions
Is there an age requirement for Knott's Scary Farm
No, however, the recommended age is 13 years and above
Can my Knott's Berry Farm Tickets be used for Knott's Scary Farm
No, Knott's Scary Farm is a separate event and tickets must be purchased separately.
Does Costco sell Knott's Scary Farm Tickets