Halloween is a tricky holiday when you have little ones. On the one hand, it is really fun to dress up and eat yummy treats but it can be hard to know what seasonal events are actually kid-friendly. You definitely don't want to scare your little ones and end up with them sneaking into your bed nightly for the remainder of the year. Luckily, SeaWorld's Halloween Spooktacular in San Diego is completely kid-friendly and an absolute blast. We can't wait for the Halloween season to roll around so we can head back to SeaWorld, because we have been having a really great time there this summer. Be sure to check out our tips & tricks for having a great day at the park here!
SeaWorld Halloween Spooktacular [Here's the Details!]
What is SeaWorld Halloween Spooktacular?
Think of it as a giant fall festival jam-packed with family fun! Every corner of SeaWorld will be brightly decorated and adorned with Halloween decor. Plus, their classic beloved shows even take on a Halloween twist. You will love Clyde and Seamore's Big Halloween Bash. It is hilarious and their pal OP Otter will also join in for additional comedy.
They have also added a brand new Sesame Street Halloween Parade and there will be dance parties throughout the park. The parade will march through every weekend with all your favorite Sesame Street friends and is colorful, musical, and show-stopping. You know you will be seeing plenty of Count Von Count around! 
If you like a bit of fun spookiness, be sure to check out some of SeaWorld Halloween Spooktacular's more creepy creatures. They've got tarantulas, owls, and more. There's also a spooky twist on the Manta ride with special effects and creepy sounds! 
Are there treats? 
Of course!! Have no fear, there will be plenty of treats throughout the park and they are included with admission. In fact, OVER 2 MILLION treats will be handed out at SeaWorld's Halloween Spooktacular. My kids loved walking around the park and discovering new treat stations. 
As a parent, this is one of the most stress-free ways to trick or treat and takes out all the worrisome things that come along with sending your children around to know on stranger's doors. 
On top of this, being in a theme park means they are a little more considerate to allergies. The trick or treats stations in previous years have been labeled with what they are handing out, making it easy to avoid things your little one cannot have. Trick or Treat hours will be from noon to 6 PM. Be sure to wear your best costumes! However, anyone over age 10 cannot wear masks or hoods and should leave them at home. 
SeaWorld does ask that you bring along reusable trick or treat bags or Halloween buckets. This is in an effort to protect the sea and the environment. If you forget your bag, you can also purchase a reusable one right in the park and they're actually pretty cute! They start at just .99 cents, and a portion of every bag purchased goes back to SeaWorld's conservation fund. These budget-friendly bags hold plenty of candy, too. 
When is SeaWorld Halloween Spooktacular? 
One of the best things about this event is that it is long-running. No matter what your schedule is like in October, you will probably be able to figure out a time to squeeze in SeaWorld. As mentioned above, on SeaWorld Halloween Spooktacular days trick or treating will be from 12 PM-6 PM. Trust me, there is no rush for candy either because they have got plenty. 
SeaWorld Halloween Spooktacular runs on the weekends between September 21-October 27
SeaWorld Orlando hosts a very similar event and it will be running these same weekends!
Your Kids can go to Sea World for FREE!
Yes, you read that right. From late September through the end of October is San Diego's Kids are Free promotion. This include such places as Sea World. You do have to pre-purchase your tickets online. Grab discounted tickets + Kids FREE tickets here.  You can also check out our complete list of Kids Free San Diego attractions here. 
All in all, this is just a really laid back and fun way to celebrate Halloween as a whole family. Whether you are an annual pass holder or haven't been to SeaWorld in years, fall is the time to head to the park. Who knows, maybe we will see you there!
You Might Also Enjoy:
Cheap Sea World Tickets; 11 Easy Ways to Save Money!
Disneyland Halloween 2019! An Ultimate Guide + Must-See Attractions
The Ultimate Guide to Halloween in Temecula Valley
Pin for later!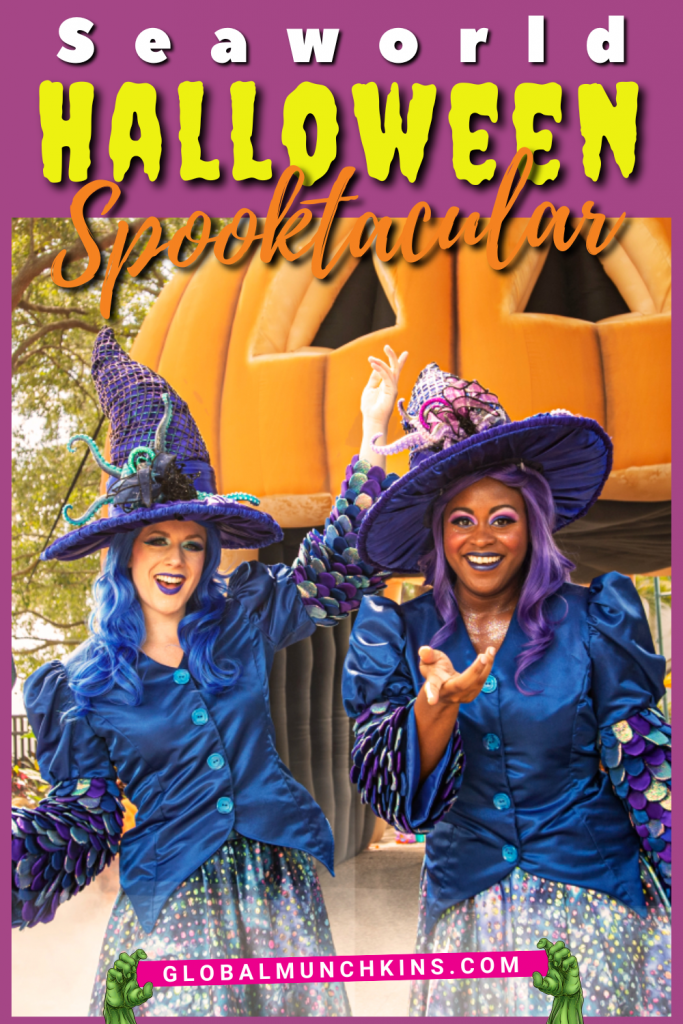 Latest posts by Emily Myers
(see all)