The panoramic view of Universal CityWalk Orlando is breathtaking, featuring fantastical architecture and a festive array of neon lights and colors, but the real fun to be had is up close and personal.
Visitors to Universal Studios and Universal's Islands of Adventure need only step outside the theme park to enjoy a wide variety of shopping, dining, and other entertainment attractions available at CityWalk. After a long day in the park, it's great to have options right outside for a great meal before heading back.
---
Best Things to do at Universal CityWalk Orlando
CityWalk is very accessible from any of Universal's hotels, making it feasible to pit stop at the room and change before hitting CityWalk for dinner, drinks, and other nightlife activities. Here are our favorites for your next Universal vacation, to stop at Universal CityWalk Orlando!
Are you looking for discounted tickets to Universal Studios Orlando? Check out our post here!
---
Satisfy Your Sweet Tooth at The Toothsome Chocolate Emporium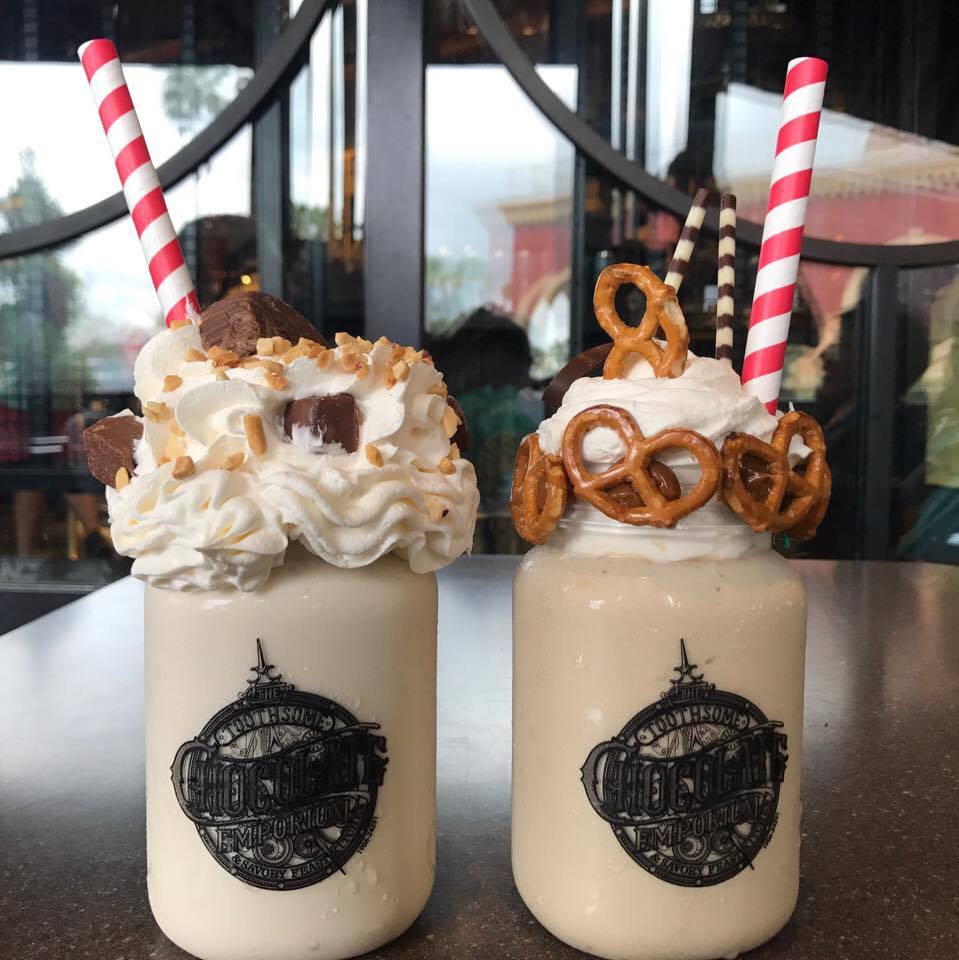 The Toothsome Chocolate Emporium & Savory Feast Kitchen is a remarkable feat of architecture from the outside featuring two tall smokestack towers that stretch towards the sky.
Picture Willy Wonka's Chocolate Factory with a hint of cyberpunk aesthetics, and that's what you'll get at Toothsome. They even have robot characters for great photo ops while you wait for your table!
Toothsome doubles down on the over-the-top visuals by creating some of the most massive and magnificent milkshakes conceivable.
With flavors like Red Velvet, Confetti Shake, or Marshmallow Crisp, shakes come in a souvenir collector's cup and are stacked high with accouterments like whipped cream, cookies, and even whole cupcakes.
Although the milkshakes are a complete showstopper, they also offer a complimentary selection of dinner options and entrees to be your one-stop dinner spot before a good night's rest. We recommend stopping here on the way out, as giant milkshakes and high velocity theme park rides may not mix well depending on the strength of your stomach.
---
Try "Burgushi" at The Cowfish Sushi Burger Bar
Many Americans have had burgers, and most have had their fair share of sushi. Some may even have had the pleasure of trying a Sushirito– combination of sushi and a burrito. But have you tried Burgushi?
The Cowfish Sushi Burger Bar creates a one-of-a-kind fusion to add additional adventure to your Universal vacation. Dinner options include an impressive array of mouthwatering burgers and classic sushi rolls and combos, but also their innovative Asian-American fusion called "Burgushi."
Burgushi rolls combine the best of both worlds and may include ingredients like seared bison and sushi rice, seared filet mignon and ginger sauce, or Angus beef and tempura flakes.
Your taste buds have never experienced anything like this, and neither has your Instagram!
---
Play 18 Holes at Hollywood Drive-In Golf
Mini gold everywhere is known to include elaborate setpieces to add some fantasy to the golfing experience. The Hollywood Drive-In Golf is right at home at CityWalk Orlando, including a spooky haunted house and a giant galactic space worm to add fun and flavor to the two 18-hole mini golf courses. Putt past aliens and bounce off of creepy tombstones to get a hole-in-one.
Challenge your family to a round or two to settle once and for all who the greatest mini golfer in the family is!
---
Catch a Flick at Universal Cinemark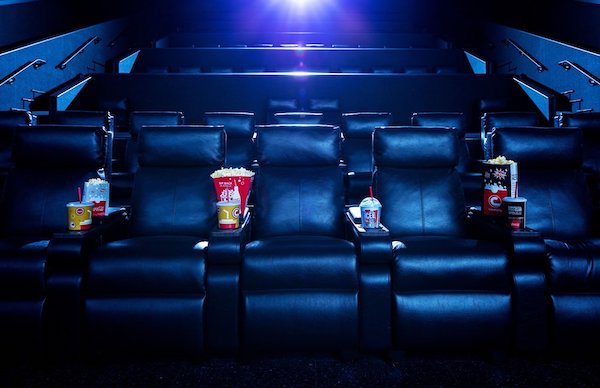 It may sound like a waste to see a movie while on vacation. You could go to the theater anytime at home, so why waste precious vacation time taking in a movie?
For one, Universal Cinemark is as impressive on the inside as it is on the outside. The gargantuan theater uses state-of-the-art projection screens in 20 different theaters to play new releases and classics alike. Their sound system is second-to-none, and the stadium seating featuring luxury recliners provides unparalleled comfort.
Grab your favorite snacks and drinks from the snack stand and full-service bar, and get ready to experience a movie viewing experience like no other!
---
Get Voodoo Doughnuts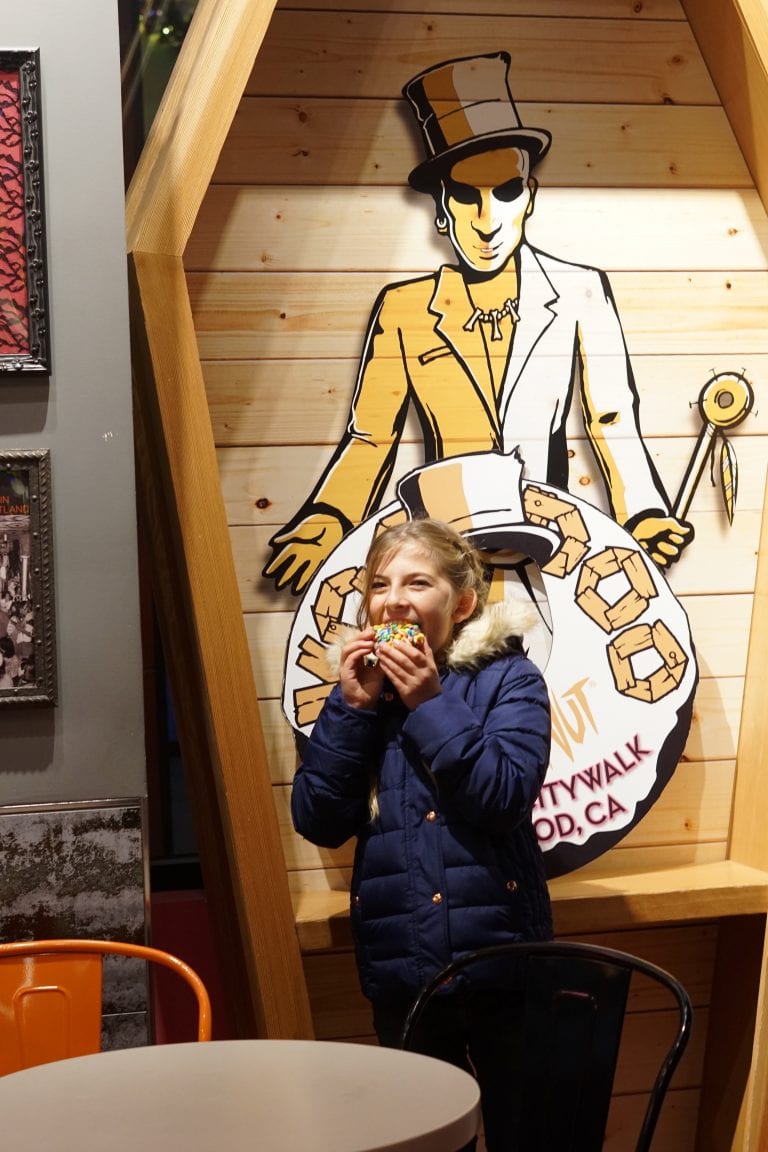 Another sweet way to wrap up the day is by grabbing a trademark pink box of donuts from Voodoo Doughnuts on the way back from the park.
Voodoo Doughnuts has all the classic flavors like glazed, frosted, and filled, but also includes some specialty items including the Universal Orangesicle, Miami Viceberry, and Jurassic World.
Try the Voodoo Doll, which is shaped like a distressed man, coated in chocolate, and filled with raspberry jelly. While that might sound graphic, it's very cartoonish and very delicious!
To be super efficient, bypass the line and order from the mobile app while you're on your way there. The lines are understandably long during peak hours, so using this method might save you the wait.
---
Pick Up Souvenirs from the Gift Shop
Do you have a friend or family member back home that couldn't join you on the trip?
Let them know you were thinking of them with a Universal Studios Store souvenir from the gift shop. They have all the collectible and specialty items you could want for that forgotten someone, or for the family to commemorate the occasion and remember it fondly.
If a Universal Studios Store is too niche, there is also the Quick Flight Surf Shop or the Hard Rock Cafe Rock Shop.
---
Watch the Big Game at NBC Sports Grille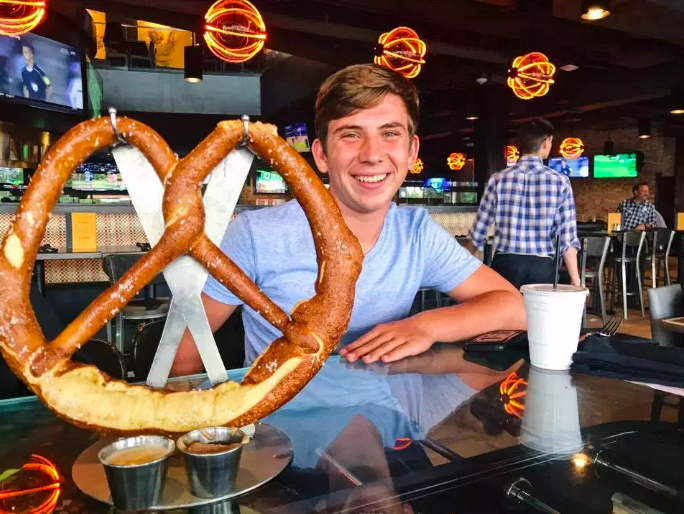 The NBC Sports Grille is a great place to catch a game.
You can enjoy some foosball while you dine with their foosball dinner tables. Make sure to order their famous giant pretzel, it is the best appetizer on the menu.
They have nearly 100 high definition TVs broadcasting games from all over so you don't miss a single play while you're away from home.
The food is excellent at NBC Sports Bar and Grill, featuring favorites like loaded nachos, colossal burgers, and fall-off-the-bone barbecue to pair with almost 100 beers.
---
Perform at CityWalk's Rising Star with a Live Karaoke Band
Start warming up those pipes because CityWalk's Rising Star offers a karaoke experience unlike any other.
If you enjoy a great karaoke night at your local watering hole, turn the amp up to 11 and get ready for a high octane energized experience of singing with a live backing band. Channel your inner rockstar, as Rising Star provides the backing band, an announcer to keep the show moving and grooving, and backup singers to harmonize.
Upgrade your Rising Star experience and receive A-list treatment including a private seating area, express entry, and a dedicated server to bring refreshments to you and your entourage.
Unless you're actually a famous rockstar, there's nothing better than the VIP treatment you'll get at CityWalk's Rising Star!
---
Enjoy a Meal at Bubba Gump Shrimp Co.
One of my favorite spots is the Bubba Gump Shrimp Co. Restaurant Market. It's a fun and lively restaurant with delicious seafood dishes that the kids will love. Plus, the atmosphere is perfect for a family meal.
Bubba Gump Shrimp Co. at Orlando City Walk is a fantastic restaurant for families. Inspired by the movie Forrest Gump, the restaurant features a fun and lively atmosphere that is perfect for kids of all ages. The walls are covered with movie memorabilia, and there are even trivia games and quizzes to keep the kids entertained.
But it's not just the atmosphere that makes Bubba Gump Shrimp Co. a great spot for families. The menu is also filled with delicious and kid-friendly dishes. Of course, seafood is the star of the show here, but there are plenty of options for picky eaters as well. Kids will love the shrimp and mac and cheese, while adults can enjoy the more upscale seafood dishes.
---
Get Your Groove On at the groove
This multi-level dance club features resident and guest DJs bumping an electric soundtrack of dance tunes that'll keep you moving and grooving all night long. The inside is spacious providing ample room to dance and hang with your friends and family. There is also a balcony terrace that overlooks Universal CityWalk Orlando providing some of the best views you can find while you take a break from the dancing.
A full-service bar is available offering a great selection of beer, wine, cocktails, and premium spirits. Splurging on the VIP experience will get you private seating, table service, a dedicated server, and exclusive entry to the venue.
Bypass the line and make the most of your night at the groove!
---
Catch a Show
Universal CityWalk Orlando has some of the best spots for live music, entertainment, and sports that you can find anywhere.
Check out the Hard Rock Live for live concerts and rock shows, visit Pat O'Briens for dueling pianos, mellow out to live reggae music at Bob Marley – A Tribute to Freedom, or waste away in Margaritaville to the sounds of a Jimmy Buffet cover band.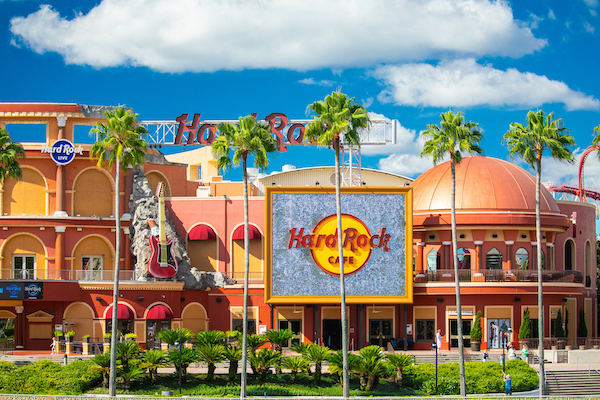 There are many options for catching live music and shows along CityWalk.
---
Grab a Campfire Classic at Bigfire
If live entertainment and sports is too in-your-face when you'd rather unwind, try Bigfire and enjoy s'mores at the table paired with an unrivaled selection of bourbons and whiskeys.
Bigfire boasts an excellent dinner menu as well as favorites like campfire chili, flame-grilled steaks, and bison burgers. A great meal, campfire treat, and smooth bourbon might just be the perfect thing to wrap up your Universal Studios adventure!
---
If you enjoyed reading the best things to do at Universal CityWalk Orlando, you might also like:
EVERYTHING YOU NEED TO KNOW ABOUT THE UNIVERSAL ORLANDO VIP EXPERIENCE29 INCREDIBLE UNIVERSAL ORLANDO TIPS [SAVE MONEY & TIME]
THE BEST UNIVERSAL ORLANDO FOOD & DRINKS [TOP 15 FOODS YOU HAVE TO TRY]
---
Pin for later: 12 of the Best Things To Do At Universal CityWalk Orlando
---
Frequently Asked Questions about Universal CityWalk Orlando
What are some restaurants to eat at at Universal Orlando Resort CityWalk?
There are many restaurants and places to enjoy food an desserts at including: Hot Dog Hall of Fame, Menchie's Frozen Yogurt, Moe's Southwest Grill, Coldstone Creamery, NBC Sports Grill Brew, Red Oven Pizza Bakery and more.
Is CityWalk free at Universal Orlando?
No, CityWalk is not completely free at Universal Orlando. While there is no admission fee to enter CityWalk itself, some of the activities, restaurants, and entertainment options within CityWalk require a fee or ticket to participate. Additionally, parking at CityWalk requires a fee.
However, guests of Universal Orlando Resort hotels can enjoy complimentary transportation to CityWalk, making it a convenient and accessible destination during their stay.
What is the difference between Universal Studios and Universal CityWalk?
The main difference between Universal Studios and Universal CityWalk is that Universal Studios is a theme park with rides, shows, and attractions, while Universal CityWalk is an entertainment and dining district with restaurants, shops, and nightlife options.
However, both destinations are part of the larger Universal Orlando Resort and offer guests a variety of fun and exciting experiences.