If rollercoasters aren't your thing, Universal Orlando is still worth the visit, in fact it's one of the best 25 things to do in Orlando besides theme parks.  Let your stomach take a tour of the Universal Citywalk restaurants. There are over two dozen of them, several of which are franchises dedicated to beloved icons and cinematic experiences. No two restaurants are quite the same. Each has its own unique character and offerings. Adventurous diners can have appetizers at one place, dinner at the next, and dessert at a final stop. Casual diners would be happy to see a culinary adventure through from start to finish at any one of these CityWalk restaurants.
Universal Citywalk Restaurants With Classic American Dishes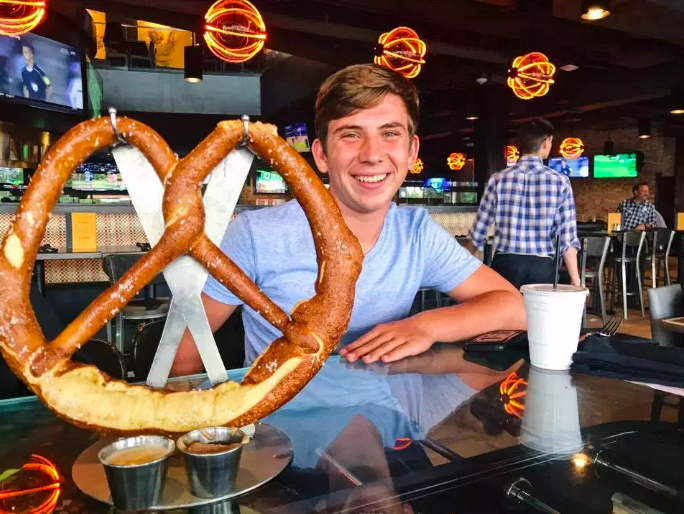 Sports and good food just seem to go together, and NBC Sports Grill & Brew does a wonderful job of marrying these two things. There are over 100 TV screens so you will surely be able to find any game that you are looking for, and as for the atmosphere, it is cool and modern with some games to play and clear glass views into the open kitchen. If you have been in a theme park all day, this is a great place to kick back and relax.
As far as food goes, NBC Sports Grill & Brew takes bar food to a whole new level. They have the usual like burgers and chili loaded nachos, but you can also find grouper sandwiches and giant fresh salads. You will also find over 1oo beers here, including some great house brews, and a wide selection of cocktails.
Hard Rock Cafe is iconic and its restaurant location on Universal Citywalk is definitely one of the best! The atmosphere is lively and amazing. Plus, it is like a museum in a restaurant with suits to view that Elvis wore, hand painted Elvis posters and Buddy Holly's famous glasses. Hard Rock is also known for its merchandise like t-shirts and hats so be sure to peruse through the store once you have eaten.
Hard Rock is probably most well known for their burgers, so if that is what you are in the mood for definitely order that. However, there are also great sandwiches, salads, and smokehouse favorites. Their kid's menu is full of classic options and your little one will have plenty of options to choose from.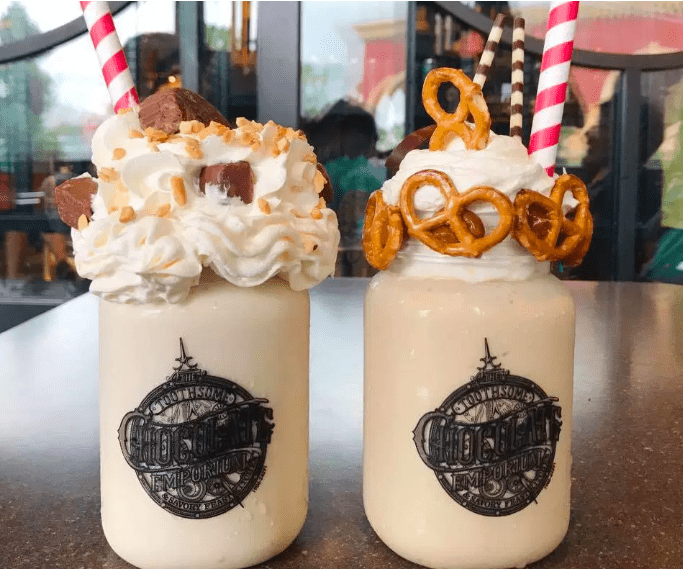 The fact that this is a chocolate factory is definitely enough to pique my interest. It is a full-service restaurant, bar, and confectionary right on Universal Citywalk. The atmosphere is really like no other, and they take Universal's ability to transport you to another world right into their restaurant. Even your servers will seem like they are in character. After you eat, head to the Confectionary to purchase some treats to take back home with you.
As for food, they serve up some mouthwatering dishes from steak & seafood to an all-day brunch. Take my advice and order at least something from their incredible brunch menu! Of course, you can't leave without trying out some of their amazing desserts so be sure to save some room.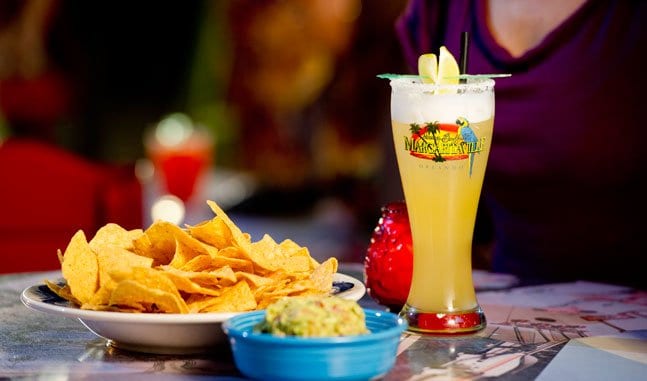 Margaritaville feels like a tourist destination but in the best way, and the food is definitely worth a taste. If you're a fan of beachy atmospheres and cookout style food, Margaritaville has everything you could possibly want. Their upscale dinner menu boasts an array of fresh fish, though chicken and steak options are available for those who don't prefer seafood.
What really shines at Margaritaville is their burger menu, which shouldn't come as a surprise – after all, Jimmy Buffett is the man responsible for giving the world "Cheeseburger in Paradise." The menu offers more than half a dozen burgers that can easily be customized. If you don't want red meat, you can substitute a turkey burger. If you don't eat meat at all, you can substitute a veggie burger. Gluten-free? They have a bun for that. Margaritaville is the perfect restaurant for picky eaters, those with dietary restrictions, and families with children visiting Universal Citywalk.
If you find yourself at CityWalk, you need to go to Bubba Gump Shrimp Co. It's a must – it's a necessary life experience for anyone who has ever seen Forrest Gump. The menu is peppered with references to the award-winning film, and the food is seasoned with love.
Bubba Gump offers up nearly every kind of shrimp you can imagine. The menu is seafood heavy, just as you would expect it to be if you've seen the movie. They do offer burgers and some barbecue, but it's more of an afterthought. The food and the ambiance are both amazing, and you'll want to take home some souvenirs. Everyone should visit Bubba Gump at least once in their lives!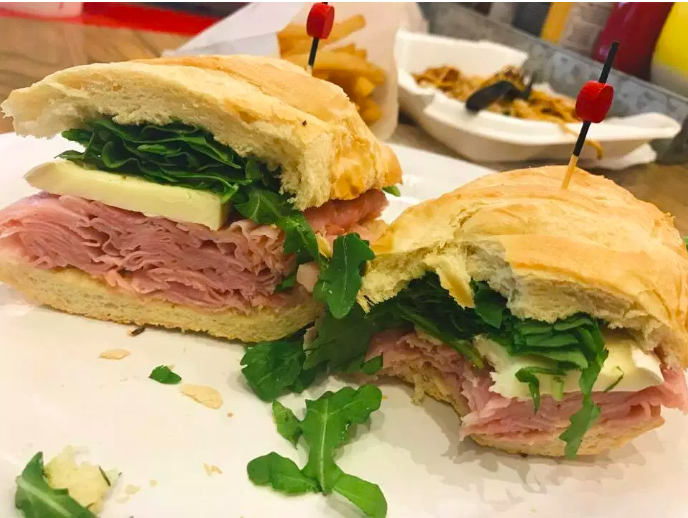 If you think it's silly to include a sandwich shop on a list of the best restaurants at CityWalk, you've clearly never eaten at Bread Box Handcrafted Sandwiches because it is something special. It's almost life-changing. It seems absurd to think that a sandwich can be anything more than a sandwich, but Bread Box practically reinvented the concept. Best of all, they're one of the cheapest places to eat in all of CityWalk.
Bread Box offers slightly more than a dozen sandwiches, but there's something for everyone. Don't expect thinly sliced meat on white bread with a little bit of mayonnaise – that idea of a sandwich isn't even vaguely similar to anything on Bread Box's menu, as they whip out the Texas toast, ciabatta bread, and a sweet and nutty multi-grain that you'll need to try to believe. Their take on a tuna salad sandwich involves wasabi. Their vegetarian sandwich could feed a starving carnivore. The only downside to eating at Bread Box is that your local deli will never seem as good as it used to.
Universal Citywalk Sushi Restaurants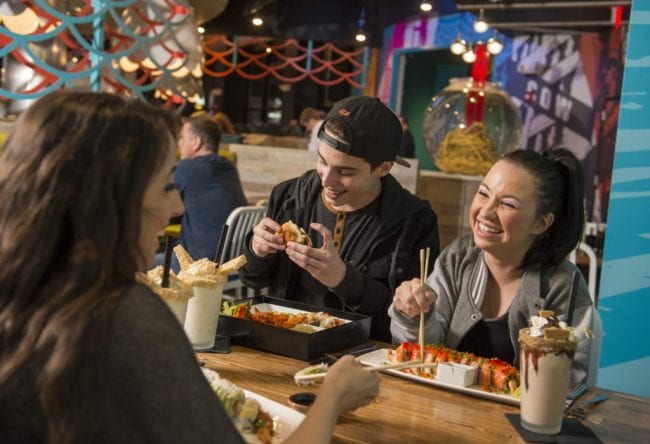 I truly love sushi and Cowfish does not disappoint. In fact, it is probably one of my favorite restaurants on all of Universal Citywalk because everything they serve up is plated beautifully and the atmosphere of the restaurant is trendy and modern.
The Tropical Storm Roll is usually what I go for! However, if you aren't a fan of sushi, they also have delicious burgers! To get the best of both worlds you have to check out the Burgushi which combines the two. It's the perfect vacation food because it's so unique and something you probably can't get at home. They also have a Bento Box that has both a mini burger and sushi rolls, which is another way to try both their specialties. My little one absolutely loves the PB&J sushi roll, so don't worry even your pickiest eater will find something to eat here.
Fusion Bistro is a small walkup at the very front of CityWalk – make sure you don't miss it when you're strolling by. They offer window service sushi, sake, and Japanese sides. It's just as easy as it would be to order at your favorite fast food place.
The menu is very simple and divided by cooked and raw rolls, making it easy for those who aren't wild about raw fish to figure out what they can eat. Their simple menu features all of the sushi's greatest hits at prices that are a bargain for CityWalk. The fast-casual atmosphere makes it easy to eat and go, or even eat on the go. Since everything is packaged in plastic containers that close, you can even order some to take back to your hotel room for midnight snacking.
Universal Citywalk Restaurants With Ethnic Flair
Bob Marley's restaurant is, as you may have guessed, primarily Jamaican fare. This eatery offers a small menu, but every bite packs a punch. The jerk chicken, Jamaican beef patties, and Jamaican style curry sauce are the highlights of the menu. The flavors are authentic and vibrant, and everything tastes home cooked. If you've never tried Jamaican food, this would be the perfect place to give it a go.
There's lots of fresh produce on the menu, from greens to tropical fruits. Many of the proteins are grilled and dry seasoned. If you're trying to eat healthy while you're away, you'll find that most of the entrees and appetizers at Bob Marley are both good and good for you.
VIVO serves up fresh, authentic Italian food. This restaurant makes their pasta fresh daily right on Universal Citywalk. Every noodle you're eating was made from dough the same day you ordered it, and you can really taste the difference. One bite and you're going to sit in amazement feeling like you've never truly had spaghetti until that very moment.
VIVO Italian kitchen offers standard Italian cuisine like wood-fired pizzas, antipasto, and minestrone. While they're all delicious, it's worth branching out. Make the most of your visit to VIVO Italian Kitchen by ordering something you're probably not going to find at your local Italian pizzeria restaurant. Vegetarians will love the puttanesca. If you're a fan of rare steak, the beef carpaccio is a must. Pescetarians absolutely must try the grilled salmon with orange fennel sauce and olive relish – the combination of flavors is out of this world.
This antojito has a small menu, and when you experience the quality of the food, you'll understand why. Everything is made fresh and in small batches. This allows every dish to leave the kitchen as perfect as it possibly can be. You'll find tortas, tacos, and fajitas at Antojitos. While they're likely to be better than any you've tasted before, they're not even the stars of the show.
Antojitos offers many stimulating and refreshing flavors. Beer braised goat and pickled cactus don't often appear on restaurant menus, and Antojitos will leave you wondering why. Their enchiladas and special dishes are standouts. Just taste their mole sauce – you'll want a gallon to bring home with you.
Where Are You Going To Eat?
There are nearly 30 restaurants in CityWalk, but take it from us these 11 are top contenders for dinner and lunch and you should visit them all during your time. The only trouble you're going to have is getting your group to agree which place you'd like to stop first! Write them down, toss them in a hat, pull one out, and set off on a spontaneous culinary adventure through CityWalk. If you are spending a week or more at Universal Orlando Resort, you will surely be able to hit many of these spots.
Plus, after dinner don't forget to check out Voodoo Doughnuts, or if you're like me grab a Starbucks coffee.
You Might Also Enjoy:
The Universal Orlando Express Pass! + Is it Worth it + Our Secret Trick
Ultimate Guide to Volcano Bay Rides, Food, Cabanas & More
Universal Studios & Islands of Adventure Discount Tickets [11 Ways to Save]