Universal Studios Hollywood is one of the most popular theme parks in Southern California. To be perfectly honest, I wasn't a big fan of this theme park until the past few years, where Universal Studios has seriously upped their game. And with the new Nintendo land coming next year, it might be challenging parks like
Disneyland
. While it is a great place to visit, Universal can be costly, here is a breakdown of How to Buy Universal Studios Hollywood Discount Tickets.
My Favorite Way to Score Universal Studios Hollywood Discount Tickets
Ares Travel is a go to for discounted tickets. Currently, they have the best prices on Universal 1 Day Ticket Deals ($95.50 for children (ages 3-9) and $99.50 for adults). They have deals on one-day tickets, express passes, multi-day tickets and more. What I truly love about
ARES travel
is their ticket combo packs because often times if you are visiting Southern California with the kids you are heading to more than one theme park. Their ticket combo packs are an exceptional deal.
Even Bigger Savings on Express Passes
One of the more popular tickets to get through ARES travel is the front of the line VIP Tickets & Express Passes. Right now you can save up to $145 on those wonderful magical tickets that have you skipping through lines.
---
A great way to buy Universal Studios Discount Tickets is Undercover Tourist. Undercover Tourist offers a variety of Universal Studios Discounts! They have several ticket options to get you to the wizarding world of Harry Potter including
1-Day general admission
, 2-Day general admission passes, Universal Express tickets, VIP experience tickets, and discount Multi-attraction Cards! They even offer two pricing options for each ticket – one for peak season times, and another for non-peak season. The tickets start at $92 for children and $100 for adults and increase depending on the season you choose, the number of days you decide to visit, or if you select one of the VIP or Express options. Through this site, you can potentially save over $30 per ticket!
---
3. GETAWAY TODAY –
GREAT BUNDLE OPTIONS TO SCORE CHEAP UNIVERSAL STUDIOS TICKETS & HOTEL
Getaway Today is another great option for snagging some cheap Universal Studios Hollywood Tickets especially if you want to stay at a hotel. They have some incredible bundle options for that will save you quite a few dollars and will have you staying close to the parks.
Check current prices here!
---
4. TICKETS AT WORK – UNIVERSAL STUDIOS DISCOUNT TICKETS
TicketsatWork
is the leading Corporate Entertainment Benefits provider, offering exclusive discounts, and special offers to tickets at top attractions, theme parks, shows, movies, sporting events, plus so much more. TicketsatWork is a unique benefit offered exclusively to companies and their employees. You can double check and see if your employer offers this for you to take advantage of! Right now they are offering a variety of savings, including 10% off of gate admission prices! Ticket options include:
1-Day General Admission: Pricing does vary for these tickets depending on the season of the year that you are planning on going. The ticket prices increase during the Summer season, as well as a couple months in the spring. But generally, they offer 20% off gate ticket prices. Tickets start at $92 for children and $95 for adults! This option could potentially save you $35 per ticket!
Universal Express Tickets: This ticket includes general admission to the park, as well as one-time express access to each ride, attraction, and seated show. Prices start at $160, saving you about $30 off of the gate prices for this ticket!
Silver Annual Pass: If you plan on visiting the park more than once a year, it is always a good option to invest in season passes, as it will save you the most money in the long run! Through this website the price is $115 for both children and adults. This ticket option saves you $54, which is over 30% off the gate admission price! If you do purchase this option it is always a good idea to double check the black out days before planning your trip!

---
5. AAA MEMBER DISCOUNTS
AAA offers its members three different ways to save on 1-Day General Admission tickets! You can either buy online or in branch to save up to $25 on the gate admission prices, or you can get $3 off at the gate by showing your AAA membership card. They also offer up to $20 off in savings if you purchase the VIP experience online through your membership account, savings on season passes, and on the Universal Express tickets. Check out their website to
learn more
!
---
6. MILITARY DISCOUNTS
Universal Hollywood offers some pretty amazing discounts for all active and retired U.S. Military. You can purchase your tickers at your local base MWR/ITT ticket office or by phone at (901) 874-6891. Your tickets will be mailed within 7 business days!
---
7. GROUP DISCOUNTS FOR UNIVERSAL STUDIOS TICKETS
For those who have a group of 10 or more Universal Studios offers a discounted rate for your visit! To find out more information call 818-622-1550 or visit their website and submit a request at:
https://www.universalstudioshollywood.com/groups-events/
---
---
8. COSTCO UNIVERSAL STUDIOS HOLLYWOOD DISCOUNT TICKETS
For those of you who are Costco members, universal studios hollywood tickets have offers for 3-Day General Admission, and Gold Annual Passes at discounted rates on their website! Check out their
website
for more details. The best Universal studios Hollywood discount tickets at Costco is typically in the winter time. So make sure to look out for some great deals as you are strolling the aisles and snacking on the samples.
---
9. SEASON PASSES
If you plan on being a frequent flyer over at Universal Hollywood, the best way to get that bang for your buck is to invest in on of their annual pass options! They have three different options: Silver, Gold, and Platinum Annual Passes. To learn more about each pass and their blackout dates visit their website at:
https://store.universalstudioshollywood.com/PurchaseTickets.aspx
Prices for these start at $169 and make their way up to $599 depending on which pass you buy. They also have a monthly payment option which makes paying for these passes that much easier!
---
10. UNIVERSAL STUDIOS HOLLYWOOD WEBSITE
PLAN AHEAD AND BOOK EARLY!
If you purchase your tickets ahead of time online on their website (
https://www.universalstudioshollywood.com/
) you can potentially save up to $25 off of the gate admission price! You can select the date that you plan on visiting or you can pick the visit anytime option, which still saves you $20 each ticket, if you are unsure of when you'll be making it down to the park or cannot commit to a specific date.
---
11. California Resident Discounts
California Residents can save on 1 Day Tickets by ordering directly online at
Universal Studios.
Ticket Prices currently range from $99-$129. Must have proof of California residency.
---
HALLOWEEN HORROR NIGHTS DISCOUNTED TICKETS
Halloween Horror Nights is one of the best events at Universal Studios Hollywood. The park shuts down and the ghosts and ghouls come out. There is no better park than Universal for this one of a kind Fright Fest. In addition, after all of my searching, there is only one place that offers discounted tickets to Halloween Horror Nights. Check out
ARES Travel
to snag your Universal Halloween Horror Night Tickets. You can dave up to $58 off a ticket.
Check them out here!
PARK HOURS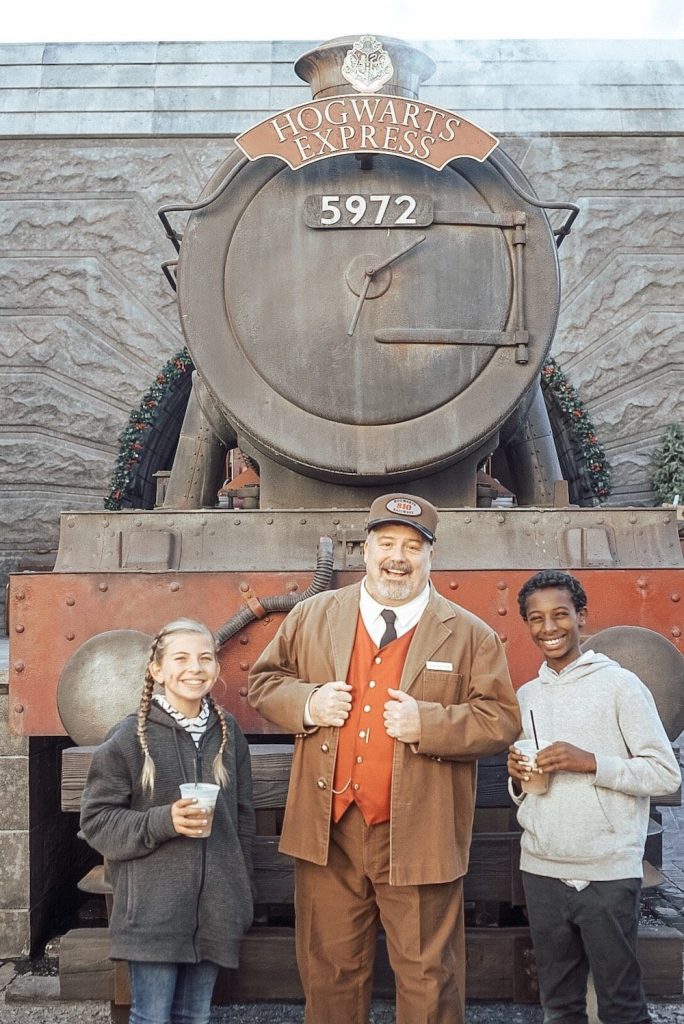 The park generally is open from 10:00 am – 6:00 pm on weekdays in the winter but the hours do vary on the weekends. For special events, so I suggest
checking the hours and calendar
before you plan your stay at Universal. Summer hours at the park typically go to 9 or 10 pm. One thing to know is the world-famous studio tour typically closes 60-90 minutes before the park closes or before sundown.
Universal Studios Regular TICKET PRICING:
The Universal Studios Tickets pricing does vary. The prices tend to go up during their peak seasons, for special events, and occasionally on the weekends. Generally, their prices are as follows:
CA Resident 1-Day – Start at $133. These ticket pricing vary on the day that you decide to go.
CA Resident Universal Express – Price varies depending on the day that you plan on making your visit. $179 – $279
1-Day General Admission – Start at $149 per person, again these ticket prices will vary depending on the day that you visit.
Universal Express – Start at $179 and can be up to $269 depending on the day that you choose to visit. This ticket includes general admission to the park, as well as one-time express access to each ride, attraction, and seated show.
VIP experience – $339-$409 depending on the day you decide to come to the park. This ticket price includes:

One Day of general admission
Unlimited express access to rides, shows and seated shows (does not apply to food and retail locations)
Expert guided tour, including the backlot
Continental breakfast
Gourmet Lunch in the exclusive VIP dining room
Valet Parking

2-Day General Admission – $149-$169 depending on the day that you buy your ticket, includes one day of general admission the park and any second day within seven days of your first visit.
Tickets for ages 3-9 are all typically $10-$20 lower
YOU MIGHT ALSO ENJOY THESE ARTICLES:
How to buy Discounted Knotts Berry Farm Tickets [11 easy ways]
How to Purchase Legoland Discount Tickets [11 Ways to Save]
PIN FOR LATER – HOW TO BUY UNIVERSAL STUDIOS HOLLYWOOD DISCOUNT TICKETS – 10 EASY WAYS!
Universal Studios Hollywood Discount Tickets FAQ's
Where can I get discount tickets to Universal Studios Hollywood?
ARES Travel. Undercover Tourist. Getaway Today Tickets at Work AAA Member Discounts Military Discounts Group Discounts for Universal Studios Tickets Costco
Is it cheaper to buy Universal Studios Hollywood tickets online or at the gate?
It is cheaper to buy online, plus you will save time not having to wait at the gate. The most expensive place to buy tickets is at the gate.
How do you get free parking at Universal Studios Hollywood?
It's not too easy but you can park free in the lot for Universal City Metro Red Line Station. Then walk across Lankershim and take the tram up the hill to Universal Studios.
How do I get Universal tickets at Costco?
Order tickets online at Costco.com They will be located under the Gift Cards & Tickets section!
How much is Universal Studios pass at Costco?
Costco tickets are $139.99 for 3 visits
Does Universal Studios offer AAA discounts?
AAA offers its members three different ways to save on 1-Day General Admission tickets! You can either buy online or in branch to save up to $25 on the gate admission prices, or you can get $3 off at the gate by showing your AAA membership card. They also offer up to $20 off in savings if you purchase the VIP experience online through your membership account, savings on season passes, and on the Universal Express tickets
Map of Onsite Universal Studios Hollywood Discount Ticket Locations