This past weekend we got to experience all the horror of Universal Studios Halloween Horror Nights. Let me tell you, there was plenty of screams and laughter coming from this family. Halloween Horror Nights are one of Southern California's premier Halloween event, and definitely one of the best things to do this Halloween season. In this guide, we'll walk you through everything you need to know to have the best time at this monstrous event.
Universal Studios Halloween Horror Nights Ultimate Guide
We are big Halloween fans so we checked out both Knott's Scary Farm and Universal Halloween Horror Nights in one weekend whirlwind of fun and screams. While we love both Universal has some of the most intricate and dynamic mazes. In addition, they have 5 scare zones and the Jaberwockeez Show.
Halloween Horror Nights 2019 – 10 Fantastic mazes
The mazes that Universal creates are not only frightening but they are so incredibly well done, you will feel like you are part of the movie or tv show. Let's go over each of the mazes.
Upper Lot Mazes
Holidayz in Hell – Opens at 6:30 p.m.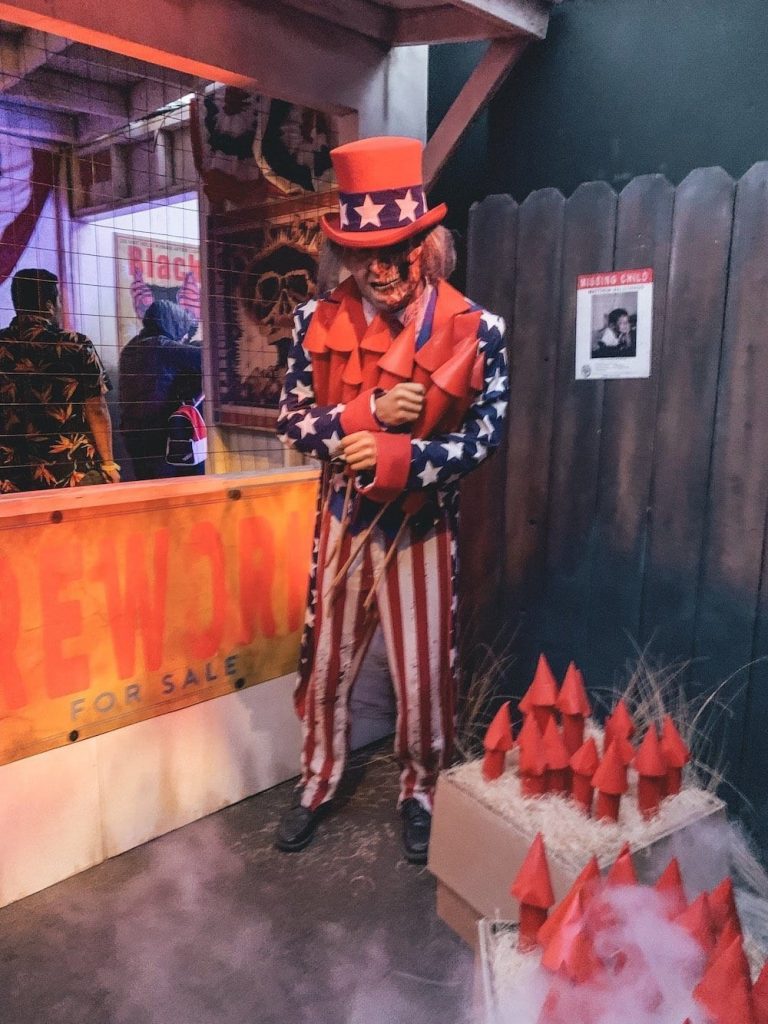 I personally thought this maze was going to be my least favorite but it turned out to be one of my faves. The maze takes you through the year in the most frightening of ways. You start off the new year and then head through a heart-snatching Cupid, a wicked St. Patrick's Day, a very Disturbing Easter, then on to a demented Fourth of July. The Halloween Pumpkin men scared my very hard to scare son, and the turkeys plot their revenge during Thanksgiving. As you exit you enter the Holiday Scare zone where the most demented Santa, Mrs. Claus and Elves will chase you out of this land.
Location: Parisian Courtyard, next to Mel's Diner
Scare Meter – 9 out of 10
House of 1,000 Corpses – Opens at 6:50 pm
We started off our night of fear at this maze as it was located right by the entrance. House of 1,000 Corpses is created after Rob Zombie's 2003 film. Prepare to retrace the movie's steps, starting with the roadside tourist trap Captain Spaulding's Museum of Monsters and Madmen, then progressing to the Firefly family's abode of debauchery and depravity, and ending in the underground tunnels that the infamous Doctor Satan calls home. In terms of the number of scares, Ella and I were racing through this maze as characters jumped out at us from every angle.
Location: WaterWorld by the entrance of park
Scare Meter – 9 out of 10
Us – Opens at 6:00 P.M.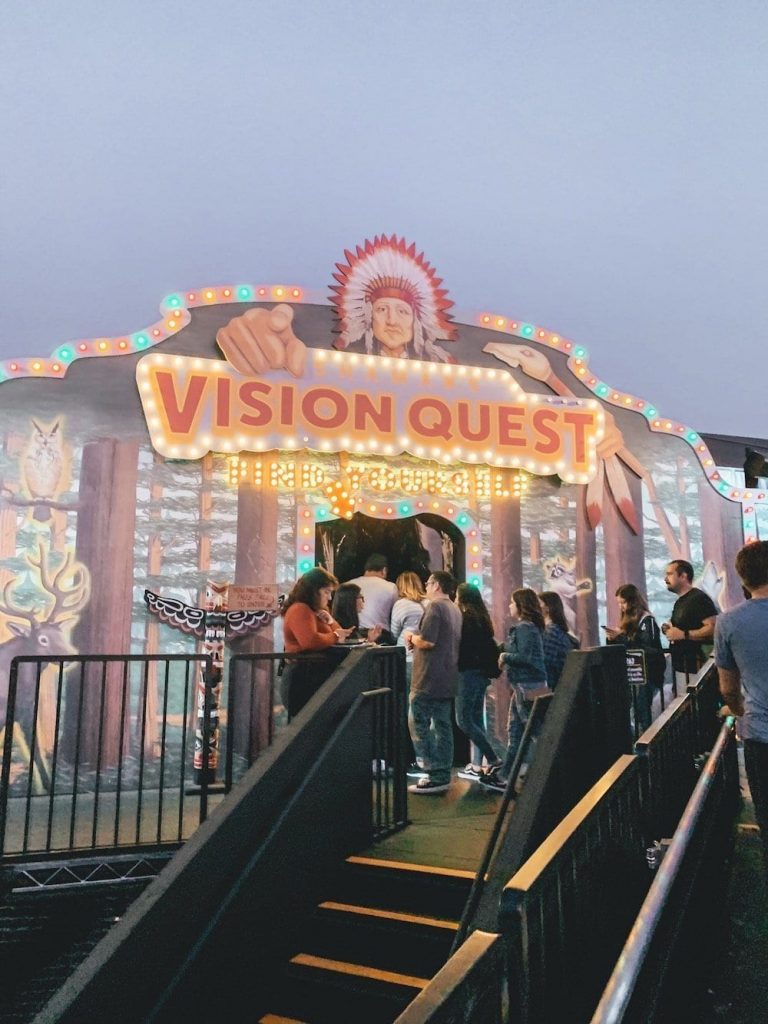 This maze is created after Jordan Peele's 2019 film. While, it does not provide as many jump scares as some of the other mazes, the suspense created in this maze is so intense. The story revolves around a series doppelgangers rise up to the surface and take their revenge against their counterparts living above ground. This was all of our favorite maze and one you must visit.
Location: Upper Lot by the Studio Tour queue
Scare Meter – 10 out of 10
The Curse of Pandora's Box – Opens at 6:45 p.m.
The Curse of Pandora's Box is another incredibly well done maze by Universal. You first enter Pandora's Cabinet of Curiosities, a Victorian England style shop. There is all sorts of evil jumping out at you behind glass-encased cabinets. Somehow through it all you are taken into the underworld of Hades.
Location: Upper Lot by the Studio Tour queue next to Us
Scare Meter – 8 out of 10
The Walking Dead
While not technically part of Halloween Horror Nights, The Walking Dead is an all year attraction that will scare the wits out of you. The zombies still provide plenty of scares and this maze is definitely worth a visit, especially if you havent been before.
Location: Upper Lot, next to Starbucks
Scare Meter – 8 out of 10
Lower Lot Mazes
Stranger Things – Opens at 6:15 P.M.
This is by far the most popular maze in the park with wait times reaching over 2 hours on our visit. Guests get to relive all the second season os Stranger Things and a part of the just-released third season's contents. Since we have not seen Stranger Things this was actually our most disappointing maze. It had barely in scares and felt more like a walk through of a set rather than a horror maze. If you love Stranger Things then check it out, otherwise skip this maze if you don't have an Express Pass.
Scare Meter – 4 out of 10
Location: Lower Lot next to Transformers: The Ride – 3D
Killer Klowns from Outer Space – Opens at 7:00 P.M.
We were really excited to do the Killer Klowns maze as well clowns are pretty frightening in general. You will navigate your way through an abandoned amusement park and well as you guess numerous clowns that jump out from everywhere.
Location: Lower Lot, next to Transformers the Ride
Scare Meter – 8 out of 10
Universal Backlot Mazes
It is quite the trek to the Universal Backlot mazes so be prepared for that, but once you get there you will encounter 3 mazes and one scare zone.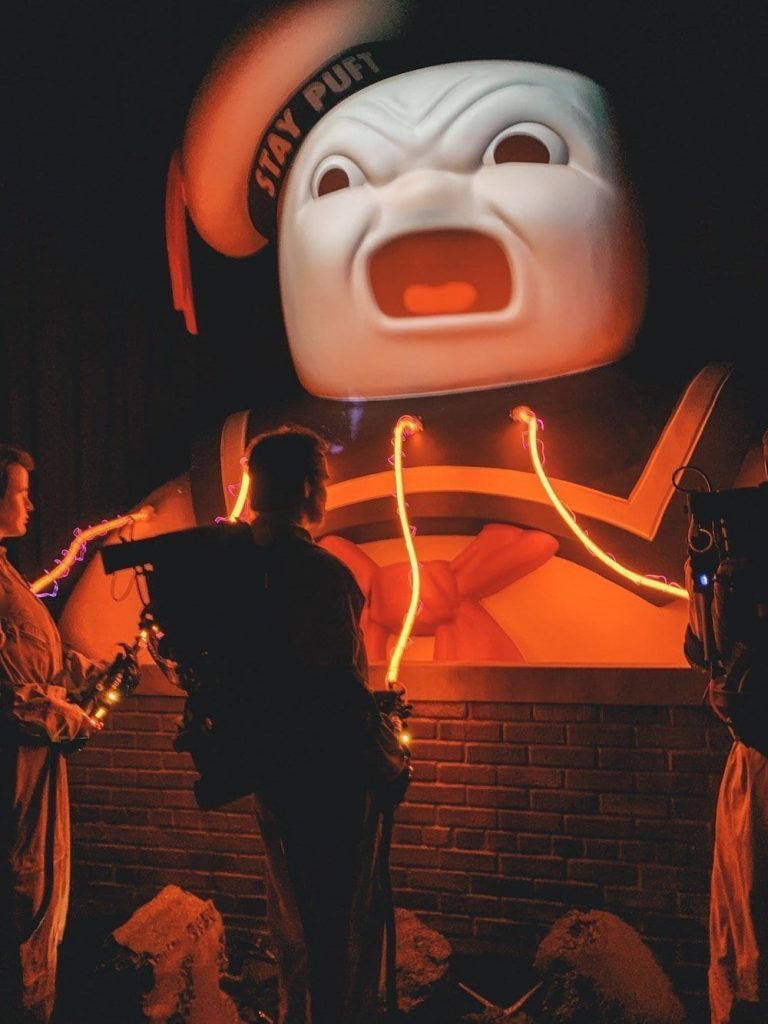 Ghostbusters – Opens at 6:00 P.M.
My 2nd favorite maze of the night had to be the Ghostbusters maze which takes you back to the 1984 classic film. You will get to recreate this amazing film as you navigate your way past Slimer who scares you quite often and ending with the Stay Puft Marshmallow Man. This maze was not only scary but also one of the best themed mazes we have ever seen.
Location: Universal Studios backlot
Scare Meter – 8 out of 10
Creepshow – Opens at 6:45 P.M.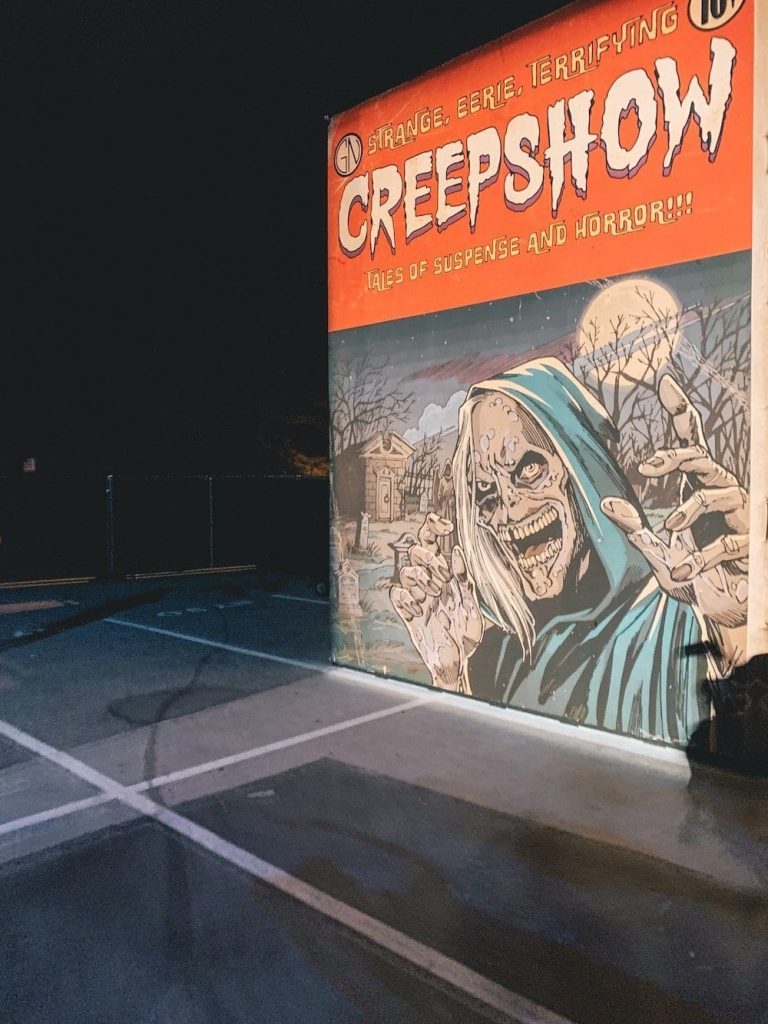 This maze is after the classic 1982 film Creepshow written by Stephen King. This is another very well themed mazes and you never know where frightening characters will pop out and scare you.
Location: Universal Studios backlot
Scare Meter – 9 out of 10
Frankenstein Meets the Wolf Man: Opens at 6:15 P.M.
Just as with Stranger Things, Universal has decided to take the popular Universal Monsters maze from last year and extend it to this year's event;
This is definitely a maze you need to visit as the Wolf Man is spectacular in this wild and crazy maze.
Location: Universal Studios backlot
Scare Meter – 9 out of 10
Halloween Horror Nights – Scare Zones
There are 5 Scare Zones which are great to walk through as you navigate the park. Often times you will find yourself being chased by creatures with chainsaws, demented monsters and so much more.
Fallen Angelz – Located on Main Street
ToXXXic Tunnel – Located on the way to the Backlot
Spirits and Demons of the East – Located on New York Street
Christmas in Hell – Location: French Street
All Hallow's Evil – Location: backlot
Celebrating the ancient Gaelic festival of Samhain (with a dash of the Christian All Saints' Day thrown in for good measure), All Hallow's Evil sees the souls of the (presumably wrathful) dead return home for just one night.
Terror Tram
The Terror Tram is no longer apart of the Universal Horror Nights to make way for Us and Pandora's Box, however, you can visit it during the day if you get a 2pm ticket (see below).
Jabbawockeez Show at Halloween Horror Nights
Jabbawockeez is the hit hip hop dance group that gained it's fame by winning America's Got Talent.
The first show is at 6:15 pm, with additional performances throughout the night. If you have an express pass or RIP Tour there is exclusive seating for those guests.
Halloween Horror Nights 2019 – Open Rides
There are several rides that are open in addition to the mazes. These rides do get to be pretty busy as well. If you plan to ride a lot of them I highly recommend the Express Unlimited Pass.
Revenge of the Mummy: The Ride
Transformers: The Ride – 3D,
The Simpsons Ride
Jurassic World: The Ride
The Wizarding World of Harry Potter will not be open for Halloween Horror Nights.
Universal Studios Halloween Horror Nights 2019 Dates
Halloween Horror Nights 2019 will kick off on Friday, September 13 and run until Sunday, November 3, covering a whopping 32 event nights.
Here is the remaining dates open for Halloween Horror Nights
September: 26-29
October: 3-6, 10-13, 17-20, 24-27, 31
November: 1-3
Halloween Horror Nights Tickets + How to score Discount Tickets
Single-night tickets
General Admission ($64-$102)
Universal Express ($149-$249)
This Express Pass offers one time express access to all the mazes as well as the Jabbawockeez show
Universal Express Unlimited ($189-$299)
We snagged the Universal Studios Halloween Horror Nights Unlimited pass as we knew we wanted to do the mazes multiple times and it also included express passes for the rides and the New Jurassic World Rides was on our list. You also get priority seating for Jabbawockeez. Prices range from $189 to $299, depending upon the date.
After 2:00 pm Day/Night ($97-$147)
Want to enjoy Universal at daytime. The Universal Studios Hollywood (after 2:00 pm) ticket will let you experience the tram ride and Harry Potter land before they close for Halloween Horror Nights
Universal Express after 2:00 pm ($189-$289)
The same as above, with Express access for rides and mazes.
Multi-night tickets
September Pass ($109)
Includes all 11 nights HHN is running during that month.
September: 13-15, 19-22, 26-29
Frequent Fear Pass ($179)
This pass allows you to visit HHN up to 25 times on the following dates. The first visit can be used on any date HHN is open
September: 13-15, 19-22, 26-29
October: 3, 4, 6, 10, 11, 13, 17, 20, 24, 27, 31
November: 1-3
Ultimate Fear Pass ($299)
Access to All 32 HHN nights!
RIP Tour ($279-$409 per person)
We almost booked this tour as I hear it is amazing. The RIP Tour includes:
Special VIP entrance to Halloween Horror Nights
Complimentary valet parking for one vehicle (also saves you a very long walk)
Exclusive themed photo opportunities
Buffet dinner at VIP dining room and lounge
Exclusive tour of the world-famous Studio backlot
Unlimited Express access to all haunted houses and select rides
Exclusive lounge area in the Lower Lot for drinks and desserts during your tour
Private VIP trolley transportation to backlot haunted houses (which is a long walk)
Reserved VIP seating for one showing of Jabbawockeez
RIP lanyard
How to Score Discount Tickets!
We scored our tickets through ARES Travel. They had the best pricing available. You can save up to $58 per ticket. The tickets get emailed to you in minutes and you simply print them and take the tickets right to the entrance. Check out their current prices here!
Pro Tips for Universal Halloween Horror Nights
Visit on Sunday or Thursday: Universal Studios Hollywood Halloween Horror Nights gets extremely busy. To get through the most amount of mazes go on Sundays or Thursdays. Saturday nights are the busiest.
Express Passes to Save the Day: If you must go on a busy night, I highly recommend getting one of the Express passes. We got the unlimited pass to also have access to the rides, however the regular express pass might be plenty as you get access to each maze one time. You can get through all the mazes in just a few hours with an Express Pass.
Do Early Entry & Head to the Back of the Park First: Take advantage of the early entry and head to the backlot. There you can get through 3 scare mazes and one scare zone.
Safety: A lot of my followers on Instagram asked me about safety at the event. We never felt uncomfortable at the parks. You enter through metal detectors, there is security and Police throughout the park to make sure everything is under control. I did not see one incident throughout the evening. Universal did an exceptional job.
Overall, Universal Halloween Horror Nights is a pretty amazing experience, especially if you enjoy being scared throughout the evening.
You Might Also Enjoy:
Disneyland Halloween! An Ultimate Guide + Must-See Attractions
Why Universal Studios Grinchmas is the best time to visit Universal!
How to Buy Universal Studios Hollywood Discount Tickets – 10 Easy Ways!
Pin for later!