I'll just come right out and say it, everyone should add seeing the Canadian Rockies to their bucket list! We visited Banff, Canada as a family and were blown away by the beauty. Trust me, the kids and I were a little intimidated by the cold weather because even if you visit in the summer like we did the temperatures dip down into the 40s. I'm here to tell you it is so worth a visit and when dressed properly, you won't even notice the frigid temperatures. The first thing to consider when planning your trip is where you are going to stay in Banff because this will determine a lot about your trip and the experiences that are easily accessible. Luckily for you, we've broken the best hotels in Banff into categories to make it easy to find just what you're looking for!
10 Best Hotels in Banff
Best Family-Friendly Hotels in Banff
We will kick off the list with some family-friendly hotels in and around Banff. If you know us, you know we don't believe family-friendly always means kicking luxury to the curb. What makes a hotel family-friendly is spacious rooms, easy access to nearby activities, a kitchen when possible, and friendly service. These things change the game when you're traveling with kids in toe.
This is the one hotel on our family-friendly portion of the list that is actually located inside Banff National Park. Here, you will experience all that Banff really has to offer. You will be in close proximity to many different activities like sleigh rides, horseback riding, ice skating, and more. From lakeside rooms, you will get some of the best views of the glistening water of Lake Louise and the Rocky Mountains. While this hotel is elegant, the kids club and various kids' activities make it totally family-friendly. Hands down, this is one of the best places to stay in Banff National Park.
Price Range: $$
Location: Banff National Park
Moose Hotel & Suites is nestled right in the downtown area making it easy to get to everything you need. This is where we stayed on our last visit and we thought it was the perfect balance of cozy and elegant. They have both 1 and 2 bedroom suites making it the perfect place for a family to settle in for vacation. We also had a small kitchenette, which made it easy to prep quick meals in the room when we didn't feel like going out. Not to mention, there is a great pool (both indoor and outdoor) and multiple hot tubs, including two on the rooftop!
Price Range: $$
Location: Banff National Park
This hotel is nestled right on the edge of the Canadian Rockies and will provide you with some of the best views around. On-site there is an indoor pool and spa, but what I really love about this hotel is that the hotel concierge can help set up activities for you (making it easy on busy parents!). There's everything from dog sledding to snowshoeing. You also have access to the bus system that can take you downtown for food and plenty of window shopping opportunities.
Price Range: $$
Location: Banff, AB
If you are looking for a cozy mountain retreat with the family, the Stoneridge is a wonderful option. All suites offer TVs, fireplaces, and gourmet kitchens. Having a nice kitchen is one of my favorite things when traveling with all of our kids because it gives us the option to save a little money by eating in a couple of meals. Some other great perks of this hotel; it's 5 minutes to Banff National Park, has heated underground parking, and a cafe for coffee & baked goods. This Banff hotel has everything you need for one of the best vacations ever!
Price Range: $$
Location: Canmore, AB
This is another hotel that offers suites fully equipped kitchens and fireplaces in their one-, two-, and three-bedroom suites. This is great for bigger families or for multiple families traveling together! There is a pool and a hot tub at the resort. Plus, you will be able to see complimentary movies at the town theatre! As for location, it is just 20 miles from Banff National Park and an hour from Sunshine Village and Lake Louise.
Price Range: $$
Location: Canmore, AB
Best Luxurious Hotels in Banff
If you have saved up and you're looking for something on the more luxurious side of things, I think you will thoroughly enjoy the options below. These luxury hotels have amazing atmospheres, wonderful on-site spa & restaurants, and extra amenities to make your Banff trip special.
This resort is styled after a Sottish castle, need I say more? It offers stunning mountain and valley views. In the summer, you will find a championship golf course is what many people are visiting for and in the winter the world-class skiing is the draw. The resort also has the award-winning Willow Stream Spa if you are looking for a little relaxation. The biggest bonus of all; the hotel staff is incredible and you will feel like royalty throughout your stay in Banff.
Price Range: $$
Location: Banff National Park
This is a Relais & Châteaux property with just 98 rooms. It is the perfect mix of luxury and that rustic Canadian feel. You get just far enough away from the crowds to feel like you are on a magical mountain escape. There are ski packages available to book through the hotel. Plus, you can come back after busy days to the peaceful spa. You will also find an incredible restaurant on-site with some of the best food around, all inspired by local flavors.
Price Range: $$
Location: Lake Louise, AB
Best Budget Hotels in Banff
Banff is definitely a bucket-list destination, but that doesn't mean it has to break the bank. In fact, there are some wonderful hotels in the area that are budget-friendly. You might not even be spending much time in your room anyways with how many amazing activities Banff has to offer!
This hotel is in the middle of Downtown and while it has been around for generations, you will still find many contemporary touches and amenities. I love their updated decor and many people rave about their comfortable beds. There is also a rooftop lounge with hot tubs. The hotel library is also a big plus if you're more of the curl up with a book type than go out on the town.
Price Range: $
Location: Banff National Park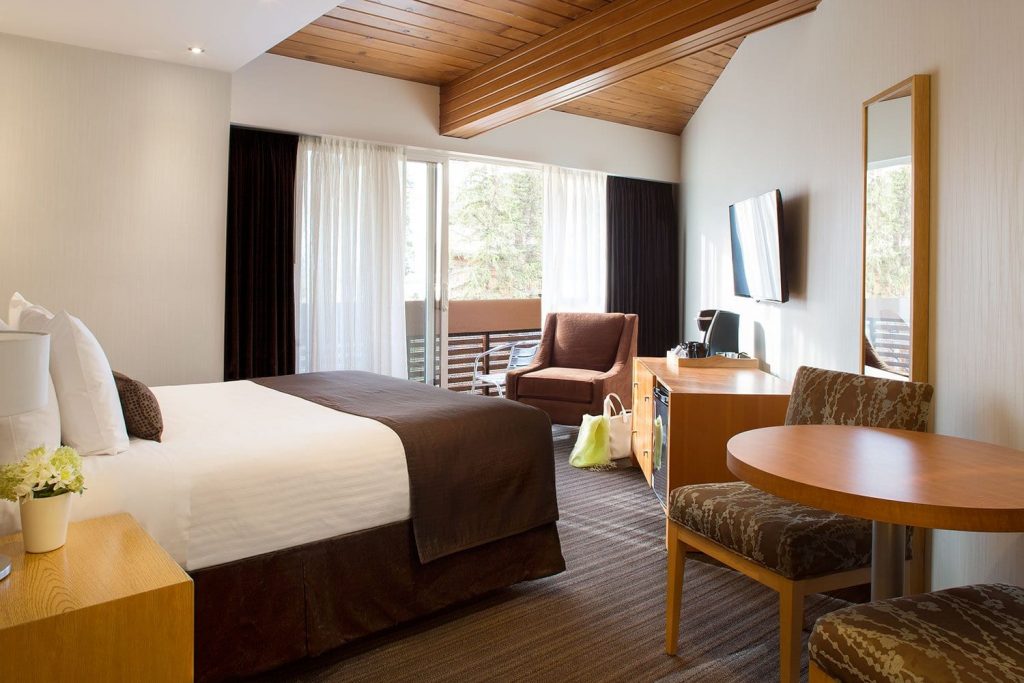 This hotel has spacious rooms with a modern feel. Banff Aspen Lodge offers everything you need; free parking, wifi, two outdoor hot tubs, a ski lock-up & workbench, and a nearby ski bus stop. There is even a steam & sauna room. You will also enjoy a delicious full breakfast every morning of your stay.
Price Range: $
Location: Banff National Park
This hotel can appeal to many different types of travelers from families, to couples, or those going it solo. It is a boutique hotel that offers standard, one-, and two-bedroom suites. Most of the suites offer kitchens and spa-inspired bathrooms. There is an indoor pool with a waterslide, a kids' pool, and a hot tub.
Price Range: $
Location: Canmore, AB
This resort offers quiet and secluded condos tucked on Tunnel Mountain. As secluded as it feels, you are only 1 mile from downtown! The rooms have wood-burning fireplaces, full kitchens, and patios or balconies. This is one of the best budget hotels in Banff, as well as being very family-friendly.
Price Range: $
Location: Banff National Park
If you have any questions about Banff, feel free to leave them in the comments or head over to my Instagram to send me a message!
Latest posts by Emily Myers
(see all)