When I started planning our trip to Banff, there was a ton of things I did. I pinned places I wanted to see, like Lake Louise. Tours, I wanted to take, like the Cave Tour for my boys and the Horseback tour for the family. The one thing I did not really look into much was the foodie scene in Banff. It turns out that the Banff Restaurants are some of the best restaurants I have dined in recently. I'll be honest, it was not something I expected at all. I expected beauty, I expected the cold weather, I did not expect to be wowed by such incredible dining experiences. So, let's take a look at some of the Best Banff Restaurants to visit when you are in town.
Banff Restaurants – Incredible Food inspired by the Beauty of Banff
*This is a sponsored post in partnership with Banff & Lake Louise Tourism. Thank you for supporting GM.
Top Notch Greek Cuisine – The Balkan Restaurant
Let's start with the one that surprised us the most, the Balkan Restaurant in Banff. My husband and I absolutely love Mediterranean food, so when it comes to going to a Greek Restaurant we can be quite picky. From the moment we tasted the hummus, we knew we were in for a treat at the Balkan. The Balkan has been in Banff since 1984 and was is truly a family affair. The restaurant was originally started by John and Antonia Koukoras and now has been passed down to their sons.
Their menu uses many of the same recipes and dishes created by Yiayia (Grandma) who lived to be 101 years old, including their most popular dish the Arni Pisto, a Fall Off The Bone 12 Hour Slow Roasted Lamb Shank Served w/ Spinach Rice, Lemon Potatoes & Veggies. The lamb literally melts in your mouth.
In addition to the Arni Pisto, our family also got the Ultimate Greek Fest (which is perfect for families) – We order the three-person and it easily fed 5 of us. The Greek fest starts with hummus & spicy feta dips with Pita and a  Horiatiki Salad. The main course comes with Lamb Chops, Beef & Pork Souvlaki, Moussaka (which was my personal favorite), Spanakopita, Baked Feta Tomatoes, Tzatziki, Roast Potatoes & Rice. It literally is a feast!
To sum up, how we felt about the restaurant, my husband Mike said to me after we dined at the Balkan, "I can't believe I am saying this, but the best Greek food I have ever had is in Canada"
If you are going to the Balkan, try to go on a Tuesday night, where it is Greek Night with belly dancers and some plate smashing. It's super fun for the whole family. Click Here to Learn More about the Balkan
Incredible Steakhouses – A Banff Restaurant Signature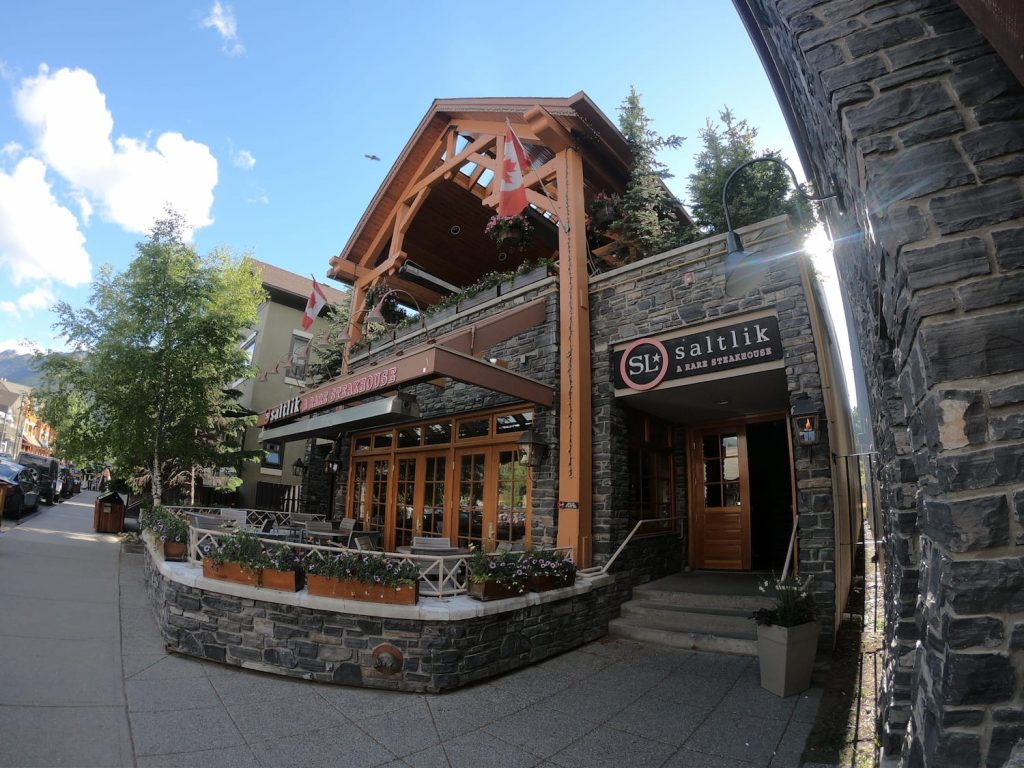 Now this one I kind of expected, although I am not the biggest of meat eaters I knew that Alberta beef is some of the best around. The family and I hit up the Saltlik Steakhouse in Banff. After a full day of exploring some glaciers, we were ready for a delicious meal.
Appetizers –
I'll be honest we were pretty much starving after a full day and our eyes were a bit bigger than our stomachs. We ordered the duck tacos, the dry rib, the ahi ceviche, and the cheesy toast. I was told the cheesy toast is a big thing at steakhouses in Canada and the Saltlik has the best. To be honest, I don't get the whole cheesy toast thing as the other appetizers were far superior, the best was the dry rib, or maybe the duck tacos, it's really hard to decide
Main Course –
My husband really wanted to try the Bison, but on this day the Saltlik was out, so instead we had the porterhouse with blueberry butter instead of the bearnaise sauce. And when I say we, I mean every one of us with the exception of Ella had the porterhouse. It was one of the best steak dishes I have ever had.
Sides –
The Main Course does not come with sides, so you order them separately and they are all served family style. We grabbed some scalloped potatoes, sweet potato fries, and seasonal vegetables. The scalloped potatoes were a surprise hit with all of us as it was recommended by our waitress. It was clearly the hit of the table as it was completely devoured.
Desserts-
Sadly, as I said our eyes were bigger than our stomachs and we decided to skip dessert, but I will make sure to have some room, next time.
Great Breakfast Restaurant – Tooloulous
After many delicious dinners, my husband really wanted to hit up a local hotspot for breakfast. Tooloulous is also located downtown in Banff, my husband loves a good breakfast and after a few days of eating some quick breakfasts to get moving for our journeys was determined to have a great breakfast. We headed over to Tooloulous first thing in the morning, as I heard it gets quite busy right away. It certainly did, we arrived shortly after the restaurant opened at 8 am and by 9 am there was a line out the door to be seated. Toolouslous has a New Orleans Cajun theme and a vast assortment of items on the menu.
My husband and I split the New Orleans plate which could have easily fed the two of us as it was quite massive. The skillet breakfast came with sausage, potatoes, eggs and served with a giant pancake. The kids went the sweet route, my boys absolutely loved the chicken and waffles and my girls were devouring the strawberries and Nutella crepe.
Tooloulous is definitely a must stop for breakfast in Banff and make sure to get their bright and early to beat the crowds.
Not your Ordinary Gin Joint – The Park Distillery
After our Banff Wildlife Tour, the munchkins and I were ready for a nice lunch. Our super talented videographer on the trip Devaan recommended the Park Distillery to grab a bite to eat. The Park Distillery is, you guessed it a gin distillery. They harvest all the juniper berries for their gin right here in Banff and they do free tours every day around 3:30. The atmosphere is great the Park, I really loved the old school photos of people feeding bears.
Besides the Gin, the Park Distillery also has quite the tasty restaurant. One of the items that were recommended to us was a traditional Canadian dish called the Bannock. The Bannock at the Park Distillery is what Devaan called a High-End version of a bannock, served with bison mince, corn relish, and a lime crema. The bannock is a mixture of a pancake and a waffle and fried on a stick, it was really quite delicious and one of our favorite items on the menu. Some of the other delicious dishes we had were the Rotisserie Chicken S'wich, Smoked Tomato Chili Vodka Soup, and the Sticky Chicken Wings.
Unique Dining Experience – The MacLab Bistro
Tucked up in the Banff Centre for the Arts is a trendy restaurant called the MacLab Bistro. The restaurant sits atop the amphitheater in Banff. It has a great atmosphere that is perfect for kids. You sit back and relax on cozy couches and chairs for your dining experience. With wall to wall windows, the restaurant is bright and feels very open.
In terms of dishes, the Maclab Bistro had quite the variety. From curry dishes to pizza to soups and salads, there is plenty on the menu for everyone. We started off with some poutine (a truly Canadian dish) and some Nachos. For our main course, I enjoyed the tandoori chicken curry, which I loved cause it was not too spicy. My boys, of course, devoured a pizza and a Bison burger and Ella loved the cobb salad. I also loved their craft cocktails and their beer flights from local breweries.
Overall, If you want a unique environment, hit up the Maclab Bistro as it truly has something for everyone in the family and the setting is perfect for the family.
Brunch it up at the Juniper Bistro
On the final day of our journey, we headed to Juniper Bistro inside the Juniper hotel for a little brunch to help ease our sadness that we would no longer be in Banff. When you walk into Juniper Bistro, the first thing you'll notice is the wall to wall windows overlooking the beauty of Banff. The brunch is served every weekend from 7am – 2pm, and I highly recommend stopping by for a visit. My husband had the pork shoulder huevos rancheros, a unique twist on the classic dish.
I was excited to see Shakshuka (pic above) on their menu as I have had it only once in my life and was excited to see this tasty dish on the menu. All the dishes use fresh ingredients and you really will appreciate how flavorful the food is. If you have little ones, there is a kids menu (just ask). Olivia had the french toast which was huge and served with delicious fresh berries.
Desserts, Desserts, and more Desserts
With all these delicious meals often times we did not have room for desserts but we did find a way to squeeze in a few nights of dessert. First off, there are a ton of fudge shops in the town of Banff, with delicious caramel apples. Our personal favorite spot for dessert was COW's in Banff.
COW's serves some of the creamiest ice cream with unique flavors. I had the Moo Henry with Vanilla ice cream, brown sugar fudge, peanuts, chocolate flakes and English toffee marble. There are so many unique flavors that you have to check out. In addition, they have some incredibly punny cow shirts that of course, my kids insisted they needed to have one.
The other place we had to hit up is Tim Horton's & Beaver Tails. Yes, I know they are everywhere in Canada but, hey I still love that chocolate glazed donut of Tim Horton's and even though I am a coffee snob, I find their coffee delicious.
Overall, Banff really took me by surprise with their eclectic mix of restaurants. I love restaurants that not only make incredible food but also create a fun atmosphere inside the establishment. In Banff, the restaurants all seem to get this, as each provided their own unique feel and I simply loved it. So, when you are preparing for the beauty of Banff, add in some time to experience the incredible Banff restaurants.
*This is a sponsored post in partnership with Banff & Lake Louise Tourism. Thank you for supporting GM.
You Might Also Enjoy:
Canmore Cave Tours – One of the Best things to do near Banff
Ultimate Guide to Banff during the summer
You may also like this post about Banff from Crazy Family Adventure
Pin for Later – Banff Restaurants – Deliciousness in one of the most Beautiful Places on Earth