Ever wanted to feel like you've made it to the edge of the world? Or maybe you are a big Harry Potter fan and would love to see where one of the iconic scenes played out in real life? Well, the Cliffs of Moher can check both those things off your bucket list. These cliffs are definitely one of the most popular tourist attractions in Ireland, but I would strongly suggest adding them to your itinerary despite the crowds! They are absolutely stunning and offer the very best views in Ireland. You are definitely going to want to plan out your day at the cliffs and figure out how to get to and from in advance. Here is a guide to visiting the Cliffs of Moher!
Guide to Visiting the Cliffs of Moher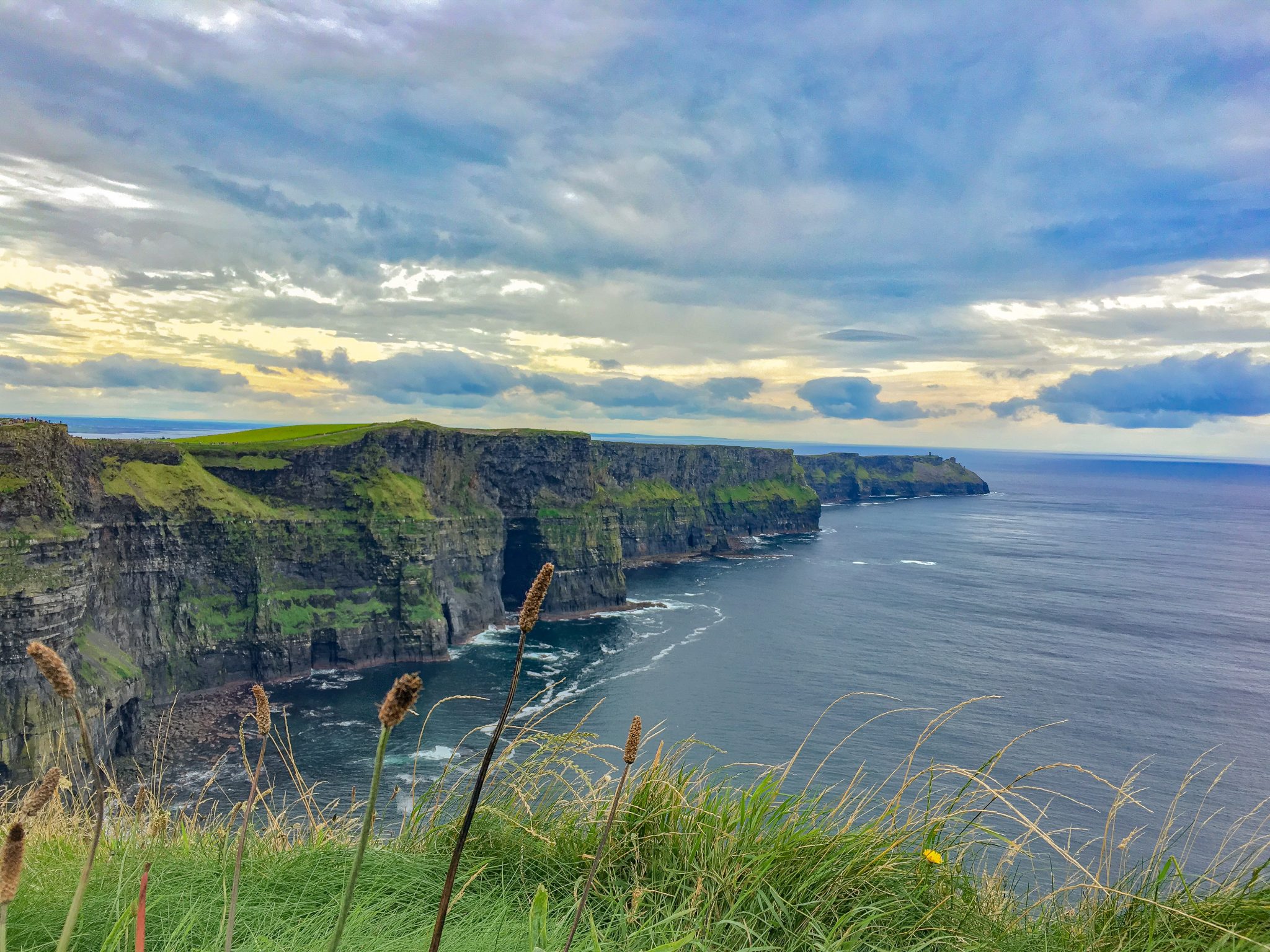 A Guide for When & How to Visit the Cliffs of Moher
If you are renting a car for your stay in Ireland, you can easily make the drive out to the Cliffs of Moher from any of the big cities. This will be your best option if you would like to stay the night in nearby Doolin and explore the surrounding area. We did a roadtrip around Ireland, find all the details about it + renting a car here! There are also plenty of day tour options that take off from all around Ireland and offer varying itineraries.
Viewing the Cliffs of Moher is best done in the morning or in the evening. For one, watching dawn break or the sunset here is absolutely stunning. Another added bonus is that there will be a lot fewer people here. By midday, this changes drastically. Midday is the busiest time at the Cliffs of Moher and the parking lot is even known to fill up.
As for the season, summer is the busiest time of year in Ireland. Obviously, getting to the cliffs early in the morning or staying late at night will likely require you to book a stay in the area. If you will be visiting in the summer, you need to plan well in advance and book your hotel. A one night stay will give you plenty of time to do everything you want to in the area. Plus, it gives you a better chance of getting some clear weather at some point. After all, Ireland is known for rain & gloom. We stayed at the Dromoland Castle, pictured above, and it was unbelievably cool! Plus, we enjoyed exploring the grounds and archery lessons after viewing the cliffs.
A Guide for All the Things To Do When Visiting the Cliffs of Moher
The Cliffs of Moher are on the west coast of Ireland. They are about 5 miles long and 702 feet at their highest point. While you can obviously just soak in the views and call it a day, there are also plenty of other things to do when visiting!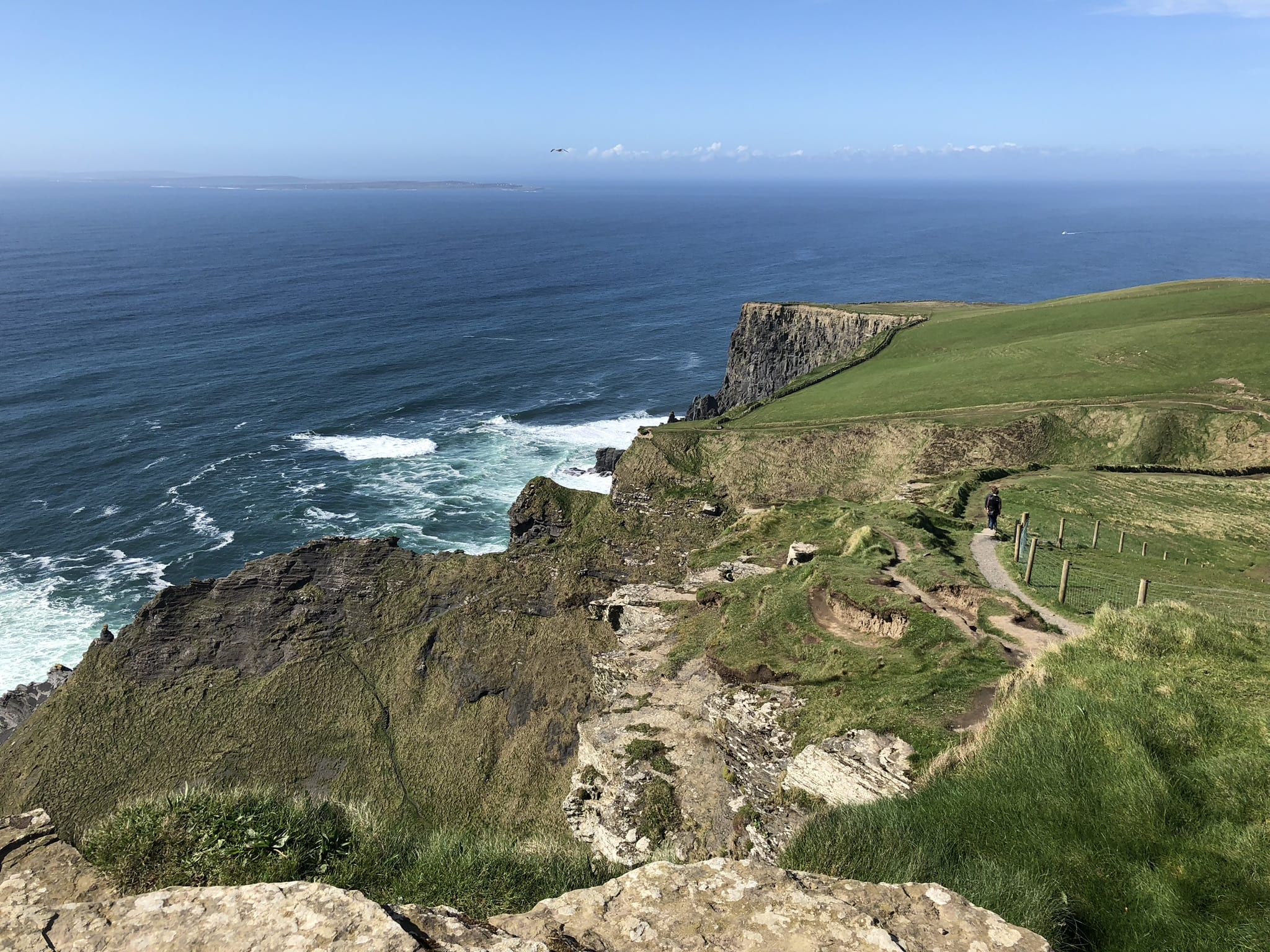 Take a Quick Stop at the Cliffs of Moher Visitors Center
The Visitors Center is a good place to stop when you first arrive. For one, this is where the biggest parking lot is and it is also the quickest way to get out to the cliffs. A little tip… there is a bathroom inside and after a long drive, you might need it! However, it is not the only way to see the cliffs. There are some other parking lots and hiking trailheads in the area as well.
You will need to pay an entrance fee here. It is 6 euro for adults, 4 for students and seniors, and free for children under 16.
Climb Around O'Brien's Tower
O'Brien's Tower is a wonderful place to view the cliffs. It was built by a local landowner who wanted to attract more tourists to the area with a beautiful viewing platform, and I would say his plan worked! Keep your eyes out, you may also be able to spot a dolphin or whale in the Atlantic Ocean down below.
Walk to Hag's Head
Hag's Head is located on one end of the cliffs, opposite the Visitors Center. It is more "off the beaten path" and lower than the other end of the cliff, but nonetheless stunning. You will definitely feel like you are on an adventure. Keep in mind, the path here cuts close to the edge of the cliffs and is more rugged. If you are bringing kids along, you need to watch them very closely and explain the danger to them.
Hike from Doolin
This is the path we took to get to the cliffs of Moher. You can hike all the way from the town of Doolin to the cliffs on the Cliffs of Moher Coastal Walk. It will take about 4-5 hours to do this roundtrip. We actually took a cab back to Doolin because the route took so long. The path is pretty flat, but it follows the edge of the cliffs and can be a little rough so you need to tread carefully and wear suitable shoes (it does get a bit slippery)
I also recommend bringing a map, as things aren't marked very clearly. We spent several times wondering which way to go. The views are incredible the whole way, so be sure to bring a camera along!
See the Cave from Harry Potter and the Half-Blood Prince
When deciding where to film this epic scene with Dumbledore and Harry, there was no place that could compare with the brooding beauty of the Cliffs of Moher. For fans, it is pretty cool to see the place where this scene played out.
Take a Cruise
There are two incredible vantage points to take the cliffs in from, above and below. While climbing along the cliffs is one way to experience them, you can also take a cruise up to them. Many of the day trip tours include a boat cruise, so keep your eye out when booking! There are also many cruises that take off from Doolin, check one out here!
Tour Guide Options for the Cliffs of Moher
Taking a tour from Dublin, Limerick, Galway, or Killarney is one of the most popular ways to get to the Cliffs of Moher. Dublin is going to be the farthest and about a 3.5-hour drive both ways. However, if it is your only option it is totally doable. In fact, my little sister did the trip with a tour that stopped a few places along the way she said it was an incredible day. Wherever your tour takes off from, I guarantee you will have beautiful views out the window. Here are some options for you!
From Dublin
Wild Rovers Cliffs of Moher Tour Including Wild Atlantic Way and Galway City: This tour will make a couple stops before and after the Cliffs of Moher. It is a great way to check a couple of things off your Ireland bucket list.
Finn McCools Tours Cliffs of Moher, Wild Atlantic Way, and Galway Tour: This tour will also make a couple of stops along the way. The monastery was surprisingly very cool to see!
From Galway
Wild Atlantic Way Day Tours Aran Islands and Cliffs of Moher Day Trip Including Cruise: I love that this tour includes a cruise as well as a stop at the Cliffs of Moher Visitor Center. Best of both worlds!
Galway Tour Company Cliffs of Moher Day Trip: On this tour, you will travel by luxury coach stopping at the Dunguaire Castle and the Cliffs of Moher. You get two whole hours to explore the cliffs, which is awesome!
From Limerick
Full-Day Small-Group Cliffs Of Moher Day Trip: If you will be traveling from Limerick, I highly recommend this tour over some of the bigger commercial tour companies. They keep the groups small and give you plenty of time to explore.
From Killarney
Private Tour from Killarney: Forget the big bus tours! From, Killarney you can take a private tour. I highly recommend this option if you have got a bigger group traveling to Ireland.
Whether you choose to drive yourself or take a tour, take in the views or take a hike, seeing the Cliffs of Moher will be an incredible experience! Just don't forget to download some Irish tunes to play for your drive!
If you have any Ireland questions, head over to my Instagram and send me a direct message! I would be happy to chat about our trip!