They say "A good friend is like a four-leaf clover; hard to find and lucky to have." This past spring my husband and I were lucky enough to get away on our annual friendship vacation with some good friends for an incredible once in a lifetime trip to Ireland. After looking at the best way to tour the country we determined it was best to rent a car and do an Ireland Road Trip. Since most of our stops were just 90 minutes to two hours away it really seemed like an easy way to get around. Our 8-day journey started in Dublin and took us around southern Ireland and truly was the Ultimate Ireland Road Trip. Follow along and I will break down all the sights you should check out and places to visit if you are traveling by car in Ireland.
The Ultimate 8 Day Ireland Road Trip – Must See Stops & Places to Stay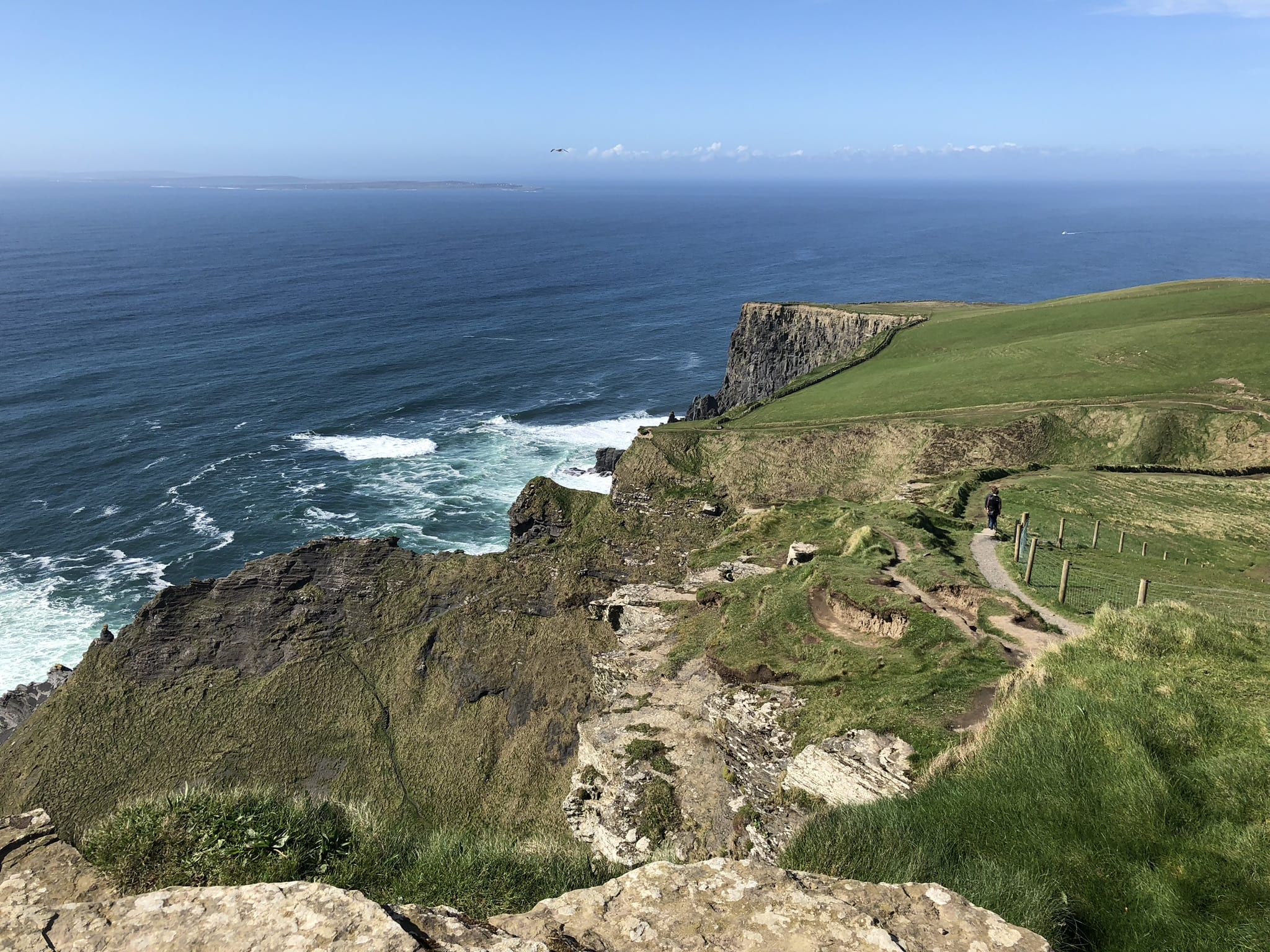 Things you should know about driving and renting a car in Ireland
First off, let's get to the things you need to know before you rent a car in Ireland. Everyone drives on the left-hand-side of the road, so for us, being from America it was quite a different experience. Our friend Josh, volunteered to be the driver since he lived a year in England during college, but we had my husband be the navigator and you would often hear my husband yell, "tight left" to remind Josh of the unorthodox turns you have to make. For the most part, it wasn't too bad, the turns were a bit tricky he said and on the rural roads where no one is round is where Josh would find himself drifting to the right lane.
Second, most rental cars in Ireland are a manual transmission, so book early as Automatic Transmission is a luxury. Many cars do mention that they don't have air, it's pretty cold in Ireland so I would not worry about that.
Lastly, insurance. Ireland does require you to pay insurance, so don't get too excited by those $5.00 a day fares you see, it will end up being more like thirty to forty dollars. Plus, there is a 30 euro return charge when you drop off the vehicle. One final tip I recommend is to get a smaller car if you can fit into one. The roads in Ireland or more narrow than the ones we are used to in the states so the smaller the car the better.
Day 1 & 2 – Dublin
We arrived in Dublin on day one in the late afternoon and could not wait to get our vacation started, (even after 18 hours of flying, blasted layovers). We only had about 36 hours in Dublin so we really wanted to get the most out of this city.
Where to Stay –
Our Dublin stay was at the Ariel Bed & Breakfast. This cute B & B was exactly what we were looking for in a hotel stay in Dublin. The staff was incredibly friendly offering you help before you even realized you needed it. They have an incredible Breakfast in the morning, in fact, they were voted the 2nd Best Breakfast for hotels in all of Ireland.
The breakfast included some fresh loaves of bread, fruits, and smoothies, plus your choice of hot breakfast. We all went with the traditional Irish Breakfast, which consisted of eggs, sausage, ham, rice pudding cakes, and soda bread. It was incredible and Ariel's did have the best breakfast of any of our other hotels, and those were quite good as well.
There are so many great places to stay in Dublin, check them all out here.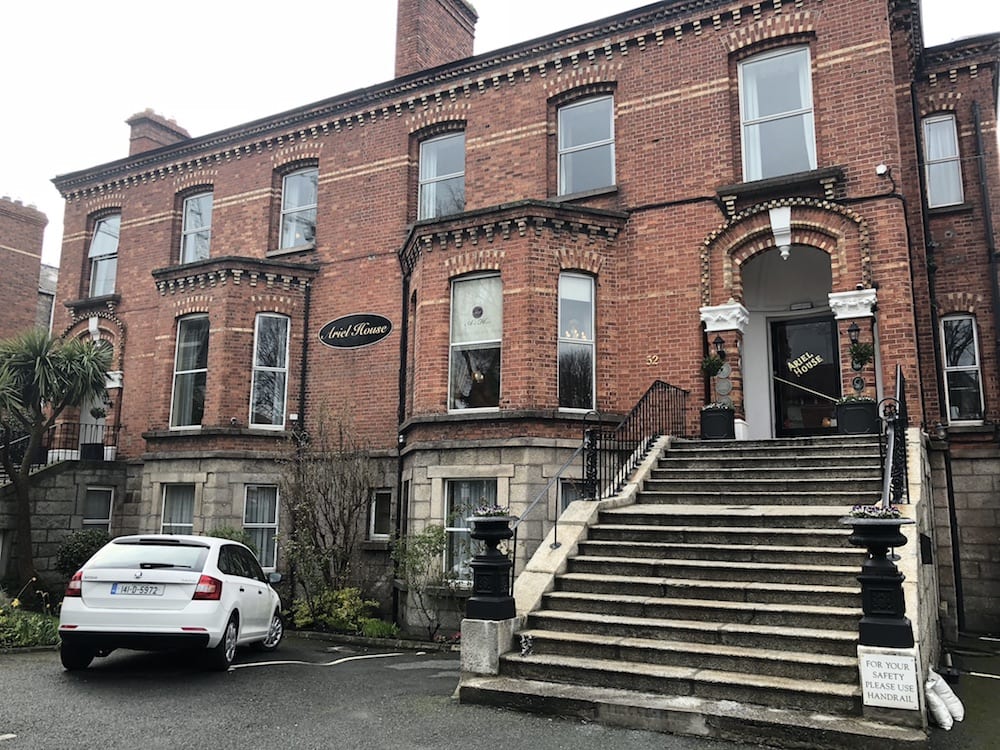 Things to Do –
Literary Pub Tour* – Our first evening we enjoyed a fun journey on the Dublin literary pub crawl that we booked online at Tripadvisor. It was a great way to get a feel for the town while stopping into some wonderful pubs. We had two tour guides who led us on a walking tour and would act out scenes from famous literature, offer some pretty humorous jokes and then we would take a break and enjoy a pint of beer. The tour was great we ended up heading to four different pubs along the way and found our favorite pub in Dublin, Duke's while on this tour.
Guinness Factory Tour* –
The next afternoon we headed to the Guinness Factory which we also booked through Tripadvisor. I really did not know what to expect from the Guinness Tour, but when I walked in I was in awe. The Factory is 7 stories tall where you can walk around and enjoy a self-guided tour. Some of the highlights of the tour is the Pour the Perfect Pint Class where you get to learn how to pour the perfect pint of Guinness (as you can see from the picture below). Also, there are a lot of interactive exhibits and at the top is the Circle Bar with a 360 view of all of Dublin
*Pro Tip* I recommend heading up to floor 4 and pouring your own pint. Then you can head back down and enjoy it as you stroll through the factory tour.
Dublin Traditional Irish House Party including Dinner and Show*-
During the evening we went to the Dublin Traditional House Party Dinner and show, of course, booked online through our fav resource- TripAdvisor again. My husband was a bit skeptical of my booking and he already had plans of finding a way to disappear back into the pub if the show was bad. I was pretty confident though as the show had 4 1/2 stars on Tripadvisor. First, you start off with a nice dinner which is included in the show price. After about an hour you head on downstairs to the show. The act was absolutely incredible and my husband had to eat his words (which I kind of loved). The band had great humor, told some incredible stories and of course, the music and dancing were amazing. One of the performers used to tour with the Riverdance which we had never seen before and it was quite impressive.
Kilmainham Jail –
The one thing we did not get to do for a lack of time was the Kilmainham Jail. Every person we spoke with told us this is the one spot that gives an incredible history of Ireland and is worth it for everyone to visit.
Temple Bar –
Temple Bar is a great area to go and have some pints with friends. While it is a bit touristy, they do play it up for us tourists, but honestly, we loved it. There are a ton of pubs and some great pub food to enjoy in the area and it is definitely worth a visit.
Learn how to SAVE MONEY on your Dublin attractions here
Day 3 – Kilkenny
Our next stop on our Ireland Road Trip was Kilkenny, Ireland. It was about 90 minutes from Dublin and a pretty easy drive, especially once we got out of Dublin.
Where to Stay in Kilkenny
We stayed just a little outside Kilkenny about 15 minutes away at the Mount Juliette Estate. It was one of the most beautiful hotels we have ever stayed in. The grounds at Mount Juliette Estate were unmatched. In the morning we took a short walk along their path where we saw their beautiful horses with several little foal prancing around in the beautiful green meadow. Every turn around the estate's grounds was incredible, from a beautiful lily garden to the pristine Jack Nicklaus golf course, we were all in awe of how incredible this place was to visit.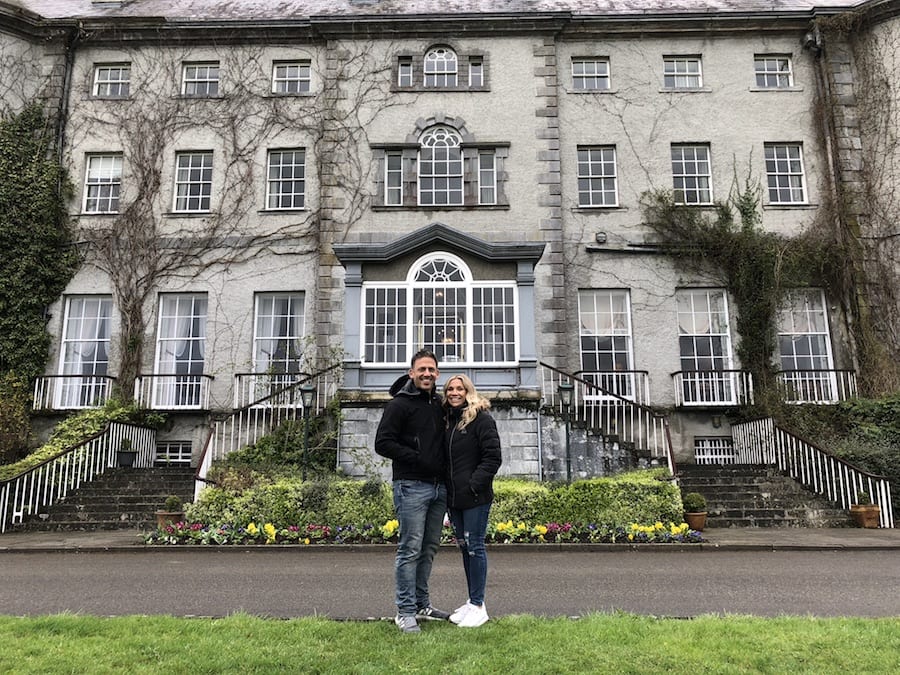 Things to Do in Kilkenny
Kilkenny Castle –

Situated in the center of town is the Kilkenny Castle. The castle is surrounded by beautiful grounds and parks where you will see kids playing and having a good time. You can also climb to the top of the tower at the castle which is a unique climb as you have to take ladders to get up to the top. Some say it was to protect from Vikings but our guide informed us that the tower was more of a status symbol thing anything else.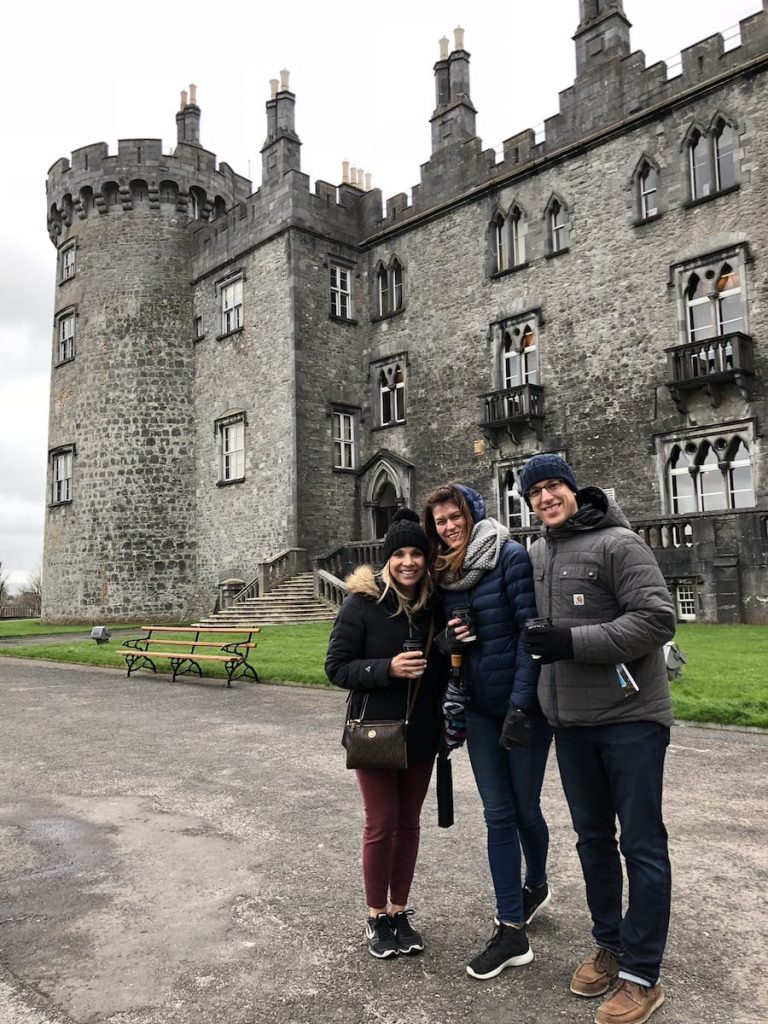 Smithwicks Brewery Tour
The 2nd most popular (behind Guinness) in Ireland is Smithwicks. It's home is right here in Kilkenny. This is a much smaller but more in-depth tour then you will see at the Guinness Factory
Unfortunately for us, we only had one day in Kilkenny and couldn't do any of their other incredible activities including:
River Adventures down the River Noor
Jerpoint Park – where you can feed sheep
Hurling Museum
You can view all there activities here
Day 4 & 5 – Cork
Our next day we traveled to Cork. I have to say I absolutely am in love with this city. The 2nd largest city in Ireland is simply charming. This town is a part college town which gives to the youthful vibe that invigorates the city. The drive from Kilkenny to Cork is just under two hours and once again was an incredibly beautiful drive.
Where to Stay –
We were lucky enough to stay at the incredible Hayfield Manor, and if you have the chance to stay at this resort, do it. From the moment we pulled into the roundabout (we entered the roundabout the wrong way by the way) we were immediately greeted by the bellman Michael who was as charming as can be. Our concierge, Gary, welcomed in the warmest way, he told us incredible places to visit, dine and explore the city. He even told us the story of how back during the potato famine the United States was the one to deliver food right here to Cork to help Ireland and since then our two countries have always been close. The Hayfield Manor has also been host to a pretty impressive guest list as well from Bill Clinton to Paul McCartney.
Rooms- Our room at the Hayfield Manor was simply gorgeous. Inside was a spacious room with bed and couch, and a lovely view of the garden at Hayfield Manor. I loved the little amenities inside the hotel, for instance, my husband loved the putting machine inside the room, while I loved the robes and delicious espresso machine.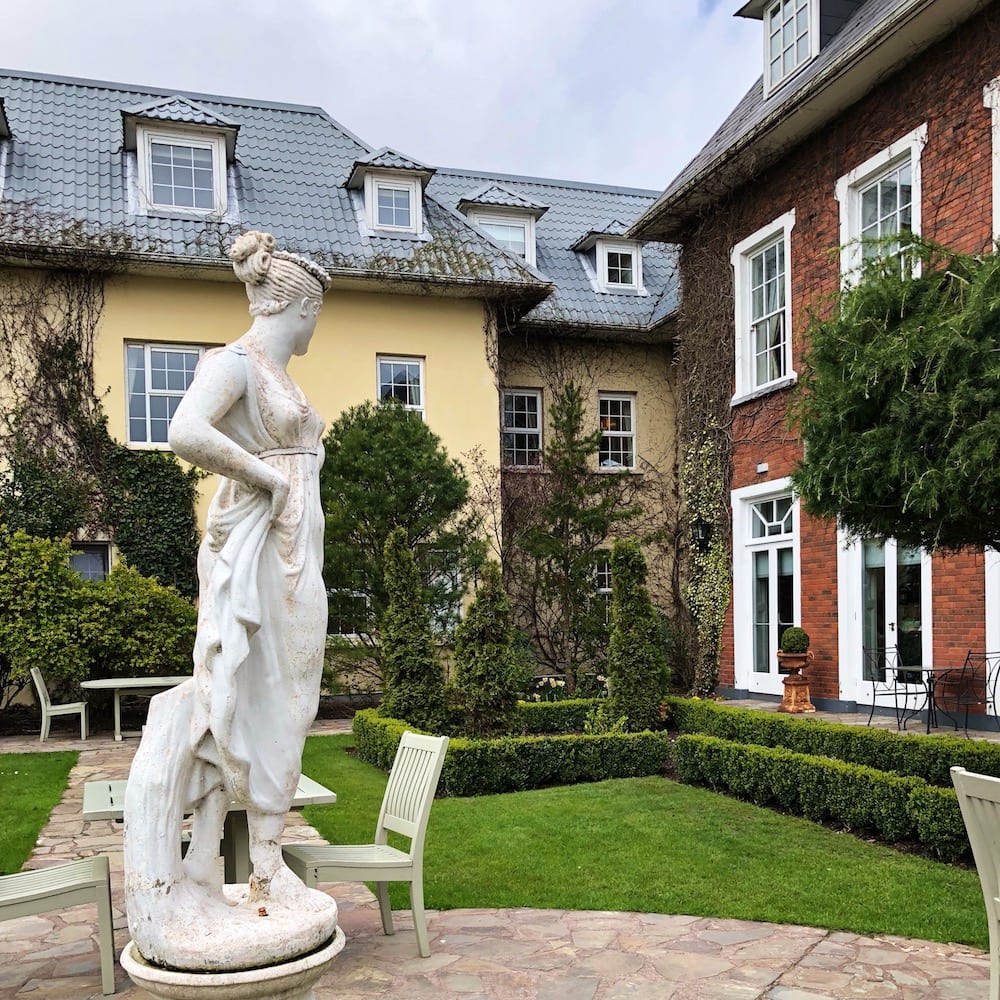 Things to do in Cork-
English Market –
The English Market is an incredible marketplace with fresh foods, bread, fish and more. We headed upstairs to the cafe where my husband claims he had the best sandwich of his life. While I enjoyed some delicious soup.
St. Patricks Street
If you are a fan of people watching and shopping than St. Patricks Street is a great place to visit. I just loved the lively atmosphere of the area, the wide streets, incredible architecture and great places to dine along the street
Blarney Castle –
On the way down from Kilkenny to Cork is the Blarney Castle where you can kiss the blarney stone and get the "gift of the gab" My husband said I already have that gift, so there was no need to kiss the stone. Kissing the stone is no easy feat by any means as you have to kind of hang backward to kiss the stone.
Day 6 & 7 – County Clare
We left cork for the longest journey of our Ireland Road Trip to County Clare. County Clare is where the Cliffs of Moher are located and this definitely is the most harrowing of all the road travels as there are a lot of narrow roads along the drive. Halfway through our journey, we stopped at one of the most adorable towns you will ever visit, Adare. This town is lined with cute thatched houses and a beautiful church built in the 12th century. I recommend stopping at this town for a cup of coffee as it is a nice way to break up the drive and only a couple minutes off the path.
Where to Stay in County Clare
Dromoland Castle – This was the first castle I have ever stayed in and it was simply unbelievable. There is a wide variety of things to do at Dromoland Castle where you can find yourself enjoying a day just exploring the grounds. On one day we set out and did an archery lesson, went on a bike ride (they provide complimentary rentals) around the grounds, explored their flower gardens and went boating on their lake. In addition, you can play golf, do some falconry, enjoy horse-drawn carriages all at Dromoland Castle. In the coming weeks, I will have a full review of the Dromoland Castle.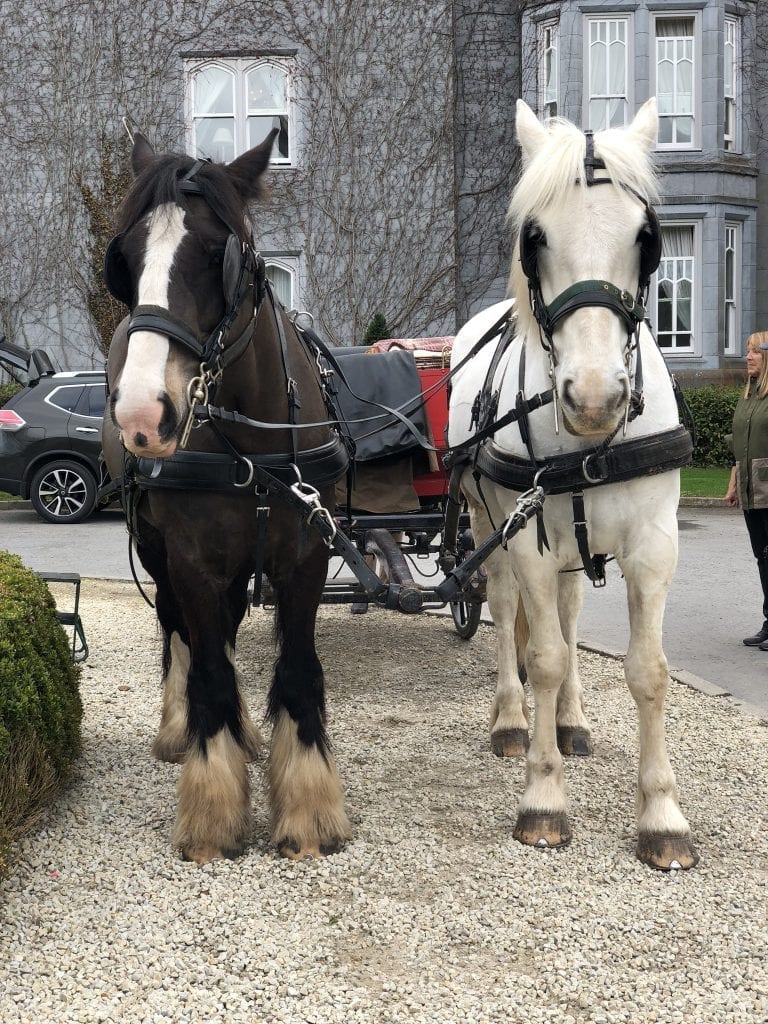 Things to do in County Clare
Cliffs of Moher –
There are two options when traveling to the cliffs of Moher. You can drive up directly to the cliffs of Moher and see the incredible cliffs. The other option is taking a hike from the town of Doolin to the Cliffs of Moher. We opted for the latter and it was an incredible experience. There are a couple things to note about the hike to the cliffs of Moher.
Make sure to wear shoes that you are willing to get muddy and have traction.
The hike is relatively easy but it is 14 kilometers long so bring water.
The trail is not very clearly marked so bring a map
Some of the walk is not fenced and right on the cliff's edge.
You will experience some of the most beautiful views in all of Ireland on this single hike.
My favorite part of the hike where we got to the first part of the cliffs of Moher called "Pat's View". While not the highest part, it was the most beautiful as there were no people around and was just incredibly picturesque.
I would say if you have the time and energy I would highly recommend the hike. That being said, as a nervous mama I don't know if I would have brought my kids along the walk as there are some parts of the walk that are not fenced.
Visit the Town of Ennis –
Our first evening in County Clare was spent in Ennis. Ennis is charming and character-rich little town: There are some wonderful little pubs with traditional Irish Music. We found ourselves at Brogan's Bar & Restaurant. Steeped in tradition, Brogan's is one of the oldest family-run pubs. Inside this pub, traditional Irish Music is played most nights and the food is quite delicious. Another thing to do in Ennis is to visit the Clare Abbey which was the first, largest and most important Augustinian house in Clare, founded in 1189.
Have Dinner & Drinks at Newmarket on Fergus –
If you want to experience a truly local atmosphere one evening. I highly recommend Newmarket on Fergus. Just 10 minutes from Dromoland Castle is this tiny little town. Our first stop was Weaver's Inn, this traditional Irish Pub also serves some incredible Indonesian Food. My husband & I were thrilled because although we really loved the Irish pub food, it was nice to change up the routine. After our delicious meal, we headed to O'Neill's Pub.
This pub was one of our favorite's as it is filled with locals. Ann, the owner, works behind the bar and offered us a complimentary shot of their "Irish Flag" and told us how the pub has been in her family for over 100 years. If you visit on Friday night you will meet a cast of character playing cards. For decades now, every Friday cards have been played in the same spot amongst this group of friends. O'Neill's Pub was really a highlight of our trip.
Day 8 Road Back to Dublin –
Our fun Ireland Road Trip vacation with friends concluded with about a 2 1/2 hour drive from Dromoland Castle back to Dublin. On the way, we did stop at Barack Obama plaza which is just a fancy gas station which named themselves Barack Obama Plaza in hopes the president would visit when he traveled to Ireland. It was a nice drive back as we reminisced about the amazing trip we had together and began planning our next destination for our annual friendship vacation.
Overall our trip was absolutely incredible, if there was anything I would change was to add a day or two to the itinerary so that we had more time to enjoy the small towns we passed along the way.
You Might Also Enjoy:
10 Amazing Things to do in London with Kids
Top 10! Best Places to Travel with Kids
Pin for Later! – The Ultimate 8 Day Ireland Road Trip – Must See Stops & Places to Stay
*Disclosure- this post was created in partnership with TripAdvisor who supplied a credit which we used for several attractions featured in this post. All thoughts and opinions expressed above are, as always, 100% our own.