Barcelona is one of the most incredible cities in Europe and offers a wide variety of activities for kids and adults alike. Barcelona was a stop on our European cruise and we were absolutely mindblown by its beauty, not to mention the good food and all the fun things to do. It is definitely a city that has something for everyone in the family. If you are visiting Barcelona with the kids, here are the 15 best things to do! We only had 24 hours while we are were in Barcelona, and we tried to pack in as much as we could. 
15 Things To Do In Barcelona With the Kids
Must-Do's While in Barcelona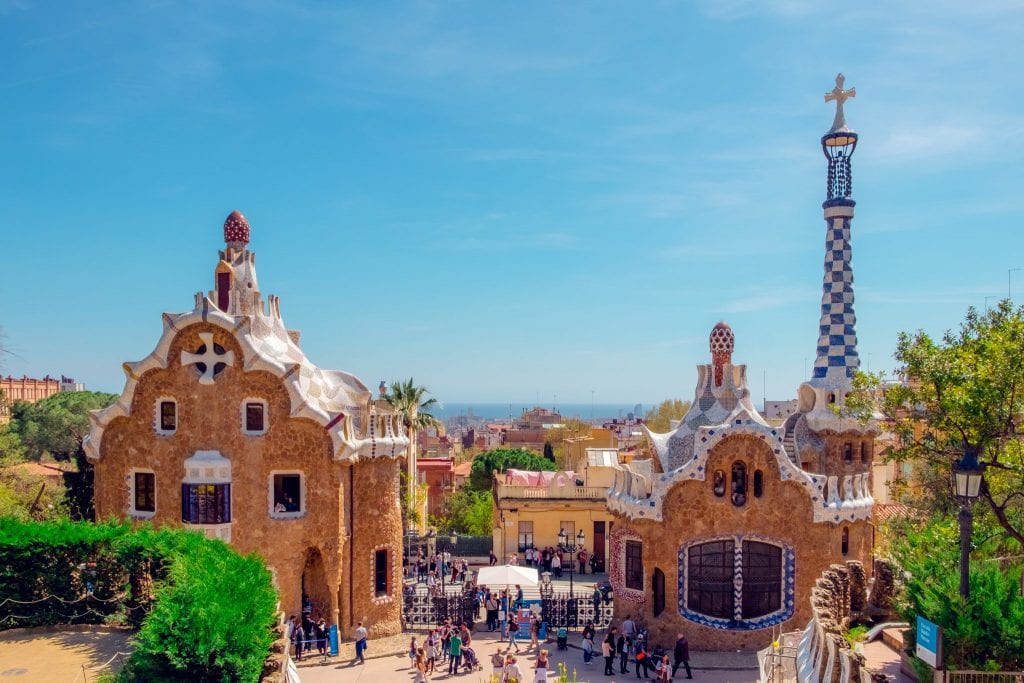 One of the best ways for your children to learn about Antoni Gaudi on your vacation is by traveling to Park Guell. When it comes to the plethora of Gaudi masterpieces in the city, Park Guell is one of them. With Hansel and Gretel style homes, your kids will feel as if they are part of a fairy tale.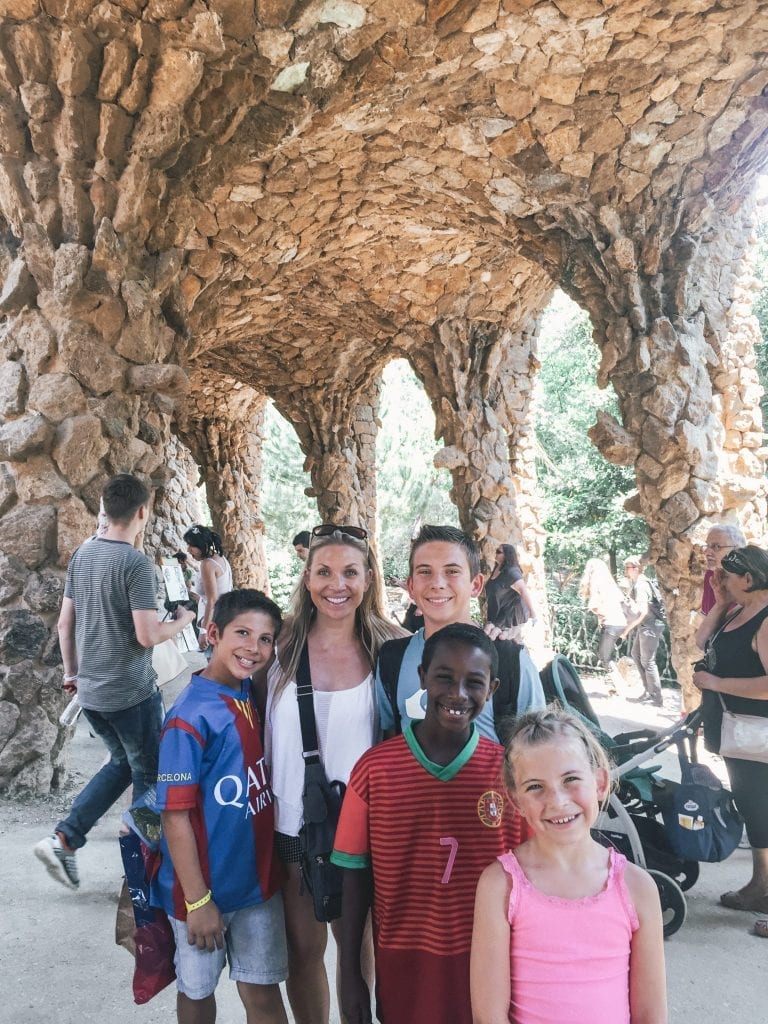 The place does get a bit crowded, though children under the age of six can get in for free!
When it comes to famous streets in Barcelona, La Rambla is at the top. Though it may not be the most glimmering part of town, it is a must-visit for families with kids. While there are some overpriced tourist restaurants and attractions along the street, there are also tons of quaint cafes and bookstalls to enjoy too.
La Boqueria Food Market is one of the best markets in Barcelona and is just around the corner from La Rambla. There you will find all kinds of fresh eats to enjoy! Make sure to stop for a drink at one of the many bars while your kids enjoy a fresh smoothie.
4. Head to the Sun Soaked Beaches
There are many different beaches along the coastline of Barcelona to enjoy with your kids. If you are taking a trip to Barcelona during the summer, your trip isn't complete without a beach excursion! You can enjoy the Mediterranean sun, go for a swim, or try your hand at surfing.
One of the easiest beaches to get to is La Barceloneta, though it does get very crowded during tourist season. We highly recommend going to Olympic Village Beach with the little ones, as there is a large playground that your little ones can play on. For a beach that is quiet, yet still very family-friendly, we recommend Nova Icaria. Of course, if you want to get some activities in, you can head on down to Bogatell Beach for some basketball, beach football, table tennis, and more!
No trip to Barcelona would be complete without a little bit of fútbol. You can take a tour of Camp Nou where FC Barcelona plays. Not only is there a museum to go through, but you will also be able to see the changing rooms and tunnels. Keep in mind, I definitely recommend booking early as this is a very popular attraction. Also, you could head to a game if that's something up your alley!
This Walking Tour of Barcelona is designed for children that are anywhere from four to twelve-years-old. It is a 2.5-hour guided tour that will give your children the opportunity to experience Barcelona's many legendary spaces in the Gothic Quarter, including delicious candy stores and traditional Spanish workshops.
We love going on a guided tour during our first days in a new city. They are the perfect way for families to spend time together while enjoying everything a city has to offer.
Things To Do In Barcelona With Little Kids
Casa Batllo is a must-visit for people traveling to Barcelona with kids. One of the best things we recommend doing is taking a dramatized theatrical tour of the place. There are a few guides, including Gaudi and Lady Ramoneta (the housekeeper for the Batllo family), who will take you around the home and tell you all about the rich history of the place.
You can grab your tickets here! Children under seven years of age can get in for free and, keep in mind, the theatrical tour is only on Sundays.
The Magic Fountains Show is probably one of the most accessible activities on our list and is the perfect form of entertainment for the little ones. Seriously, it is almost on par with some high-quality Disney shows. The Magic Fountains Show brings together a combination of lights, water, and music to help create an experience that is less than unforgettable.
You can find the Magic Fountain Show every evening at Placa d'Espanya, though you should keep updated with the schedule to make sure!
The Aquarium Barcelona is quite a special place and a great thing to do on a slow day in Barcelona with the kids. It actually hosts one of the biggest sea tunnels in Europe. Here you can find a wide variety of different sea creatures including moonfish, manta rays, sharks, penguins, and many, many more. It is a truly fascinating place for children to experience natural sea life up close.
Beyond the large tanks, there are a few interactive exhibits where kids can go and play. The aquarium stays open pretty late in the summertime, though we recommend getting there early to enjoy one of the many shows that they have to offer. Grab tickets here!
Ding ding ding! You've found heaven for your little ones. The Chocolate Museum may just be one of the best attractions in the city for kids. Known by the locals as Museu de la Xocolata, the museum is meant to show people how chocolate is made. You and your kids can enjoy a variety of different types of chocolate and large chocolate statues.
There is a chocolate tour that is available for families as well. It's a wonderful place for your little ones to indulge in some delicious chocolate and other sweets. Your kids can also take part in a scavenger hunt while you take a well-deserved rest. Just make sure that you don't fill up beforehand!
No trip is complete without visiting the local theme park! It just so happens that one of the largest theme parks in Europe is located in Barcelona, and it is known as Portaventura Theme Park. Here you can find rides for all different ages, including thrilling roller coasters for your teenagers and Sesame Street-themed rides for the little ones.
Portaventura Theme Park is also home to the fastest and tallest roller coaster in Europe, perfect for the adrenaline junky families out there! Check out ticket options here!
Things To Do in Barcelona To Get Outside with Kids
Ciutadella Park is easily one of the most famous parks in all of Barcelona. With all of the fountains, rowboats, and play areas, there is no way that your kids will be bored here. There is also a full-size replica of a wooly mammoth! If you want to have a picnic at one point on your trip, there is no better place to do so than here. It's the perfect place to regroup after a long day of running around the city.
The perfect place for going sightseeing in Barcelona is Montserrat Mountain. It may be one of the most unusual looking mountains that we have ever seen up close. If you go just outside of Barcelona and up the mountain, you can find the gorgeous Montserrat monastery and museum. Plus, the entire museum is outdoors, so your kids will get to enjoy a bit of fresh air while exploring the area.
There are some pretty incredible views of cable cars too! Enjoy traditional music? You and your kids will love the boys' choir that sings in the monastery. There are tons of interesting ways to take a day trip out to the mountain, and you can truly make the trip your own. If you are interested in a day tour, those are also available!
If you're looking for a good challenge, we recommend bringing your kids to Parc Del Laberint D'Horta, where your kids can work together to find their way out of the big labyrinth. The cool thing is, not many tourists know about this place yet, so it doesn't get overcrowded.
Have you ever seen "Perfume – The Story of a Murderer"? This is the place where they filmed the famous labyrinth scene! Beyond the Labyrinth, there is a gorgeous, green park to walk around and a rich, historical 14th-century house to explore. Then, you and your kids can enjoy the many little alleys and the running waterfall as well!
Many people who go to Barcelona try to see more of Spain on their trips as well. For those who don't have the time to do so, we recommend visiting Poble Espanyol. This open-air architectural museum is full of different types of architecture from different regions throughout Spain. It gives you the ability to take in the entire country without leaving the city. Also, Poble Espanyol is a wonderfully tranquil place too and is a great place to enjoy some downtime.
There are a variety of authentic Spanish cuisines and activities for the whole family as well. You and your kids can also take part in one of the many workshops to learn how the people of Spain produced crafts back then.
The One Thing We Would Skip in Barcelona with Kids
Hear us out before you freak out. Of course, seeing La Sagrada Familia is one of the most popular things to do in Barcelona. AND I do think it really is something amazing to see. In fact, we went with our kids.
However, with kids under 6 simply seeing it from the park across the street is what I would recommend. On top of the amazing views, the Park Plaça de la Sagrada Família has a great playground. We recommend this because children under six years of age are not allowed in the towers for safety reasons anyway. You will also likely have to wait in a long line to get in, and little ones may have a hard time understanding the significance of this iconic church.
This being said, there is no doubt that Sagrada Familia is one of the most legendary attractions in the city of Barcelona. If you are vacationing with older children or have some adult time, you should take a tour!
What things will you do in Barcelona with the kids?
There is no doubt that Barcelona is one of the most popular cities in Europe, and it is the perfect place for families to spend time together. We hope that some of these kid-friendly activities make it on your itinerary and we wish you a wonderful trip to Barcelona overall! And, of course, happy travels!
You May Also Like:
12 Spectacular Things to do in London with Kids [+ 3 are Free]
20 Epic Things To Do in Rome with Kids
Latest posts by Mama Munchkin
(see all)