Prague is an incredibly unique and beautiful city. So, rightfully so I wanted to find a hotel that suited this trendy stylish vibe I was feeling. Lucky for me I happened upon the lovely Icon Hotel & Lounge in Prague. Enamored by its amazing reviews (over 1,000 on Tripadvisor & a 4.5 star rating!!) and the fact that it was centrally located and offered up a free all day breakfast I was SOLD!!!
The Icon Hotel & Lounge in Prague- a review
Service:
From the moment I was greeted by the amazing front desk staff after arriving incredibly late on a Monday night I knew this hotel was special. Immediately being stripped of my luggage and invited in a comfy leather chair I chatted with the desk staff as she explained my reservation and the amenities the hotel offered- including an amazing all day breakfast at the hotel restaurant complimentary for hotel guests!
I was shown to my room and all the conveniences were explained in detail from how to use the shower, to where the electrical outlets were, to the mini bar & more. All of my questions were answered and the service continued this way (over the top) throughout my stay!
Rooms:
After my long 13 hour flight in you can bet I was ready to retire in my nice cozy bed. So, you can bet I appreciated the handmade "Hastens" bed in my room. A superior sleep for sure!
I loved the open air space this room had with its wooden floors and giant windows. It felt clean, modern and hip… sort of like Prague!
The mini bar was aptly stocked with beverages. And, was conveniently located in the gorgeous floor to ceiling cabinets in my room. There I also found instant coffee, candy and snacks that looked incredibly tempting.

The bathroom was chic and cool. I liked that it had both a tub and a shower in case I felt like I needed a good soak and the water was always nice and hot which I appreciated after having trouble with that in various other European cities.
In the morning I got my first glimpses of Prague's classic pastel buildings out my window. The fresh air was full of a gorgeous floral scent as spring had just begun. I couldn't wait to get out and explore.
Dining:
The Icon Hotel & Lounge has a fantastic tapas bar & restaurant called Room that is open all day to guests for the complimentary breakfast. It is served buffet style in the morning including hot entrees like eggs and pancakes and then a la carte throughout the day. Later on the restaurant opens up to the public offering delicious Spanish offerings conceptualized from esteemed private chef Maximiliano Pettit along with an array of cocktail options and a great beer selection.
Every meal I had here was superb… I was pleasantly surprised to be honest at such high caliber food at such a small boutique hotel. But, quite honestly it was some of the BEST food I had while in Prague.
You absolutely should NOT miss sharing a pitcher of their thirst quenching sangria while munching on several of their tasty tapas. I especially loved the garlic shrimp and the baked goat cheese (pictured below). Dishes came out hot and were beautifully styled… honestly I am getting hungry just writing about them- ha! They were good! Let's just leave it at that.
Things To See and Do Nearby:
The Icon Hotel & Lounge is located in Prague's gorgeous Wenceslas Square making it walking distance from tons of amazing restaurants, shops, nightclubs and more. It is also just a short 5-10 minute walk from Old Town Square which is another popular tourist destination. The hotel is situated near public transportation as well making it incredibly easy to get around.
Some things I enjoyed in Prague were:
Charles Bridge:
St. Vitus Cathedral at Prague Castle:
John Lennon Wall:
David Cerny Statues: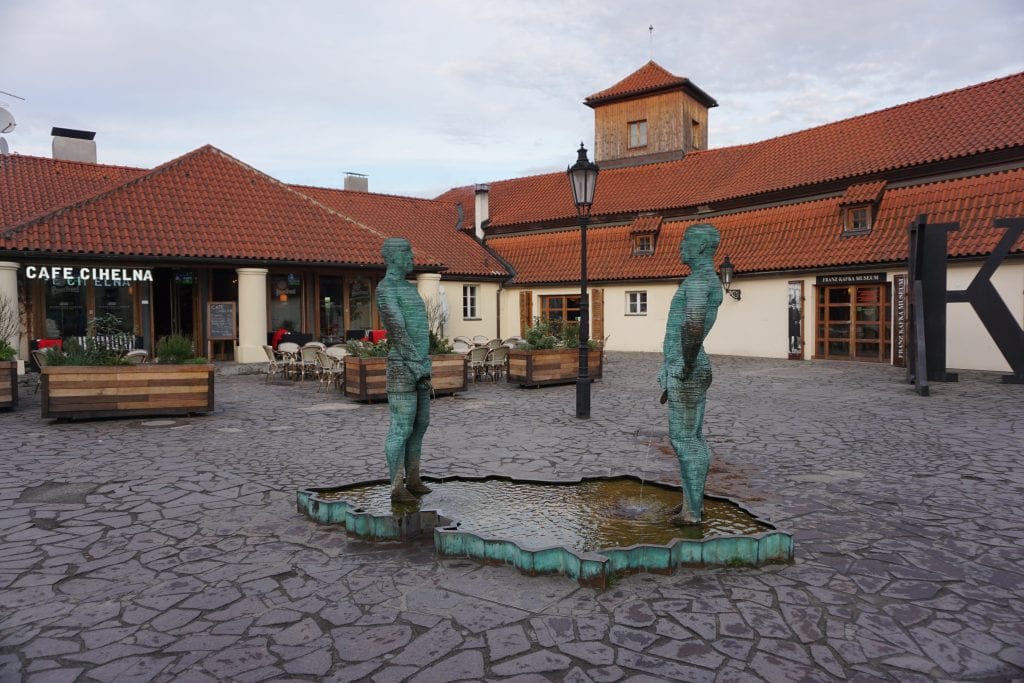 For more ideas on what to do in Prague check out my post on 29 Photos of Prague that will make you SWOON!!!— Coming soon 🙂
Overall:
A hip sophisticated boutique hotel centrally located in Prague's historic city center. The Icon Hotel & Lounge makes an excellent choice for the savvy traveler. The friendly and helpful staff will ensure your stay is an excellent one and waking up to the delicious included all day breakfast is a great way to start your day. And, after a long day exploring the fairytale like land of Prague you can hop into your luxurious Hastens bed and get ready to repeat the splendor again the next day.
Pin for later-
For more information about the Icon Hotel & Lounge in Prague visit their website, or check them out on Facebook, Twitter and Instagram.
*A special thanks to the Icon Hotel & Lounge for hosting me on my recent stay, as always my thoughts & opinions are 100% my own.