I am not one who likes to make bold predictions like best in the world, but if you are looking for a charming boutique hotel, The Nicholas Hotel Residence is the Best place to Stay in Prague. Tucked in the heart of bustling Mala Strana, adjacent to the Baroque masterpiece- the church of St. Nicholas and mere minutes from Charles Bridge and Prague Castle is the quaint and charming Nicholas Hotel Residence.
The Best Place to Stay in Prague – a Charming Little Hotel- the Nicholas Hotel Residence
It's not everyday you fall in love with a hotel. It takes a special atmosphere and allure to make you feel like you could stay forever and that is exactly what I experienced at The Nicholas Hotel Residence in Prague, a featured hotel in the Travelling King's Where to Stay in Prague
Incredible Service & Attention to Detail
One of the reasons I say the Nicholas Residence is one of the Best Places to Stay in Prague is their service and attention to details for even the smallest of things. From the moment I opened the beautiful doors of The Nicholas Hotel Residence I was treated to amazing service. Check in was quick and easy and a full room tour was provided.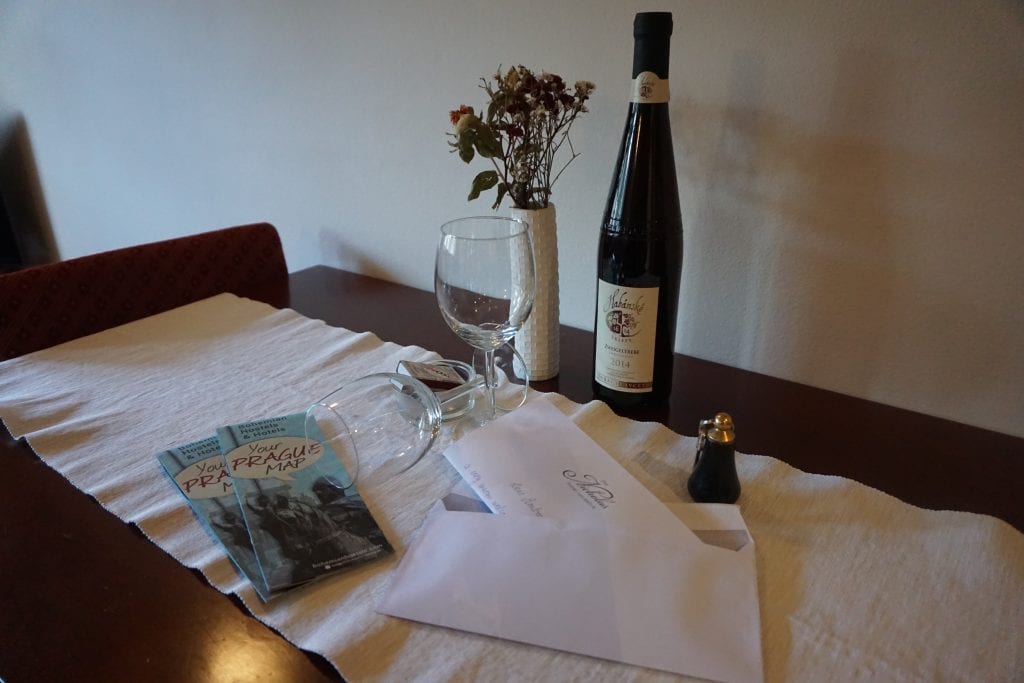 Guests are welcomed with a personal note from the hotel and a bottle of local wine upon arrival.
Feeling Hungry? The mini fridge is also stocked with complimentary Czech beverages and snacks to make sure your stay kicks off in a great way.
Coffee and tea are provided in the room free of charge and there is an espresso machine in the hall as well. Plus a variety of fruit can be found in the hall all day long providing a delicious and nutritious snack.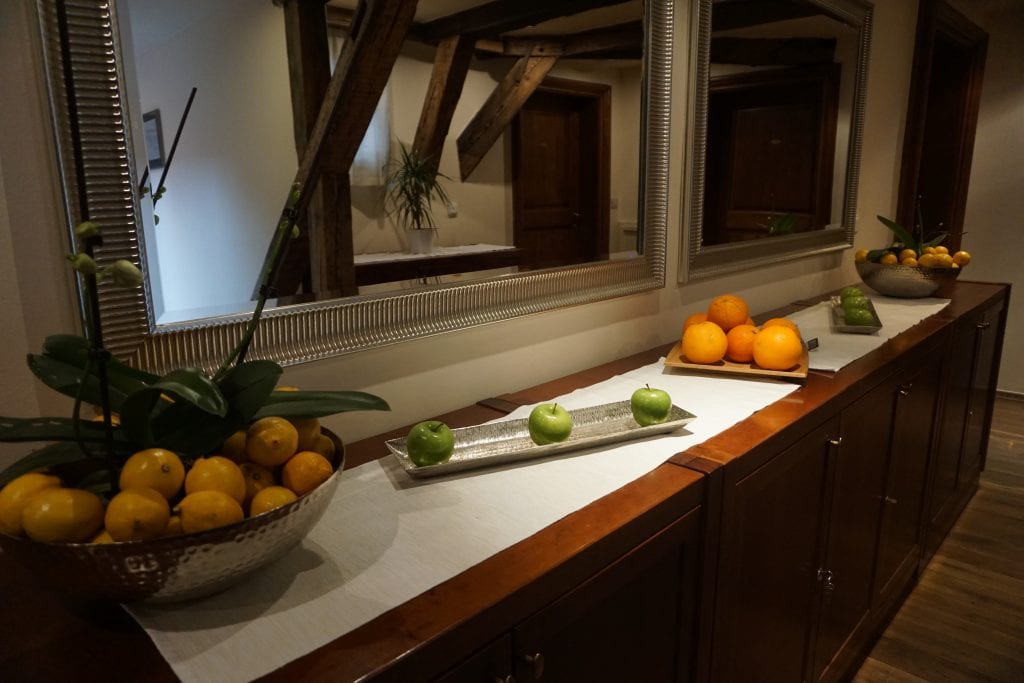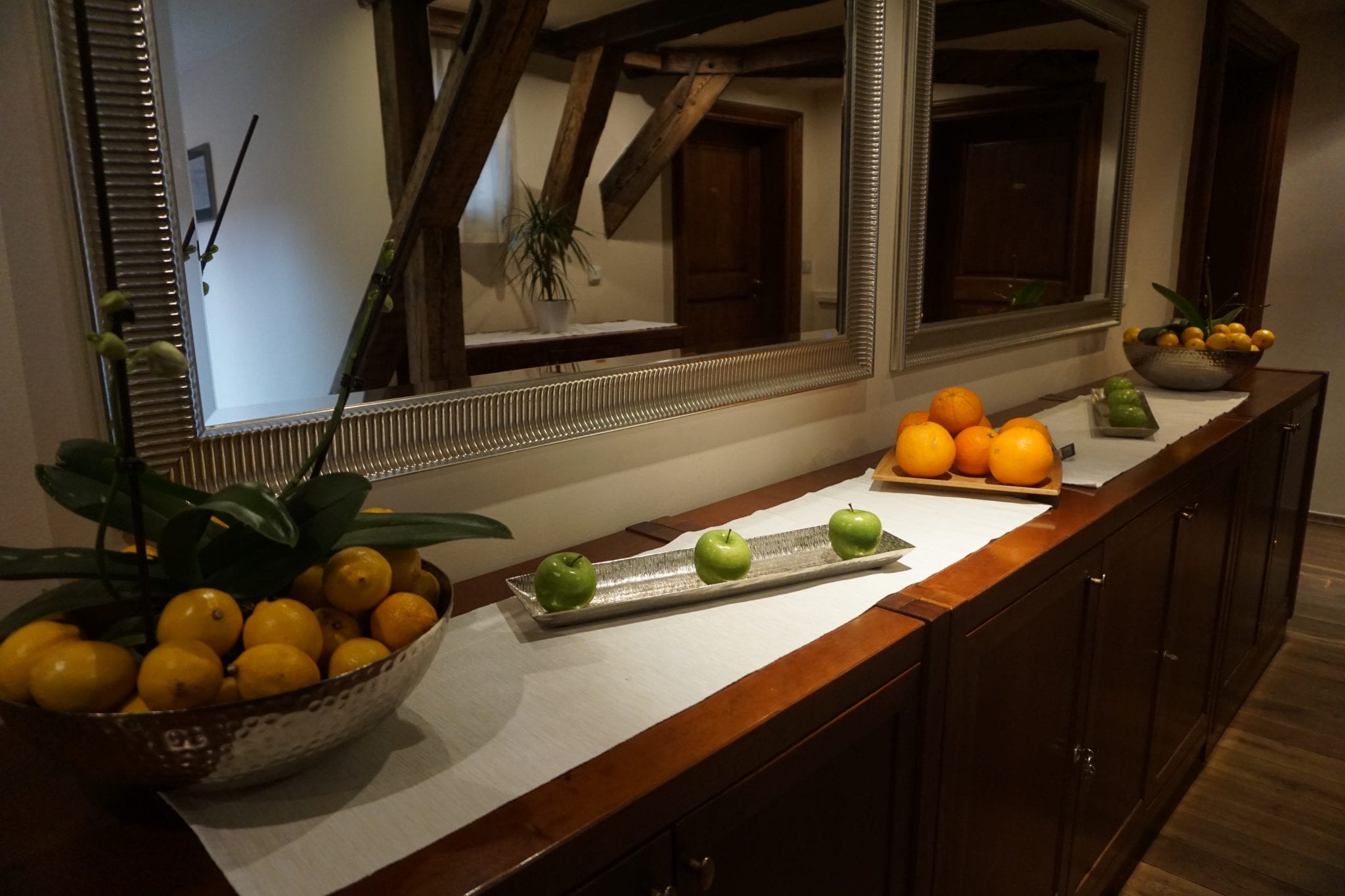 The hotel team is extremely knowledgeable of the area and offer excellent tips on sightseeing as well as restaurant recommendations. They even provide you with a fun map that details out the best places in Prague according to them which I thought was pretty fun!
Incredibly Spacious & Historic Rooms
Ahhhh…. the rooms. After traveling through Europe, I have gotten used to tiny rooms that seem more like dorm rooms. This is not the case at the Hotel Nicholas. They are incredibly spacious with their own living area. In addition, you also get a bit of history with your rooms as The Hotel Nicholas is built on the top floor of a Rococo palace built in 1786 so to say their rooms are unique would be an understatement. They are steeped in an incredible history, with amazing characteristics like the gorgeous original wood beams in the ceiling.

The rooms have incredible views overlooking Mala Strana and the hustle bustle of tourists and locals below. Check out my room view below:
These rooms are much more than a room they are little apartments really. My room had two levels. Downstairs was a kitchenette, table, chairs, sofa, an armoire, desk area, and bathroom. Upstairs was my bed, nightstands, and additional storage space.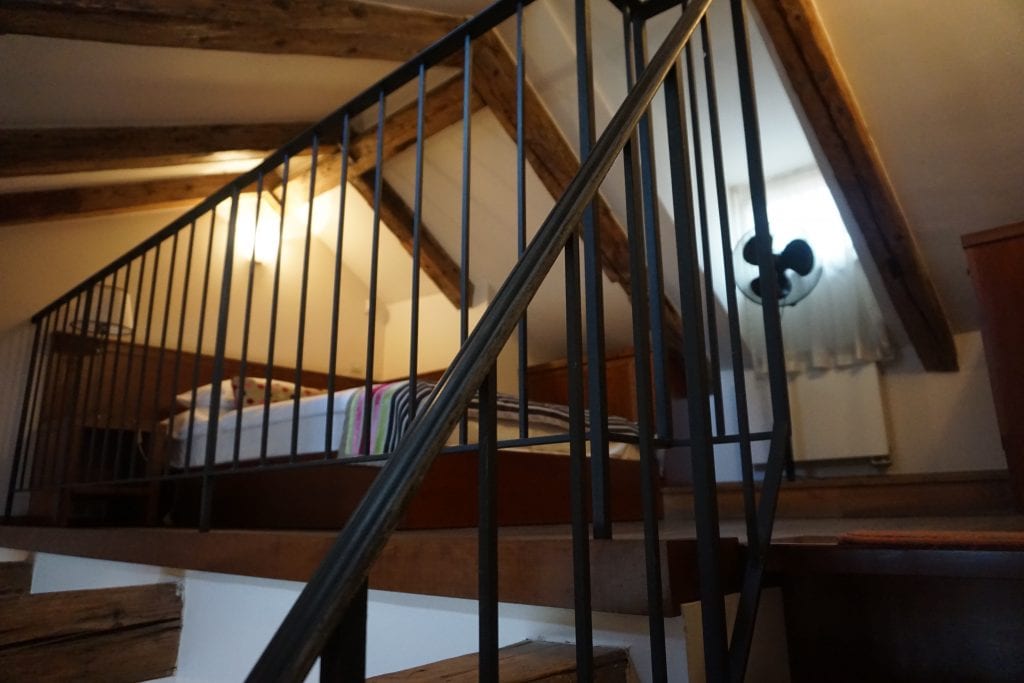 The furnishings are very classic in detail but also quite cozy. I loved the fun bedding and the beautiful details in the bathroom like the fragrant dried flowers and baskets for placing my cosmetics and toiletries.

The hotel has a total of 9 rooms. One- 2 bedroom apartment that sleeps 6, Two- 1 bedroom suites that sleep 4 and Six- double deluxe rooms. Rooms feature free wifi, coffee & tea, complimentary mini bar, free breakfast buffet, bathrobes, cozy little slippers & 24 hour reception.
Dining
As I mentioned each room was stocked with a complimentary bottle of wine, snacks, beverages (including more local alcohol), tea and coffee. But, what I also loved was that guests were treated to a delicious fresh continental breakfast buffet each morning in the hall as well.

The buffet included a wide variety of fresh fruit, pastries, freshly baked bread with jams, cereals, yogurt, granolas, fresh juices, coffee, tea, and espresso. You were welcomed to make a plate and take it back to the privacy of your own room to dine. I loved that I could literally walk out in my robe in the morning and grab a quick bite before finishing up my makeup etc… and head off for some sightseeing. I could see how this would have been exceptionally wonderful had the kids accompanied me on this trip as getting everyone up and ready before they are starving and cranky is quite the task 😉
So many Things to See & Do just around the corner
Prague is an incredible city full of history and charm. To me, it felt like walking around a real-life fantasyland as I passed secret gardens, swan-filled rivers and toured the Prague Castle grounds. Here are a few of my favorite things to do and see when staying at The Nicholas Hotel Residence in Prague.
Visit the Astronomical Clock in Old Town Square

Climb the Old Town Hall Tower (where the astronomical clock is) to check out the gorgeous aerial views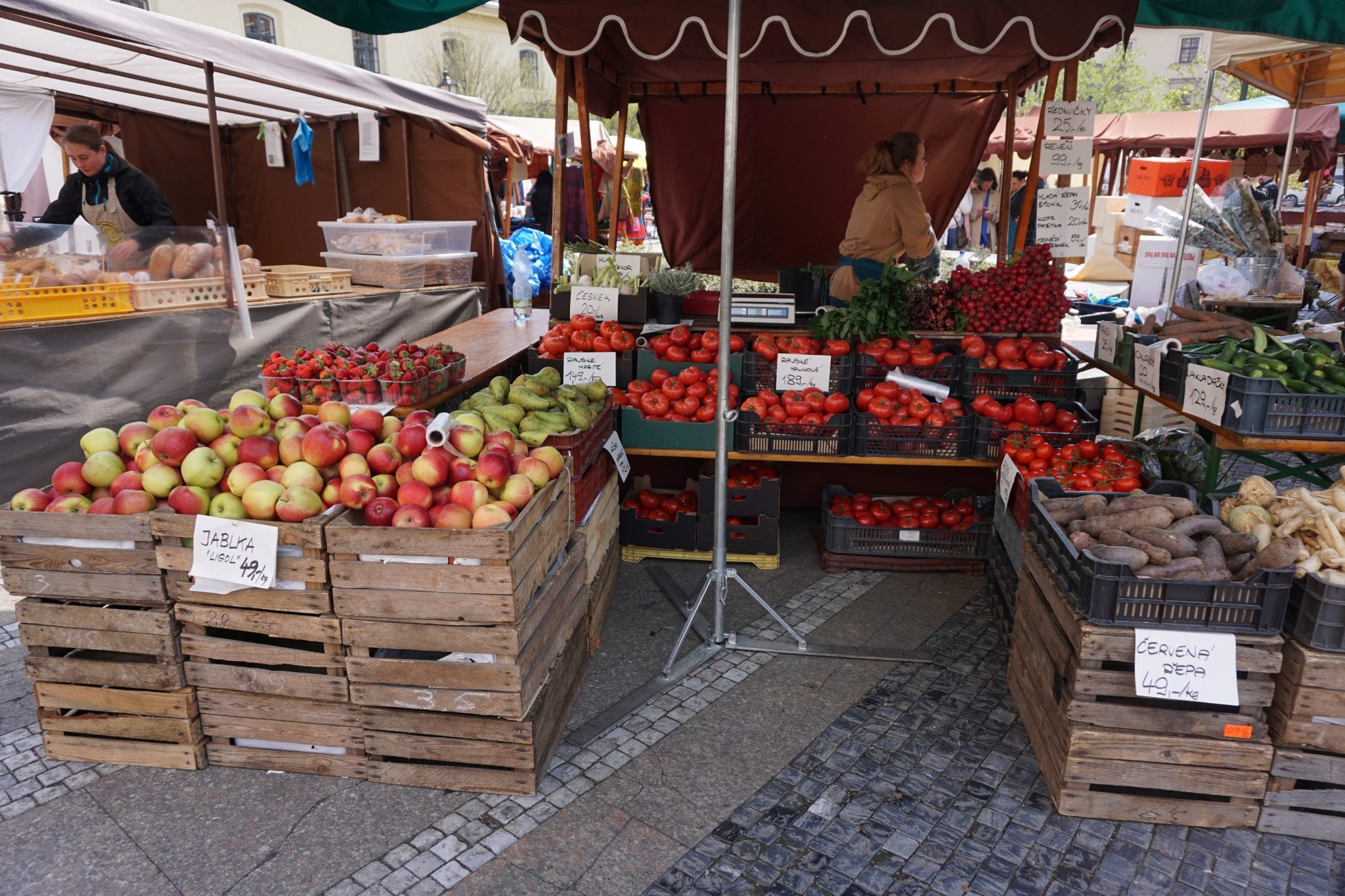 Check out a local Farmer's Market
Visit Charles Bridge
Eat a Trdelnik from Good Food and don't forget to Instagram it 😉
Take a pic standing next to the famous John Lennon Wall
Ride the funicular up and tour Petrin Hill Park
Dine at a Charming Restaurant like the one above near the John Lennon Wall

Take a tour of Prague Castle and see the splendor of St. Vitus Cathedral

Get a hollow trdelnik for more instagram fun while at the Prague Castle!
Curious about visiting the Czech Republic?
Czech Tourism is an amazing resource. You can find tons of recommendations on where to stay, eat & play. Check out their website here.

Check out this amazing English language book store near the hotel

Go inside EVERY secret garden you can find

See why you need to go inside the gardens??

Definitely, go check out the swans swimming in the Vltava River

Check out 'Proudy' David Cerny's famous piece of art. There is a number that you can text that will allow you to make the statue pee your message. For real!

Remember to always look up!

Visit The Upside Down Horse- another Cerny masterpiece

And, if that's not enough you can visit Cerny's creepy faceless bronze babies too!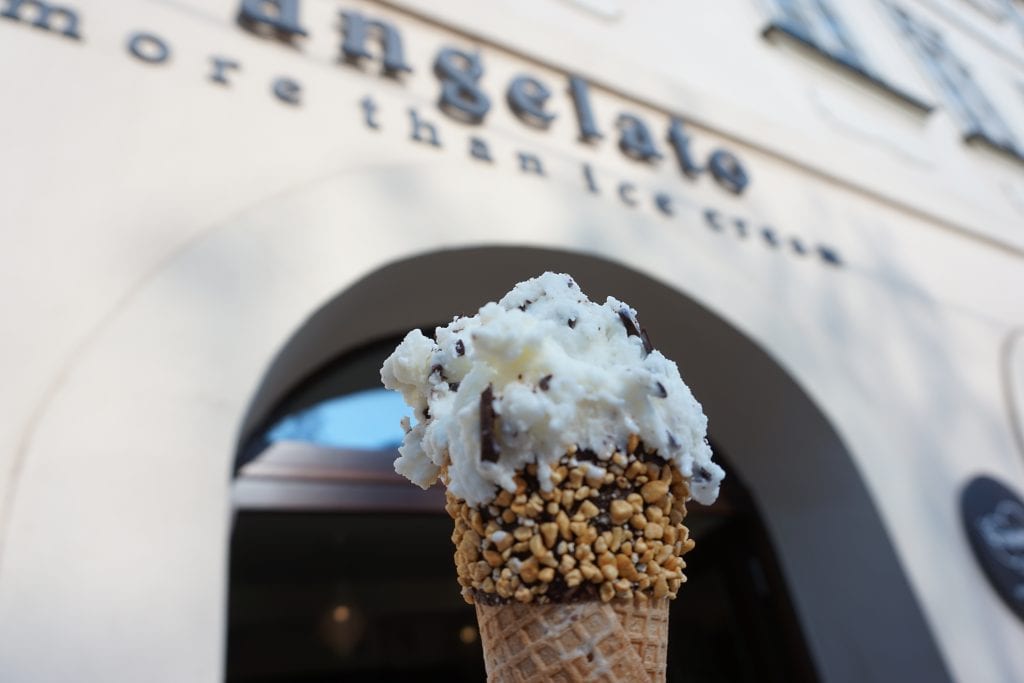 And, definitely, don't miss Angelato's for the BEST ice cream in Prague… it's right across from Petrin Hill.
Overall
I cannot think of a better place more suited for families to stay than at The Nicholas Hotel Residence when visiting Prague. The small nature of the hotel guarantees impeccable service. The included amenities like complimentary buffet breakfast, included mini bar, free wifi and 24 hour reception make your stay so enjoyable and the location just can't be beat! This is why I have to say the Nicholas Hotel Residence is the Best Place to Stay in Prague. Plus, don't just take my word that this hotel is the best place to stay in Prague, check out their 5 star reviews on Tripadvisor
Pin for later-
Have you visited Prague? Tell me about your trip in the comments below.
Have questions?? Leave me a comment too!
I always return questions with a personal email 🙂
*A very special thanks to Czech Tourism and The Nicholas Hotel Residence for hosting me on my recent visit. As always, my thoughts and opinions are 100% my own.