Snorkeling is one of my favorite things to do in the Maldives. Our recent trip to Soneva Fushi we saw everything from sea turtles to sharks (yes sharks) but they are reef sharks and don't want anything to do with us. The country's enthralling underwater ecosystem should be your number one go-to place when you visit. The ecosystem is naturally made beautiful by the country's 22 atolls and almost 1,200 coral islands. Every resort provides snorkeling. You can go from the beach instead of a planned boat journey if you pick one with a reachable house reef.
This article is here to let you know everything about snorkeling in Maldives from what fish you'll see to when is the ideal time to visit.
All You Need to Know about Snorkeling in Maldives
Is it worth snorkeling in Maldives?
Wait until you see the Maldives underwater! It is not only worth it, but the best place to snorkel. These are breathtaking sites to someone who believes that the overwater bungalows and white beaches are the only tourist traps in the Maldives. Small and large water species live on uncountable kilometers of the reefs. Corals in shades of blue, pink, black, and red are found here.
Numerous marine reef ecosystem recovery facilities and live coral reefs abound with marine life. The Maldives are Asia's premier snorkeling destination. And for its shallow, glistening lagoons and house reefs near the resorts, the Maldives boasts excellent snorkeling opportunities.
What will you see?
Several purest oceans on earth may be found in this autonomous archipelago of islands in the middle of the Indian Ocean. The simplest method to see the underwater delights in the Maldives is to snorkel. One of the top watersports in the Maldives, the same activity allows visitors to swim with several different fish species like angelfish, sea turtles, white tip sharks, reef fishes, and morays.
The house reef in the Maldives is of outstanding quality, and the underwater visibility at private island resorts is so good that you will not need a pro camera.
The Best Part!
The best part of snorkeling in the Maldives is the reef is typically so close to shore. So you swim out maybe 20 feet and there it is, the giant drop off with amazing fish and beautiful deep blue water.
Fish to watch out for
Snorkeling in the Malidives is very safe, in fact it is probably the safest I've ever felt while snorkeling. That being said, just like snorkeling anywhere else, you have to be aware of your surroundings. Yes, like I said above there are sharks, but they are reef sharks who don't want anything to do with humans.
Just be wary if you see a few sharks by a bunch of fish, then you might get caught when they are feeding. The other fish to watch out for is the trigger fish. The trigger fish is defensive of the coral and will chase and bite you if provoked. Their teeth can chew coral, so the bite can cause some serious damage.
Snorkeling destinations in Maldives
Numerous public and private island resorts in the Maldives provide snorkeling opportunities. Mata points, magnificent and colorful coral reef-covered walls may be seen on these destinations, and they include:
Southern Atolls
The southern atolls of Laamu, Meemu, Thaa, and Vaavu offer numerous unspoiled snorkeling sites. The sites consist of healthy coral reef systems and fascinating marine life. The central part of the entire Thaa Atoll's 66 islands is uninhabited. Therefore the only resort that you can find here is COMO Maalifushi.
The captivating Vaavu Atoll is known for its amazing channel dives. Here, you're likely to see swarms of shark fish. Besides, you will also find the longest uninterrupted reef in the Maldives (Fotteyo Falhu). Fulidhoo Dive is located at the center and is adjacent to the well-known dive sites Alimathaa Night Dive and Miyaru Kandu.
The North Atolls
Baa, Lhaviyani, Noonu, and Raa are among the northern atolls. One of the biggest draws in this area is Hanifaru Bay, located in the Baa Atoll. It is the world's most prominent historical manta ray feeding aggregation site. It is also considered the most significant UNESCO Biosphere Reserve in the world. From May to November, months that are known for the southwestern monsoon, large numbers of manta rays and whale sharks assemble here to feed on plankton.
Snorkeling is the only activity now that diving is prohibited! In Baa Atoll, the house reefs at Reethi Beach Resort and Vakkaru Resort are the best and most decent places for your stay.
If you are thinking of swimming with the gray reef sharks in Noonu Atoll near Orimas Thila, this should be your choice.
Snorkelers should never miss visiting the Lhaviyani Atoll for its assortment of fifty coral reefs, including wrecks, channels, and vibrant reef-covered walls. Two ships have sunk at the famous Shipyard location, one of which has its bow sticking out of the water. North Atolls is found near Kuredu Island Resort.
Far North Atolls
The far northern atolls may be reached in 45-minute. This is possible if you take a domestic flight. The site is rewarded with pristine reefs, exquisite coral, sunken boulders, shallower and deeper channels, shipwrecks, and abundant marine life. If you are thinking of snorkeling in a place with few tourists, then Far north atolls are the best choice.
The main snorkeling locations in this remote area are Haa Alifu Atoll and Haa Dhaalu Atoll. On nearby inhabited islands, a few guesthouses and opulent private resorts will always favor your budget.
North Male Atoll
The Maldives' most extensive coral reef system and ancient scuba diving locations may be found on North Male Atoll. This includes the capital city, Male. North Male Atoll was the first to be identified. Besides, it is still quite well-liked and is also known for its banana shape; hence, it's called a Banana Reef (also known as Gaathugiri).
Snorkelers of all skill levels can enjoy its shallow and deep zones. Cliffs, caves, vibrant coral, and a wealth of different aquatic life make up the stunning topography. From Hulhumale Island, you can access it by boat.
Numerous businesses, including Dive Club Maldives, provide day tours. Kurumba and Bandos are the resorts that can be found on the islands. North Make Atoll has excellent house reefs considered the best for snorkeling. Another well-known dive location nearby is Lankan Manta Point, where Manta rays assemble from May to November to have small fish cleanse their skin.
At Helengeli Thila, an underwater peak in the extreme northeast of North Male Atoll, there is also an abundance of marine life.
Furthermore, you may easily access the intriguing shipwrecks on North Male Atoll. A cargo ship named the Victory went down in 1981. It is located between Male and Hulhumale on the southwest edge of Hulhule Airport Island. North of Baros, the spectacular house reef at Angsana Ihuru also has a wonderful house reef for snorkeling. This is a wreck of its own. An old sand-dredging vessel named Rannamaari was purposefully sunk there in 1999.
South Male Atoll
South Snorkelers in Maldives enjoy the thrilling and calm topography of Male Atoll. The area has numerous caverns, and the 6 main thilas are home to a sizable marine life, including numerous shark species. The best snorkeling location is Cocoa Thila (Cocoa Corner). It is a massive deep-water pillar amid the Kandooma channel with numerous ravines.
While Vadhoo Caves is home to a collection of aquatic life hiding from the strong current, Guraidhoo Kandu South or Guraidhoo Corner is renowned for its varied topography. Between the islands of Maafushi and Dhigufinolhu, the Kuda Giri shipwreck is accessible to novice snorkelers.
South Ari Atoll
Have you ever thought of swimming with whale sharks, the biggest fish in the ocean? One of the best spots to consider doing this is South Ari Atoll! You will find the whale sharks on the outer reef, notably in the Maamigili Marine Protected Area near the southern extremity of the atoll.
These surprisingly calm fish can be seen year-round. From May to November, they visit Dhidhdhoo Beyru Feru more frequently than any other place. Sun Island's house reef is excellent for viewing whale sharks. Snorkelers are welcome to join in the fun there as well.
Vilamendhoo Island Resort, Lily Beach Resort, Diamonds Athuruga and Spa, and Mirihi Island Resort are other luxury hotels with long, expansive house reefs that are excellent for snorkeling.
The best shipwreck in Ari Atoll is the intact Kudhimaa wreck. It is near Machchafushi Island, where Centara Grand Island Resort & Spa is located. Snorkelers visit South Ari Atoll for the manta rays as well. From December to May, you can observe them cleaned by tiny feeder fish. This occurs at Madivaru Manta Point (south side of Rangali Kandu).
North Ari Atoll
The enticing West of Male is the Ari Atoll, often called Alif or Alifu Atoll. Given its accessibility and abundance of diving and snorkel locations filled with large reef fish, it has always been considered a divers' and snorkelers' paradise. The atoll's terrain comprises thilas instead of extensive coral barrier reef lengths.
Compared to South Ari Atoll, the snorkel locations in North Ari Atoll are frequently more technically complex. The most well-known location there is the iconic Maaya Thila, located northwest of Ukulhas Island. This place provides you with the best night dives in the globe and an incredible chance to swim with sharks. Another beautiful dive spot with various marine life is the Fish Head site. This site is located in the southeast of Mushimasmingili Thila. At Hammerhead Point, experienced deep divers may also spot elusive Hammerhead Sharks.
The house reef at Kandolhu Island Resort is considered one of the best in the Maldives for snorkelers. It is double the size of this tiny island and circumnavigates it. A fantastic house reef with numerous channels and coral is located on Sandies Bathala Island.
When is the best season to see the snorkeling excursion?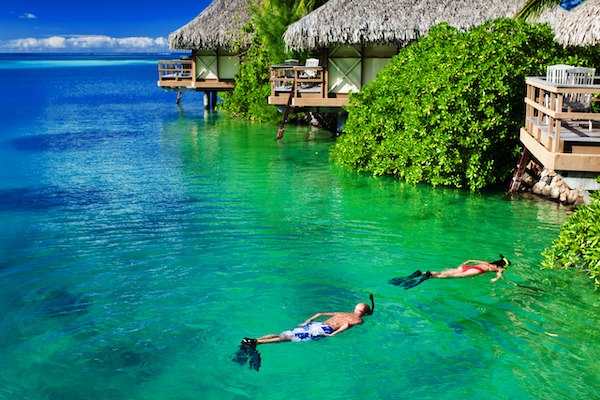 The Maldives is an all-season snorkeling destination. However, the optimum time to visit the Maldives for snorkeling is during the northeast monsoon. This time corresponds to the dry season from December to April. Nevertheless, as it's the Maldives' busiest travel period, hotel costs are at their highest. Between December and April, there will be plenty of sunlight and a few light raindrops.
If you enjoyed reading about snorkeling in Maldives, you might also like:
THE [7 MOST AMAZING] 5 STAR HOTELS IN THE MALDIVES
Pin for later