Discovering the best family-friendly spots is our mission. So, if you, like us, are always on the hunt for the next great adventure with your kids, then you're in the right place for some Singaporean treasures!
Having a big family means lots of memories, laughs, and occasional chaos. Over the years, we've found ourselves in Singapore more than once, usually en route to another adventure. Yet, each time, we can't resist soaking up the city's charm during our layovers. Trust us, whether have 1-day or 7-days, Singapore is worth a visit!
In this article, we will explore all the great things to do in Singapore with kids. From child-friendly museums to outdoor adventures, there is something for everyone in this vibrant city.
Whether you're a local looking for something new to do with your kids or a visitor looking to make the most of your time in Singapore, read on for some great ideas.
The Best Things To Do In Singapore With Kids
As you can imagine, there are a LOT of things to do in Singapore! Since there is so much to do in Singapore with kids, it can feel overwhelming to figure out the absolute must-dos. These are the stops I'd put at the top of your list:
Of course, these are just the stars of the show. Read on for more incredible options!
---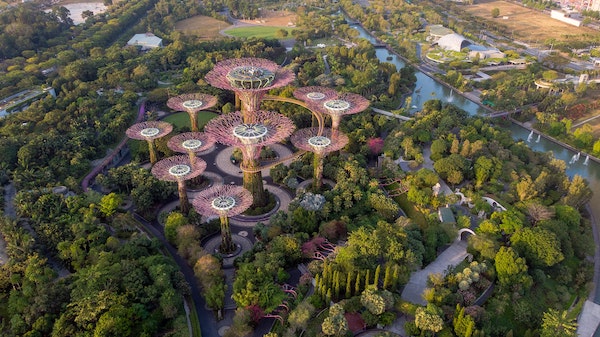 Gardens by the Bay is a complex of gardens, pavilions, and artificial lakes. It was built on reclaimed land in Marina Bay to commemorate Singapore's 50th birthday in 1998. The gardens are located on an artificial island whose size is roughly equivalent to two football fields (about 660 m²).
The entire area is surrounded by walkways that connect it with Sentosa Island and each other; there are also three bridges connecting the main entrance (at Marina Square) with different parts of Gardens by the Bay, namely Butterfly Park & Rainforest Fun Park; Botanical Gardens; Central Plaza and South Gate Bridge, each holding its attractions within them.
You have to check out the Children's Garden. It's like a playground paradise meets nature's wonderland. We're talking awesome water play zones, rad climbing structures, and super fun adventure trails. There's something for tiny tots and older adventurers alike. If you time it right, you might even catch some cool kid-friendly workshops at the shaded amphitheater.
Another thing I highly recommend doing here is taking a ferry ride across one of three lagoons called Lake Level 1/2/3! This will give you an opportunity to take photos from above while also seeing how beautiful everything is.
---
MegaZip Adventure Park is a kid-friendly adventure park on Sentosa Island. It's not only a great place to spend some quality time with your children, but it's also one of the best things you can do in Singapore. There are so many activities for kids to enjoy—zip-lining, rope courses, and more!
The park is open daily from 9:00 am-6:30 pm (8:00 am–5 pm during summer). Admission fees vary depending on which activity you choose, but they're reasonable at under $50 per adult and less than $20 per child.
A great way to explore this beautiful island while having fun with your family or friends!
---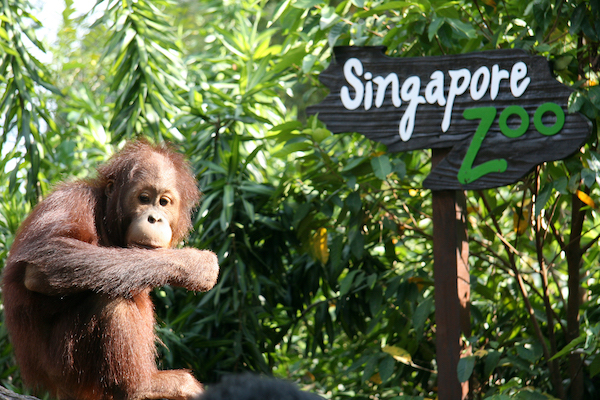 The Singapore Zoo is in the heart of the city and is home to over 2,000 animals. It's a great place for kids who want to learn about wildlife and conservation, especially since many of its animals are endangered species.
Meet Pandas!
You can meet little panda cubs at the zoo. They even have their own room that looks like a little panda nursery with cuddly toys and books. They'll probably be asleep for most of your visit, but if you're lucky enough, one might wake up just long enough for a quick photo with you.
Visit the Aviary!
There are 325 birds ranging from parrots to falcons, all happily flying about. If you don't feel like going into cages yourself, you can try feeding them instead.
---
The Singapore Flyer is an observation wheel that's part of the Sentosa Island resort. It's one of the most popular attractions in Singapore and has been known to draw crowds from all over Southeast Asia, as well as international tourists who want to see something unique.
The Singapore Flyer can be reached by ferry from Tanah Merah Ferry Terminal (or bus) or Pulau Tekong Ferry Terminal (or taxi). The ride takes about 20 minutes from either terminal and costs $14 per adult or $9 for children under 12 years old.
Once you arrive at the ferry terminal, follow signs toward "Sentosa" on your left until you reach an escalator up towards ground level; then follow this path until you reach another set of escalator-style stairs that lead up into a large building where there will be many entrances!
You'll want to find yours—it may not be evident if you're unfamiliar with this area—and then walk through security checkpoints before heading up into what appears like some sort of fairground ride entrance area where tickets are sold ($15 each).
---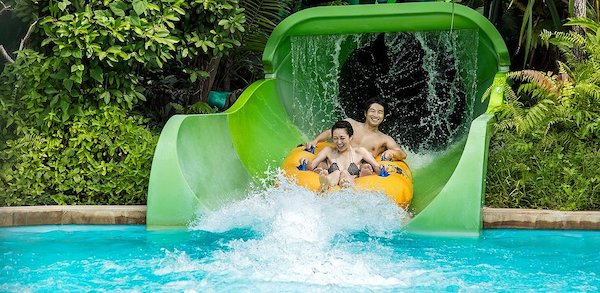 Adventure Cove Waterpark is a great place for kids of all ages. The park has a lot of slides and other fun activities for children, as well as an area for toddlers. As an adult, you can also enjoy the water slides, which are great fun for everyone.
Adventure Cove Waterpark is an amazing place for a family vacation. There are so many things to do, and the staff is so friendly and helpful. We had a blast swimming, sliding, and exploring all the different areas of the park.
The kids loved the wave pool and the lazy river, and we all enjoyed the snacks and drinks available at the concession stand. We can't wait to come back and explore more of Adventure Cove Waterpark!
If you're looking for a family-friendly theme park that's not too expensive but still offers plenty of entertainment opportunities, this one will definitely fit the bill!
---
The Singapore Botanic Gardens are a great place to take kids. They are free to enter and have a wide range of plants and flowers, as well as animals on display. There is also an outdoor playground for children who want to play outside.
The gardens are located in the heart of Singapore's Central Business District, so it's easy for you to get there by public transport or car. You can even take your stroller around if you're looking for somewhere quiet to take a walk!
---
S.E.A. Aquarium is a great place to visit if you're looking for a fun and educational experience. Situated on Sentosa Island, it's one of the world's largest aquariums, with a mesmerizing collection of marine life. You'll find over 100,000 marine animals from 1,000 species, spread across 45 diverse habitats.
The Open Ocean habitat is a crowd favorite. It has a panoramic view that'll make you feel like you're on the ocean floor, surrounded by sharks, groupers, and a school of fish.
What's really cool about S.E.A. Aquarium is its commitment to conservation. They're big on protecting our oceans, educating visitors about marine conservation, and inspiring everyone to do their part.
---
For those who want to try their hand at skydiving but don't want the added pressure of being outdoors, iFly Singapore is an indoor facility that offers you a chance to fly through the air in a wind tunnel. You will be harnessed and secured by a professional instructor before entering the wind tunnel where you can experience speeds up to 16km/h (11mph).
The experience only takes about five minutes, but there are plenty of activities available after your flight, including jumps with instructors or even tandem flights! They also have packages available for different skill levels so everyone can enjoy this unique activity at Resorts World Sentosa.
---
You know us, if there's a theme park, we'll be there!
Universal Studios Singapore at Resorts World Sentosa is a theme park and resort complex located on Sentosa Island, Singapore. The city-state's first of its kind, it boasts more than 200 rides and attractions, including a 4D motion simulator ride called The Amazing Adventures of Spider-Man 3D.
There are also water parks, hotels, casinos (including one with an aquarium), restaurants, and even movie studios where you can take your kids to watch movies in their private theater!
---
The Bukit Timah Saddle Club (BTC) is a unique horseback riding club located in Singapore. The BTC offers a variety of horseback riding options for all levels of riders, from beginners to experienced equestrians.
The BTC also has a wide range of ponies to choose from, so you can find the perfect pony for your riding style.
Whether you're looking for a fun way to exercise or a new hobby to explore, horseback riding at the Bukit Timah Saddle Club is a great option. So come on down and take a pony for a spin!
---
Little India is an ethnic district in Singapore that is known for its vibrant colors, delicious food, and rich culture. If you're looking for a fun family adventure, Little India is the perfect place to explore.
In Little India, you can find a variety of traditional Indian shops and businesses. There are also several Hindu temples, which are great places to learn about the religion and culture.
And of course, you can't visit Little India without trying some of the delicious food. From curry to roti, there are endless options to choose from.
---
Changi Jurassic Mile is home to more than 30 life-sized prehistoric dinosaurs. These dinosaurs range from the small and sprightly Velociraptor to the massive Tyrannosaurus Rex. As you explore Changi Jurassic Mile, you'll get up close and personal with these amazing creatures, learning all about their different behaviors and habits.
Changi Jurassic Mile is the perfect place for a day out with the family. There are plenty of photo opportunities with the dinosaurs, as well as a kids' playground and a restaurant where you can refuel after all that adventuring.
---
Important Things to Know About Singapore Before Visiting
When Should We Visit Singapore?
Although there is no "bad" time to visit Singapore, the best time to go is during the months of February through April. This is when the weather is the most pleasant, with average temperatures around 84 degrees Fahrenheit. The rainfall is also at its lowest during this time, so you can enjoy all that Singapore has to offer without having to worry about the rain.
If you can't travel during these months, the next best time to visit would be during the months of September through November.
How Do You Get Around the City?
If you are going to be hitting up all the coolest spots in Singapore, then you are going to need to know how to get around! When we visited we used public transportation. It was fairly easy to figure out, extremely clean, and efficient.
---
Map of Things to Do in Singapore with Kids
---
FREQUENTLY ASKED QUESTIONS ABOUT THINGS TO DO IN SINGAPORE WITH KIDS
Is Singapore Family-Friendly?
Yes, Singapore is definitely a great place to visit with kids! There are so many fun and educational things to do here that your kids will absolutely love like the Singapore Zoo and the multitude of museums.
What is Singapore known for?
Singapore is known for its amazing food, its beautiful skyline, and its friendly locals. But there's so much more to this country than meets the eye. Here are some of the things that make Singapore unique:
– The city-state is home to the world's largest allocated financial center, making it a key player in the global economy.
– Singapore has the world's highest concentration of millionaires, with one in six households having at least one million dollars in assets.
– The country is also home to the world's tallest indoor waterfall, which is located inside the Gardens by the Bay.
When is the best time to visit Singapore?
Although there is no "bad" time to visit Singapore, the best time to go is during the months of February through April.
---
If you enjoyed our list of things to do in Singapore with kids, you might also like:
10 AMAZING THINGS TO DO IN DUBAI WITH KIDS YOU'LL LOVE!
8 AMAZING AND FUN OUTDOOR ACTIVITIES IN SINGAPORE
24 HOURS IN SINGAPORE (WITHOUT MUNCHKINS)
---
Pin for later: Things to do in Singapore with Kids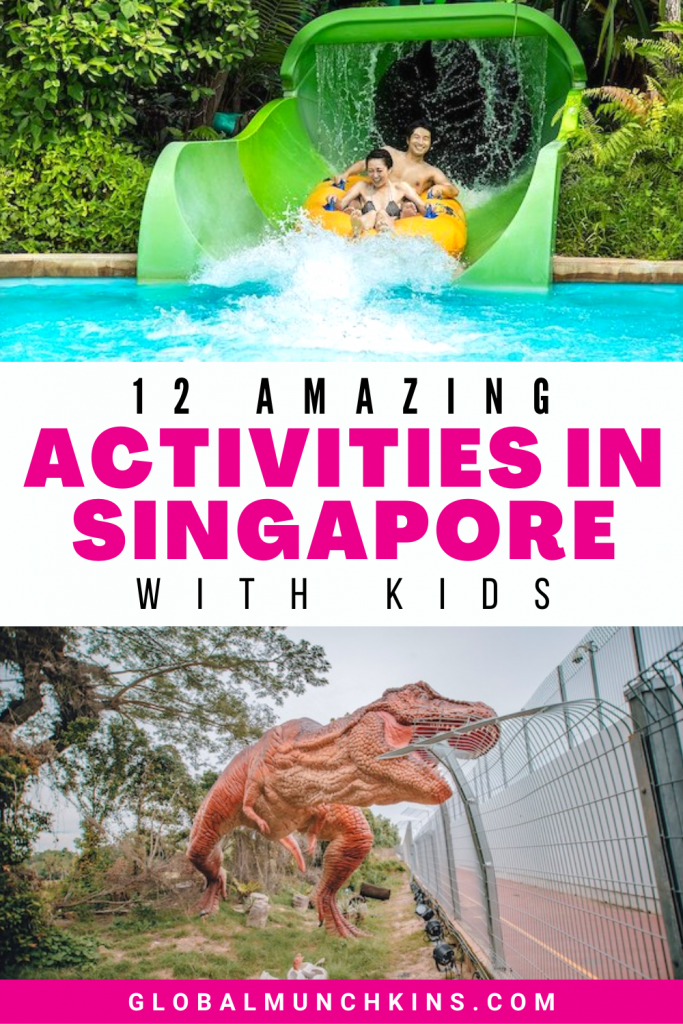 Latest posts by Ashland Hendrix
(see all)