We always have a hard time on the last day of a cruise. You have to disembark so early and the cruises are always so much fun leaving everything behind is just… well… sad 🙁  This cruise was no different. It was H A R D to leave a boat. However, there were two things that made it a tad bit easier: 1) Freestyle Cruising and 2) Rome.
Freestyle cruising had been something we enjoyed the entire cruise. I loved being able to dine when we were hungry versus a set dinner time. I loved having the freedom of choosing different restaurants throughout the cruise instead of being stuck with whatever the menu was that night. And, I loved being able to disembark the Freestyle way as well! It was so easy. We woke up, finished packing, had a buffet breakfast and then literally just walked off the boat with our luggage. Easy peasy!!
Once off the boat there was a NCL bus that took us to the front of the Civitavecchia port. This is where NCL could improve. The nice NCL bus drops you off and you have to wait in the hot sun for about 30 minutes with all your luggage waiting to catch another bus to the train station. You could also opt to hail a taxi but their prices were ridiculous. The bus line was moving so we chose to wait. We had to pay about 1 euro for each person and each large suitcase to board the tiny bus for the 5 minute ride to the train station. Once at the train station we had to rush. We had pre-purchased tickets to Termini and our train was leaving in 10 minutes. *I would recommend waiting and buying your tickets at the station.  Luckily, we just made the train. You know I love a train so we sat back and relaxed enjoying the views back to Termini.
We arrived in Termini and contacted our AirBnB host. He explained that the metro would be the easiest mode of transport to his apartment. It was quite a walk from termini to the metro and we had to stop to allow the kids to use the bathroom. In Italy most restrooms have a cover and that is the case in Termini so 1 euro for each kid to go- yikes! It's not like the bathrooms are even very clean- not a fan of this system. When we finally get to the metro we purchase tickets it cost us 9 euro for the 6 of us to ride. The signage was a bit confusing though and we hopped on the wrong metro. We got off on the next stop as soon as we realized. Our apartment was just a few stops away and a very close walk to the metro. We have had fantastic experiences with all of our AirBnB hosts throughout Europe and Rome was no different. We had a very spacious 2 bedroom/ 1 bath with full kitchen and laundry. It makes it SO much easier to travel with kids when you have these amenities! Our host helped us get settled and offered to book us a transfer to the airport on our last day as the metro would not be running as early as we needed to catch our morning flight.
We hustled to get settled and get ready. We had booked a tour with Overome to explore the main sights in Rome with the kids. We were really excited!!! Overome actually sends you an overview via email before the tour which is great bc you get to know where you will be going, what you will be seeing and brief background of each place. It was really helpful.
We rushed to the metro and paid for our tickets (another 9 euro) only to realize we had entered the wrong metro line. We climbed up the steps and across the street to the correct line BUT our tickets were invalid. We bought new tickets and hopped on the metro headed the right direction- towards the Spanish Steps. It was supposed to be a quick ride to Termini and then a change in lines for another quick ride. Except when we arrived in Termini Line A was on STRIKE! AHHHHHHHHH!! Seriously!! Luckily Overome was so easy to contact. They told us we could grab a taxi and that they would wait for us so that is exactly what we did.
We arrived at the Spanish Steps and headed towards our meeting spot. Our Overome guide was so easy to spot as she was wearing a bright green Overome shirt and holding an Overome sign. Her name was Francesca and she was probably our favorite guide out of all the tours we took in Europe. Francesca was a native Roman and had a deep fascination and love for her country. You could tell she was incredibly passionate about sharing her home with us and especially our kids.
Francesca started out by finding us shade where she could explain the history of the Spanish Steps. The Spanish steps gets its name from the Spanish Embassy which is situated in that area and the steps lead up to a beautiful church. Francesca did a great job explaining the steps to the children and teaching them how Spain and France once dominated this particular part of Rome.
Next up we we walked over to the Barcaccia Fountain. Francesca asked the kids to spot an insect on the fountains- the kids quickly noticed all the bees carved into the fountain and Francesca explained this was the Barbarini official badge. The kids would find more of these along our walk and loved pointing them out to Francesca. We also learned about flags of the Vatican so we could recognize that symbol throughout the rest of our walks.
Walking around the ancient streets of Rome with Francesca was an amazing experience. As parents we typically are so stressed trying to figure our way around a town where we don't speak the language. Trying to make sure we point out everything and explain it to the kids. It's exhausting on your own and I think I will never go back to that way of touring. It is so much easier to have an educated docent who can easily whisk you through crowds, explain everything to you in a way you can fully understand. She would whip out her iPad and show us how things looked in the past so we could compare, or show us what something looked like up close– it was fantastic! The kids were happy and engaged. They were learning and having fun and so were we! Overome actually gave each of the kids a notepad and pencil and Francesca would prompt them to jot down different things they were seeing. I was amazed when I actually looked through them. Even Ella (she's 7 years old) had taken amazing notes. Her pictures were the cutest. *I'll update the post when I find one.
Francesca took us down a road where we could see part of the Acqua Vergine aqueduct. Ella knew all about it and was excited to share her knowledge with Francesca. Francesca in turn was incredibly patient with Ella as she explained what she had learned and you could tell she was genuinely engaged in the conversation with Ella. It made Ella's day. Camden had noticed a school across the street (not part of the tour) but being a curious kid he asked some questions about it. Francesca happily answered and then said "You want to go inside?" Cam's eyes lit up. It was a modern day high school that was located in a very old building. Francesca asked the guard if we could look around and took her time letting Camden check it out. How cool is that? I love how she was so flexible. She really just wanted to share everything with us. I have been on other tours where they just want to get you from point A to point B as fast as they can. It is so nice to have a tour guide that truly cares.
We took a walk down a street where the kids found a Roman fountain. Francesca showed the kids how to drink out of it the Roman way. We weren't too good at it so she showed us how to hold the bottom of the spout so the water would shoot out in a stream making it easier to drink. The boys thought this was the B E S T thing E V E R!!!! We continued on and came across the Trevi Fountain. WOW!!!
I was SO impressed with the fountain. Unfortunately, but necessarily as Francesca explained the fountain was under renovation. It has to be pressure washed to clean the soot left behind from the pollution to preserve it for future generations. Francesca pulled out her iPad ans showed us different views of the fountain when it is not under renovation. It really helped envision this gorgeous fountain since our views were of the fountain behind fences, scaffolding and drained.
Francesca also explained that the fountain was constructed under the Pope Clemens XII Corsini (1730-1740) who hired architect Nicola Salvi. It took nearly 30 years to complete the fountain and many sculptures worked on it. I can't wait to go back someday and see this fountain while it is full of water and working as it must be a tremendous sight in person.
We continued our walk until we reached Piazza Colonna where Marcus Aurelius column stands built in 190 A.D. Francesca found a staircase so we could sit and she explained that the columns were used as a form of communication to tell the people of Rome the story of what had happened in a war. It was a way for the Emperor to celebrate their victories. The battle explained on this particular column is the opening scene of the Gladiator movie- pretty cool!
We turned another corner and there before us was the remains of a huge temple that was created to commemorate the Emperor Hadrian. Francesca explained that it is now used as a chamber of commerce. I love that! I love how the Romans just live amongst these ruins. It is incredible. Not to mention you can turn down pretty much any street and wind up in front of some amazing ruin- Rome is my kind of place!!!
Talking about fascinating ruins… next up we approached the Pantheon. The Pantheon (pan= all/ teos= gods)  is the temple that was build for all gods under Emperor Hadrian. Well actually re-built as they replaced an ancient temple built by Agrippa. You can actually still see his inscription on the gate. We stepped inside and I was taken aback. The massive dome with the hole in the center was overwhelming. Francesca explained the beautiful and colorful (pinks and emeralds) marble floors were brought in from all over the world. She went on to point out the intricate draining holes. Fascinating and something I would totally have missed. Obviously, they needed drains with a large hole in the ceiling 😉
She also pointed out Raphael's tomb as well as Victor Emmanuel II, the first king of a unified Italy, and Umberto I, Victor Emmanuel's successor. She went on to explain to the kids that according to popular tradition, in 1889, Queen Margherita of Savoy, wife of King Umberto I, visited Naples and chef Raffaele Esposito of Pizzeria Brandi and his wife created  a pizza resembling the colors of the Italian flag, red (tomato), white (mozzarella) and green (basil) for the queen. They named their pizza creation after the Queen- Pizza Margherita. One of my fav's and I had no idea where its name originated from.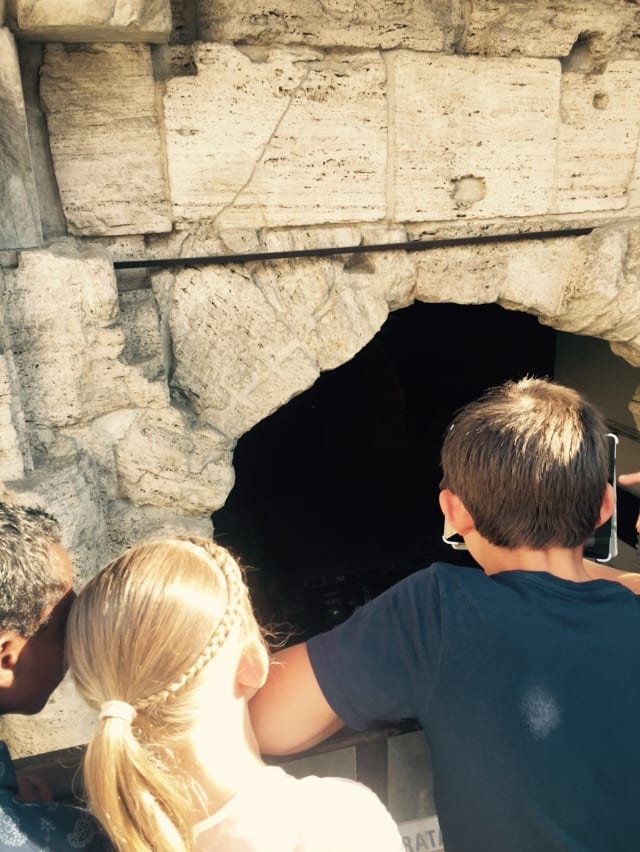 After soaking up the splendor the Pantheon held we strolled over to finish our tour at the infamous Piazza Navona. As we crossed the street we peered down into an underground museum that shows the ruins of the Dometian Stadium. Francesca explained that Emperor Dometian held games and chariot races there and it was known as "Circus Agonalis" ("competition arena"). Later the area was transformed into a marketplace during the pontificate of Pope Innocent X who reigned from 1644 until 1655, and whose family palace, the Palazzo Pamphili faced the piazza.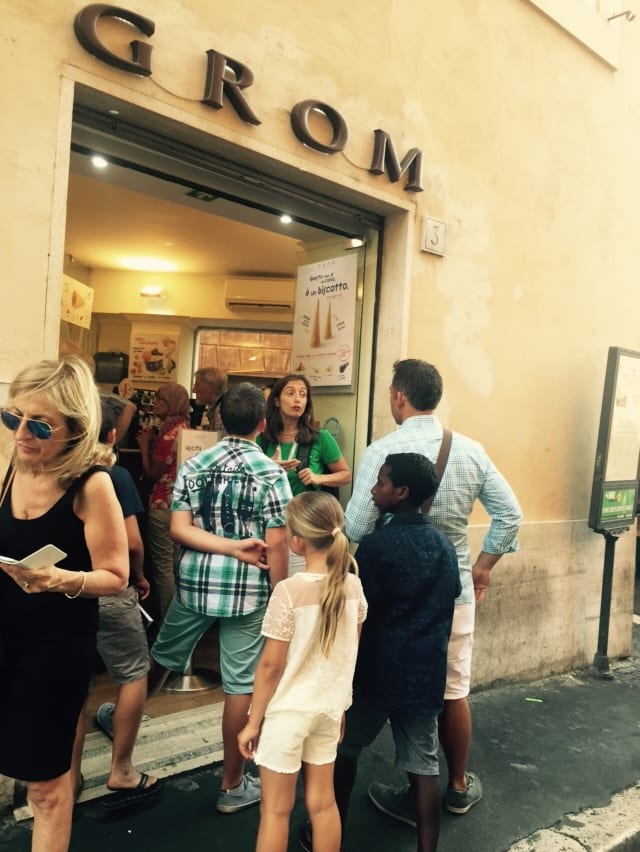 Before exploring the Piazza Francesca had us stop at what she deemed the "BEST GELATO in Rome". It was quite fantastic and the ingredients were so simple and natural I instantly became a fan. Francesca also taught us to eat it the Roman way with fresh whipped cream on top- Y U M!!!!!!!!
Francesca had a spot for us when we walked out of the gelato shop so we sat on a bench under a magnificent fountain and ate our amazing gelato. It was one of those moments where you just cannot believe this is real life. Such a great memory!!!
After we finished up our ice cream Francesca explained the 3 fountains to us.
Francesca felt like family and none of us wanted to leave her when the tour was done. She was so sweet and had brought art gifts for the kids which of course they were ecstatic about. Then she gave us some great ideas on where to go for dinner. *Tip go outside of the main tourist areas. Turn down the little alleys and find the places the locals are eating at. Better food and better prices 😉
We followed Francesca's suggestion and came upon one of my favorite places we ate on our trip. An adorable Italian cafe with outdoor seating. It was awesome!!! Italian band singing songs that reminded me of lady and the tramp while the commotion of the people and mopeds passing by made it a people watching haven.
I can't say enough great things about Overome. They are a fantastic company and I highly recommend their services. If you would like more information on Overome Tours visit them online www.Overome.com, their facebook page,
or check out what people have to say about them on Tripadvisor
NOTE:  WE WERE GUESTS OF OVEROME. WE RECEIVED A COMPLIMENTARY TOUR FOR OUR FAMILY IN EXCHANGE FOR MY EXPERIENCE AND HONEST THOUGHTS. ALL THOUGHTS & OPINIONS ARE COMPLETELY MY OWN.