We arrived at the Eiffel Tower expecting tons of beggars and gypsies because the week before we left there was a huge strike and the Eiffel Tower had been closed as a way to protest police not doing anything about the situation. After the awful experience at Gare du Norde station I was not very excited to deal with that again.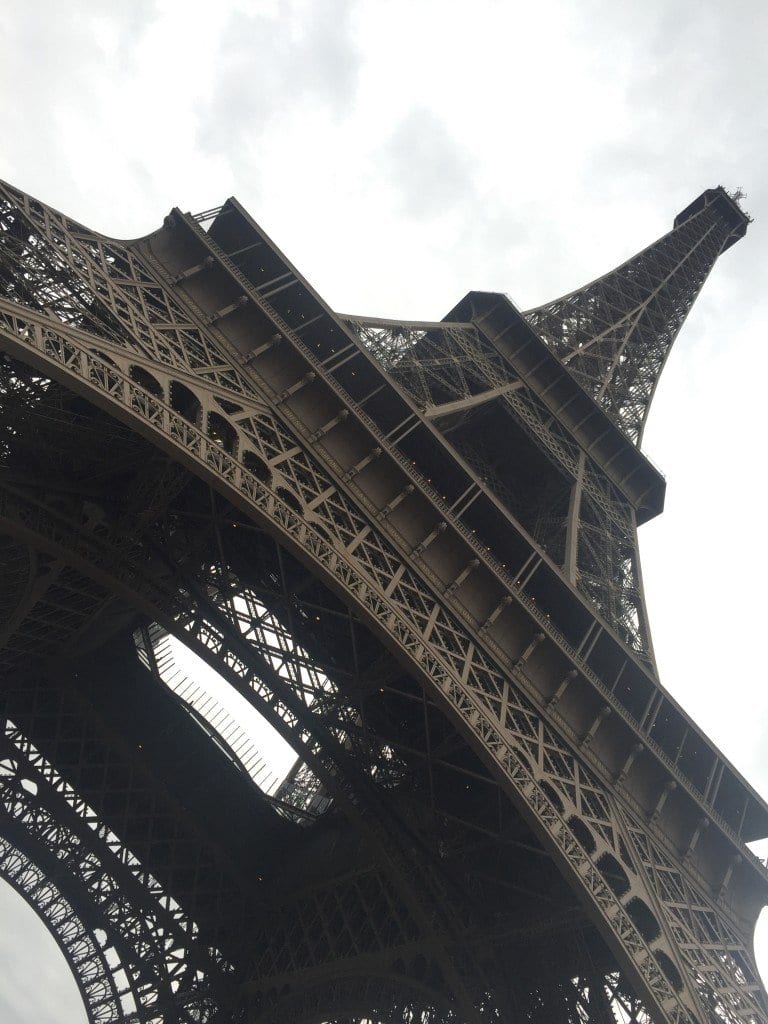 Thankfully, it was pretty mellow there were just some street vendors selling tiny towers and things that glowed. We waited in line for about 15 minutes and purchased tickets to walk the stairs and then for the elevator lift from the 2nd floor to the top. We climbed the stairs (668 of them) to the second level. We knew the number because there are markers on the corner of the stairs. It is definitely a hike… but not too bad as even Ella made it without many complaints. It was about 7pm at this point and so with the added height and wind it was pretty chilly and gray. Typical Paris- ha!
I had no idea what to expect on the top of the tower and I was pleased to find a quick service cafe, a full service restaurant, clean restrooms and a souvenir shop. Ella was over the moon excited when she found a Paris Beanie Boo as that is pretty much both her favorite things in the world combined… and she also loved trying on the traditional berets that no Parisan actually wears (heehee). We had watched Chevy Chase's European Vacation before the trip though so she found the berets hilarious!!
The kids enjoyed the glass floor area where they could look down on all the tiny people below. They thought they looked like ants and made us take tons of funny pictures up there. It looks like they are building some type of cool restaurant with seats that are swings as chairs but it wasn't finished yet. After taking more pictures we finally found the elevators that we were supposed to take to the top however the line wrapped around and around and around. We looked at the line, talked about how cold we were, discussed how the view was actually prettier at the Arc de Triomph when the Eiffel was in the background and decided to skip the elevator and head down to get a spot on a lawn to watch the light show.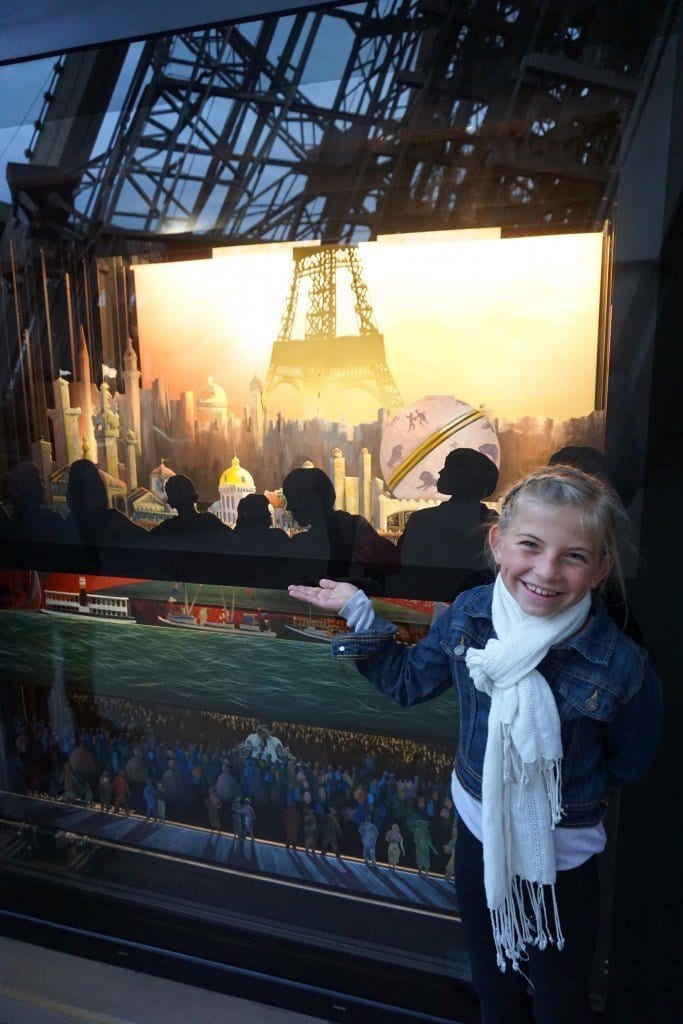 Yes!! Light show. Did you know that the Eiffel Tower lights up with a magical light show every hour on the hour from like 9pm-1am?? It is honestly amazing to sit and watch it. As you remember Paris was not my favorite spot… but this day with the bike ride, Eiffel Tower and then ending of the light show was literally straight out of a dream. I kept trying to really pay attention and soak up the details because it was a day I never wanted to forget.
After the light show we were starving but we had snacked on baguette and peanuts and it was late so we decided to find some pastries… we were in Paris for goodness sakes. We looked up a pastry shop and started walking… we walked past an adorable two level vintage carousel and ended up in the Trocadero gardens. Between the two buildings we got another beautiful view of the tower lit up in the night sky. It started sprinkling so we took a few pictures and ran for cover. We found a bunch of restaurants but with their locations they were all insanely over priced. Mike had the great idea to walk in to see if you could take away the pastries as the rain had subsided. Guess what? You can and take away was 50% less expensive AND you don't have to sit with a bunch of smokers. So, we ordered coffees and pastries and sat on benches right in front of the restaurant and enjoyed our cheap meal of delicious pastries smoke free.
Latest posts by Mama Munchkin
(see all)