When most people think of Anaheim, there is one attraction that pops into mind and that is Disneyland. Anaheim isn't just a top family vacation cause of Disneyland.
Look, we love Disneyland and Disney California Adventure Park as much as anyone (check out our favorite Disneyland tips here), however, the truth is Anaheim has SO MUCH MORE to offer traveling families coming in from both near and far.
We spend a lot of time around Anaheim CA as a family and I am so excited to share the incredible things to do in Anaheim that we have uncovered!
First things first, you will need to learn how to get around! I love that Anaheim, unlike a lot of Southern California, has an amazing public transit system.
If you don't have a car, just hop on the Anaheim Rapid Transit (ART). With just a couple of bucks, you can be anywhere. Check out and pre-purchase discounted ART passes here!
There's so much to Anaheim beyond just the Disneyland Resort. Here are some of our favorite things to check out whenever we're in town.
---
1. Lessons at Vans Skatepark- Our Kiddos Favorite Thing To Do in Anaheim!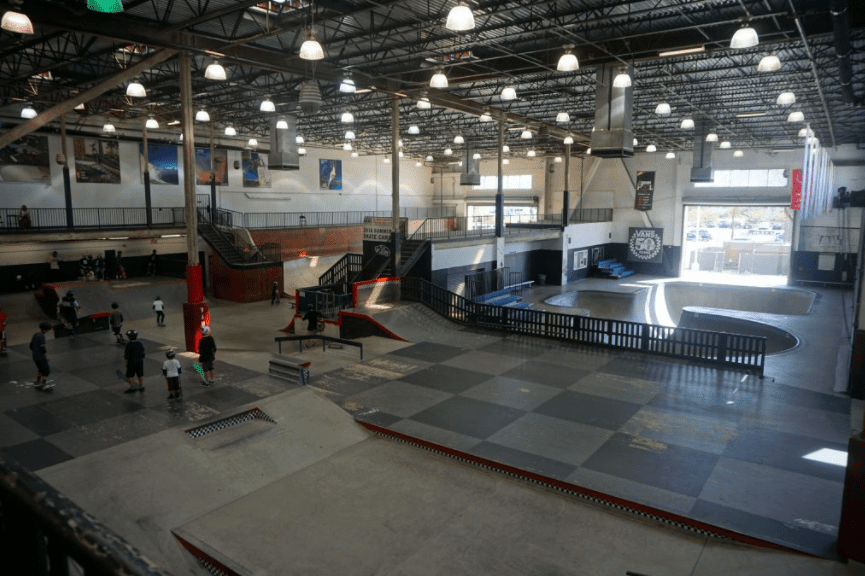 One of our kids' favorite things to do in Anaheim is the Vans Skatepark. This massive 20,000+ square foot skatepark is a skater's paradise.
My kids were complete beginners, but thanks to their incredible instructor Devon they had a blast! You can book private lessons on Monday, Wednesday, and Friday with a Vans certified skate instructor for $50 an hour.
The Vans Skatepark is located in The Outlets at Orange. You can take private lessons like we did, rent equipment, or enjoy an open skate.
My kids weren't quite ready for the craziness but they did enjoy sliding down it on their bums!
---
2. SwingIt Trapeze Lessons
You have to experience SwingIt Trapeze! I was completely shocked that our whole family was able to fly. The staff is incredible and will guide you step by step so that you feel completely comfortable. Check out the current class schedule here!
Trapeze wasn't easy but the instructors are so skilled at helping you learn! Ella also enjoyed the sideshow tricks while she was waiting for her turn.
---
3 & 4: Catch an Angels Baseball Game or a Ducks Hockey Game
Instead of riding the roller coaster over at Disney California Adventure, why not head to a baseball game? And.. what trip would be complete without a trip to Angels Stadium of Anaheim?
Anaheim is home to the Angels and luckily the Angels Stadium is a fantastic place for families.
Sundays are family days so there are extra games and fun for the kiddos with face painting and games located in the Gate 5 Courtyard.
You can also head across the street to the Honda Center and check out the National Hockey League and see the Anaheim Ducks. If hockey isn't your thing, the Honda Center also holds concerts throughout the year!
Bonus Tips
*AVOID PARKING HEADACHES: You can hop on the rail, bus, or grab an Uber from the ARTIC Transportation Center.
*DISCOUNTED TICKETS: Often times you can get discounted tickets from sites like StubHub. Click Here for Angels Prices! & Click Here for Anaheim Ducks Prices!
---
5: Find Instagram-Worthy Food at the Anaheim Packing District
The Anaheim Packing House was once the Sunkist Packing House. It was built in 1919, but got a whole new look a few years ago and is now a foodie hall full of amazing artisan eateries.
You absolutely cannot visit Anaheim and not visit the Anaheim Packing District. There is always something new to discover and it is oh so tasty. Just make sure you arrive hungry!
You will want to add the Anaheim Packing House as one of your favorite things to do in Anaheim, based on the atmosphere and decor alone!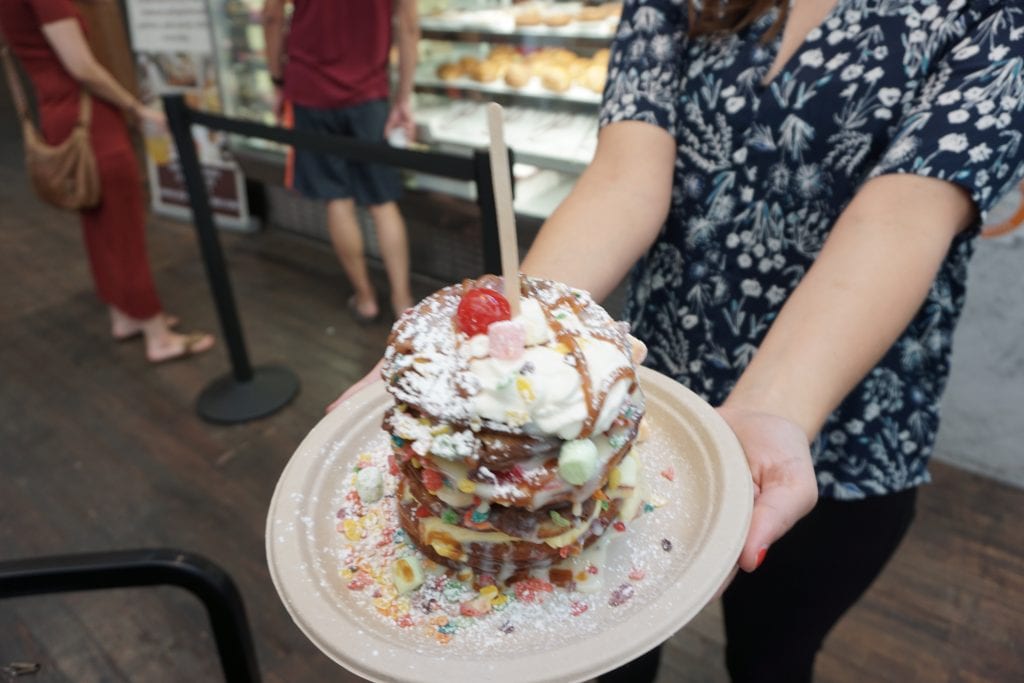 I recommend trying the K2 Cro-Nut from Pandor. Just be sure you have someone to share it with.
A Rainbow Cloud from Mini Monster is also one of our favorites. It's a Thai Tea with boba topped with freshly spun cotton candy and fruity pebbles. You can keep sustainability in mind and buy the reusable jar, too!
You will also find the Instagram sensation known as Pop Bar at the Packing House. They serve gelato on a stick dipped in your favorite chocolate and rolled in the topping of your choice.
Take a look at all the natural light flowing in, the succulent plants, and swings… it's so beautiful!!!
If you are in the mood for a meal I suggest checking out the artisan tacos at Urbana…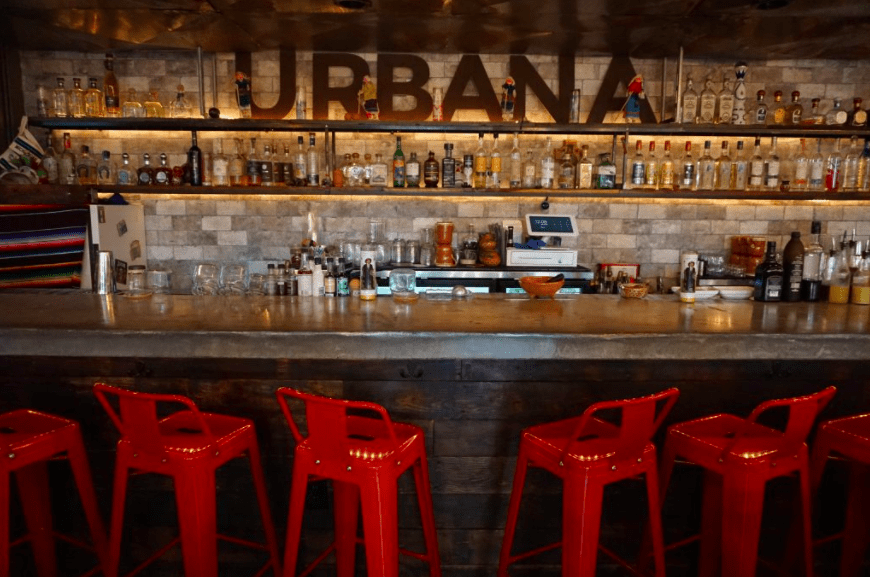 or a fresh plate of Tikka Masala from Adya. The warm fresh naan is to die for!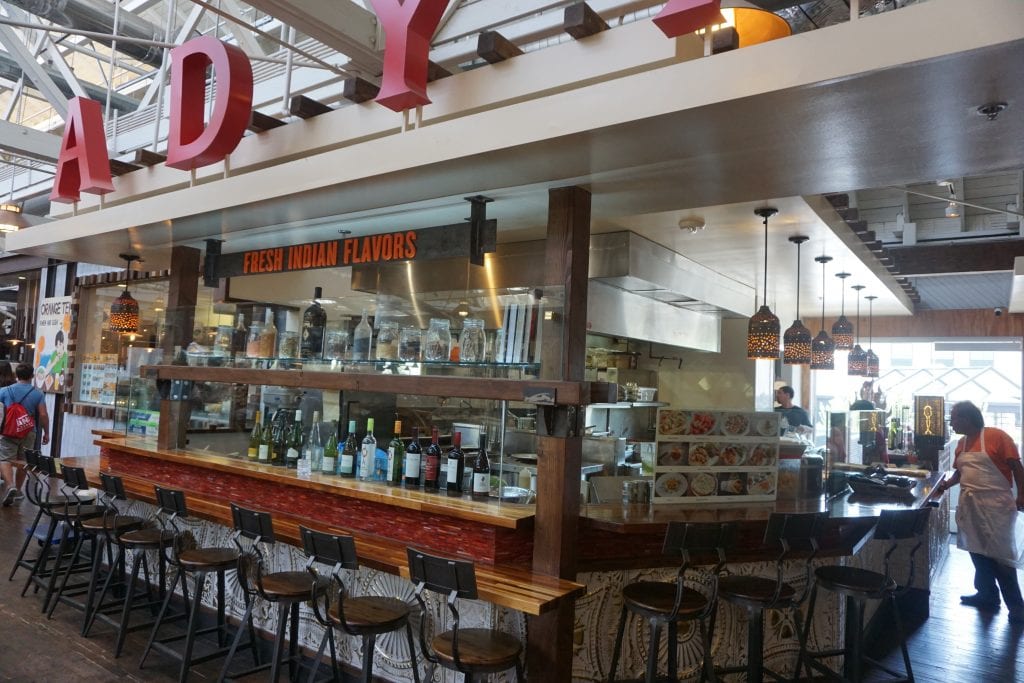 Make sure to stay up-to-date with all the events and live music happening at the Anaheim Packing District here!
*BONUS TIP: More Instagram-worthy photos can be taken at the GardenWalk located on Harbor Blvd. You will enjoy delicious places like The Cheesecake Factory and crazy desserts from Snowopolis!
---
6: Fly a Fighter Jet at Flightdeck for a Totally Unique Thing To Do in Anaheim
Flightdeck is amazing! You get to take a flight course, jump in a suit like Maverick & Goose and dog flight inside simulator pods in front of a giant screen.
Not to mention, the Flightdeck in Anaheim is the ONLY place in the world you can do this!!! Check Current Prices Here.
My boys LOVED competing against each other. My middle son, Owen, who loves video games said this was his favorite activity all summer long. Pretty high praise if you ask me!
---
7: Check Out Center Street – One of the Coolest Things To Do in Anaheim!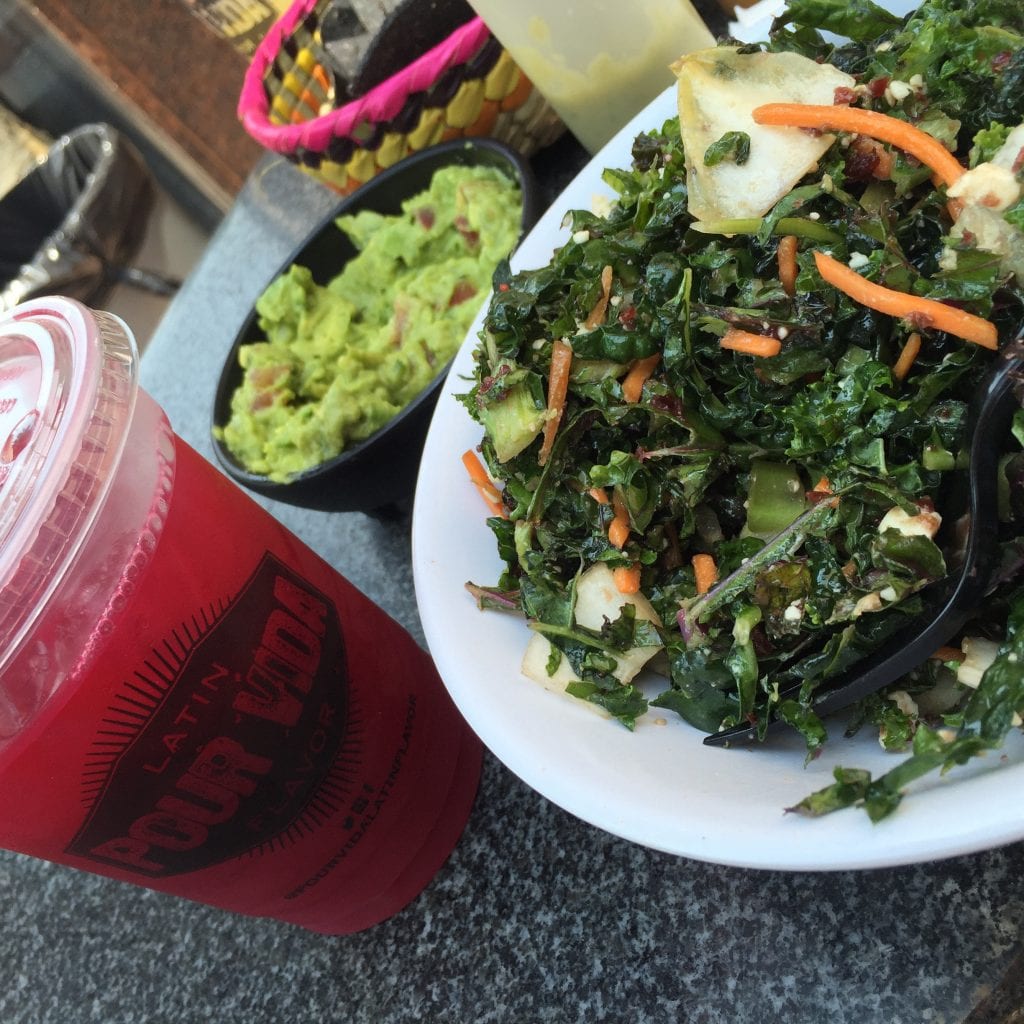 One of the coolest things to do in Anaheim is to head to Center St. Promenade. Center St. Promenade brings together all the best of Anaheim.
This is where you will find the farmer's market, seasonal art shows, and street fairs. Make sure you save room for Pour Vida. Their tacos and fresh-pressed juices are divine.
If you are over at the Packing House you can hop on "Polly the Trolley" noon to 9 PM Friday-Sunday. It's a free ride from the Packing House to Center St. Promenade and back. It leaves every 15 minutes!
---
8: Take the Family to Medieval Times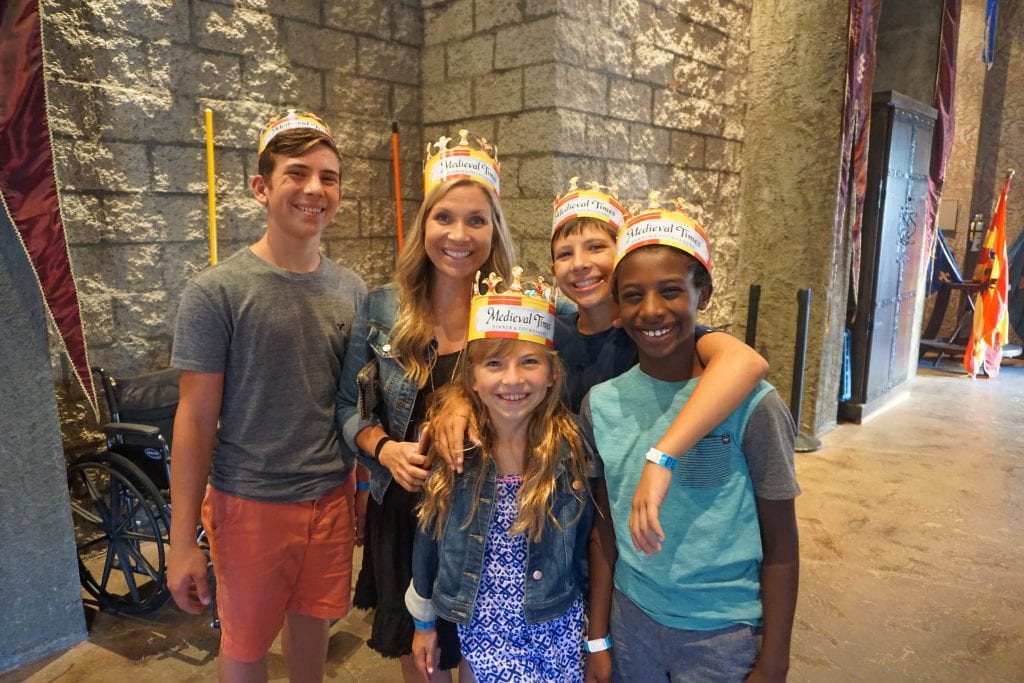 You can't miss the long-time family favorite, Medieval Times! I will admit, we had not been to Medieval Times in ages so I was shocked by how much the kids still loved the show and dinner.
The place was PACKED! The kids loved eating without silverware. I ordered their vegetarian meal, which was also delicious.
The knights are fun to watch, but what I really love is watching all of the magnificent horses. They brought out some who were literally dancing to the music. It was so beautiful to see.
No trip to Medieval Times is complete without a quick stop at the gift shop. They sell costumes and toy weapons so your kids can recreate their favorite sequences back at the hotel.
Just make sure to set some ground rules before they dive in. No heavy swings, kids! Keep it playful and light! You are going to definitely want to add Medieval Times as one of the things to do in Anaheim list! Grab discounted tickets here!
---
9: Grab Lunch at Dave & Buster's & Hang Out at the Arcade
Another find in The Outlets at Orange is Dave & Buster's. We had a delicious lunch here with the kids. They have a huge menu so there is something for everyone!
Of course… it's not the food the kids cared about but the MASSIVE arcade. Our kids played for a good hour and a half before we could pry them off the machines. They had a blast!!
And, once they were done they got to go to the most incredible ticket redemption store I had ever seen. Ella could hardly believe she had enough tickets to buy the adorable stuffed raccoon below!

---
10: The Anaheim Brewery- A Stop Moms & Dads will LOVE
I know breweries are not really for the kids, but this one was too good not to mention. Anaheim Brewery is a revived prohibition brewery. Even though this stop is for the grown-ups, you can sandwich it with fun activities for the kids.
All beer is made right there on site. The founders Barbara and Greg are so passionate about brewing beer and it shows! The beers are light, airy and absolutely delicious.
---
11: Find Hands-On Fun at the Discovery Cube and Muzeo Museum and Cultural Center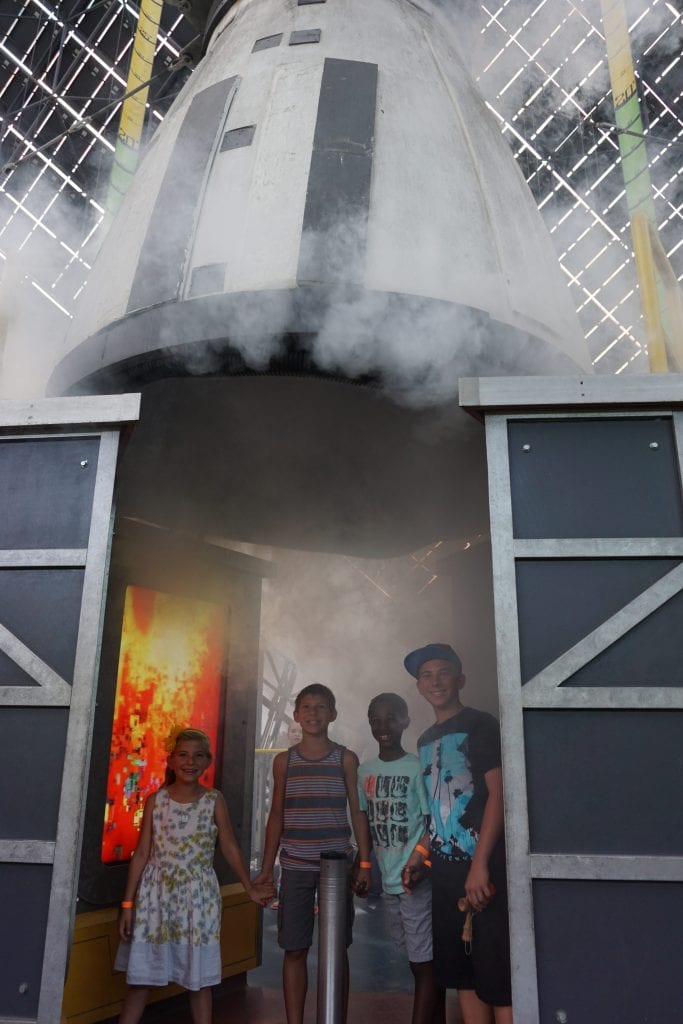 Last but certainly not least, Anaheim offers a variety of museums and cultural centers to make learning fun for the little ones.
The Discovery Cube in Orange County is another fantastic stop! They have a ton of hands-on educational activities that will entertain your little ones for a full afternoon.
My bigger kids love checking out the Science of Hockey area and the Inspector Training course. If you live in SoCal their family annual pass is a really affordable way to keep the fun going all year long.
If you're hungry for more cool exhibits and learning activities, the Muzeo Museum and Cultural Center is a short distance from Disneyland and has a lot to offer.
Muzeo offers educational exhibits that dive into the history of Anaheim, including Disney history, as well as rotating features from local artists.
For younger children, this might be a certified snoozefest. For older children with an interest in history or art, however, it's an inexpensive way to change the pace for an hour or two before getting out and about in Anaheim again.
Plus, it has air conditioning. Thank goodness!
---
12: Round 1 Bowling & Amusement
Bowling is one of our favorite things to do in Anaheim. The newest addition to Anaheim Attractions is Round 1 Bowling and Amusement. Technically it is in the neighboring city of Santa Ana, but it's just a couple miles away. You can check it out here!
---
Free Things to Do in Anaheim
While visiting Anaheim, there are some fun things to do in Anaheim that cost my favorite amount of dollars…..zero!. Here are our faves.
13. Fullerton Arboretum
Right next to Anaheim is the Fullerton Arboretum. There you will find 240 lush acres to enjoy with the family and get a break from the hustle and bustle of the city. It is a great place to enjoy nature and take some amazing pictures while enjoying some respite from the bright lights and attractions of Disney and Anaheim.
We love to visit between busy days sightseeing or visiting Disneyland. It's a beautiful place to enjoy a much needed change of pace.
---
While most folks flock to Anaheim for the sights in the city and Disneyland, California remains one of the best states for going to the beach.
The coastline is vast, and the Pacific offers some of the best conditions for surfing you can find anywhere in the intercontinental United States.
Huntington Beach is the closest beach to Anaheim and a quick drive. It is one of the most iconic beaches in Southern California. Enjoy watching some amazing surfers, dine and shop on main st. and of course enjoy the beach.
---
Other Great Stops and things to do in Anaheim to Check Out
Looking for more ways to let the kids burn off some energy?
Sky Zone Indoor Trampoline Park is a great spot to bring them for endless fun jumping on the many, many trampolines.
Slam dunk in the Slam Zone or soar into a soft, foam pit in the Drop Zone. Pit your kids against each other on the Battle Beam– winner picks where we eat dessert tonight. No matter who wins, you get dessert!
It's a lot of rough and tumble fun, but they do have a dedicated Toddler Zone too for the real little munchkins to run and play without a bigger kid landing on them.
And they have benches and air-conditioning for Mommy and Daddy to rest their tired feet. What more could you need?
---
17: Visit the Hass Avocado Mother Tree in La Habra
18: Shop at Anaheim GardenWalk
19: Explore Ralph B. Clark Regional Park
20: Spend Some Time in Yorba Regional Park
21: Visit Thursday Downtown Anaheim Certified Farmers Market
22: Walk Around and Dine in Downtown Disney
24: Hit Another Amusement Park Knott's Berry Farm in nearby Buena Vista
26: See Some Animals at the Santa Ana Zoo
27: Head to a convention at the Anaheim Convention Center
28: Hike at the Oak Canyon Nature Center
29: Go Kayaking at Belmont Shores in Long Beach
30: Listen to Music at The City National Grove of Anaheim
31: Find Some Small Thrills at Adventure City
32: Eat Famous Chicken and Waffles at Roscoes
34. Enjoy biking, fishing or have a picnic at Yorba Regional Park
---
35. Enjoy Amazing Family-Friendly Accommodations in Anaheim
When exploring Anaheim & Disneyland, there are many amazing Anaheim resorts. It's true that some of the best options are Walt Disney resorts, located just a few quick minutes from the Disneyland Park.
You can still have a great experience and save some money by picking on some nearby accommodations that offer an all-around amazing experience while still staying close to the park.
Below are two of our favorite hotels that are super family-friendly off of Disney property.
---
Courtyard Anaheim Theme Park Entrance Hotel
The Courtyard Anaheim Theme Park Entrance Hotel is a newer hotel that features an on-site water park called Surfside, a beautiful fitness center, and rooms designed with families in mind. You can even see fireworks from the pool area and some of the rooms.
We stayed in a family suite that had two queen beds + a bunk bed. Even with all 6 of us we never felt squished. Check Prices Here!

photo provided by Courtyard Anaheim
My favorite feature was the dual showers, it made our usual hectic mornings pretty peaceful!

photo provided by Courtyard Anaheim

photo provided by Courtyard Anaheim
Great Wolf Lodge
Another great place to check out is the Great Wolf Lodge. It is so family-friendly and located about 3 miles away from Disneyland. We added this to our list of things to do in Anaheim because it is so family friendly and a BLAST!
You can check out my Great Wolf Lodge Southern California review here! There's a water park inside the hotel, too. Don't miss out check current prices here!
*Currently Save up to 25% OFF Great Wolf Lodge Stay* Use Promo Code ASUMMER21
---
Map of things to do in Anaheim
---
Additional Resources for Planning the Perfect Trip:
---
Pin-it for later: 33 Amazing Things To Do in Anaheim Beyond Disneyland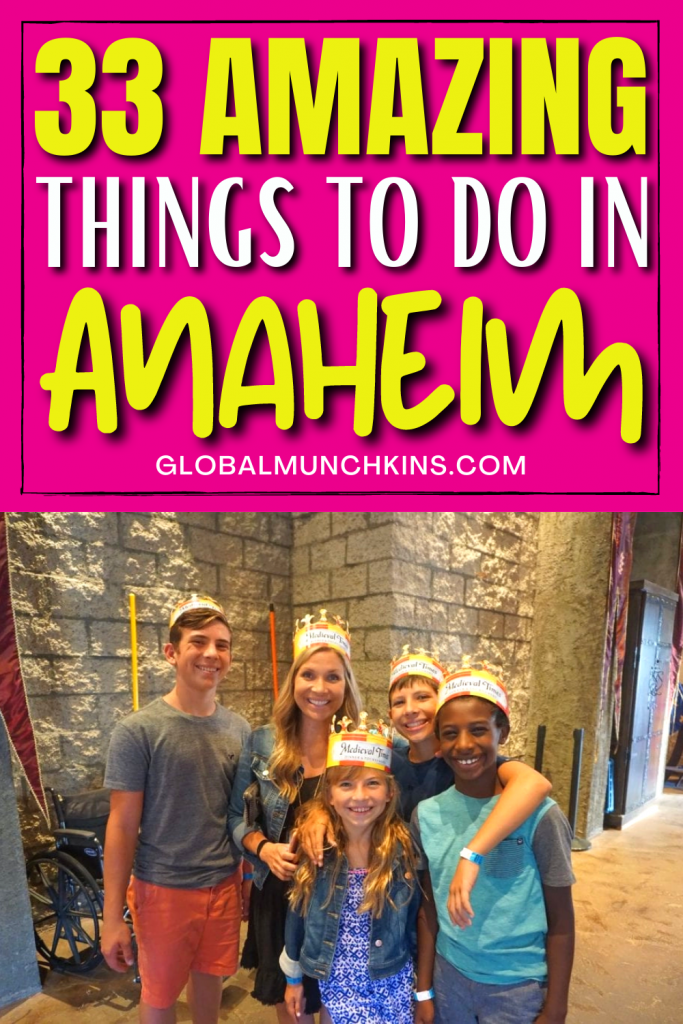 ---
Have you explored Anaheim beyond the Disney Parks? We would love to hear your Anaheim tips below!
---
FAQ About Things to do in Anaheim

What is there to do in Anaheim besides Disneyland?  
Skateboarding Lessons at Vans Skatepark
Hands-on Entertainment at Discovery Cube
Flight Simulators at The Flight Deck
Trapeze Lessons at Swing it Trapeze
Catch a Baseball Game (Angels) or Hockey Game (Ducks)
Grab Lunch at Dave & Buster's & Hang Out at the Arcade
Take the Family to Medieval Times
Jump around at the Sky Zone Indoor Trampoline Park
See a Show at the House of Blues
Shop at Anaheim GardenWalk
Find Instagram-Worthy Food at the Anaheim Packing House
What is there to do in Anaheim for adults?  
Craft Beer Tasting at Anaheim Brewery & Bruery Terreux
Catch a Baseball Game (Angels) or Hockey Game (Ducks)
Grab Lunch at Dave & Buster's
See a Show at the House of Blues
Shop at Anaheim GardenWalk
Find Instagram-Worthy Food at the Anaheim Packing House
Enjoy an Amazing Dinner at The Ranch
Cocktails at the FIFTH Rooftop Lounge & Watch The Fireworks at Disneyland
Enjoy an Escape Room
What can you do for free in Anaheim?
 
Walk around Downtown Disney (watch fireworks for Free)
Hike at the Oak Canyon Nature Center
Explore Ralph B. Clark Regional Park
Head to the beach – Huntington Beach (just a few miles away)
Muzeo – Museum and cultural arts center.
Kids Workshops at Home Depot Anaheim.