Richmond, the capital of Virginia, is a city with a vibrant present and an exciting future. Affectionately known as RVA by its residents, this 400-year-old river city has enough activities to keep your whole family busy for days. Whether you are a local to Virginia or visiting neighboring Washington D.C. Richmond is a great place for the family. This list is only a glimpse at the multitude of things to do in Richmond with kids.
WHY YOU SHOULD GO
Maymont Park is the most visited place in Richmond and when you get there, you'll see why. This 100-acre park is the former Gilded Age estate and grounds that once belonged to the Dooley family. Stroll through lush gardens or visit the wildlife habitats of animals native to Virginia. Stop by the farm and see goats, sheep, horses, donkeys, and chickens. Buy tokens for the feed dispensers so your kids can feed the animals. You can also tour the Dooley Mansion, take a carriage ride, or explore the nature center. Carriage rides are seasonal and depend on the weather. Check with the park. Suitable for all ages.
WHY YOU SHOULD GO
The Science Museum is a wonderful place for kids. The former Broad Street Station is home to the museum and some of the trains that once stopped there are on display outside the building. Inside, the Dome is a unique theater with a 76-foot screen showing nature films, astronomy shows, and more! The LightPlace is for kids below ages the age of 5. There your little ones will explore science through fun, hands-on STEM activities. The Forge features a showroom and a workshop equipped with traditional tools and the latest technologies like 3-D printers for guests to take part in hands-on workshops that emphasize skill development. Most exhibits are interactive. Suitable for all ages.
WHY YOU SHOULD GO
Richmond Scavenger Hunt is a fun way to learn about the city. After paying for your ticket, you'll download an app that takes you on a two-hour tour of well-known places and hidden gems that many long-time Richmonders don't know about! The app includes a map with points of interest, head to one and unlock a question. The tour is self-paced and non-competitive so you can stop for one of Richmond's tasty delights whenever you want. There are three neighborhoods to choose from and a self-guided tour of Richmond's many stunning murals. Suitable for all ages.
RAFTING ON THE JAMES RIVER
WHY YOU SHOULD GO
If your family likes rolling on the river, Richmond is the place for you. The James River has the nation's only Class IV urban whitewater. You can choose from the mild Class I & II rapids of the Upper James with its beautiful natural scenery, the churning Class III & IV with views of the Richmond skyline, or you can raft both sections. Other trips include kayaking and stand-up paddleboarding. This adventure is for 8 years and older.

WHY YOU SHOULD GO
Located about 25 miles north of downtown Richmond, Kings Dominion has been thrilling residents and visitors since 1975 with 60 rides and attractions for all ages. The park has 12 roller coasters, the biggest collection on the East Coast. The number increases to 13 in 2022 with the Tumbili, a 4-D spin coaster. Have little ones? Planet Snoopy is the spot for gentle rides and tons of fun! Soak City, with its wave pool, water slides, splash pads, and lazy river, is included in the price of admission. Suitable for all ages.
HENRICUS HISTORICAL PARK
WHY YOU SHOULD GO
Henricus was the second successful English settlement in the New World. It was founded four years after Jamestown in 1611 as a military outpost atop a bluff overlooking the James River. Henricus was home to the first English hospital in America, which is one of the 14 recreated structures in the park. Costumed interpreters recreate the lives of colonists and Natives in 17th-century Virginia. Suitable for all ages.
JAMES RIVER PARK SYSTEM
WHY YOU SHOULD GO
The James River is the heart of Richmond and the best places to experience it are the 18 parks that make up the James River Park System. This 550-acre park has something for everyone in your family: canoeing, kayaking, tubing, hiking/walking/jogging trails, rock climbing, mountain biking, fishing, boating, bird watching, and swimming.
Best areas for kids: Huguenot Flatwater, a great place for swimming and tubing with no rapids; Reedy Creek bug garden; and Great Shiplock Park, a restored canal lock with incredible views of downtown Richmond. Suitable for all ages, but some swimming areas are dangerous. Check with the park for safe areas for children to swim.
RVA HISTORIC TROLLEY TOUR
WHY YOU SHOULD GO
Trolley Tour https://rvaonwheels.com/trolley Travel through 400 years of history in one of the oldest cities in the US. Kids will love riding on this motorized replica of the classic Richmond trolley car. Hear great stories about the River City's past, enjoy its handsome architecture, and learn about its vital riverfront. Don't worry if it's hot, the trolley is air conditioned with comfortable seating. Suitable for all ages.
WHY YOU SHOULD GO
Hollywood Cemetery is the final resting place of two US presidents, six Virginia governors, and two Supreme Court justices. Designed in 1847 with its valleys, hills, and unusual and artsy grave markers, it's not like modern cemeteries. There are many ways to see this historic cemetery. Many tour companies offer organized walking tours and trolley tours. Of course, you can do a self-guided tour by foot or car. Just make sure to pick up a map at the cemetery office. You don't want to get left in there after dark; the "Richmond Vampire" rules the night. Suitable for all ages.
CHILDREN'S MUSEUM OF RICHMOND
WHY YOU SHOULD GO
One of the best attractions for younger kids in Richmond, the museum has hands-on exhibits and play areas. At the Downtown location, hands-on exhibits include an art studio, farm, cave, dairy barn, and a small carousel that is just the right size. The Chesterfield County location houses an enchanted forest, a transportation station featuring a city bus and fire truck, and Fantastic Future Me, which allows your child to explore different careers with a finished product that can be emailed to your home! Suitable for children up to age 8 but open to all.
HAUNTS OF RICHMOND
WHY YOU SHOULD GO
Richmond is an old city with a turbulent past. Patrick Henry's fiery speech helped spark the American Revolution, fierce Civil War battles were fought on the outskirts, and Edgar Allan Poe walked the streets in search of inspiration for his gruesome tales. You can bet this city is haunted! Tours cover some of the oldest and most historic neighborhoods in town. Special Halloween tours are run in October. Most tours are suitable for all ages but check with the tour company to be sure.
RICHMOND RAILROAD MUSEUM
WHY YOU SHOULD GO
If your kids love trains, this is the place to go. The museum tells the story of railroads in central Virginia through historic train cars, maps, artifacts, and the station master's office. Together with Old Dominion Railroad Excursions , the museum offers short train trips in spring and fall. Suitable for all ages. Weekends only.
RIVERFRONT CANAL CRUISES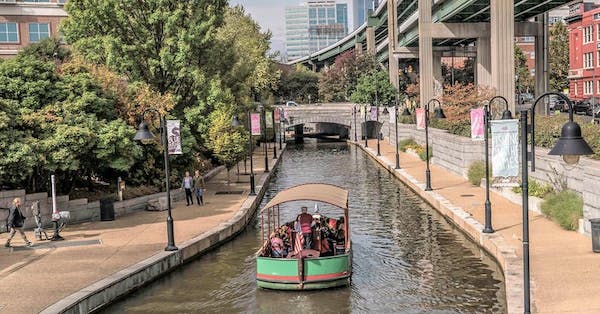 WHY YOU SHOULD GO
Riverfront Canal Cruises take you on a 40-minute journey down the Kanawha Canal and out to the James River in a replica of the flat-bottomed boats that once travelled up and down the canal. You can see Richmond's famous Triple Crossing railroad, old tobacco warehouses, and the wildlife on the James River. You may even see one of our proud bald eagles on this relaxing tour. After your tour, take a stroll along the Canal Walk or hit one of the many great restaurants in the area. Suitable for all ages.
HADAD'S LAKE
WHY YOU SHOULD GO
Hadad's Lake http://hadadslake.com Richmond is hot and humid in the summer, but there's a place close to downtown for you and your family to cool off. This swimming lake has three sections, two of which are 0 to 4 feet deep. The third section is 16 feet deep. At Hadad's, you can swim, swing from ropes into the water, and launch yourself from the super launch known as "The Blob." Enjoy the paddleboats and floating trampolines. If you're tired of swimming, there are basketball and volleyball courts, playgrounds, fishing area, and a picnic area. Lifeguards are on duty. Suitable for all ages.
WHY YOU SHOULD GO
Triangle Rock Club is the largest indoor climbing facility in Virginia. The club features climbing walls up to 47 feet tall, bouldering terrain, hydraulic systems wall, designated crack climbing area, speed climbing wall, and locker rooms with showers. Your kids can practice climbing and play interactive climbing games. Instructors carefully watch over the kids who are harnessed for safety. A day pass includes a full day of climbing and access to fitness and yoga classes. For adults and kids 4+.
Map of Things to Do in Richmond with Kids
Frequently Asked Questions about Things to Do in Richmond with Kids
What can I do in Richmond during winter?
Take A Tacky Lights Tour
Visit Lewis Ginter GardenFest of Lights
Check Out VMFA Exhibits
Visit Edgar Allen Poe's House
Walk The Grounds At Maymont
Spend Time In Your Favorite Cafe
Watch The City Light Up
What can I do in Richmond for free?
Maymont
Virginia State Capitol
Hollywood Cemetery
Virginia Museum of Fine Arts
Tredegar Iron Works
Chimborazo Medical Museum
Libby Hill Park Overlook
Battlefields Surrounding Richmond
How to spend a day in Richmond?
American Civil War Center
Monument Avenue
James River Park
Virginia State Capitol
Virginia Capital Trail
Maymont Mansion
Lewis Ginter Botanical Garden
Edgar Allan Poe Museum
If you enjoyed our list of things to do in Richmond with kids, you might also like:
THE ULTIMATE GUIDE OF THINGS TO DO IN WASHINGTON DC WITH KIDS