In my time of travel writing, we have done a lot of zip lining. Costa Rica was the most intense (I am not sure if I can do that one again) but my absolute favorite is a Kauai Zipline experience at Koloa Zipline. If you are looking for activities to do while staying in Kauai, this is a must. Soak up some of the most amazing views while taking in thrills as you zip across treetops with a few hilarious guides? Sound perfect? Then you are going to LOVE Koloa Zipline. Read on to find out our Top 3 Reasons why…
3 Reasons Koloa Zipline is the Best Kauai Zipline Experience
The BEST Kauai Ziplines
As experienced zippers (yes I made that term up- go with it!) we were looking for a course that offered a little more thrill. Koloa came through big time! Koloa Zipline offers the longest ziplines in Kauai for starters. They also offer the "Flyin' Kaua'ian" which is a special harness that allows you to zip headfirst in a superman type position- the hubby and I tried that and the first zip was both frightening & wonderful all at the same time. Have no worries if you are new to ziplining, they have a full training on how to zipline before you go, and it's super easy.
The course has 8 lines- featuring 3 of the longest lines on the island including the Waita zip line which was a full 1/2 mile long. It felt like you were flying forever it was AWESOME!!!
The kids flew alone for most of the ziplining but on the last zipline they needed to fly tandem which they thought was so much fun. They also preferred the pulley handlebars with automatic braking (that's a plus) and not having to break all by themselves.
Incredible Kauai Views
Not much more you could hope for in regards to views on this stunning course. You are set a top a 22,000 acre Sugar Plantation (the first plantation in Hawaii in fact) with views of the south side of Kauai. It almost seems like you are looking at a green screen at times. The beauty is that UNREAL. When you are zipling I found myself in amazement of how incredibly beautiful Kauai is.
This is probably why parts of "Jurassic World" were filmed here. Another reason your kids will thinks its cool too!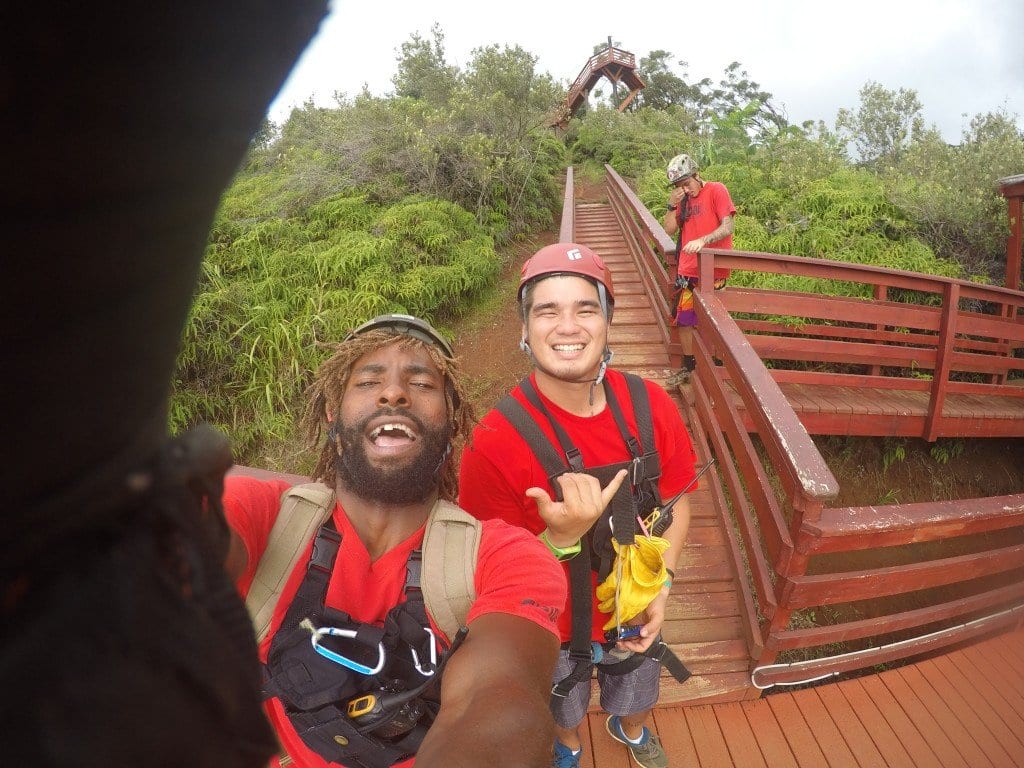 Hilarious Guides
I feel like on many occasions we hit the jackpot when it comes to guides and Koloa was NO exception. We were laughing so hard from the moment we hopped on the bus with our guides until we said our good byes. Peanut, Fati and Miles were funny (appropriately for kids too), knowledgeable and they took amazing care of our whole family. I think the guides were my husband's favorite part of the tour…. he really appreciates jokes.
Other Activities at Koloa Kauai Zipline
If ziplining is not everyone's cup of tea, Koloa also has an amazing ATV experience at the same property. So, if some of your party is a bit leery of flying through the air, they can always enjoy another fun activity.
BONUS:
Snacks
Yup! Koloa includes delicious homemade Hawaiian trailmix, granola bars and juices during your 3.5 hour journey. This was a HUGE plus when you are traveling with munchkins who are working up a hunger. No need for any hangry kids while on vacation! They aren't stingy either… you can have as much as you'd like and its delicious!!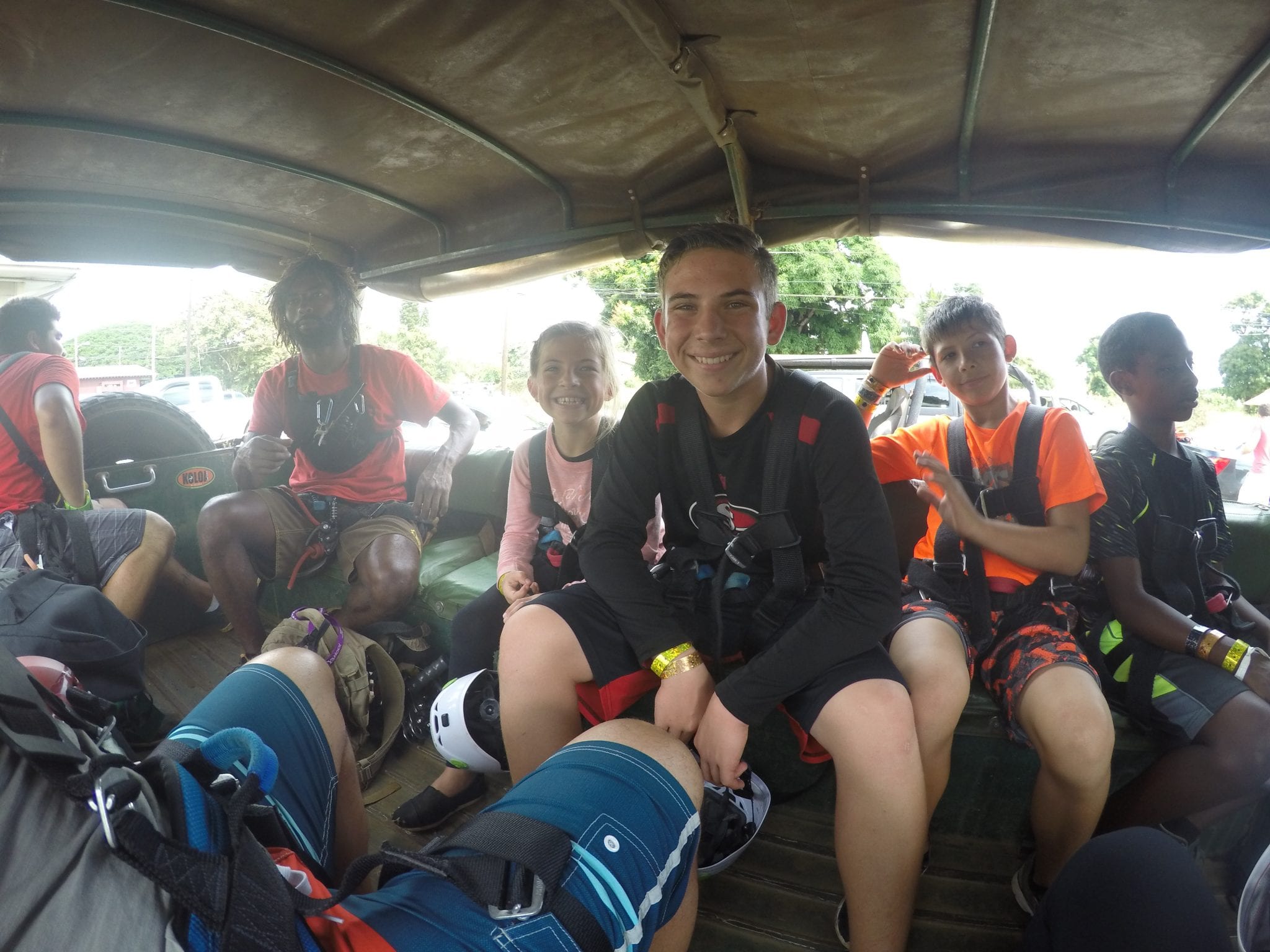 Overall
I can easily say Koloa Zipline was the BEST activity we tried while in Kauai. Each person in our family agrees… it was an absolute blast!!! They offer ATV/ Zipline Combo Tours and I will definitely be trying that one when we return.
To learn more about Koloa Zipline or to make a reservation visit their website:
Don't forget to check out our YouTube Channel to feel like you are zipping with us-
*Special thanks to Koloa Zipline for hosting the munchkins on our recent trip. My opinion is, as always, 100% my own.
You Might Also Enjoy
The 21 Best Things To Do in Maui with Kids [Ultimate Maui Guide]
The Best Things To Do In Oahu with Kids [25 amazing activities]