California is one of those states that truly needs no introduction. People from all around the world come to visit the top California cities, such as Los Angeles, San Francisco, and San Diego. Oxnard, on the other hand, is a bit of a hidden gem. You might be surprised to find out that there are actually a ton of fun things to do in Oxnard, California for the whole family! We recently gathered with some family for an extended weekend to enjoy an incredible beach vacation in Oxnard.
If you've never visited Oxnard, you've been missing out. It's a Southern California town with a vibrant, beachy vibe, perfect for those who are searching out some sun, sand, and sea. Of course, beyond the beach, there are museums, restaurants, art galleries, and plenty of other attractions. I have driven by Oxnard numerous times on the way to Santa Barbara and never once thought to visit, however, I was oh so wrong.
HOW TO GET THERE
Oxnard is located just 50 minutes west from Burbank Airport (BUR) and 60 minutes south of Santa Barbara Airport (SBA). However, most visitors fly into Los Angeles Airport (LAX) which is about 75 minutes northwest of Oxnard.
WHERE TO STAY IN OXNARD
Oxnard offers a wide variety of accommodations including hotels, vacation rentals, motor lodges, RV Parks, and campsites.
We have stayed in both a beachfront vacation rental we found on VRBO on Silver Strand Beach and at Embassy Suites Mandalay Beach Hotel and Resort and both were amazing options for families.
If you are enjoying a multi-gen trip or group travel experience renting a big oceanfront beach house is an amazing way to go. You can't beat the location and if you split the cost of the vacation rental it can be the most affordable route. You can find vacation rental properties on sites like VRBO and Airbnb.
Embassy Suites Mandalay Beach Hotel is a large resort with oceanfront options available. We loved their pools, access to surrey bike rentals, and free breakfast.
FAMILY-FRIENDLY ACTIVITIES IN OXNARD
1. SURF AT SILVER STRAND BEACH
If you are looking for the best beach to catch a wave visit Silver Strand Beach. This beach is a favorite of the locals who enjoy sunbathing, kayaking, fishing, beachcombing, and of course, surfing. While you can surf year-round, you'll find the best waves summer-winter.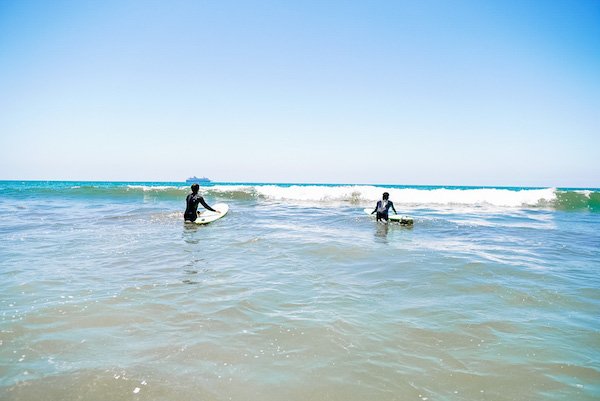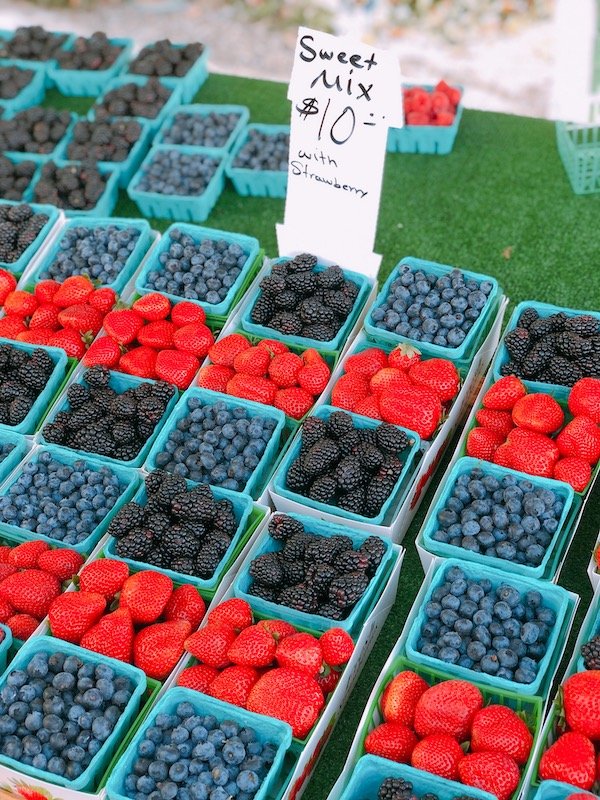 There is nothing better than a heaping of fresh fruits and veggies from a local farmers market. The Oxnard Farmers Market happens every Thursday from 9:00 AM-1:30 PM at Plaza Park in downtown Oxnard and features some of the best local food vendors. It is a great place to walk around, people watch or enjoy some tasty, local eats.
Just because you're in California doesn't mean that you can't have a bit of a Venetian Experience. One of the best ways to explore the outskirts of the Channel Islands Harbor in Oxnard is by Gondola. The best part is, you won't be one in a hundred gondolas floating through the canals, as the channels are much wider and the Gondola rides are less popular. This makes the whole experience far more special.
4. ENJOY WATERFRONT DINING
The Channel Islands Harbor is home to several amazing full-service restaurants plus my favorite coffee shop in Oxnard, Honey Cup Coffee.
Our recommendation for dinner is Waterside. Try their daily seafood specials or their lamb burger- both are outstanding. Tip- We like to head in for happy hour, their Oxnard Strawberry Mule is amazing, and then stay for dinner.
The Ventura River Trail runs along what used to be the Ventura and Ojai Valley Railroad. With a strange industrial feel, you can get an idea of the businesses of both past and present, each of which helped to fuel the city's growth. There is a walking lane and bike lane. Both run 17-miles along a gorgeous path, great for families looking to get outdoors.
To see my full list of things to do, places to eat, and where to stay in Oxnard head to my article on The Scenic Route here.
HAVE YOU VISITED OXNARD YET?
Latest posts by Mama Munchkin
(see all)