Whether you are a local to the Fort Myers area or vacationing here, you need something to do with your kids. Luckily, there are a lot of attractions in Fort Myers, and they are even fun for the grown-ups.
There are things to do when it is rainy, hot, or cloudy, and that's a blessing since Mother Nature can be unpredictable here in Southwest Florida. Here are the top 11 attractions in Fort Myers you should do on your next vacation!
Fort Myers Beach
Of course, the first attraction in Fort Myers is the beach!
Why You Should Go?
Head to the Fort Myers Beach! The beach is perfect for children. Whether they want to build sand castles or play in the water. Fort Myers Beach has over 7 miles of pristine white sand. The waves here are minimal, which is perfect for even the youngest kids.
Families looking to get out on the water have rentals for watercraft or a place to book a parasailing excursion.
But what sets Fort Myers Beach apart from others is that there is a "Times Square" where they have lots of live entertainment, dining, and shopping. Live entertainment typically happens early evening into the night. Stop by the Dairy Queen and get some ice cream or at a local restaurant where the performers are.
Smugglers Cove Mini Golf
On the way to or from the beach, you should stop at Smugglers Cove Mini Golf!
Why You Should Go?
Whether you are an adult or a kid, everyone loves a good game of mini-golf! Smugglers Cove Mini Golf is one for the books. It is pirate-themed miniature golf, filled with skeletons, treasure, caves, waterfalls, and shipwrecks!
This mini-golf course has 18 holes. This is just enough holes for a morning excursion or nighttime excursions.
What is unique about Smugglers Cove Mini Golf is that there is an alligator habitat here. There are a little bit over 20 Florida gators. They even allow you to feed them. This makes the trip a little bit sweeter.
IMAG History and Science Center
The IMAG History and Science Center is made for children. Locals call it a godsend for summer children's activities!
Why You Should Go?
In the heart of Fort Myers is the IMAG History and Science Center. This beautiful place is filled with exhibits geared towards kids and learning about animals, history, and science!
This is a perfect place to spend the entire day. If one day of your vacation is filled with rain, come here. You can easily spend the whole day going through the exhibits and not get to everything.
One exhibit you need to do is the Living Lab. This will have your children excited to learn about animals such as alligators, birds, snakes, and turtles. They can even touch them too. This exhibit is interactive, and kids will not want to leave.
The IMAG History and Science Center is open Tuesday through Sunday. Before booking your trip here, check their website to see if they are holding any special events during that time.
Manatee Park
If you are coming in the winter, a trip to the Manatee Park is in store for your family.
Why You Should Go?
Every vacation can add in a bit of learning. There is a unique spot called the Manatee Park on Palm Beach Boulevard in Downtown Fort Myers.
The park is powered by Florida Power & Light (FPL) electric company. This is a warm-water area. When the temperatures drop here in Southwest Florida, the manatees like to go to where the water is warm.
At the park, you can rent tandem kayaks to kayak through the water to get an up-close and personal look at these gentle giants.
Calusa Nature Center and Planetarium
If it is a lovely day, you'll want to head to the Calusa Nature Center and Planetarium.
Why You Should Go?
This is perfect for a family outing to learn about nature. It's in the attractions slogan about inspiring people to get into nature.
Everyone should begin their visit with the Natural History Museum. In this museum, guests will learn about the local environment in Southwest Florida. Once done visiting the museum, you should move on to the planetarium. At the planetarium, kids will be immersed in a lot of education but a lot of fun as well.
The Calusa Nature Center and Planetarium are open Tuesday through Sunday. Before you come, you should check their website. They do offer daily special events, animal shows, and planetarium shows. You'll want to make sure you plan your day accordingly.
For those who want to get more out of the Calusa Nature Center and Planetarium, you can book a Full Moon Night Hike, Nature Explorers, and other activities for a separate fee.
Lakes Park
Looking for a free attraction in Fort Myers to do with your family? Check out, Lakes Park!
Why You Should Go?
While the park is free, there is a small parking fee, but it is well worth it. Lakes Park is great for Sunny, rainy, or cloudy days.

Lakes park houses the Railroad Museum of Southwest Florida, which we will discuss later in this post. But they also have a few gardens maintained by the Lakes Park Enrichment Foundation. These gardens include succulents, fragrances, community, and children's gardens. Lakes Park is filled with many trails, picnic areas, playgrounds, and beautiful landscaping.
If you want to rent a boat for the lake or bicycles for the trails, you can do so at the Wheel Fun Rentals area in the park.
Railroad Museum of South Florida
In Lakes Park, we briefly mentioned the Railroad Museum of South Florida.
Why You Should Go?
The Railroad Museum of South Florida is not a free attraction in Lakes Park. It does have an entrance fee.
This attraction is geared towards elementary school children and older. It's a museum that teaches about the history of the railroads; it has many renovated trails, even a fully remodeled 1905 train!
At the museum, they do offer a 15-minute miniature train ride that even the littlest of kids would love.
Before visiting, you should check their website to ensure they are open. Their hours change a lot during the off-season.
HeadPinz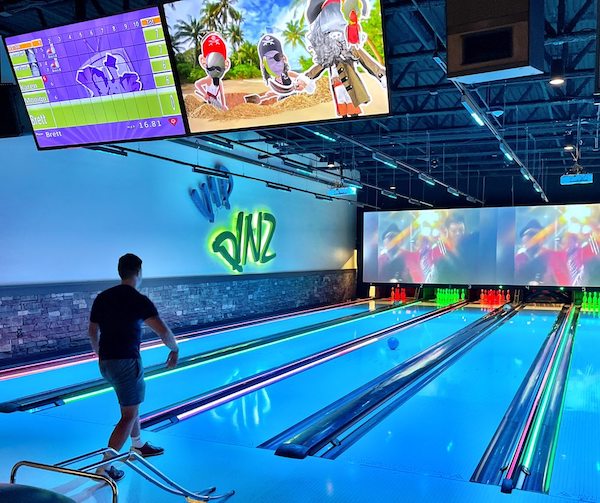 Of course, we had to mention an arcade! Kids love arcades, and so do grown-ups.
Why You Should Go?
No matter how old you are, everyone loves a good arcade. HeadPinz is an entertainment spot that local families love frequenting! They offer bowling, ropes course, laser tag, virtual reality, arcade games, and much more.
Of course, like every traditional arcade place, they offer a full menu full of delicious meals and snacks to keep you fueled while you are playing! HeadPinz is open daily. It is open late for families with teens!
GameTime
If one arcade is not enough, another must-do is GameTime.
Why You Should Go?
It is situated in a 22,000-square-foot building. It is located in the Gulf Coast Town Center. This area is an outdoor mall, so mom, you can send the husband here with the kids and have a day of shopping! No one has to know!
Like HeadPinz, GameTime has many activities for kids, such as arcade games, virtual reality, bowling, laser tag, etc. It is also open daily and late, which is perfect for teens and older kids.
They also have a menu full of great options for meals and snacks. At GameTime, there is a full bar for the parents who want to relax a bit while letting their kids run around and enjoy themselves with plenty of games.
The Shell Factory and Nature Park
Next on the list is the Shell Factory and Nature Park, which is situated in North Fort Myers!
Why You Should Go?
Just over the bridge in North Fort Myers, you'll find a hidden gem known as the Shell Factory and Nature Park. Not many people stop here, but it is surely a must-do. This is an actual Florida place.
Like in the name, they sell A LOT of seashells, but that's not all. They also have various other things they sell, like alligator heads, various blown glass statues, etc.
In the main building of the Shell Factory, where they sell their merchandise and sea shells, guests will find an arcade with a few games, a fudge counter, a vast Christmas wonderland room, a pirate-themed section, and a room with Army history and memorabilia.
Of course, that doesn't sound kid-friendly, but outside of the main building, there are zip lines, mini-golf, paddle boats, and a nature park! These activities are for a fee; they offer them with a la carte pricing.
They also have a seafood and steak restaurant on their little lake that you can eat at to make an entire day of this place.
Sail with Salty Sam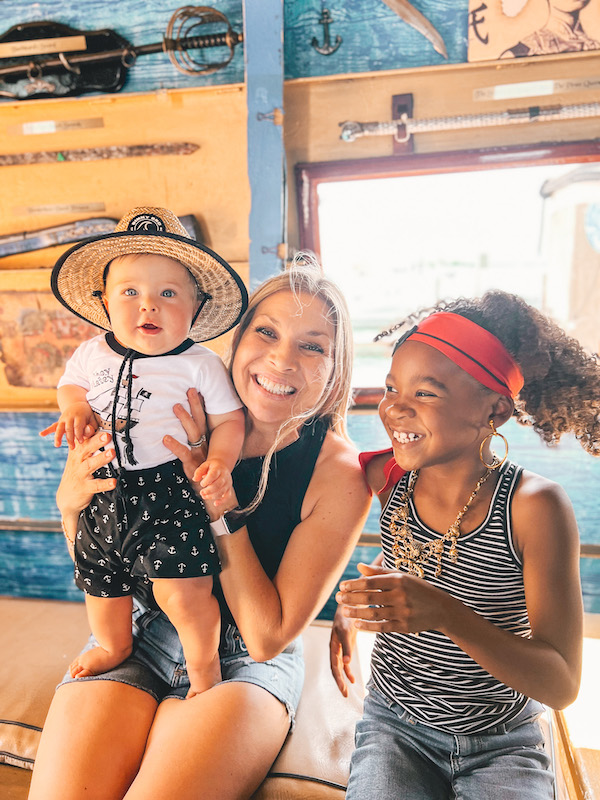 A unique attraction in Fort Myers is sailing with Salty Sam!
Why You Should Go?
Your little ones will love this activity because they go out on the pirate ship and cruise the ocean with Salty Sam himself! This excursion offers dancing, games, and comedy that will make your kids talk about this activity for weeks.
This pirate-themed cruise lasts 90 minutes. Parents are required to come aboard the ship. While the children are doing their activities, parents can go into the galley and order drinks at the bar!
This attraction has two different packages. The package differences are what souvenirs they get. Of course, you can save money by purchasing pirate-themed items before sailing the Seven Seas!
If the cruise is a big hit, they also offer a Pirate Sunset Cruise!
Map of Kid-Friendly Attractions in Fort Myers
Frequently Asked Questions about Fort Myers
Is Fort Myers a good place for kids?
Fort Myers Beach, Fort Myers, Sanibel, and Captiva Island, Florida offer a ton of family fun activities! Families can enjoy spending time together exploring and learning about the area's one-of-a-kind wildlife, sea life, rich history, and numerous educational and entertaining activities.
When is the best time to visit Fort Myers?
The best time to visit Fort Myers is between March and May, summer months will be the busiest, highest temperatures and the most expensive.
If you enjoyed our list of kid-friendly attractions in Fort Myers, you might also enjoy:
10 OF THE BEST FORT MYERS BEACH RENTALS AVAILABLE FOR YOUR SUMMER VACATION
THE BEST HOTELS IN LA JOLLA CA + KID-FRIENDLY THINGS TO DO
Pin for later