Ballast Point Temecula is a brewing & spirits company based in San Diego who recently renovated the old Captain's Cabin location in Temecula turning into a gorgeous Tasting Room. This facility is the first Riverside location for this up and coming company best known for their Sculpin and Big Eye IPA brews. Since 2012/13 many breweries have made Temecula their home turning this wine region into a wine and beer town within a few months. I went to see how Ballast Point checked out!
4 Delicious Reasons to Check out Ballast Point Temecula
1) The Atmosphere
The renovation is absolutely gorgeous with floor to ceiling windows, a clean modern industrial vibe, open booth, table and bar seating, a large patio with fire pits… the works! Temecula is definitely stepping up its game in the foodie industry lately and Ballast Point Temecula is here to make a statement in that playing field.
Something totally unique is the variety of seating option. There is literally a seat for every mood. Feel like lounging on a couch? How about getting cozy by the fire? Maybe you would rather have more privacy by tucking away with good friends in a booth? Ballast Point has you covered. The large open building was designed with every mood in mind giving you endless options!
2) The Bar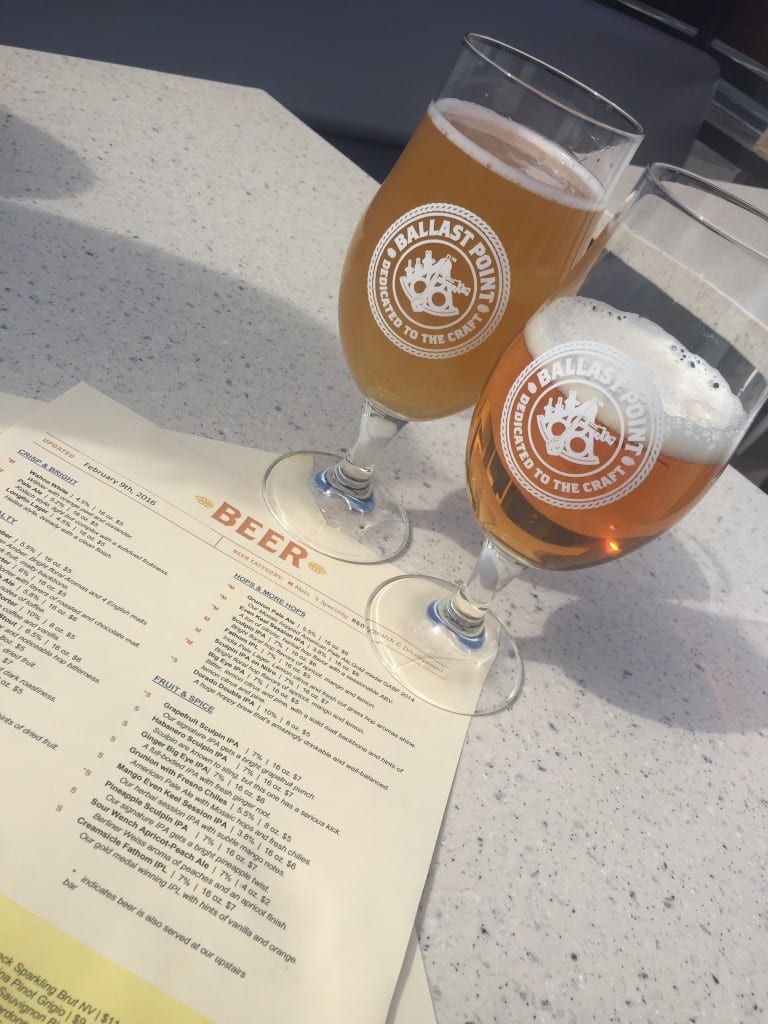 Beer is at the heart of Ballast Point. The company started with a love of home-brewed beer. After a time their craft was perfected and a company was born. They stay true to their roots though, making beers they love. That's not the only love the founders love… One will quickly catch on to the founders found feelings for fishing as many of the brews are named after fish or fishing terms and there are touches of fishing imagery throughout the decor.
The bars take the main stage in the establishments set up. There are actually three bars available- upstairs, downstairs and on the patio. The vibe is modern and swanky with plenty of flatscreens available for your viewing pleasure.
Of course, when you saddle up to the bar at Ballast Point Temecula, you will find a great selection of beers. As I mentioned they are known for their Sculpin and Big Eye IPA's but there is plenty of new stuff on the menu to keep your taste buds happy. I enjoyed the Wahoo White, the Amber Ale, and the India Pale Ale. You'll have to grab a flight for yourself and let me know in the comments which beers you loved most!
3) The Food
Whether you are there for a tasting or to eat a meal Ballast Point has you covered. They have everything from a Cheese & Charcuterie Plate to Truffle Fries for a quick bite. If you are feeling a bit more hungry you'll find burgers, sandwiches, fish tacos and salads too!
I visited for lunch and chose the grilled fish tacos and paired it with the Wahoo White it was an excellent match. I appreciated the option to have my fish grilled as I tend to stick to healthier bites. I also requested no crema and the chef was kind enough to place all dairy on the side in case it was an allergy. I love it when the staff goes above and beyond to accommodate requests like that. The tacos were tasty and filling. I enjoyed the fresh chips and… the guacamole was on point! A great meal.
My hubby chose the Grilled Chicken Sandwich and downed a light Longfin Lager with it. He enjoyed both! His sandwich was a hearty serving of a grilled chicken breast, portobello mushrooms, sauteed spinach and brie atop a ciabatta bun and a side of yummy fries. He said it was absolutely delicious and it was so filling he couldn't even finish it.
4) The Service
The waitstaff at Ballast Point Temecula was very friendly and helpful, (they even were kind enough to laugh at my husband's poor attempts at humor). The bartenders were eager to offer suggestions and hand out taste samples of the beers which was great. And, the cashier who took our food order was well versed on the menu and helpful when it came to making choices. However, the set up falls short here making it hard to give it an excellent rating.
The brewery is set up as walk-up counter style service. No waited tables. Basically, you stand in one line to order your meal, keep your tab open and walk to a separate line at one of the bars to order your drinks, then you go find a table and the waitstaff delivers your food to you. This set up is confusing at best and a bit annoying. I hope they move to waited tables soon… at least for those who came to enjoy their dining.
Overall
Ballast Point is an excellent option for drinks and a welcomed addition to the Temecula Brew scene. It's a great place to meet up with friends for happy hour, bring out of town guests and it would also be a great date night option. The renovation is absolutely gorgeous and the patio fits a certain vibe that you don't find in Temecula. I loved it! Ballast Point is a win for Temeculans!
Looking for something new in Temecula? Check out my top new places to dine in Temecula
Love Breweries? Check out the top 7 Breweries in Temecula
Have you visited any of Ballast Point's locations?
I would love to hear about your experience in the comments.
Latest posts by Mama Munchkin
(see all)