Orange County is Southern California's destination for beaches. Whether you are taking a day trip with friends or flying to California for a family vacation, OC beaches are the place to go.
There is so much to do in Orange County, California. From Disneyland in Anaheim, to the beaches, to the fantastic restaurants and attractions, you could spend a lifetime exploring OC. No matter how much time you have to spend in Orange County, you will want to spend some time on the beach. We have created a definitive guide to the best beaches in Orange County, California.
Best Beaches in Orange County For Families
If you bring your family to Southern California on vacation and plan to spend some time at the beach, Orange County is the perfect place to visit. We recommend the following beaches for families looking to sit back and relax at the beach.
Laguna Beach
Located halfway between Los Angeles and San Diego with 8 miles of coastline, Laguna Beach is a great place to visit the beach for the day. Laguna Beach is an artsy beach town with top-tier local dining. This part of the California coastline is known for its cove beaches, and Laguna Beaches are no exception. The main public beach access in the center of town has a boardwalk, basketball courts, and the iconic lifeguard tower. If you are interested in spending the night in Laguna, we suggest the Pacific Edge Hotel, Seaside Laguna Inn, or La Casa del Camino.
Huntington Beach
About 15 miles north of Laguna, closer to Los Angeles, Huntington Beach is an excellent place for active families to visit. There is even a dog beach for pets! Huntington City Beach and other public beaches allow for bonfires and even have pits set up and maintained by the town. Huntington Beach is a great place to spend a few days doing activities with a great view. If you decided to visit Huntington Beach, check out The Pacific Inn, The Waterfront Beach Resort, and Kimpton Shorebreak Huntington Beach Resort.
San Clemente
Is the southern most beach in OC, also known as the little Spanish village by the sea. San Clemente is another great city halfway between San Diego and Los Angeles. The city of San Clemente still requires construction be built with a "Spanish influence." San Clemente is a great place to surf or boogie board. If you are not a surfer, no problem, check out the San Clemente Pier to check out the surfers below. There is ample paid parking in San Clemente for visitors. If you decide to spend some time in San Clemente we suggest checking out Oceanfront Hacienda, Casablanca Inn, and The Surfbreak Hotel.
Best Beaches For Surfers
If you are coming to California for the waves, we do not blame you. Southern California is home to the best surfing beaches in the world. This next section of the article we will break down the best spots to catch a wave, or ten, in Orange County, California.
Trestles
Located at the southern end of San Clemente, the Trestles is a perfect place for long and short boards. The Trestles are broken up into 5 sections: Church, Middles, Lowers, Uppers, and Cottons. Beginners want to stick to the Church and Middles. If you are an intermediate rider you will enjoy the Lowers and Uppers. For an advanced rider the Uppers and Cottons are a great pick. The Trestles is a low key surf spot known mostly to locals is a great spot to spend a day catching a wave.
The Wedge
This infamous section of the Newport Beach is known for big waves. Seriously, with a southwestern swell the Wedge will make some seriously big waves, sometimes as high as 30 feet. The Wedge is also popular with body surfers.
San Onofre Surfing Beach
Also known as Old Man's or San O, this beach is a state run gem for surfers. Located in San Clemente off the Old Pacific Highway, this access point is known as the best place in Southern California for beginner riders to learn how to ride.
North Beach San Clemente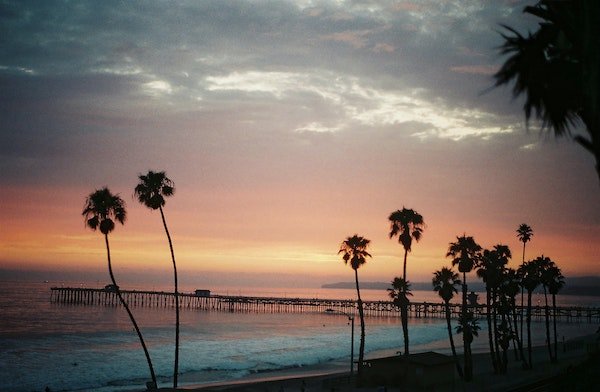 Another great spot for surf in southern Orange County is the North Beach access in San Clemente. If you are a beginner the break at North Beach can be a perfect spot to learn. That being said, make sure to check the reports before you go as this spot is known for its aggressive swell on the right day.
Seal Beach
We suggest checking the daily reports before deciding to surf at Seal Beach. While it has some great spots to catch a wave, it is especially great for hang gliding, parasailing, and boogie boarding. Seal Beach has a few access points but the main spot is the pier.
Doheny Beach
Located in the city of Dana Point, Doheny Beach was another Southern Califronia beach made popular by the Beach Boys. If you are looking for one the best breaks for a longboard then you found your new favorite spot. While critics of Doheny will mention poor water quality in the winter, it is still a favorited spot by local and regional surfers. If you decide to check out Doheny Beach take caution your first visit as the rocks will cutup your feet if you are careless.
Little Corona Del Mar Beach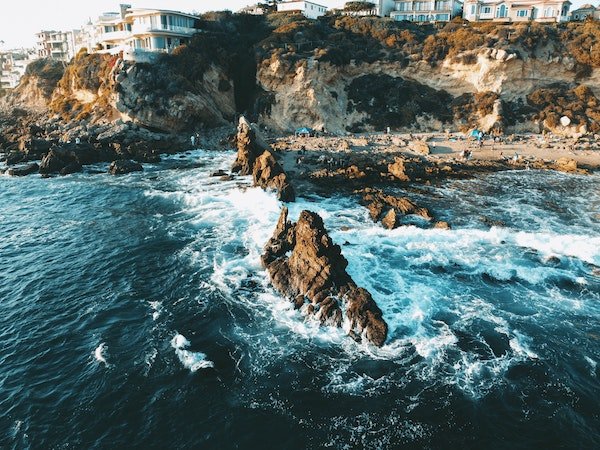 Located in Newport Beach, Little Corona has an amazing jetty to catch a wave. If you are looking to catch a bomb on a beach that is not packed with people then come to Little Corona. It is a bit difficult to figure out parking which makes it a perfect spot for a low key day riding the waves.
Mysterious Tower at Victoria Beach
If you are riding around Laguna Beach you will want to stop Victoria Beach and check out "La Tour." The Mysterious Tower was built in 1926 and stands 60 feet tall. Not only is the Mysterious Tower awesome to look at, it creates some major waves.
Crystal Cove State Park
This is not just a place to catch a wave, but if that is what you are looking for, you are in the right place. With over 2400 arches of state maintained park and 3.2 miles of shoreline, there is a great spot for every skill level of surfer. While Crystal Cove is not a daily rider, when the conditions are good, it is one of the best spots to catch a wave in Southern California.
Table Rock Beach
This is the go to spot for locals in Laguna Beach. If you are a skimboarder or shortboarder, this is the beach for you. This is not a spot for swimmers as the surf has a strong ripcurrent. Waves crash hard but is a favored spot for the nearby riders.
Dana Point Harbor Beach
Many long time riders in the area know the tail of Killer Dana. The Dana Point pier construction killed the wave but it is still a great place to catch a wave. The jetty at Dana Point is a great spot to bring the kids and teach them how to surf. If you are looking for a great spot to ride waves, have a lunch by the sea, and end they day with a beautiful sunset view, then Dana Point is the place for you.
The Keyhole at Pearl Street Beach
The Pearl Street Beach in Lauguna Beach, has a local secret known as the Keyhole. This area is not for riders, as boards are banned from the Pearl Street Beach access point. The Keyhole is a natural arch in the rockwall on the southern point of Pearl Street Beach. In low tide you can walk through the Keyhole to a rocky shelf. This area known as Arch Beach is an awesome spot to hangout in low tide, you can even walk to Woods Cove Beach.
Map of Best Beaches in Orange County
Why You Should Go
Southern California is awesome, seriously. If you are a beach lover, then come and spend some time at one of the best beaches in Orange County from our list above. Orange County is the place to surf in California. If you are looking to spend time with family we recommend checking out Laguna, Huntington, Manhattan or San Clemente, you won't be disappointed!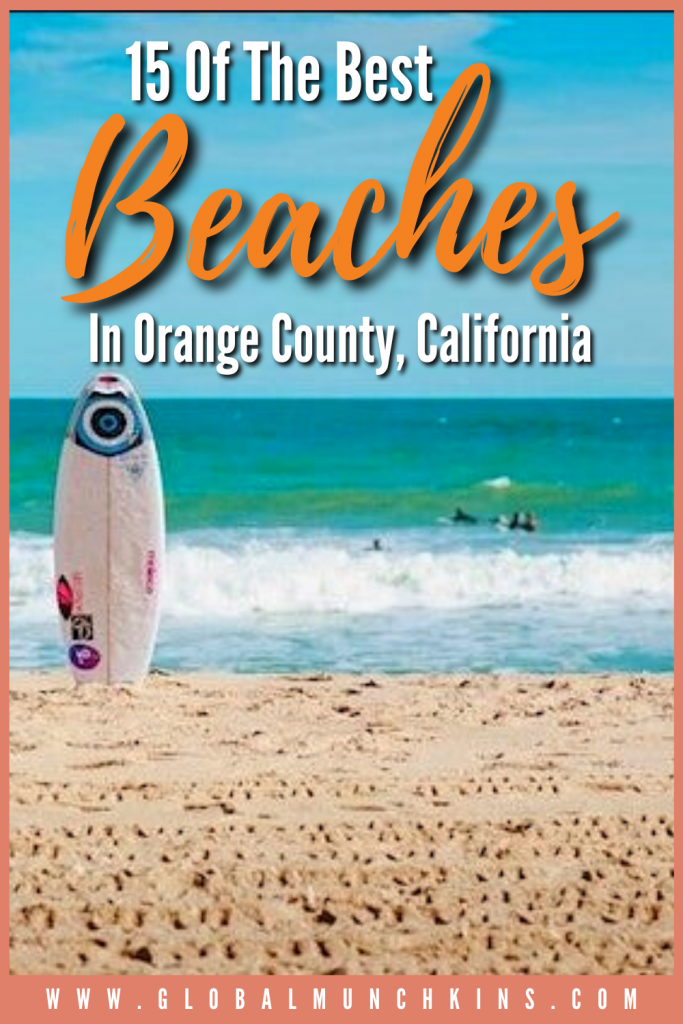 You might also like:
33 AMAZING THINGS TO DO IN ANAHEIM BEYOND DISNEYLAND
THE ULTIMATE GUIDE TO THE [BEST DANA POINT RESTAURANTS & ACTIVITIES!]