When I first heard the news about the new Disneyland Lightning Lanes with the new Genie +, I said, oh, it's the old Disneyland Max Pass, but now with more added costs. So, this week, we gave it a try and while it is not as easy to use as the old Disneyland Max Pass, it still worked quite well, just a bit more expensive than the old Max Pass. So, to help everyone get the most out of the new Disneyland Genie + we figured out all the Disneyland Genie + Secrets so I could get on as many rides as possible, and see if it is worth it.
What is Disneyland's Genie +?
The Disneyland Genie + is basically a way more efficient way to get lightning lane passes for rides at Disneyland & California Adventure. Rather than the old school way of going to a ride to go get a Fastpass time (now Lightning Lane), you simply can book the Lightning Lane times right from the Disneyland App on your phone. No need to walk to the back of the park to get a Splash Mountain Lightning Lane Pass when you can do it right when you walk in the park.
What is the Cost of Disney Genie +?
Disneyland Genie + costs $20 per ticket, it includes the ability to book your Lightning Lane Passes at both parks (if you have hopper tickets, otherwise just one) from your phone plus you get all the photo passes from your rides and from the Photopass Photographers throughout the park.
Extra Lightning Lane Cost
Now, this is where everyone gets a bit confused. There are a couple rides in Disneyland and California Adventure that you have to pay separately to book a lightning lane pass. The price ranges from $8 – $20. You DO NOT have to have Genie + to buy these additional lightning lane passes and it is not included in Genie +
Currently the Lightning Lanes that cost extra are:
Star Wars Rise of the Resistance (Disneyland – Cost $20 during our visit)
Spiderman Web Slingers (California Adventure – Cost $12 during our visit)
Radiator Spring Racers (California Adventure – Cost $12 during our visit)
How is Genie + different than Disney Genie
Disney Genie is a free service that will give you recommendations of where to go on your day in the park. Disney Genie + allows you to book Lightning Lane Passes and includes Photo Pass pictures
How to Set it Up?
Step 1 – Download the Disneyland App on your iPhone or Android device
Step 2 – Link your tickets to the app – Simply click on the "my tickets" tab and you will see a place where you can link your tickets. You can also purchase tickets or Annual Passes right from the app as well.
Step 3. Click on Plan My Day with Genie – This is where you can purchase Genie + for each member of your party.
Pro Tip* – If you have someone who typically doesn't ride rides, you don't have to purchase one for them, you can choose who in your party you would like to have the privileges.
Step 4. Once you Enter the Park Choose your first Lightning Lane Ride – Now before you go choosing your first Lightning Lane Ride time, let's take a look at how to use Genie + like a Pro.
How to book a Lightning Lane Pass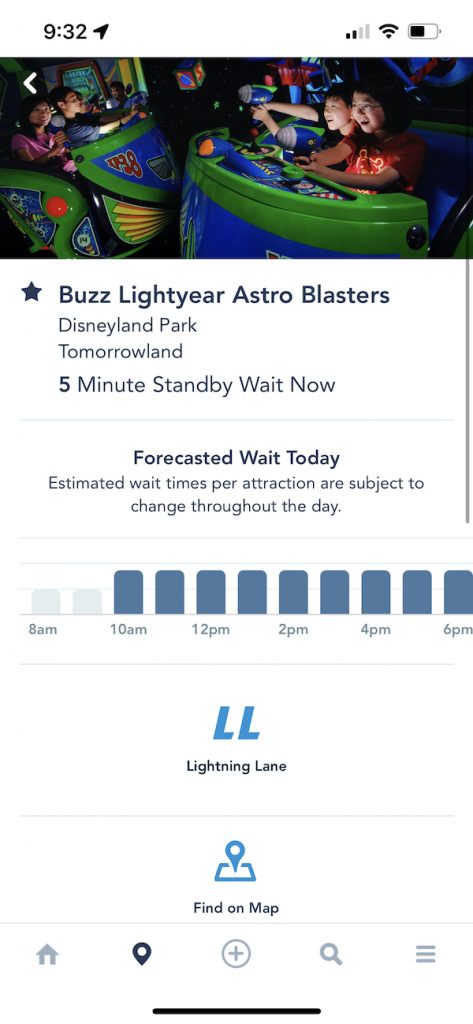 The easiest way to book a lightning lane pass is open the Disneyland App and do the following
Click on the Disneyland Map (Second icon from the left on the bottom)
Click on the attraction you want a lightning lane pass for (you can also click show list if you don't know where the attraction is on the map
If the attraction offers Lightning Lane you will see an LL (Tap on that to book a lightning Lane time)
What Rides can I book with Disneyland Genie + 
Disneyland Lightning Lane Attractions
Big Thunder Mountain Railroad
Buzz Lightyear's Astro Blasters
Haunted Mansion
"It's a small world"
Indiana Jones Adventure (also offers Single Rider Line)
Matterhorn (also offers Single Rider Line)
Roger Rabbit's Car Toon Spin
Space Mountain (also offers Single Rider Line)
Splash Mountain (also offers Single Rider Line)
Star Tours – The Adventures Continue
Smuggler's Run
Rise of the Resistance ($15 – $20 per person)

Disney California Adventure Lightning Lane Attractions
Incredicoaster (also offers Single Rider Line)
Goofy's Sky School (also offers Single Rider Line)
Grizzly River Run (also offers Single Rider Line)
Guardians of the Galaxy — Mission: BREAKOUT!
Radiator Springs Racers ($12 Per Person)
Soarin' Around the World
Spiderman Web Slingers ($12 per person)
Toy Story Midway Mania
Disneyland Lightning Lane Secrets to help you use Disneyland Genie + to its full extent
#1- Get to the parks as early as possible!
You don't need to be at the gate right when the park opens. However, the earlier you are at the parks the more Lightning Lanes will be available, allowing you to go on the most possible rides. Plus, lines for the non Lightning Lane rides won't be as long. I would say you can ride on close to double the number of rides, just by getting to the parks early.
#2 Choose one land/area that you want to go on some rides
The biggest mistake I see people make at Disneyland & California Adventure is they choose one ride, then they choose another ride all the way across the park. You end up spending a majority of your day walking and wearing your self out especially if it's a hot summer day. Choose a land or two lands that are next to each other that has the ride you want to go on first and book your Lightning Lane passes at that location first.
#3 When you are booking your lightning lanes, look at the wait times
If the ride is only 5-20 minutes long it is probably better to just go on that ride and book another Lightning Lane time  for a different attraction. Or if there is another attraction you want to go in the same area with a longer wait time, book that Lightning Lane. For instance, when we went to Pixar Pier, we were surprised to see Incredicoaster was only 30 minutes so we booked the Lightning Lane for Toy Story Mania which was 60 minutes. By the time we were done with Incredicoaster, we jumped right on Toy Story Mania with our Lightning Lane Passes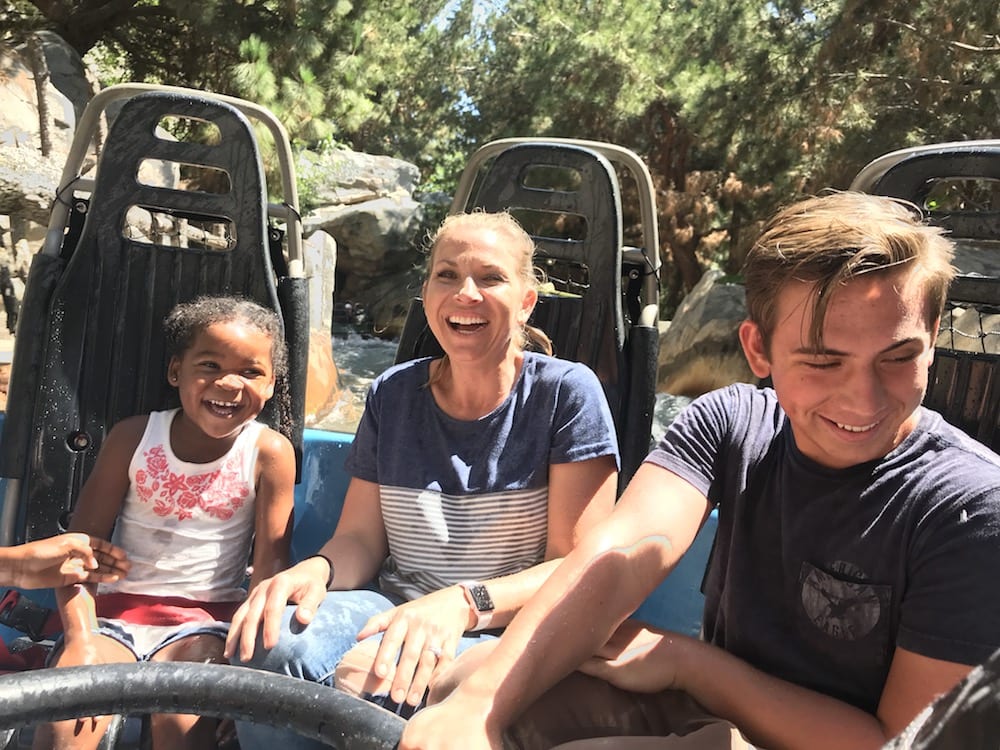 #4 – Know when you can book your next Lightning Lane Time
There are three different scenarios that determine the next time you can book a Lightning Lane, luckily the app will tell you when you can book your next Lightning Lane
You can book your next Lightning Lane immediately when your first Lightning Lane time starts with two exceptions.

If you book a Lightning Lane that is within 30 minutes from the current time, you have to wait 30 minutes to book another   or when you use the at the attraction. (So, if it is 10 am and the is for 10:10 – 11:10 you can book when you go on the ride or at 10:30 am)
If you book a Lightning Lane where the ride time is more than 90 minutes, you will be able to book another Lightning Lane in 90 minutes even though the other Lightning Lane has not started. (This is great for popular rides, I booked Space Mountain for 7 pm when it was only 1 pm and was able to book another at 2:30 PM)
#5 Set an Alarm & Bring a Portable Charger
Once you find out your next time you can book a Lightning Lane time set an alarm on your phone to remind you to book another. This was a savior for me on the last trip and easily helped us get on two more rides in the day. Also get a battery charger because the Disneyland App does tend to drain your phone's battery Here is my personal favorite charger. It charges faster than any other charger I have had.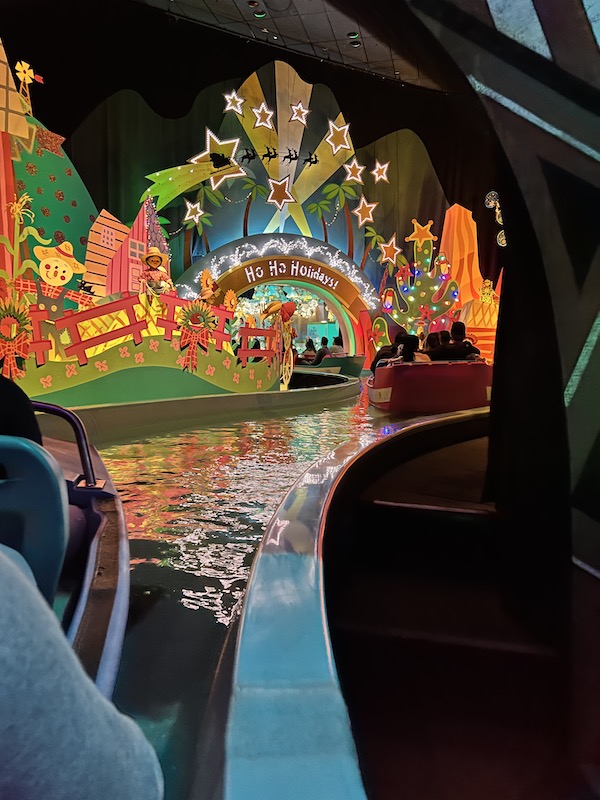 #6 Know which rides are more likely to run out of Lightning Lane Passes
Yes, Disneyland Lightning Lane Passes run out as they allow only a certain amount of Lightning Lanes passes per hour. Here are the rides that are most likely to run out of Lightning Lane passes first. If these rides are on your list of must ride, hit them up first.
In Disneyland
Rise of the Resistance
Indiana Jones
Space Mountain
Splash Mountain
Disney California Adventure
Guardians of the Galaxy (Mission Breakout) Formerly Tower of Terror
Web Slingers
Incredicoaster
Radiator Springs Racers
Soarin'
Toy Story Mania
#7 Take Pictures of your Ride PhotoPass Pictures to get your code:
One of the perks of Disneyland Genie + is that you get all the Photopass photos for the rides. When you get off the ride, you will see your PhotoPass picture with a code. Those pictures transition somewhat quick with passengers of the next ride getting off shortly after you. So snap a quick pic of your ride code. Then, you can enter the code into your Disneyland App and a few minutes later it should appear on the app.
Our pictures did not appear the last time and it was a good thing we took pictures as we had to email photopass to get our photos.
#8 – Hit up all the Picture & Character Spots
Look, the photos are free with the MaxPass, so might as well take advantage of all those PhotoPass people hanging around the parks. It is like having a professional photographer joining you on your trip.
If you have little ones or you love to see the characters yourself, definitely stop by some character spots for pictures. Typically a Photopass photographer is there to capture the moments. And since the photos are free with the Genie +, take advantage of as many character spots as possible.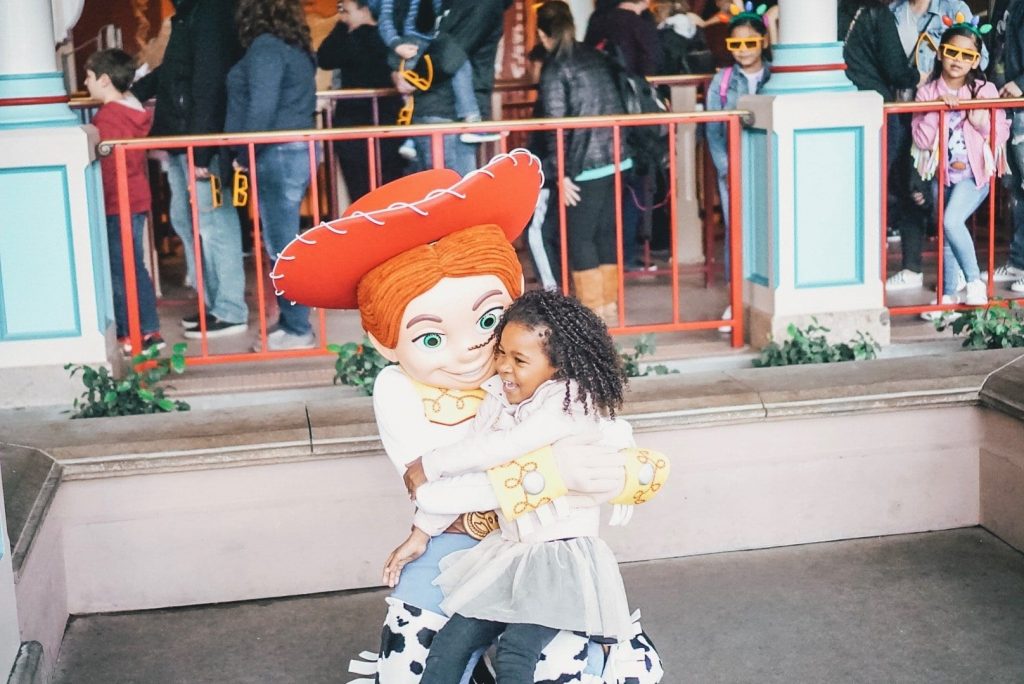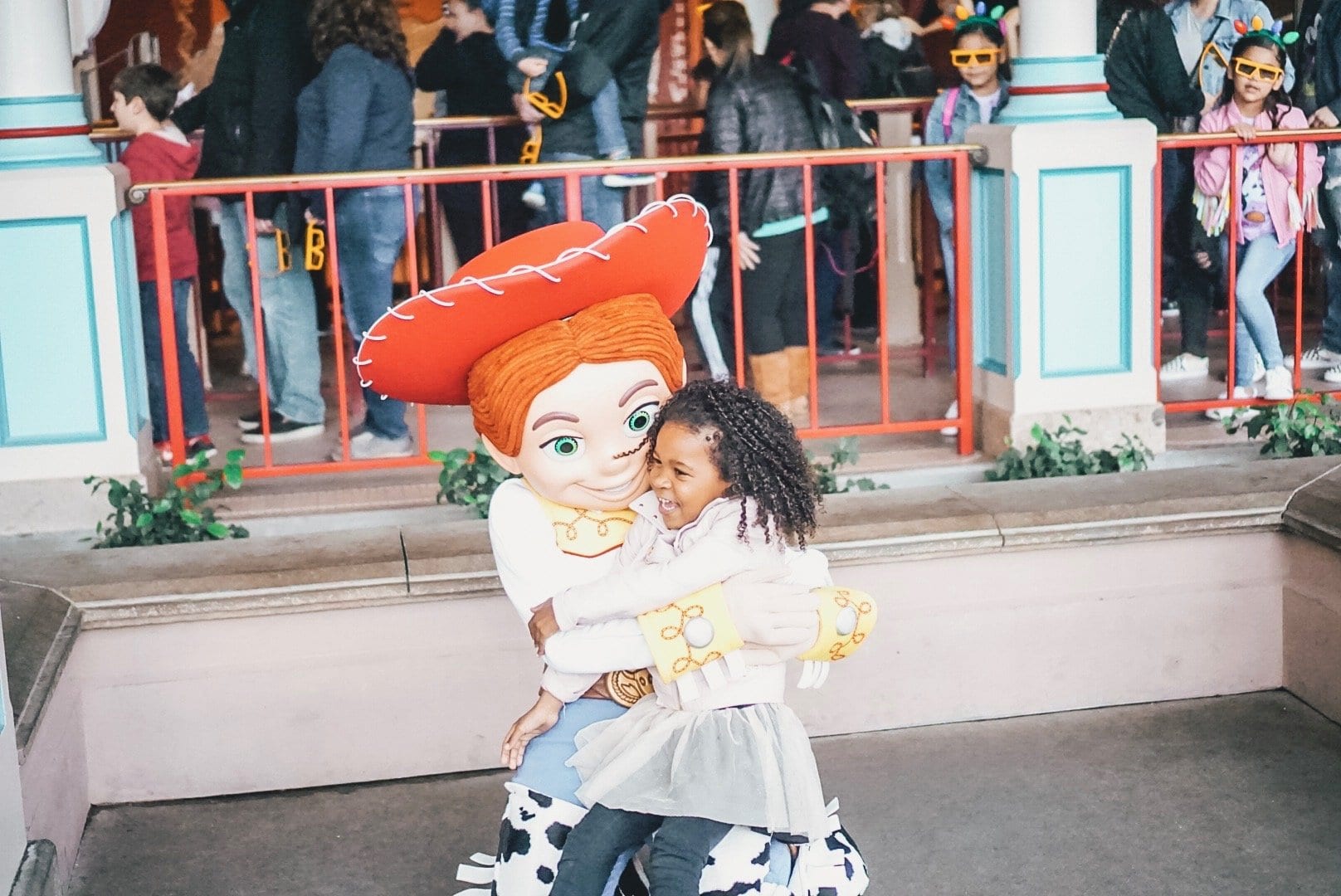 Bonus Disneyland Lightning Lane Secrets – Other ways to save Time to get the most out of your GENIE +
Pre-order food right from the Disneyland App – There is no need to wait in long food lines, simply click on order food, choose the time for pick up and you can order from a ton of quick dining restaurants including:
Disneyland:
Bengal Barbecue
Galactic Grill
Gibson Ice Cream Parlor
Hungry Bear Restaurant
Jolly Holiday Bakery Cafe
Red Rose Taverne
California Adventure:
Award Wieners
Clarabelle's Hand-Scooped Ice Cream
Cocina Cucamonga Mexican Grill
Corn Dog Castle
Flo's V8 Cafe
Lucky Fortune Cookery
Pacific Wharf Cafe
Paradise Garden Grill
Smokejumpers Grill
When should you NOT Buy the Disneyland GENIE +
The last of my Disney LIGHTNING LANE secrets is there are times when you should not buy a Disneyland Genie +. If you happen to be heading to just California Adventure and you arrive at the park early (rope drop) I would skip buying genie +. You can hit up Incredicoaster, Guardians and Toy Story in the first hour with no waits. Then pay for web slingers and possibly radiator springs racers.
There simply aren't enough rides with Genie + at California Adventure so Genie + is not worth it if you get to the park early or after 1pm (as many lightning lanes are gone) Now, if you are going an hour after park opens til about 1, I would get Genie +
If you are going to both parks or just Disneyland it probably is still worth it even if arriving after 1ish.
Disneyland is a must for Genie + as long as you are arriving before 3pm. There are so many rides to take advantage of, it's a lifesaver.
Overall
Overall, I really enjoy Genie +, I actually like it more than Disney World's because Disneyland just has so many more attractions that it makes it worth it and it is so easy to use it at both parks in one day as you can hop from park to park easily since the parks are basically 100 feet apart.