Ah, the golden state. California has just about every type of vacation you could dream up from the mountains to the desert and of course the beautiful beaches. It is a place for adventurers, those searching for luxury, and of course, lovers. Southern California is home to many romantic getaways, just in case you and your loved one are looking to escape from the hustle and bustle of everyday life.
Below you will find some incredible resort options that will make for the perfect home-base during your romantic getaway, no matter what kind of couple you are. They are all in prime locations with tons of surrounding activities. Although, once you escape the kids and arrive at these resorts, you might just never want to leave.
10 Romantic Getaways in Southern California!
A Classic Getaway
When you daydream of a romantic getaway, what do you see? If your dreams include mornings lounging poolside, afternoon massages, getting dressed up for a fancy dinner, and a late-night walks on the beach then you probably fall under the classic getaway couple.
One of my absolute favorite places in California is Santa Barbara, and I think it is a wonderful destination for a Southern California getaway. The Bacara is a Ritz-Carlton Resort and it is absolutely stunning, located on 78 acres overlooking the Pacific Ocean. You will definitely want to splurge on a room with an ocean view. There's nothing better than having a room service breakfast out on your balcony with a view like this!
Santa Barbara offers plenty of activities from art festivals to horseback riding, golf, and, obviously, the beach. Everything the town has to offer is easily accessible from Bacara. You could simply stay on-site as well where you can spend time at the pools (they're gorgeous), get a massage or spa treatment, spend an afternoon in the wine tasting room, or dine at one of the 6 restaurants.
While Loews Coronado is a great resort for families, it can also make for the perfect spot for a romantic getaway. This luxury hotel sits on 15-acres, giving it a secluded and romantic feel. Not to mention, it overlooks the bay and the San Diego skyline. There are three pools, a hot tub, and a sauna if you're looking to take a dip.
You can visit the Sea Spa for signature treatments and therapies. We love the rooms and all the little spots on the property to just kick back and relax, as well.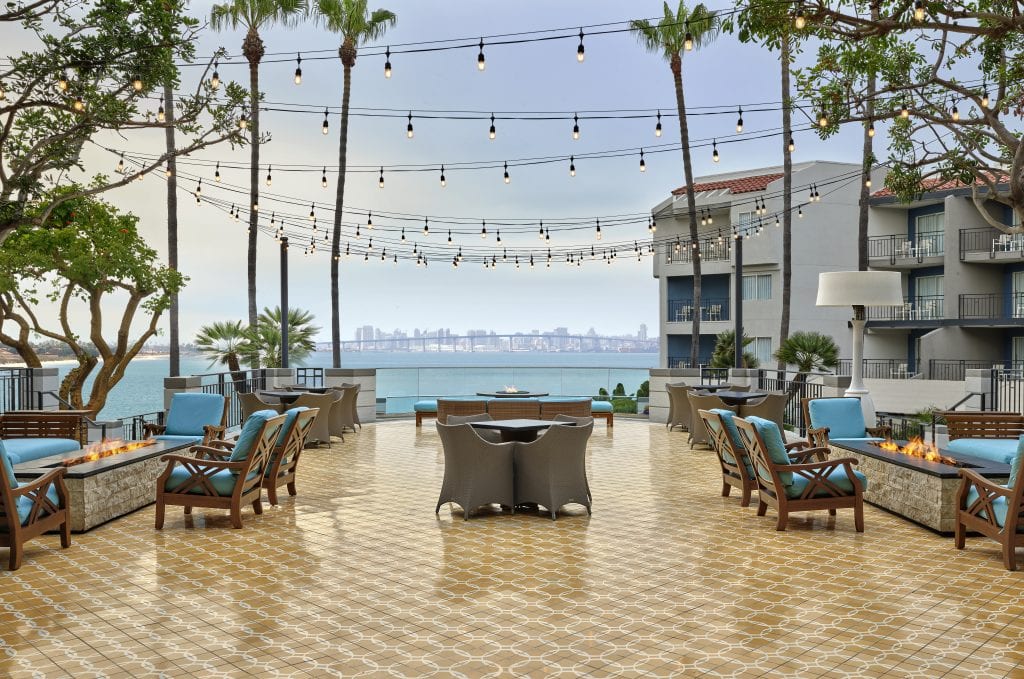 Coronado is a wonderfully quaint beachfront town with boutiques, cute eateries, and incredible sunsets. It's a great town to just ride a bike around and explore. There are also world-class golf courses in close proximity and just about every watersport you could think of.
Here's further info on Loews Coronado!
Newport is one of the most iconic beachfront towns, and the Resort at Pelican Hill is arguably the best place to stay in town. It's definitely a beautiful setting for a romantic Southern California getaway. You will get a little taste of the Italian countryside with the architecture, the panoramic views, and an abundance of indoor-outdoor spaces.
Not to mention the Coliseum Pool, which is a perfect circle with more than 1 million mosaic tiles. Renting a cabana suite at either of their two pools is a great idea for a romantic day by the pool. They include flat-screen TVs, Bose audio systems, chaise lounges, dining tables with chairs, ceiling fans and minibars.
As for nearby activities, Crystal Cove Beach is right below the resort. There are 3-miles of gorgeous beach for strolling, swimming, surfing, and exploring the tide pools. You can also bike, kayak, or paddleboard. Newport is also home to great shopping like Fashion Island and the Crystal Cove Shopping Center.
For the Adventurous Couple
Leave behind the 5-star restaurants and lazy afternoons, for the adventurous couple, we have gathered some of the most unique resorts in Southern California for a romantic getaway. They are definitely all out of this world!
We'll kick off the adventurous list with a boutique resort in La Jolla that will make you feel like you've been transported to Bali. The first time I ever stepped foot in this hotel, I was completely blown away, which is how you want to feel on a romantic getaway! Not only was it beautifully decorated with Balinese-inspired touches, but there were fresh-made coconut macarons, fruit, infused water, tea, and espresso.
They are all about pampering you here and making sure you have everything you need for a wonderful stay. Breakfast is also included here (it's quite the spread, with items like coconut banana pancakes and sweet potato hash), which will set you off on the right foot for a day full of adventure.
La Jolla is the perfect spot for a couple looking to do new and exciting things together. Scuba diving and snorkeling are both popular here. There are also plenty of hikes, which all offer gorgeous views. You can even try to find the Secret Swings! Dr. Suess lived here, it's also fun to find the tree that inspired him to create the Lorax. Lastly, don't miss the sea lions at Children's Pool.
Check out the Pantai Inn here!
We all know Venice Beach attracts a more eclectic crowd and that's exactly who these Eco Cottages were meant for. They are solar-powered bungalows just a quick walk from the beach and the shops of Abbott Kinney Boulevard. They each have kind of a different theme, but they are all filled with repurposed and vintage pieces. It will feel like your own little home for the time you are here!
Venice has a bohemian feel with street performers and local vendors selling their goods along the boardwalk. Nearly the whole town is walkable, so you can get from place to place without a car. This includes the unique Venice Canals, the Mosaic Tile House, and Muscle Beach. You can also hop on a bike to explore or hit the famous Venice Skate Park!
You are also nearby to everything Los Angeles has to offer if you want to venture into the city. Check out what these cottages are really like here!
Another unique place to stay on your romantic getaway near Southern California is the Autocamp Santa Barbara. They offer a luxury Airstream experience, which is absolutely the coolest way to go glamping! These Airstreams have tons of amazing amenities; luxury pillowtop mattresses, spa bathrobes, microwave & fridge & cookware, patio bbq, flatscreen tv with cable, and two beach cruises so you can get your exploring on. They're seriously gorgeous and located just 3-miles from the beautiful Santa Barbara beaches!
We mentioned Santa Barbara above in our classic getaways because there is so much fun to be had. The same obviously goes for staying here! From hikes to shopping, beach days, and dining Santa Barbara has tons to offer.
Take a look at how cool these Airstreams really are!
Just 14 steps from the beach on the gorgeous Catalina Island, right off the coast of Southern California, you will find the Pavilion Hotel. While this hotel is not completely all-inclusive, they offer just about everything you need to make a stay in Catalina wonderful.
A full breakfast is included, plus a wine reception from 4:30-5:30 in the evenings. You will also have use of the bicycles on property and access to the Descanso Beach Club. You can also add a package onto your booking that includes spa treatments or adventures like zip-lining.
Like we mentioned, Catalina is an island just 26 miles off the coast. This gives it a bit of exclusivity and the true feeling of an escape. There is a lot of history to explore here, you can also take a submarine ride, or see the island by horseback. It is also common to kayak around the island or spend your day laid out on a boat.
What is your dream romantic getaway in Southern California? Whether you are hiking the hills of Newport or laid out by the pool in Santa Barbara, a romantic getaway is really just about taking time to pause and focus on each other. Take it slow and take it in. We hope you have the absolute best time!
You May Also Like: 
San Diego Tide Pools; Guide to the 10 Most Incredible Tide Pools
Top things to do in Carlsbad; One of My Favorite Cities in the World