Mission Beach is one of the best places to base your San Diego beach vacation. Smack dab in the middle of Pacific Beach to the North, the Pacific Ocean to the west, Mission Bay to the east, and Ocean Beach to the south, you sit between all of the best parts of San Diego county. From surfing to dining to enjoying rides at the amusement park, there are tons of ways to find excitement in Mission Beach. Of course, you'll also want to find the best place to stay as well! Here are some of the best Mission Beach vacation rentals in the area!
9 Mission Beach Vacation Rentals You'll Love
This two-bedroom condo is situated in one of the most luxurious beachfront buildings in the greater San Diego area. You'll find top-quality appliances and furnishings throughout the condo, including an American Leather sofa bed, sub-zero appliances, LED lighting, and comfortable patio furniture.
The condo sits adjacent to Belmont Park, so make sure to enjoy all of the excitement it has to offer while you are there!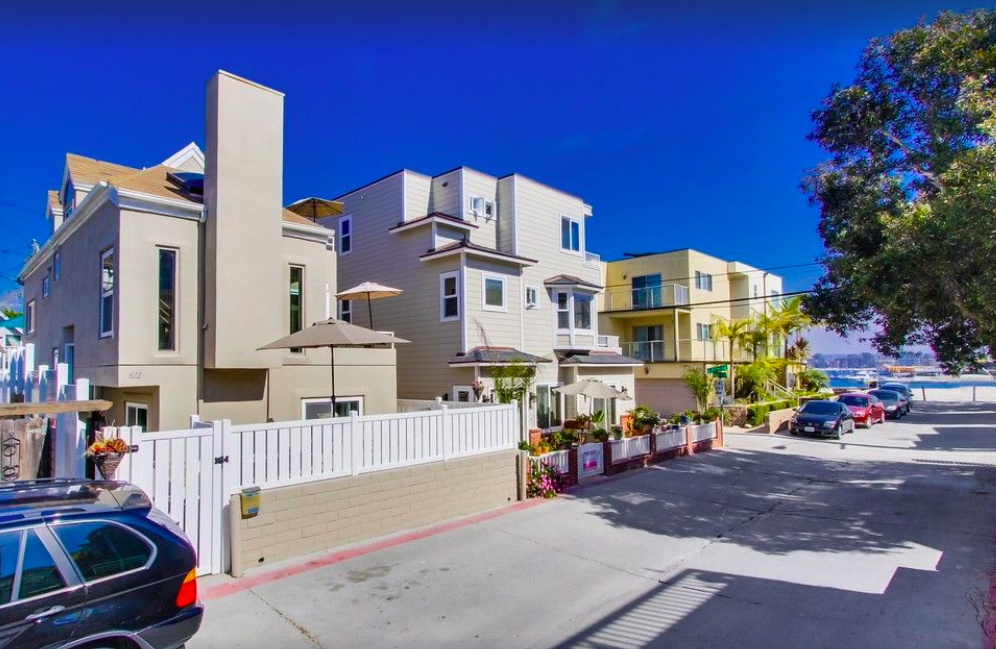 If you're looking for a large family home to entertain in, this vacation home is an excellent choice! With three bedrooms, three bathrooms, and enough room for 8 sleepers, you'll have plenty of space to have fun.
Though it is steps away from some of the best restaurants in town, it is also off the boardwalk, meaning you can enjoy a bit of peace and quiet when you want to. There are two balconies to enjoy too. Make sure to take a stroll across the street to bask in the San Diego sunset!
Sometimes going on vacation means finding total peace and quiet. In this zen-like studio, you can enjoy the peace and quiet quite unlike anywhere else on this list. This particular pad sits in South Mission on the second story. It is the perfect place to enjoy a relaxed atmosphere thanks to the gorgeous wood furnishings and comfortable amenities.
The studio sleeps two, making it a great choice for couples, and there are two boogie boards included for those who want to take it to the shores!
If you're looking to live in luxury for a few days, we recommend checking out this luxury townhouse. It sits just two minutes away from the shoreline and is a great family-friendly destination for those seeking out excitement.
The house is within walking distance to some of the best restaurants in town, as well as Belmont Park. There are three balconies to enjoy for those who want to take in a good view of the bay too!
This Cape Cod Luxe Beach Home is a prime example of true beachfront property. It boasts incredible views from both the second and third story levels and is just steps away from the boardwalk, beach, and Belmont park! Plus, you'll find four bedrooms here that can sleep up to 11 guests.
With over 2,000 square feet of space, there is more than enough room for large families who are looking to experience it all while in San Diego. The open floor plan makes big dinners a possibility and the brand new furnishings, appliances, floors, and more, will have you feeling like you're living in a top-notch home!
The Surfrider Condo is perfect for those who want to relax with oceanfront views all day! The property sits just a few minutes from the boardwalk and has panoramic views to the south, west, and north! You'll enjoy the 15' floor to ceiling window that looks out to the mighty Pacific!
Some of the top amenities include a 100" HD projector screen for watching movies, a private patio with high-end furniture, a 9' sunken hot tub, and a covered parking spot just a few steps from the condo!
This Luxe Home is perfect for those who want to be separate from other travelers and locals. With a large open floor plan, a two-car garage, two bedrooms, two full baths, and a smart tv in the living room for all of your entertainment desires, it is the perfect spot for families to enjoy!
The top floor boasts a rooftop deck with more than enough seating for 12 people. There is tons of shade up top too, as well as a propane BBQ for those nights where you want to fire up some good eats! The home sits on North Mission beach and is close enough to walk to Belmont Park!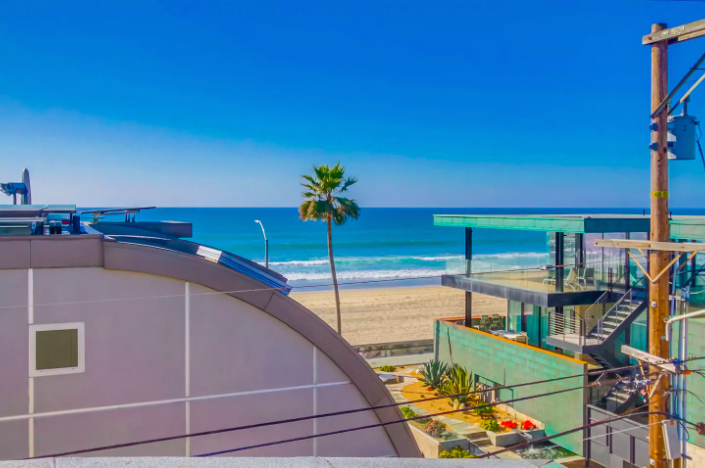 With 1700 square feet and three floors, there is plenty of room to enjoy a good time in this oceanfront space! You'll find a large rooftop deck for catching the sunset, a ground floor patio, and second and third-floor balconies!
There are four bedrooms in total. Though with the bunk beds and sleeper sofa, there is more than enough room for 12 people altogether!
You'll find a gas BBQ on the first floor, two swinging hammock chairs to sleep the day away, and a brand new private jacuzzi on the rooftop for unwinding at the end of the night.
There is no rental property in Mission Beach that is quite as luxurious as this one. The property sits next to Pacific Beach, providing a little slice of heaven for surfers and sunbathers. You'll wake up every morning to the swaying of palm trees and the soft ocean breeze.
The retractable glass doors provide guests with unobstructed ocean views. You'll be able to grab the included boogie boards or two-person kayak when you're ready to explore the waves! Nighttime is the best time to cozy up to the dining room fireplace and the outdoor patio is a prime spot for mixing up your favorite cocktails. There is even an included mixology set!
Mission Beach truly is a great home base for a San Diego vacation and with these rental options, you really can't go wrong. The hardest part will really just be choosing which one is perfect for you!
You May Also Like:
50 Things to do with Kids in San Diego (20 are FREE!)
The Best Family-Friendly Jackson Hole Luxury Rentals
Top 7 Best San Diego Beaches You Must Check Out!
Pin for Later: 9 Mission Beach Vacation Rentals You'll Love