Looking for something fun to do with the kids? Take them to Kenny's Strawberry Farm for some strawberry picking good times. We tried it out with our crew last week and had a blast! Kenny's Strawberry Farm is the cutest berry farm I have EVER visited and Farmer Kenny's strawberries are the BEST strawberries we have EVER tasted! If that isn't reason enough to get you over there read on to learn my 5 reasons to take your kids strawberry picking, plus learn tips from Farmer Kenny on picking the BEST strawberries, learn about one of our FAVORITE clothing lines, and ENTER TO WIN the Fresh & Sweet Giveaway which includes a bunch of Strawberry Picking Goodness, a Family PhotoShoot + $100 Gift Card to Tea Collection!!! (*click here to go straight to the giveaway)
5 Reasons to Take YOUR Kids Strawberry Picking + Tips on Picking the BEST Berries + GIVEAWAY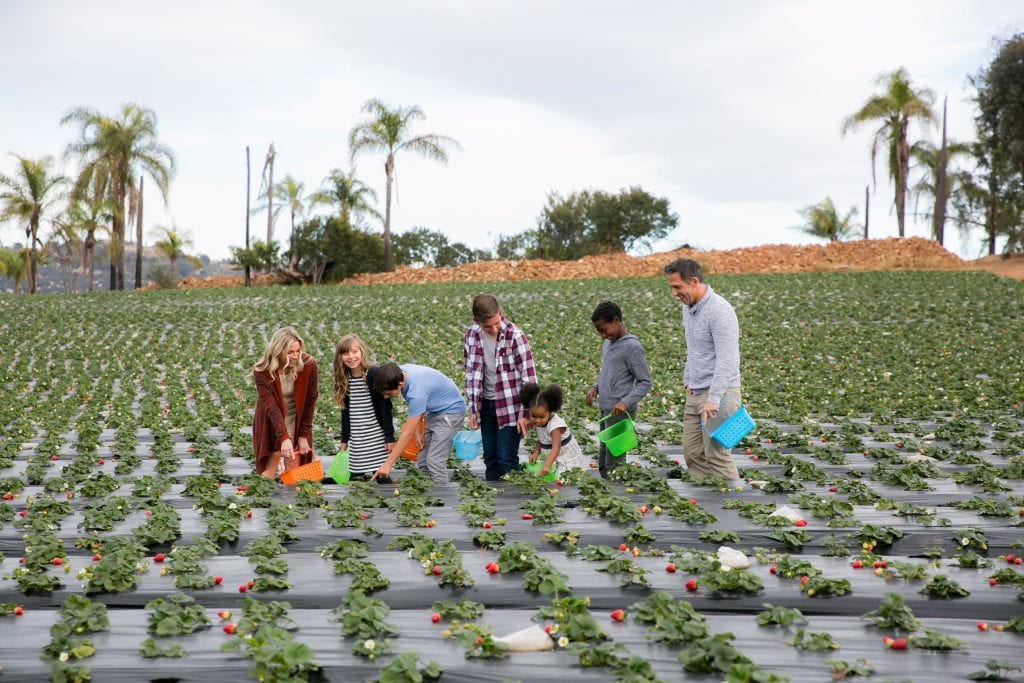 1 It's Cheaper
Strawberry picking can actually SAVE you money because you don't have to pay the added costs of someone else picking, packaging, shipping, and shelving your produce. Plus, picking local berries saves on environmental costs too. The strawberries you see on the grocery store shelves have often traveled thousands of miles to get there.
2 Your Kids Learn Where Food Comes From
Food has become such a convenience that many of our kids lack the knowledge or understanding of where it actually comes from. Taking your kids to a u-pick strawberry farm like Kenny's Strawberry Farm is a super fun way to help educate your kids about farming.
3 Support Our Local Farmers
We are so lucky to have so many wonderful farms surrounding us in Temecula and they need our support. Most farming these days is either imported or run by huge corporations. Supporting our local farmers helps them keep their self-owned businesses running. And, that is a HUGE benefit to all of us!
4 It's Fun!
This may be the BEST reason! It is SO important to get out and have FUN as a family and the fact that strawberry picking pulls you and the kids away from the screens is an added bonus. Life is crazy, chaotic, and fast paced. Getting out on the farm, smelling the sweet smell of ripe berries, and getting your hands a little dirty (seriously not very dirty bc of the wonderful way Farmer Kenny grows his berries).
5 The Berries are the BEST You've Ever Tasted!
I was AMAZED at how much more delicious our freshly picked strawberries were from Kenny's Farm compared with all the organic berries I paid a fortune for at the store. Turns out all of that transportation of the berries to get them on the store shelves totally affects the flavor, freshness and nutrient levels of the berries. And, the difference is substantial. If you want to know how to pick the absolute most delicious berries, check out Farmer Kenny's tips below.
Farmer Kenny's Tips for Picking the Perfect Strawberry
1 The redder the better!
We always say that "red is best" here at Kenny's. Strawberries only get sweeter while they are on the vine. Check to make sure the berry is red all the way around.
2 Take your time!
Strawberry picking can go quickly, but take your time and search for the biggest, juiciest ones you can find!
3 Have fun!
We hope you enjoy the farm as much as we do! Bring a picnic, pick some strawberries and spend the day with us. Thanks for being a part of our family and our farm!
Our OBSESSION with Tea Collection
Tea Collection is everything I want in a brand. Their products are globally inspired, incredibly well-made, and they are SOOOO comfortable. Honestly, I wish they made clothes in my size.

Not only are their clothes adorable and comfortable. But, Tea Collection also GIVES BACK!! You know how I feel about being mindful and responsible when it comes to which companies we choose to spend our hard-earned dollars with. Since 2003, Tea Collection has partnered with the Global Fund for Children and has donated nearly $500,000 to local grassroots organizations who advance the dignity of children and young people around the world. As if that wasn't impressive enough, Tea Collection is also committed to social responsibility and ethical sourcing too! So, you can feel good about your purchase!

And, most importantly, kids LOVE wearing Tea Collection. Not only because they are incredibly comfortable (although they do love that), kids also like the ease of slipping the pieces on and off by themselves (got to love their independence), they love that they can wear their favorite dress in-and-out of nearly every season (thanks to how wonderfully Tea Collection pieces layer), and kids love that moms allow them to go explore and get dirty when they are wearing their Tea Collection outfits (because they wash SO well).

Check out Tea Collection's SALE going on NOW + Enter the Giveaway below for your chance to WIN a $100 Gift Card to Tea Collection!!!

GRAND PRIZE-
$40 gift card to Kenny's Strawberry Farm
Kenny's Farm T-Shirt
Kenny's Tote Bag
Kenny's Strawberry Jam
Kenny's Strawberry Syrup
Kenny's Coffee Mug
+ Complimentary Mini Photo Session with Faithfully Focused Photography 

(30min, 40 photos on an online gallery!)

+$100 Gift Card to Tea Collection to outfit your kids in adorable, cozy NEW clothes!!!
How to Enter-
1. Follow Global Munchkins and Kenny's Strawberry Farm on Instagram
2. Like THIS Photo
3. Tag 3 Friends in the Comments
The WINNER will be announced on March 22, 2017. GOOD LUCK!!!
Have you ever picked your own

fruits

or vegetables from a local farm—or from your own garden? Now that you have a few good reasons to try it, are you more likely to?