As a travel writer and local Temecula resident, I have had the acute pleasure of experiencing quite a few Temecula Wine Tasting Tours. Today I am sharing my favorite ones to help you plan the best trip to the Temecula Wineries!
The BEST Temecula Wine Tasting Tours
Whether you are headed to Temecula for a wedding or a weekend with friends, you can't leave without checking out one of our amazing Temecula Wine Tasting Tours. We have plenty of options for all types of tourists. Adrenaline junkies will love 4-wheel driving in a jeep or taking to the skies in a hot air balloon. Large groups will love the ample seating on the Grapeline Wine Tour. And, animal lovers and romantics can't go wrong with a horseback wine tour. Below are my personal favorites when it comes to Temecula Wine Tasting Tours.
Temecula Valley Jeep & Wine Tours
My absolute favorite Temecula Wine Tasting Tour is Temecula Valley Jeep & Wine Tours. I love the open air and the smaller group size. Plus, Julie (the owner) is super knowledgeable when it comes to pairing clients with the right wineries. Just check out their 5-Star Yelp Rating. All the raving reviews will make you see I am not alone in my love for this awesome Temecula tour company.
One thing I love about Temecula Valley Jeep & Wine Tours is that they pick you up from your local Temecula hotel (or residence) which is super convenient. Their jeeps are right red so you can't miss them and they are super clean.
I love that Temecula Valley Jeep & Wine gets to know their clients' tastes in wine and atmosphere before helping them decide which wineries to visit. On our recent tour, we started off at Callaway Winery. Our guide not only got us all set up with our tastings but also arranged for a private tour in the barrel room. It was amazing to see all of the giant barrels!!
Next up was Peltzer Winery (my absolute FAVORITE winery in Temecula). The ambiance is so cozy and the staff there are super welcoming. And… it doesn't hurt that they have the BEST tasting wine AND serve it with delicious fresh baked bread!!
After our tasting, our guide arrived with our lunch order. When she came to get us in the tasting room she let us know that she had already secured a table for us so that we could enjoy our food outside! And, another reason I HIGHLY RECOMMEND Temecula Valley Jeep & Wine Tours. I love that they take care of everything so you can just relax & have fun!! After lunch, it was time for some off-roading which was a blast!!!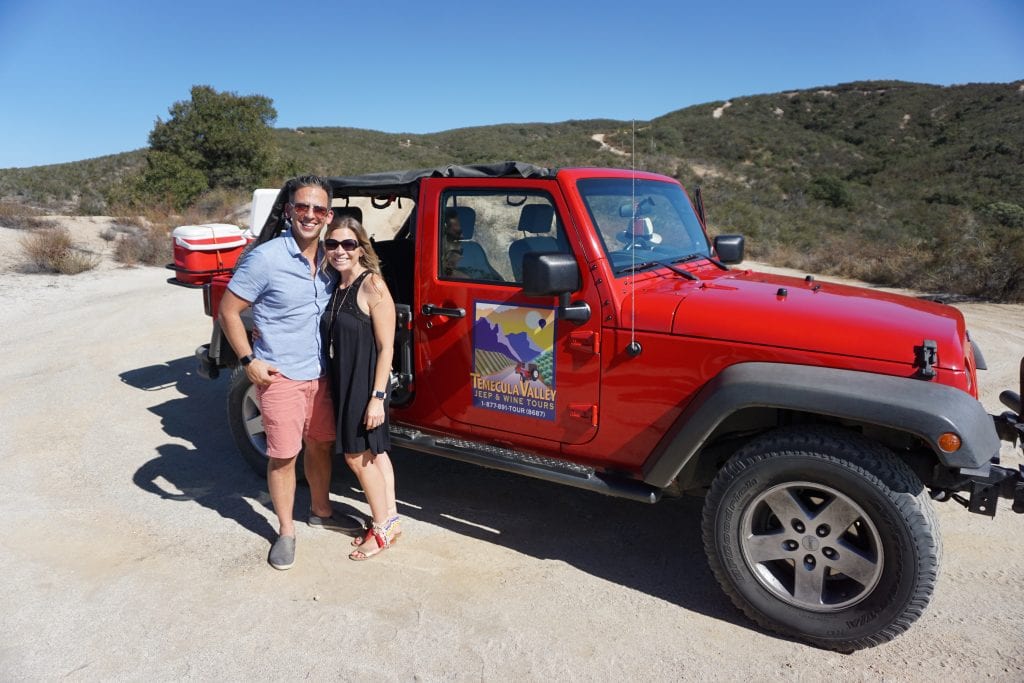 Next up we headed into the hills for some 4-wheel driving which was a blast! The drive took us up to a gorgeous lookout point that had sweeping views of the entire Temecula Valley. After taking some photos and learning a little bit of history it was time for our last winery. Julie (our guide) suggested Europa Village and it was the perfect ending to our fun-filled day. If you are looking for excellent service and a really fun time you can't go wrong with Temecula Valley Jeep & Wine Tours.
Straight Off the Vine Wine & Brew Tours
Most people come to Temecula looking for wine. However, you would be shortchanged if you don't take the opportunity to check out our local breweries. You can check out some of my favorites here and here. Offering not only wine but also brewery tours is one of the reasons I recommend visitors to check out  Straight Off the Vine Wine Tours. Besides being one of the few tour companies to offer brewery tours, Straight Off the Vine is also known for their fantastic service and their party buses.
Vin Hesten Trail Rides
If you are looking to tour the wineries in a unique way, you should check out Vin Hesten's Winery Trail Rides. With an excellent rating on Yelp and tons of customer reviews, you don't just have to take my word for it.
Wineormous
Tom is well known to us locals as an expert wine guide. His personal tours are thoughtful, informative and an absolute blast! Another benefit of touring with Tom at Wineormous is that he is great friends with many of the winery owners. Often on his tours you get to meet the vintners, winery owners and go on impromptu tours of the wineries. If you love wine and are looking for an excellent guide you cannot go wrong with Wineormous.
Which of these tours would you choose?
You might also enjoy:
Samsung Galaxy S9+ [Tips for Taking the BEST Photos]
Leoness Cellars- One of the BEST Wineries in Temecula
The Best Waterparks in Southern California – A Complete Guide
Pin it for Later – The BEST Temecula Wine Tasting Tours