Imagine being pulled through soft, fresh glittery pillows of snow by amazing sled dogs through the backcountry of Colorado. Gorgeous views, a thrilling ride and a once in a lifetime experience you will never forget! That is Grizzle-T Dog Sledding in a nutshell! Dog Sledding, Colorado is something that should be on everyone's bucket list.
As I have mentioned in previous posts (see here & here) we had a GLORIOUS time in Steamboat CO. It was one of those trips that really stood out. The people are all amazing, the town is very well run and organized (free transportation- woot! woot!) and the snow is the softest most powdery snow I have ever touched.
We had many amazing experiences while we were in Steamboat but the one that stands out the most hands down was dog sledding with Grizzle-T Dog & Sled Works. So, I thought I would take you behind the scenes and explain exactly what it is like to dog sled with Grizzle-T.
Dog Sledding, Colorado- A Once in a Lifetime Experience!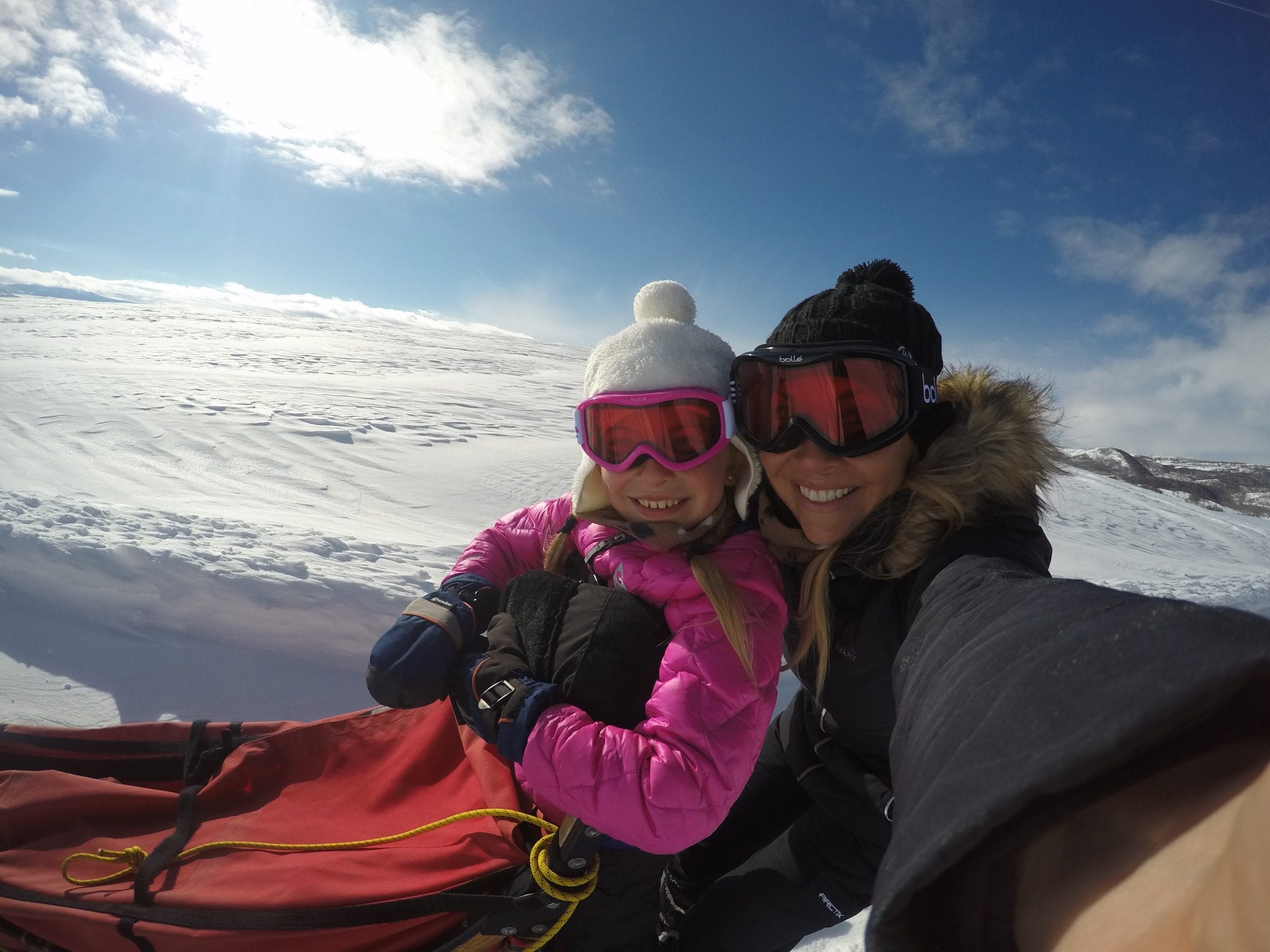 How to Make Reservations
Simply log online www.SteamboatDogSledding.com and make your reservation or call 970-870-1782 and speak with the wonderful Sara Hoffman who will enthusiastically answer all of your questions and get you set up and ready to roll. Easy peasy! Sara also keeps in contact with you right before your visit making sure you are well informed and ready to have the BEST time.
How to Dress for Dog Sledding in Colorado

What do you wear to drive a team of dogs in the snow? I had no clue. But, thankfully Sara, from Grizzle T Dog Sledding does a great job informing guests how to dress. Basically, you dress as if you were going skiing. Lots of layers under a pair of snow pants and a big snow jacket. Super warm socks and snow boots. Big gloves, beanie, ski goggles and a scarf.
We came prepared as stated although Sara also has loaner boots, gloves and neck guards for you to ensure all the guests are cozy. The long gloves were a lifesaver for me as you do pick up quite a chill from the wind on your hands if you are the driver.

Those seated in the sleigh get covered in warm cozy blankets… Ella was SO cozy in the sleigh she actually fell asleep at one point!
Getting There
If you want to do some dog sledding in Colorado you need to head to Grizzle-T Dog & Sled Works in Steamboat Springs Colorado. If you are in Steamboat Springs Grizzle-T provides complimentary pickup/ drop off right from your hotel or condo in Steamboat making it an incredibly easy task.
Meeting the Dogs
There is nothing like being greeted by over 100 Alaskan huskies. These gorgeous, friendly and athletic dogs are eager to meet you and earn some of your love. They are incredible animals and amazing athletes. Chris and Sara, the owners, pride themselves on breeding and training the best sled dogs. Many of which have run in the IDITAROD. Their dogs are properly conditioned and fed with state of the art nutrition. These talented pups can run over 150 miles a day across freezing terrain. And, they LOVE every minute of it!!
Tour Options
Of course, the average Joe is not going to have a clue on how to drive sled dogs. So, Grizzle-T offers two options: "Guide Driven" or "Drive Your Own Team".
Guide Driven means you sit in the sleigh and a professional guide drives the dogs. While this is obviously fun for some I think you are really missing out by not getting the chance to stand behind the sleigh and drive the team yourself.
In the Drive Your Own Team one of you stands behind the dogs to drive and your partner sits in the sleigh. You have a chance halfway through to switch spots so both of you are able to drive.
Sara assured me we would be capable of driving our own teams and since you don't get a chance to drive a dog team very often we jumped at the opportunity.
Learning the Ropes
After meeting the dogs our group huddled up for instructions. Chris (Sara's husband, experienced musher and founder of Grizzle T) happily goes over the basics to catch you up to speed. The lesson is a whopping 5 minutes long… maybe 10. But, as Chris said (and he was right) you really have to jump on and give it a try to get the hang of it. Kinda like riding a bike!
I was super nervous as we had three sleds in our family. My hubby drove one with Shea (our 9-year-old son), I drove another with Ella (our 8-year-old) and Camden (our 13-year-old son) drove a sleigh with his brother Owen (our 11-year-old son). Turns out I had nothing to be nervous about. These dogs know what they are doing. You just have to hold on, press down on the breaks to slow em down occasionally and enjoy the views. And, man are there some gorgeous views!
At the halfway point, Shea and Ella were able to stand in front of us on the backs of the sleighs and Cam and Owen swapped places. Our 11-year old drove and did awesome! The kids absolutely loved dog sledding in Colorado.
On the Trail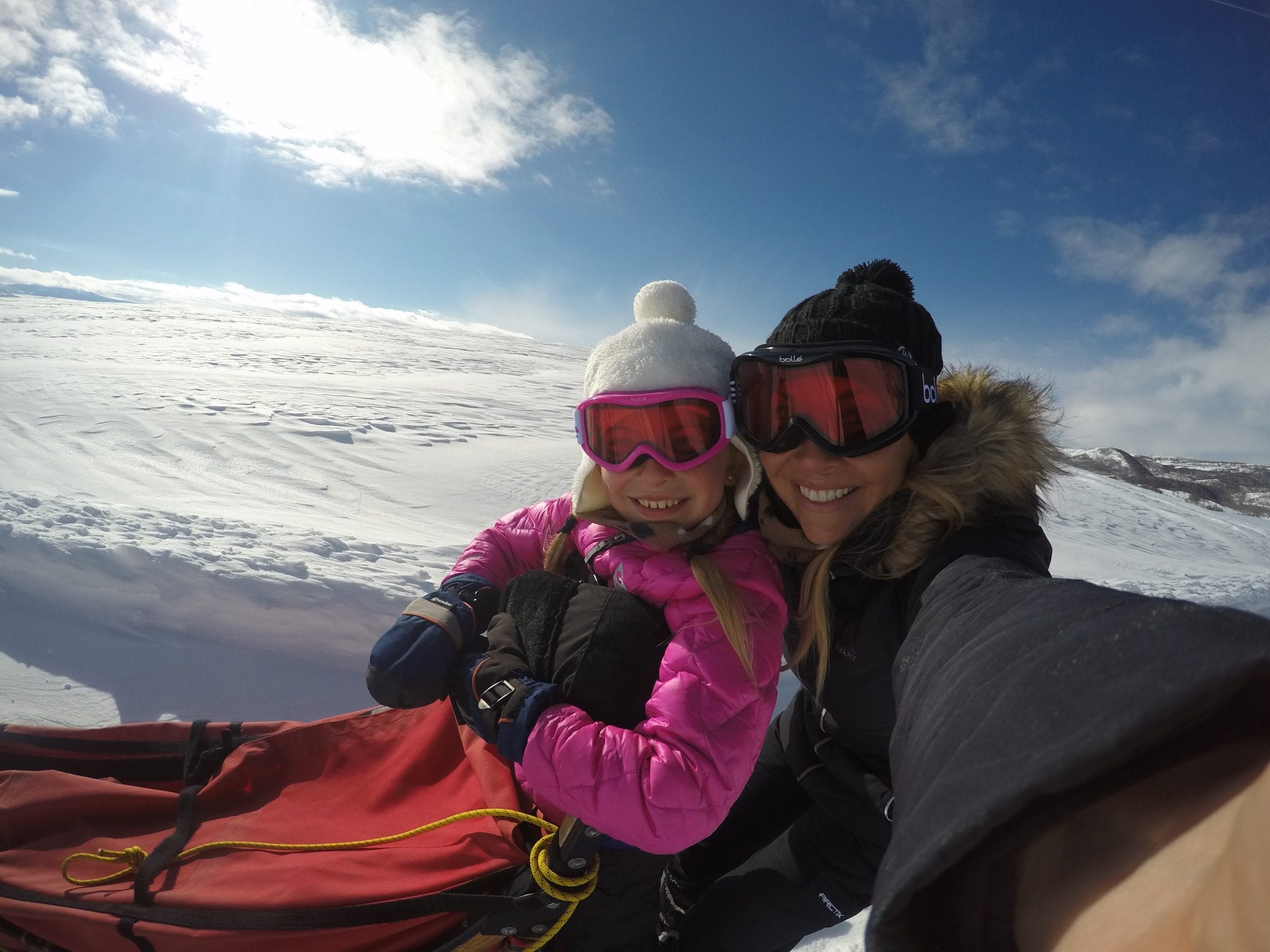 Man… WHAT AN EXPERIENCE!!! This one goes down as a major bucketlist experience. The dogs are absolutely incredible, the views are out of this world beautiful and the solace and peacefulness of Colorado's back-country is like nothing I have ever experienced before.
We swerved in and out of canyons, around frozen lakes and up and down the most powdery mountains. At times I felt like I was floating in the clouds with all the untouched snowy hills surrounding me. It's one of those experiences where you have to just breathe slowly and remind yourself how blessed you are. This is LIVING!!!
Saying Good-Bye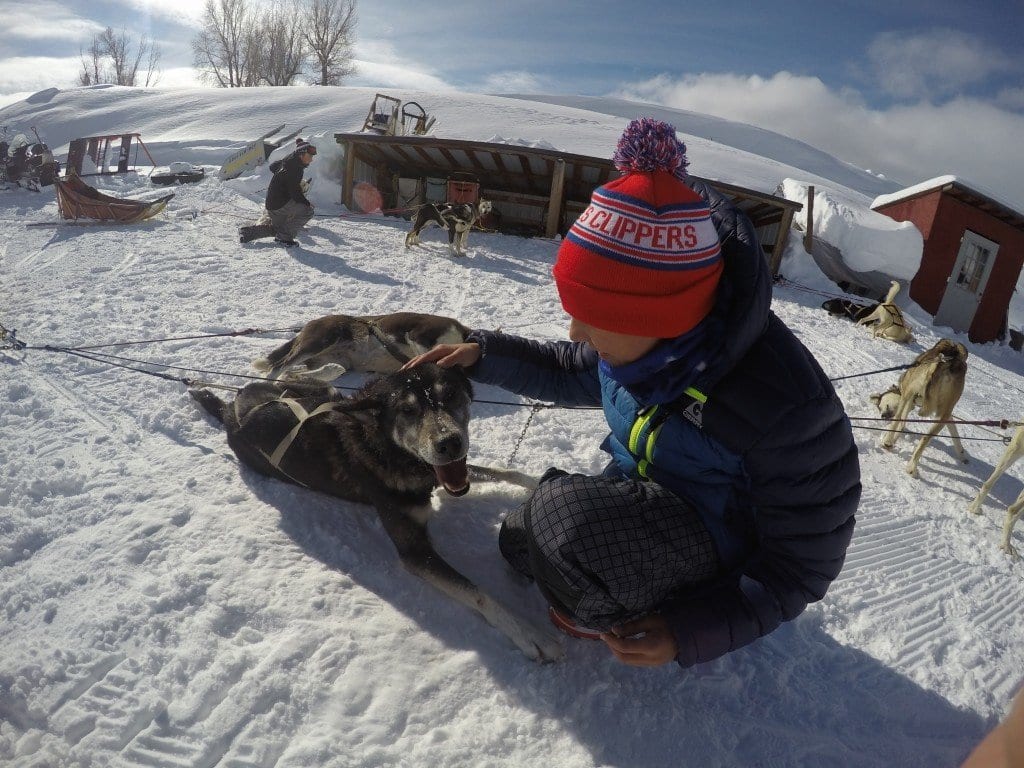 You would think 12.5 miles would tire these pups out… NOT the case. I was amazed how difficult it was to get the dogs to stop running when we arrived home. But, once the professionals got them to stop and were able to stake down the sled we were able to hop off and thank our team. Saying good bye was hard and we had to practically pull our children away from their new furry friends.
After we said good bye we headed back to the office where hot cocoa and warm cider awaited us. There were also the most fudgey brownies and yummy cookies to enjoy by the fire while we warmed up.
We returned our borrowed gear to Sara, thanked everyone and then loaded back up in the shuttle to go back to the condo.
Overall
Dog Sledding is an amazing experience that the whole family will enjoy. Kids as young as two can join in the fun and ride in the sleigh. So, as far as family fun activities go I give this one a TWO THUMBS UP! Grizzle T Dog & Sled Works will NOT disappoint! In fact I will even go as far as to say that this was our favorite winter activity not just in Steamboat but that we have EVER experienced!!!
Learn more about Grizzle T Dog & Sled Works here.
Have you gone Dog Sledding?
Share your experience, comments or ask your questions below.
I love hearing from you!
*A special thanks to Grizzle T for hosting the munchkins. As always I only share experienced I think my readers would enjoy and I always review them with 100% honesty. Your trust and readership mean the world to me!