If you are looking to disconnect from the world and reconnect with your family, yourself, and new friends there is no better way to do so than by heading on a Dude Ranch vacation. We have visited Paws up, Tanque Verde and now we are checking out the CM.  The CM is located just a few hours from Yellowstone National Park nestled next to the Bad Lands at the CM Ranch. There are seriously no words to describe this special place, but I will do my best below with my list of the 5 best reasons to go on a Dude Ranch vacation at The CM Ranch.
1) It's Authentic 
The History of the Ranch
 No one could say it better than the ranch's own storyteller, who previously ran The CM with her family. "Everything in the world keeps changing, except the CM," Barb Shoemaker told us during her story session.  You'll also find a journal in your cabin full of stories from previous guests. These are people who have stayed right where you're staying! It's really something special to be able to leave your own tidbit in the book at the end of your stay. 
The Dude Ranch Vacation Experience Today
You will come to realize your CM vacation isn't much different from someone who visited CM 30, 50, or 75 years ago. That is something unique and incredible to be part of. Of course, things have been updated and there are new amenities. Yet at the root of it all, this ranch hasn't changed much. And, while it is not really a luxury vacation, the staff is incredibly attentive and willing to customize your experience. To me, that is even better than luxurious amenities. This means cooking the fish you caught that day for your dinner or extra riding lessons or running into town to grab you a bottle of wine.  
2) You Will Meet Incredible People 
The Owners & The Staff
Trying to describe all these people, their stories, their horsemanship, and their kindness, might just require a chapter book. I will let you get to know them for yourselves, but you can count on this… you will be in the best hands. Mollie and Hunter Sullivan, the Ranch Managers, have done an amazing job of keeping The CM's integrity while adding in their own modern touches. They have brought in staff who work hard and love what they are doing and the people they're doing it with.
The Other Visitors
Mollie, the CM Ranch manager, said "I would bet we have the best group of guests in the world," and she wasn't wrong. There is a come as you are attitude making every single person feel welcomed. I think it is because of this that people return again and again. No joke, there were people on our trip who had been to the ranch over 30 times! 
3) The Whole Dude Ranch is Surrounded by Beauty
Whether you choose to stay right on ranch property throughout your visit or venture out to the surrounding areas, Dubois is absolutely stunning. From the unique Bad Lands to the rivers and lakes to the jagged mountain peaks, there isn't another place I've found quite like it. Really there are no words, just take a look for yourself below. 
4) You Will Never Go Hungry on a Dude Ranch Vacation
Everyday Meals
When I say you'll never be hungry, I mean it. In fact, you might want to pack your stretchy pants because a single day of meals might include; double chocolate-covered French toast, fajita tacos, and bison medallions. Not to mention, there are always fresh-baked cookies to snack on. You'll be counting down the minutes until you hear the dinner bell!
The Breakfast Ride
This was my absolute favorite ride, no surprise because breakfast is my weakness. Food aside, it was also a great ride over to the breakfast spot with beautiful views of the Bad Lands. All the staff, the ranch managers, adult guests, and kiddos (the kid's coordinators bring them over if they don't ride) will be in attendance. Oh, and if you want a pancake, you better be prepared to catch! The pancake toss is definitely a highlight. 
The Cookout
If I had to pick a standout experience of our dude ranch vacation, it would be the cookout at the end of the week. You load up in the back of a wagon and the kiddos hop onto on old fire truck and head to a beautiful lookout spot for dinner. It was the perfect ending to an amazing week. Plus, it was the best way to say goodbye to all the friends you've made. Honestly, it feels like a family barbecue because you are so close to the staff and other guests by this point. 
5) There are Tons of Things To Do on a Dude Ranch Vacation
Riding
We were a little nervous about horseback riding, but as soon as we met Sam, the head wrangler, our fears disappeared. At the CM Ranch, you get paired with a horse for the whole week. They will pick one out that fits your skill level and confidence. Both of us LOVED our horses and felt like we were matched up perfectly. If you are a beginner like us, there are beautiful & easy trail rides to go on and by the end of the trip, you might just be loping or climbing to the mountaintops!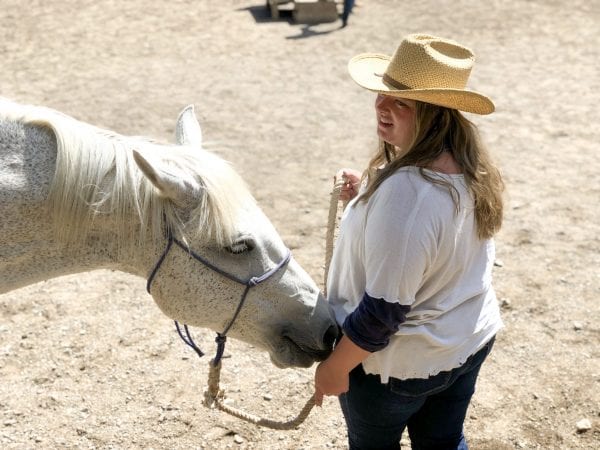 We really appreciated that each night at dinner Sam went around and asked everyone how their rides were going and what they would like to do the next day. From that information, he created small groups of 4-5 people paired with a friendly wrangler for the next day's rides.
There are also 2 dedicated kid's wranglers, who will take your little ones out for rides. I took a ride with them myself and cannot even express how impressed I was by Harley and Jo. The kids loved and trusted them. Plus, I could tell how much confidence they had instilled in them about their riding skills by the end of the week. My very favorite moment was when they told one of the little girls to be cowgirl tough when her horse was acting up. Instead of giving up this little one persevered and I could tell she was so proud of herself!
Hiking, Fishing, & Relaxing
Of course, a trip to Wyoming really is not complete if you don't get some fishing in. There is a fishing guide on site that will help plan your perfect trip. You will also find him on the lawn every afternoon giving fly fishing casting lessons! Your little ones will love learning to cast without the pressure of actually being on a fishing trip.
Rain or shine, Peggy will be around to guide you on a beautiful hike through the Wyoming wilderness. You are also free to venture off on your own if you're feeling brave.
We could not believe how relaxing this vacation actually was. Even though there was plenty to do every day, there was also the perfect amount of downtime to feel balanced. We spent afternoons reading on our porch and relaxing by the pool & hot tub.
Dude Ranch Vacation Kid's Activities
We heard from parents again and again that the most special thing about the CM Ranch was that they could be on vacation as a family, but didn't have to worry about their kids or try to entertain them. Both the kid's wranglers and the kid's coordinators had everything taken care of. I could tell they truly cared about the kids. They were always inventing new ways to make this a special vacation for each kid visiting the CM Ranch.
Time to Book Your Own Dude Ranch Vacation!!
From the moment you book at the CM, you are treated like family and what you are looking for in a vacation is taken into consideration deeply. You can contact the CM at 800 455 0721 or 307 455 2331 to book your stay or take a look at some other ranches belonging to the Dude Ranch Association here.
Here a couple of other ranches worth checking into!
5 Reasons Tanque Verde Dude Ranch makes a Great Family Vacation
The Best Texas Getaway for Families; Rough Creek Lodge and Resort