Whether you are looking to seclude yourself among the mountain ranges or perch up next to the roaring waves, here are ten amazing VRBO Maui destinations for families! While you are at it, be sure to check out our favorite things to do in Maui as a family.
Almost everything that there is to love about Hawaii can be found on the great island of Maui. Maui has built a reputation for attracting some of the biggest celebrities on Earth, including Elton John and Oprah Winfrey.
Still, with condo and apartment rentals with swoon-worthy ocean views and a laid-back lifestyle, anyone can find something on Maui to be happy about.
Our Top 10 VRBO Maui Rentals
We have written a lot about Maui, from the best breakfast spots in Maui, to our favorite hotel the Grand Wailea, or the best Luau, WE LOVE visiting Maui! Since we visit there often, we have experienced a lot, which is why we put together these lists for you!
Picking the place to stay in Maui is important, because it sets the mood for your entire vacation! So, without further ado, here is our top 10 VRBO Maui rentals for you!
---
This cutting-edge Maui beach home combines the charm of the plantation-style with refined contemporary design. The property is surrounded by lush yet manicured landscaping. It is also perfect for a relaxing evening in the backyard with the BBQ fired up.
The house has a large, fully-equipped kitchen space and offers room for up to eight guests. This makes it the perfect choice for larger families.
Plus, it sits just a few steps from Charley Young Beach and a prime surf spot known as The Cove. The adventurous families ought to take a look into this wonderful Maui home.
---
There is nothing quite like oceanfront views. Stay a few nights at this oceanfront beauty near Kapalua and enjoy a myriad of ocean activities and jaw-dropping sunsets.
Play in the waves, look out for whales, or relax with your favorite beverage in hand on your own private lanai!
This completely remodeled two-bedroom/two-bath condo is conveniently located on the Sands of Kahana resort.
This means it is moments away from the Lahaina town and a few world-renowned golf courses. The place has been completely remodeled, providing guests with modern luxury and island living.
---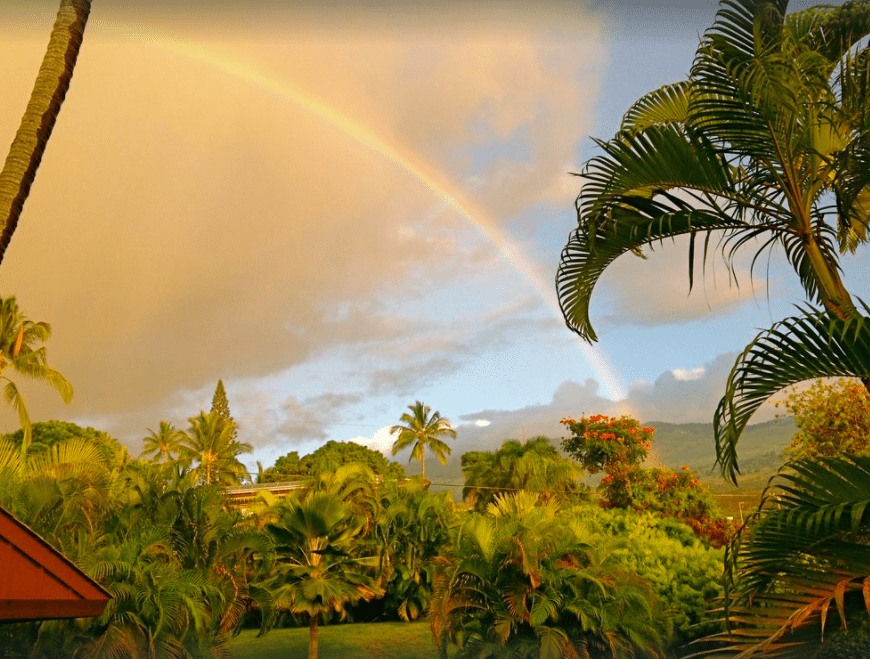 If you're looking to stay out of the hustle and bustle of the hotel zone, this Wailea Home with a pool is a great option. The place sits atop Maui Ocean Palms, which is a half-acre luxury resort.
It is just a moment from some of south Maui's best beaches. You'll get to enjoy a large private swimming pool and panoramic ocean views throughout your holiday trip.
The home has two bedrooms equipped with 4K Sony TVs, a large lanai seating area, a spacious upper floor with beautiful mahogany furniture, and flowering vegetation throughout the outdoor space.
---
This gorgeous Vrbo oceanfront property is located on Kaanapali Beach less than 75 feet from the water's edge. You'll get 270-degree views of the beach, palm trees, and the surrounding Molokai and Lanai islands. If you look close enough, you'll even see Oahu!
This top-rated property features wood-style tile floors, luxury artwork and furnishings, top-notch kitchen cookware, custom showers, and much more! It's the perfect place for smaller families!
---
If you're ready to enter a magical, tropical world, say hello to your own personal paradise! This two-bedroom/two-bathroom cottage features an outside tiki bar, swimming lagoon, waterfall, and more. It sits adjacent to thousands of undeveloped acres for a bit of seclusion, though also sits just moments from the beach.
You and your family will enjoy lush landscaping, rich Hawaiian cultural artwork, and outstanding ocean views from the porch!
---
If you're trying to find a unique house, this modern little townhouse condo is located on the beachfront property of Ekahi Village. Here you'll find 34 acres of lush gardens and winding pathways to explore.
You can stroll along the hillside to the Ocean Pool Pavilion or venture out a bit further with family and friends to the famous Keawakapu Beach!
This Wailea Townhouse sleeps five and features two upstairs lanais with wondrous ocean views. It also has four pools, a tennis court, shuffleboard courts, and golf.
The indoor amenities include a spacious kitchen, a huge master bedroom, and all of the modern features you could hope for in a vacation home!
---
With three gorgeous bedrooms, a massive living area, a laid-back gazebo, and of course, a custom, 40,00 gallon, 800 square foot saline pool, you really can't go wrong with this Kihei Oasis! The home is filled to the brim with beautiful Hawaiian artwork and furniture to capture the feeling of the island.
You can lay in the hammock on the back patio with your coffee in hand to watch the sunrise or take a dip in the pool before playing games out on the grass with the family. The choice is yours in this island oasis!
---
To continue our list of the best VRBO Maui, check out this lofty, private beachfront home. This rental is one of the best ways to indulge in Kihei. The home sits just moments from the beach and has a huge back lawn, perfect for playing games!
At night, you can enjoy BBQ from the lanai while watching the sun come down over the water.
The bedrooms and dining areas are incredibly spacious, perfect for larger families who want the room to sprawl. Plus, you can't get any more peaceful than surrounding yourself with lush, tropical greenery. It's heaven on Earth!
---
If you're seeking out a magical, peaceful, and quiet place to enjoy your family vacation, this Maui Plantation Beach Home is a wonderful option. It is tucked away in a Maui North Shore neighborhood and features tennis courts, a golf course, a gym, yoga, a pool, and a restaurant!
The property sits just minutes from the beach and includes a gorgeous lanai with spacious indoor living areas. The home features white furnishings for a relaxed, neutral look, though has all of the modern amenities you could want from a luxury vacation home!
---
If you are looking for a unique house rental with sustainable features, this house is an awesome choice! When you open the glass doors on this beautiful, modern, eco-friendly home, you are met with the serene breezes of the island of Maui. Inspired by island architecture, this home provides privacy on a picturesque two acres of land.
It's a wonderful place to stay for a holiday. You can enjoy the surrounding orchards filled with mangos, avocados, citrus, figs, papayas, and more, or play with the kids on the gorgeous back lanai. Plus, a few miles away lies some of the most popular points of interest like snorkeling, windsurfing, and swimming you'll find on the island!
---
VRBO Maui: Why?
Vrbo offers the largest selection of vacation rentals, so you can bet on being able to find the perfect spot in Maui for you and your family to enjoy a memorable holiday!
---
If you enjoyed reading about our article about VRBO Maui, you may also like:
Maui Snorkeling; 5 Amazing Spots to see Incredible Fish & Turtles
Maui Must Do; Visit The Beautiful Black Sand Beach of Maui!
Best Hawaiian Island for Kids- Activities, Resorts & More
BLACK SAND BEACH MAUI! HOW TO VISIT THIS INCREDIBLE BEACH
THE 6 MOST DELICIOUS & BEST BREAKFAST ON MAUI
---
Pin for Later: 10 Best Vrbo Maui!