Alaska is an adventurer's paradise and if you have been following our family, then you know we are always game for adventure!
Whether you yearn for a winter wonderland to explore or are looking for a unique summer hotspot that's often-overlooked, Juneau is one of the best places for shaking things up. You're bound to have yourself a one-of-a-kind vacation that you'll never forget.
One way to truly cement the experience into your memory is by taking a Juneau whale watching tour and checking out the marine life, most notably the humpback whales who tend to come to Juneau in droves from spring to fall.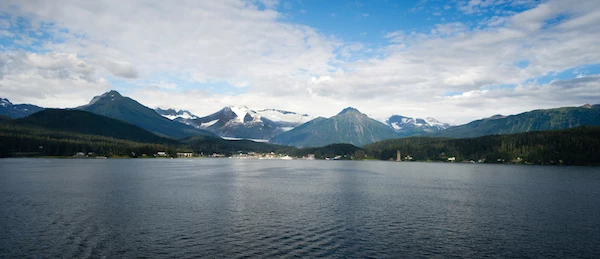 Wanna know more about Juneau whale watching tours, as well as the best way to guarantee you get to see these magnificent creatures up close and personal?
---
An Overview of Whale Watching in Juneau
Juneau, Alaska is already a premier destination for picturesque landscapes, including views of glaciers, mountains, and waterways that are some of the most unique in all of the United States. You can't help but to feel a sense of adventure and wonder amidst all the majesty and natural beauty.
Whale watching here in Juneau takes an already incredible experience and amplifies it prodigiously. Seeing whales in their natural habitat evokes feelings of awe and appreciation, illustrating firsthand why environmental conservation efforts are so critical.
Many people talk about connecting with nature in an almost spiritual way when they see a whale, or whales, breach. There's a sense of calmness and peace that the day-to-day American lifestyle rarely provides.
That's why we find whale watching one of the best and most fulfilling experiences you can have, and there's virtually no better place to do it than in Juneau.
---
The Best Time for Juneau Whale Watching
You could visit Juneau almost anytime between April and November, but the real peak of the season occurs between May and September.
During this time, there are massive migrations of various whale species, including humpbacks, orcas, gray, and minke whales. They journey to the region to feed and mate, and boy do they come in droves.
It's estimated that there's 600 humpback whales alone during this season, so taking a tour almost guarantees a whale sighting or, more often, multiple whale sightings. Beyond whales, you'll also see your fair share of sea lions, as well as bald eagles soaring overhead.
---
Top Juneau Whale Watching Tours
So, where are you bound to have a whale sighting experience you'll remember forever?
Here are our top recommendations for whale watching tours in Juneau.
---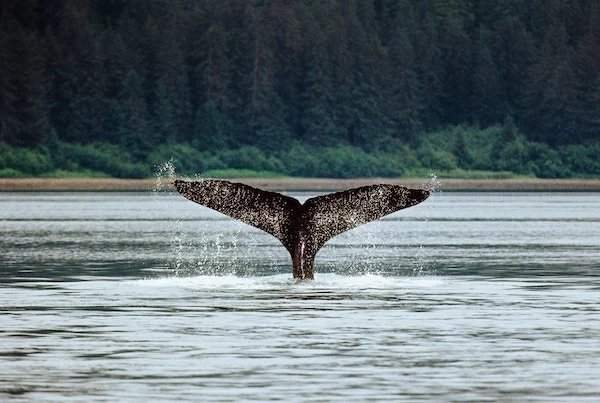 If you've gone on a whale watching tour with good ol' Harv and Marv, then you can understand why their customer reviews are exceptional. Literally no one has a bad thing to say about the tour, and they're proud to showcase that in every aspect of the operation.
Harv and Marv boast that they've seen a humpback whale every single time they've hit the water, while they also pledge they'll see an orca every one in five trips. We love these odds!
Harv and Marv really shine when it comes to whale watching tours, but they also offer land tours in vans, limos, and minibusses if you're trying to take in the sights of Downtown Juneau after catching a glimpse of a humpback.
---
Are you looking to both see an epic whale breach and the pristine Mendenhall Glacier that tourists flock to Alaska to see in person?
If so, then Whale Watching & Mendenhall Glacier Tour is a shoe-in for the best touring company, as they offer a tour of both, giving you the most comprehensive Alaska sightseeing experience of nearly any other company in the area.
First, you get to see humpback whales, sea lions, orcas, bald eagles, and other animals native to the area. Definitely make sure your phone is charged for all the pictures and videos you'll want to take.
After that, the guides take you straight to Mendenhall Glacier, the only "drive up" glacier in the entire world. From there, you'll explore the wilderness trails and visitor center before getting back on the boat and warming up in their indoor heated cabin.
---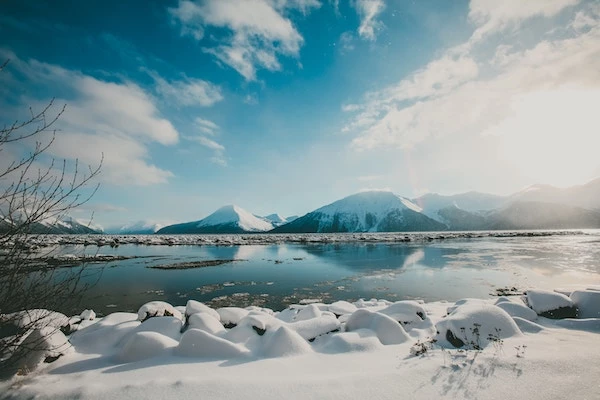 Gastineau Guiding Company emphasizes inclusiveness, meaning you'll be on a small boat and have a truly intimate encounter with the humpbacks, orcas, and other marine life you encounter during the tour.
That's why they offer a selection of small and private whale watching tours, so you can bask in the moment without other people possibly getting in your way or ruining the magic.
Gastineau always goes the extra mile to make the experience memorable. They'll even, by request, customize a personal excursion just for you and your guests. If you're looking for an incredible whale watching experience, you can't go wrong with Gastineau.
---
Booking a tour with Premier Juneau Whale Watching Expedition guarantees an unforgettable journey through the Auke Bay where you're sure to see humpback whales and possibly even some orcas too.
As a bonus, snacks and refreshments will be provided for you and your family to enjoy and no extra cost, because nothing ruins a magical whale sighting faster than cranky kids crying about not getting snacks!
Thanks, Premier Juneau. You've truly thought of everything!
---
What to Expect During a Juneau Whale Watching Tour
If you're going whale watching, you may feel you need to bring a carry-on like you're going camping. No need; most whale watching tours will provide you with the basics including rain gear and binoculars.
You're more than welcome to bring your own if you're a tech junkie with super advanced gear, but the stuff they give you is often good enough and then some.
Your guide will brief you before casting out, covering the safety instructions that will keep you and your family safe while out on the sea. Definitely follow these guidelines, as behavior that violates the rules or puts anyone in danger will, at the very least, cut the trip short and bring everyone to shore before seeing a beautiful whale.
Tours tend to last between three and four hours, with the first hour spent traveling to the whale watching area. Keep this in mind if you have a few little ones who can't sit still for that length of time without some form of entertainment.
After that, there should be plenty of whales for you and your family to video, photograph, or simply stand back and marvel at. Once everyone's had their fill of whales, the guides will take you onward to check out some other marine life in the area.
Questions during this time are very much encouraged so don't be afraid to learn a little something while out on the water.
---
How to Make the Most of Your Whale Watching Experience
Before you leave for your tour, make sure to dress in warm and waterproof clothing. The weather in Juneau can switch without warning, so it's good to dress for potential temperature drops or rain.
A few bring-alongs that might make the trip more comfortable include:
Comfortable, non-slip shoes
Camera
Binoculars
Sunscreen
Polarized sunglasses
During your tour, feel free to ask your tour guide about the animals or ecosystem so you can gain as much from your trip as possible. They love to share their wealth of knowledge with their guests, so don't be afraid to call out questions as they come to you!
If you have questions before you board the vessel, jot them down so you don't forget them amidst all the excitement. With a few of these preparations, you're nearly guaranteed a great time for you and your family while whale watching.
---
Final Recommendations
Whale watching offers a unique chance to observe the beauty of nature up close. You and your family will not only see these animals in their home but learn about their environment as well.
The wonderful tour guides, who have a passion for whale watching and all things marine life, are more than happy to share what they know about the wildlife and wilderness of Alaska.
They always do their best to ensure the experience is the once-in-a-lifetime kind, providing you and your family memories you'll cherish forever.
Truly, whale watching in Juneau is unlike anything you have experienced before. The breathtaking views and amazing animals will help to make it a trip that you and your family will never forget.
---
Frequently Asked Questions about Juneau Whale Watching Tours
\What's the best time of year to go whale watching in Juneau?
The best time of year to go whale watching in Juneau is from May to September. This is the time when the humpback whales are most likely to be spotted.
How many different types of whales might I see on my whale watching tour?
There are eight species of whales that frequent the Alaskan waters– Beluga, Humpback, Orca, Grey, Blue, Bowhead, and Minke whales.
How close do the boats get to the whales during the tour?
Boats on whale watching tours must stay at least 100 yards away from the whales. This is to keep both the passengers and whales safe. 
However, sometimes curious whales will approach the boats on their own. 
---
If you enjoyed our list of Juneau whale watching, you might also like:
WHY YOU SHOULD GO ON A NORWEGIAN CRUISE TO ALASKA!
TOP 10 PLACES FOR THE BEST COASTAL VACATION RENTALS IN THE UNITED STATES
THE BEST TIME TO CRUISE ALASKA + THE BEST SHORE EXCURSIONS
---
Pin-it for later: Juneau Whale Watching